Winter Solstice, Saturnalia & Xmas Sexmas Impeachmas 2019 on DrSuzy.Tv with Bai Ling, John Barrymore, Riley Reyes, the Virgin Mary, Peeweesus & the Baby Jesus (Butt Plug)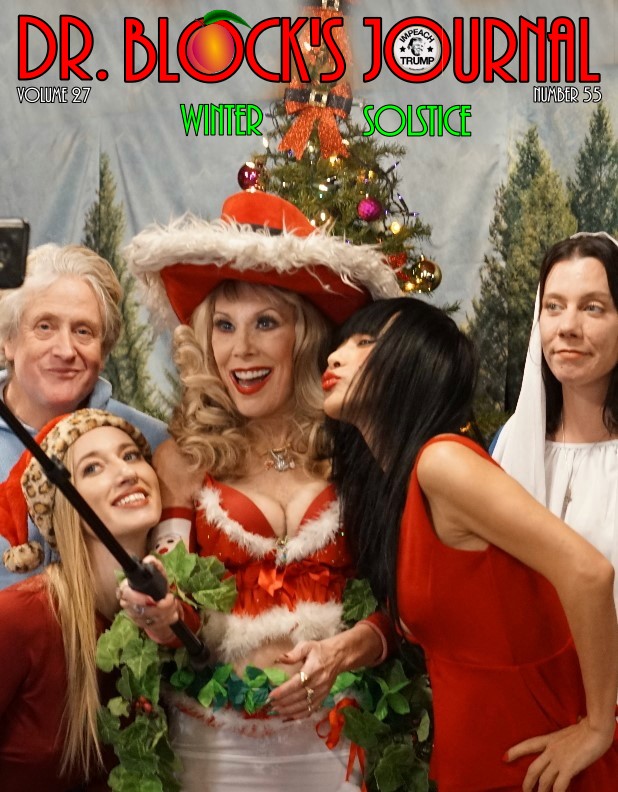 Length 01:36:16 Date: Dec. 21st, 2019
Merry Impeachmas!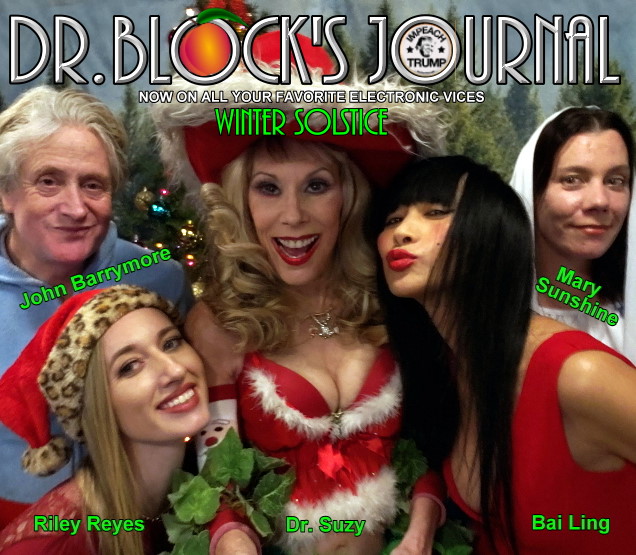 Merry Christmas!
Dōngzhì Kuàilè!
Happy Sun Birthday! Happy Saturnalia! Happy Winter Solstice!

Yes indeed, Brothers and Sisters, Lovers and Sinners, it's Winter Solstice 2019, if you're tuned in live to this sparkling holiday show, falling smack dab in the middle of the longest night right after the shortest day of the year.
We are blessed with a star-studded bevy of guests this auspicious night twinkling around the Xmas Tree, by the Divine Interventions Dildonic Nativity, featuring the adorable Baby Jesus buttplug and the impressive Jesus Jackhammer, under the painting of our topless guardian angel, Marilyn Monroe, in the Womb Room Sanctuary of the little Love Church of the Bonobo Way in the Village of Bonoboville.
And quite a festive congregation of artists, entertainers and kinksters it is—including acclaimed Chinese American actress Bai Ling, Hollywood actor John Blyth Barrymore of the Barrymore Family, porn star and sex educator Riley Reyes, plus the Virgin Mary (Sunshine) herself and her Holy Child "Peeweesus" —holding our 12th Impeachment Party, now celebrating the past week's impeachment, almost as exciting as the news that Christ the Savior is Born.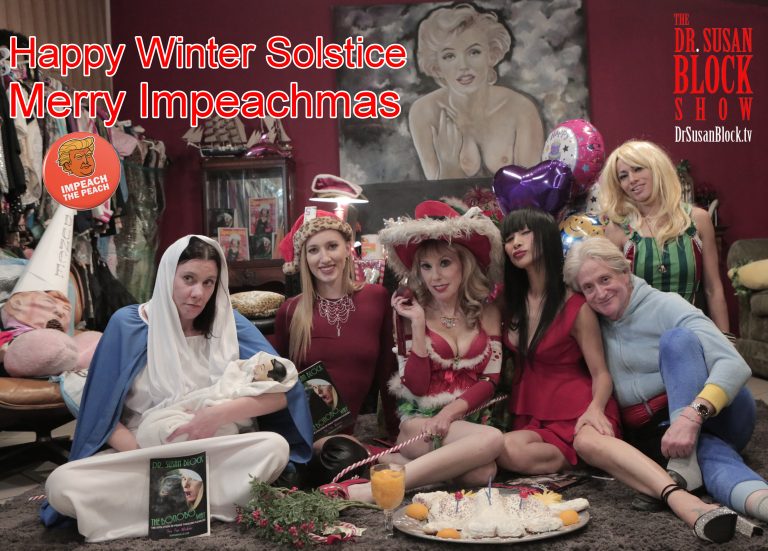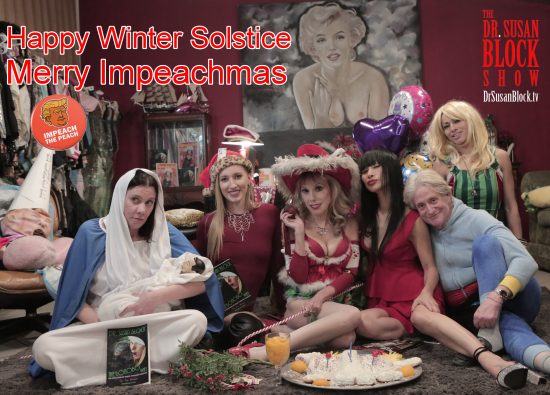 Time to relax your defenses and wake up your senses, including your sense of primeval history.
Whatever your beliefs, country or the God of your childhood, the Winter Solstice marks the moment days start to get longer and the nights shorter, so you could say the SUN is "born again."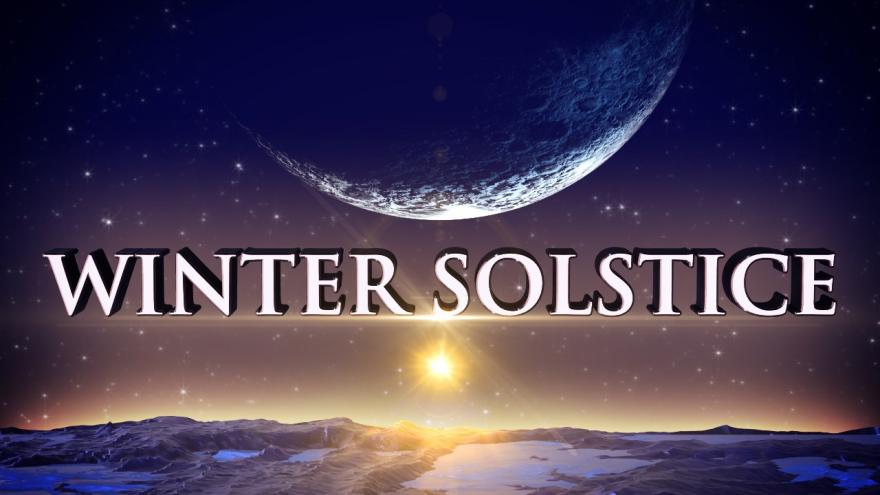 Thus it was always a special day for our prehistoric ancestors, a day of evergreen hope, red hot joy to the world and SeX with a capital  X.
There's a reason 'tis the season for that X in Xmas, and even the XXX in XXXmas.
Over 2000 years before the baby Jesus miraculously popped out of the Virgin Mary, the Zagmuk Winter Carnival of Mesopotamia featured Mummers-style parades with floats carrying XXX-rated scenes of sex among the Gods; seriously, it was a veritable Porn Parade.
The Greek Winter Festival honored another popular Son of God with a human mother who worked miracles, made wine, honored women and common folk, and was resurrected after death. His name was Dionysus.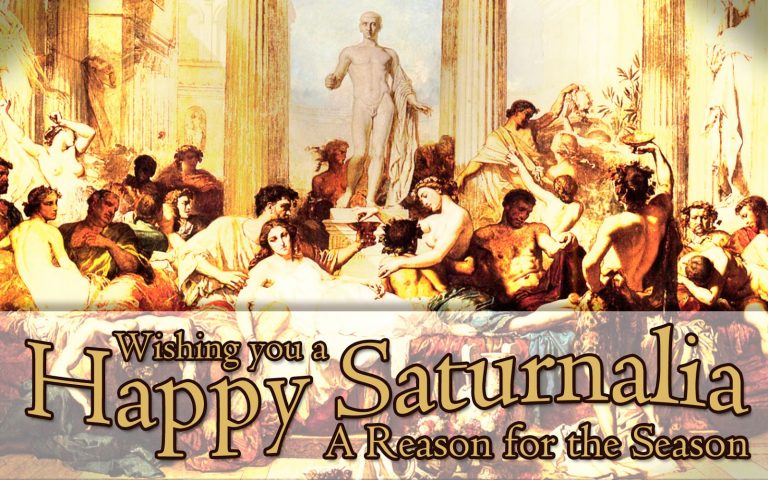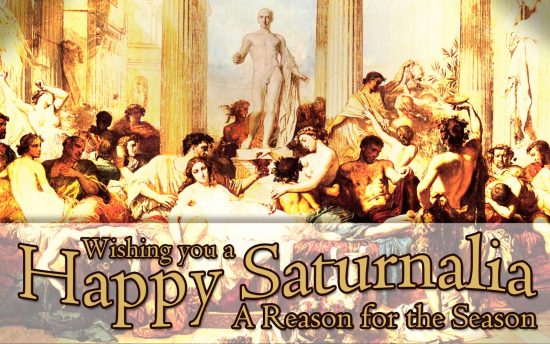 Then there was the Roman Saturnalia featuring the first Xmas Carols, which were truly X-rated, as carolers sang in the nude, while everybody partied like pagans, masters serving their servants, turning the fool into a king (though in our times, the fool already is the king), and generally turning the tables on daily life in the holiday "spirit" of Saturnalia.
As for the great god Saturn, aka Old Father Time, he's really a skinnier, more sinister Santa (whose name is intriguingly close to "Satan") with a touch of the Krampus.
Old Man Saturn even rides around heaven in a "sleigh" pulled by serpents (Rudolph's ancestors?), chortling "Io Io Io."
When it turned the legendary gift-giving Saint Nicholas into Santa Claus, the Catholic Church modified Saturn's ancient Roman yodel, "Io Io Io" into Santa's signature "Ho, ho, ho"…. without crediting the pagans, of course.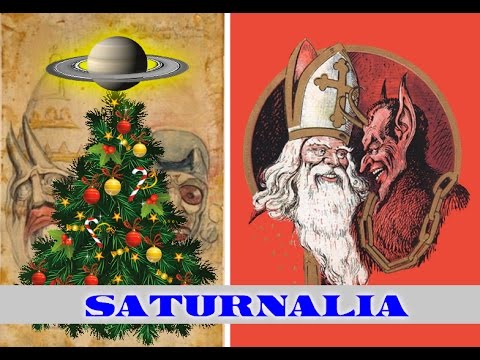 Fake Christians like the Trumpus love to talk about the War on Christmas, but really, there's a 2000-year-old War on Saturnalia!
Then again, maybe "ho ho ho" means what it sounds like.
Jesus loved the sex workers, after all…
Repeal SESTA/FOSTA
Speaking of sex workers, I'm excited to announce to everyone that Bernie, Liz Warren and Bernie's Campaign Co-Chair Ro Khanna, are introducing a bill to study the impact of FOSTA/SESTA, looking at whether it has actually reduced human trafficking and whether it has made sex workers safer.
We don't have stats on either yet—that's what the study is for—but I'm willing to bet a pair of red-bottom Louboutins that FOSTA/SESTA has made sex workers less safe.
If passed, Khanna's bill is the beginning of repealing FOSTA/SESTA and maybe even decriminalizing sex work.
And wouldn't that be a real-life miracle and a bonoboesque blessing for all?
Bernie spent the afternoon of this show with AOC and a YUUUUGE crowd on Venice Beach. Can't the Democratic brass see that Bernie has the popular grassroots movement to beat the Trumpus?
Why won't they support him? Because they're more afraid of Bernie's slightly socialist movement than they are of the fascist narcissistic Trumpus.
Trumpus Now IMPOTUS
Speaking of blessings, I'm happy to say that all of our Impeachment Parties have paid off, and finally, Donald J. Trump, the terrible toxic Trumpus, has been impeached.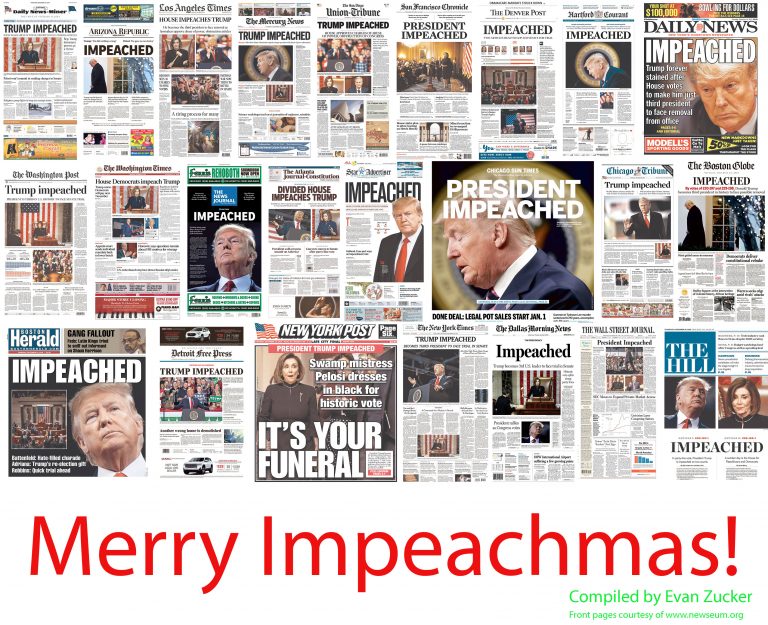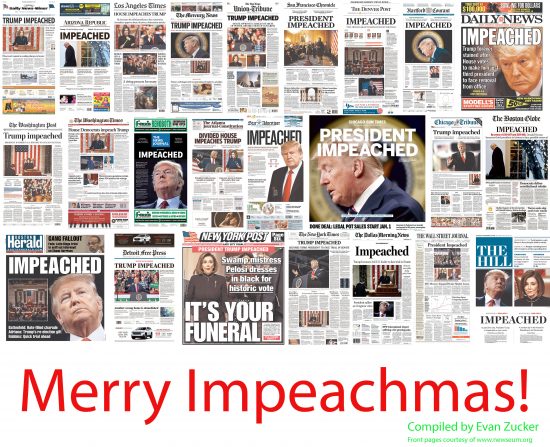 He is now no longer POTUS; he is IMpotus.
So three cheers and a bonobo beer for the House!
But he hasn't been convicted in the Senate, which is teaming with Trumpus Rumpus-lickers, and with our topsy-turvy Electoral College awarding so many more votes to rural area, he could be re-elected.
Nevertheless, this impeachment feels really necessary. We the people need to spank his filthy ass with it and, if the Presidential ball-sucking Senate won't convict, we have to vote him out of our White House.
Photo 1 & 4: Tony Ponce. Photo 2: Bianca. Photo 3: Selfie. Photo 5: Sunshine.
And we shouldn't even try to go back to where we were, to "Make America Trumpless Again," as that will just provide us with the conditions that brought us the Trumpus in the first place.
Personally, I hope our next president will be Bernie, but I will support whoever runs against the Drumpf Douche Baby.
In the meantime, let us come together to celebrate the darkness of winter, and the justifiably dark shadow that impeachment casts upon the Drumpf presidunce-y now and forevermore.
Merry Impeachmas, Brothers and Sisters, Peachy Lovers and Sinners! And tonight we have FRESH peaches (though the canned variety go down easer; there are pros and cons to everything)!
Beautiful Bai Ling
We're delighted to receive a visit from dazzling, charming, award-winning Chinese-American actress Bai Ling.
A DrSuzy.Tv virgin, Bai Ling is a woman of the world.
Since she says she's "from the Moon," it's fitting that her first visit is on the birthday of the Sun, called Dōngzhì in Chinese.
Photos 1-4: Tony Ponce.  Photo 5: Bianca
Born in Chengdu, China, Bai Ling served as an artist/soldier in the People's Liberation Army in Nyingchi Prefecture, Tibet during Mao's Cultural Revolution. She had a pretty rough time with on-site abuse, but that's the subject for another show. On this festive gathering, we just want to celebrate her great work as an actress in several mainstream Hollywood films, including Red Corner, in which she stars in an award-winning performance opposite Richard Gere who chose her for the role and became a lifelong friend. She's also in The Crow (starring Brandon Lee in his last film), Wild Wild West (with Will Smith) Anna and the King, Love Ranch (with Helen Mirren), Dumplings (winning many awards) and, most recently, The Abortionist.
Beautiful as she is (named one of People's "50 Most Beautiful People in the World" in 1998), Bai Ling could easily "get by" on her looks alone, and she doesn't seem to age at all! But she is also a very talented actress, giving heartfelt, nuanced performances in all of her films as well as TV shows, including Entourage and Lost.
In the 1990s, she  was invited to the White House, and yes, she found President Bill Clinton to be as charming as Richard Gere. Hey, even "Billdo," our Bill Clinton dildo, has that special, manly but sensitive charm.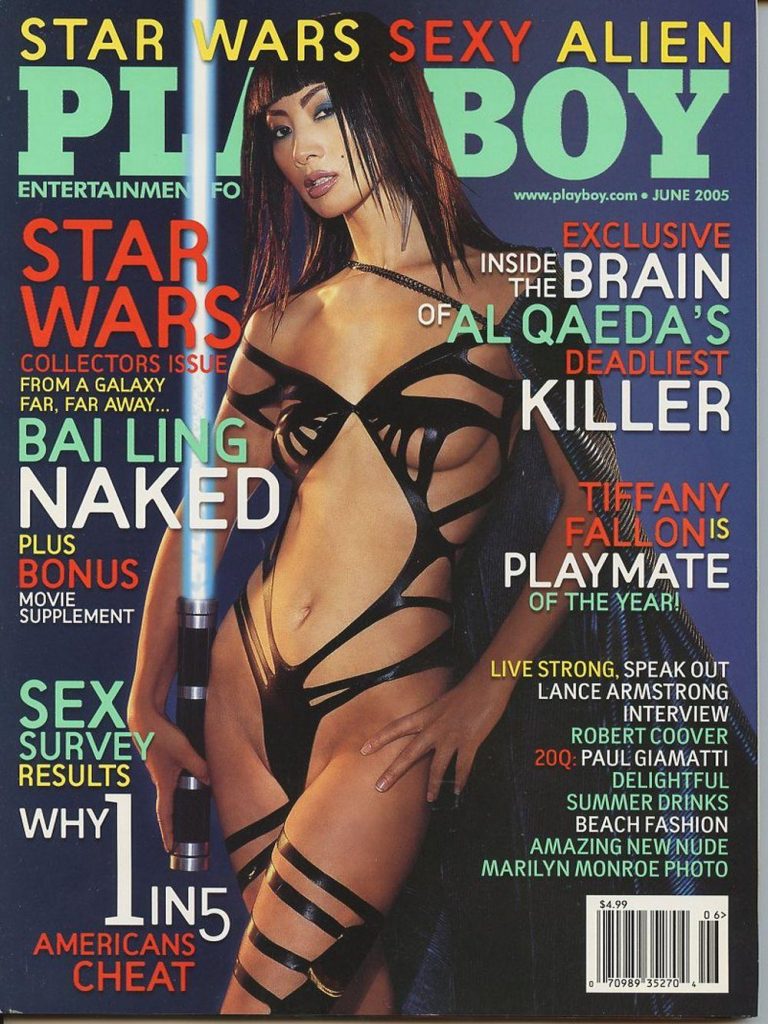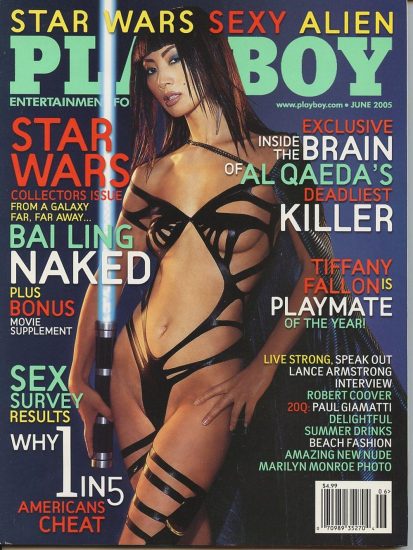 Bai Ling was also featured on the cover of Playboy's June 2005 issue, with gorgeous elegant nudes of her inside.
At first, she wasn't sure if she should accept Playboy's offer, but a combination of Hugh Hefner's charm (like Clinton and Gere, he's got it), along with a juicy sum of cash, sealed the deal.
At the time, Bai Ling was filming scenes for Star Wars: Episode III – Revenge of the Sith (2005) in the role of Senator Bana Breemu, but she was cut during editing, perhaps because she was in Playboy, though director George Lucas denied this was the reason.
In any case, the good news is that you can see Bai Ling in the deleted scenes feature of the DVD release.
You can also see her gorgeous Playboy pix all over the Internet, including here!
Mid-show, Bai Ling gives a shout-out in Chinese to her fans in China where we're actually getting more and more viewers.
Dōngzhì Kuàilè!
We take a call from an attorney named "Bill" who says he met Bai Ling, along with Bill Clinton and Hugh Hefner, at a screening of The Crow, and that despite being impressed by the two world-renowned men, he likes Bai Ling the best.
We can't blame him!
John Barrymore Warring on Christmas
To Bai Ling's left next to the tree is a different kind of celebrity guest, our old friend John Blyth Barrymore III of that famous old Hollywood Royal Family, the Barrymore family, son of John Drew Barrymore and Cara Williams, and grandson of John Barrymore, half-brother of actress Drew Barrymore, as well as the grandnephew of Ethel Barrymore and Lionel Barrymore.  
Dressed in slightly odd elfin winterwear, John declares himself a warrior in the War on Christmas.
He's nervous that impeachment will enhance the dastardly Drumpf's chances of winning in 2020, but agrees that it's the right thing to do. I offer him a bite of my peach for good luck (see above).

John brings along another sprite, a green Xmas elf named Lacy who's so petite she could easily fit on a shelf.
Later she does a little elfin Xmas dance.
While not exactly Bolshoi level, it does get my other guests up and dancing too.
That's the elfin, impish, mischievous spirit of Xmas/Sexmas/Solstice/Saturnalia!
Arousing Riley Reyes
On the other side of the couch in a leopard-trimmed Santa cap and evergreen skirt is one of our favorite return guests, fabulous porn star, activist, sapiosexual sex educator, cuckold temptress, bonoboesque beauty and multiple SUZY award winner for "Most Sapiosexual" and for "Most Bonobo," our highest honor, the amazing Riley Reyes.
Pre-show, Riley masturbates as "foreplay" for the show.

Riley regales us with tasty tidbits from her sex educational videos.

Photos 1, 3, 5: Tony Ponce. Photos 2, 4: Author
For instance, she's got one on the topic of consent that challenges the trope that asking permission stops the "action" and ruins the moment.
"Just think of negotiating consent as a form of dirty talk," she advises, then proceeds to entice us with an example of aural seduction.
She also teaches how to have pleasurable anal sex, something that's almost impossible to do without some education or at least experience.
Just about everything we do in life is better with skill and experience. Unfortunately, our society sends the message that sex is the one area that where it's better to be inexperienced than skilled.
That's not just misleading, it's downright dangerous.
Photos 1-2: Tony Ponce.  Photo 3: Carl Russell.  Photo 4: Bianca.
Fortunately, this view that "virgins" are somehow sexually superior to the experienced partner is changing, as a call from "Michael," a young 20-something man who prefers MILFs over 30, demonstrates.
Riley confirms that "MILF" is one of the most searched-for terms on Pornhub. As the myth of the virgin as sexually superior or a vessel for God dissipates, more and more men are admitting that they prefer sexually experienced women.
It's actually very bonobo.


Riley is so on-point with The Bonobo Way that when Bai Ling asks for an explanation of bonobos, I ask Riley to give it to her, and she does an excellent job.

Speaking of the Bonobo Way, we just uploaded a new video of my talk at DomCon LA 2018: FemDoms of the Wild. 
Check it out and subscribe!
As luck would have it, Riley confesses that she's been a fan of Bai Ling since she saw her in The Crow over 20 years ago.
After Lacy does her Elf dance, I ask Riley to do a little striptease, which she obliges with enthusiastic consent.
"I love taking off my clothes," she proclaims.
Since Bai Ling says she loves to "observe," I give her a front row seat.
Riley strips like a pro.
Actually, she is a pro.
She's also one of the best at dancing seductively, putting that tease into striptease, finally revealing her gloriously natural hairy bush as she twerks, shimmies and suggestively touches herself.
Photos 2-3: Tony Ponce.  Photos 4-5: Bianca
Mary Sunshine is so excited, she showers Riley in Bonoboville dollars; too bad they're not worth more than a laugh.
Then I give her perfect ass a little whack with the mistletoe.
Season's Beatings!
And a Happy Nude Rear.
Not one to miss a mistletoe moment, Mary Sunshine takes her chance to kiss that ass, just barely missing getting thrashed by the festive branch.
Happy Birthday Mary Sunshine & Baby Peeweesus
It's Sunshine's birthday, but rather than being in her birthday suit, she's dressed up as the virgin "Mary Sunshine" with her Baby Peeweesus, a doll-baby Peewee Herman.
I should give her a birthday spanking and spank her for failing the T.I. hymen test (how ridiculous can a father get?). Some Immaculate Conception! The Gospel of Fake News.
However, there's no time, because in comes the cake(s).
Wow.
Ana outdoes herself and bakes a rather large titty-fucking confection with a big fat cake penis between two cake boobs topped by maraschino cherry nipples, decorated with flaming candles and surrounded by little cock cakes and Impeachment peaches, plus pineapple… for good luck.
Photo 1 & 2: Bianca. Photo 3: Carl Russell.  Photo 4-5: Tony Ponce
Ooh la la!
Then Virgin Mother Mary Sunshine gives the whole concoction a good blowjob.
Photos 1, 2, 3, 5: Carl Russell.  Photos 4, 6, 7: Tony Ponce.
I guess technically you can stay a virgin even if you give head.
Licking frosting from the Virgin Mary Sunshine's birthday nipple, I notice Baby Peeweesus crying jealously from Lacy's arms.
After a few more peaches, kisses under the mistletoe and Trumpus-whacks with the candy cane, it's time to wind up the live broadcast
Quite a festive after-party ensues, as befits the season.
Then off go the Captain and I, in our Erotic Theater of the Mind sleigh, dashing all the way.
Visions of sugar-plum strippers dance in our heads as we slip into bed, and he slides down my chimney with a big bulging sack of exploding presence (that's orgasms, not ordnance!).
Happy Solstice!
Peace on Earth * Pleasure for All
© December 21, 2019. Susan Block, Ph.D., a.k.a. "Dr. Suzy," is a world renowned LA sex therapist, author of The Bonobo Way: The Evolution of Peace through Pleasure and horny housewife, occasionally seen on HBO and other channels. For speaking engagements, call 213-291-9497.