Valentine Splosh, SeX & LoVE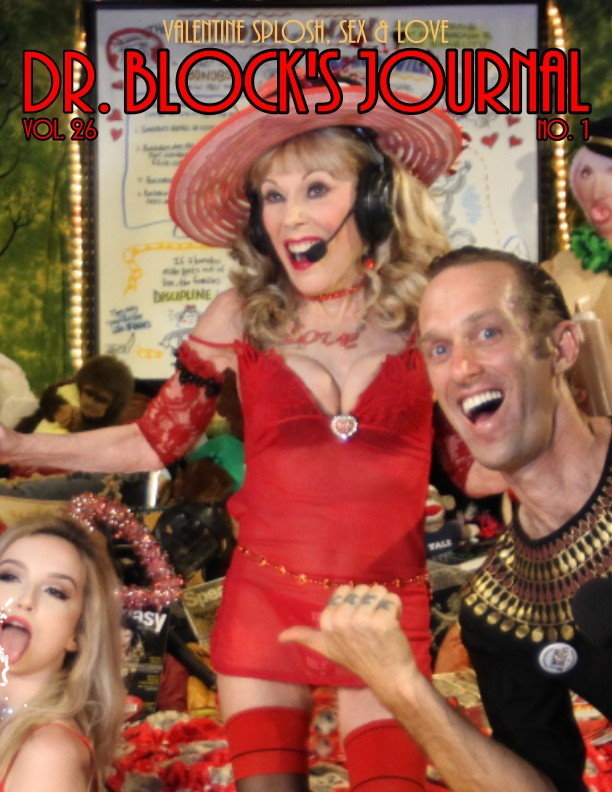 Length 01:43:15 Date: Feb. 9th, 2019
Valentine's Day is coming… Ah V-Day, the High Holiday of Love; charged with mixed emotions for many of us (me too!) and (unless you're Miley and Liam) especially tough to navigate in this politically divisive, sexually suspicious, hyper-commercialized, economically unfair, disturbingly climate-changing and emotionally exhausting moment in human history.
Yes indeed, brothers and sisters, lovers and sinners, porn stars and rawkstars, husbands and wives: these are challenging times for love of all kinds. But here at the little Love Church of The Bonobo Way in Bonoboville, we accept the "Valentine Challenge" with a three-part erotic, artistic, therapeutic, cathartic, ecstatic, bonoboesque and tremendously fun Valentine Season 2019: 1) Valentine Splosh featuring Dr. Susan Block's SPEAKEASY Journal: SPLOSH 'n' Art edition; that's this show 2) World Bonobo Day on 2/14, V-Day itself, 3) Lupercalia (the original pagan V-Day) on 2/16 and the launch of the spanking new SPANK 'n' Art edition of Dr. Susan Block's SPEAKEASY JOURNAL.
Amen and AWOMEN. Praise be to the power and glory of St. Valentine (who probably was nothing but "fake news" from the early Church, but that's a story for Lupercalia).
Photo 1: Jobe.  Photos 2, 3, 4: Jux Lii.  Photo 3: Alan
First, we consider the meaning of Valentine's Day. Sure, it's all about LoVE, but what doesn't that mean to you? For some, that means SEX. For others, it's all about the chocolate. Which do you prefer: Hersey's kisses or her kisses? Reverse Cowgirl or tiramisu? Why not mix them up and enjoy Valentine SPLOSH for lovers?
 It's yummy! It's messy! It's silly! It's sexy! It's fun… It's splosh!

Eric John & Lexi Lore Have Valentine SEX
Before we get into the "heavy" splosh, we start light and easy.
First up on my broadcast bed are "Best Sex" 2018 SUZY award winners Lexi Lore and Eric John of Erotique Entertainment. I've known Eric for almost a decade when within 20 meetings of our first meeting,
Somehow I found myself sitting on his face (see Porno Charlie Sheen Masturbation Month Orgy on DrSuzy.Tv to find out how). Eric is not only a cunning linguist, he's an MIT graduate and former Boeing executive who left the corporate career for the pornstar life and, from the way he tells his tale, he's never looked back.
Eric's partner Lexi, who met him on the day before V-Day last year, just a month before their first award-winning appearance together on DrSuzy.Tv in Orgy Erotique with D.A.D. Politiques, also won a 2018 SUZY for "Best Ivanka Lookalike." They look like twins, though Lexi is prettier, much sexier and more natural than Ivanka—no plastic surgery for our Ms. Lore, though she does look adorable in her braces. This sparks a lively sapiosexual conversation about incest fantasies.
PHOTOS: JUX LII
I'm tempted to ask Eric to don the Trump mask for his sexual encounter with Lexi, but I don't want to ruin the mood.
Instead, I just insert a little splosh in their award-winning sex. They start with a kiss—consuming a Valentine heart-shaped strawberry that I place between their lips as they make out. Splosh kissing!


Then I ask Eric if he likes chocolate, to which he replies, "Yeah, but I'm vegan."
RawkStar Chef Be*Live to the rescue! One of the pioneers of the California raw foods movement, Be*Live brings out a squeeze bottle of delicious raw vegan chocolate sauce, which I proceed to squirt on Lexi's freshly pedicured toes, and Eric dutifully—or hungrily—licks it all up.
I squirt some on Lexi's pretty pussy—completely shaved so it's a perfect "plate" for the chocolate—which Eric also licks up—after which I squirt some chocolate on his large porn star cock now hard as a rock which Lexi (who's also vegan) licks up (see the XXX-rated pix in Forbidden Photos). Then I squirt some of Be*Live's white sauce on the tip, and it looks like he just shot out big creamy load.


In the second part of the show, we minimize the sploshing and maximize the sex.
Hot Hot Hot!
Eric and Lexi fuck (there's no other word for it) as hot and hard as they did a year ago, with a little vegan splosh to make things tasty.
But this time, Eric gives us a grand ejaculatory climax all over Lexi's pretty titties.

He even releases with a special new technique of his, tapping the head of his cock so the ejaculate comes out in white raindrops.
Human splosh!
It's certainly raw—and rawkstar quality—but is it vegan?


Well, it's good enough for Lexi, and it sure looks good on her.
Between Sex & Splosh
In between the hot sex and the grand sploshing we perform upon Sploshing Queen Danièle Watts, we chat with some of our other guests.
Mother Tink is here with that adorable fluff ball, Fizzgig the Party Pup, winners of the 2018 SUZY Award for "Best Dog & Mistress Act." I've always wondered why Tink calls herself "Mother"; with her petite, svelte build, she certainly doesn't look very motherly. I found out when I was a bit breathless (yep, still having those respiratory issues) and, solicitous as my own mom would be, she gave me her personal Ventolin (apparently, she also has respiratory issues, like countless other humans, thanks to the effects of calamitous climate change, especially the California wildfires), just so I could breathe easier. Thanks Mama!
Photos 1, 3, 4: Jux Lii.  Photo 2: Selfie
Accompanying Mother Tink are Nea Dune and Pamela Vandervelde, promoting the Vampire Ball next week.
Gorgeous leggy erotic entertainer Honey Dior is back, wearing a coat as furry as Fizzgig and not much else. She graces the Womb Room with a short striptease to the tune of The Kinkster by Mark Will of [ai] aka Carmina Formosa (inspired by Bonobo Way).
Very short… revealing her lovely natural boobs for a just few sultry moments.
Tammie Parrott, flaxen-tressed winner of "Sexiest Trump Voter," is also milling around Bonoboville this pre-Valentine's Saturday night.
We still can't figure out why someone so nice would vote for tRUMP but, well, we stopped trying to figure that out a while ago.
Our only guest who's never been here before, Morgan Barbor, aerialist, acrobat and "movement director," though on this show, she doesn't want to move.
When my bubbly assistant Blossom Green  suggests she do a handstand, Morgan giggles teasingly and explains "I'm too drunk." And we didn't even do a Bonoboville Communion on this show! Though we do have our famously friendly Speakeasy open bar.
Blossom coaxes Morgan into gamely trying to do a backbend, with Blossom "spotting," aka holding her up. Thinking about how our Womb Room virgin has just confessed her drunkenness, I worry that she might throw up, and that's not the kind of splosh we were looking for. Fortunately, though the backbend is certainly not her best, at least Morgan doesn't upchuck while she's upside down. And she kicks her high-heeled foot out quite gracefully for a self-proclaimed "drunk."


Then Blossom does a pretty nifty backbend of her own.
Later (or actually it's before), for reasons that you can decipher if you watch the show free on http://DrSuzy.Tv, I give Blossom's bottom a short but good whipping with Goddess Phoenix's fiber optic whip.
I'm not sure how effective a disciplinary tactic it is, but it certainly is erotic (though not explicit) entertainment.
Valentine Splosh
Brothers and sisters, lovers and sinners, let the supreme sploshing begin!
Eric and Lexi show us how to integrate splosh into regular sex (well, wild pornstar sex) without making much of a mess. Actually Eric's majestic ejaculation makes more of a mess than the splosh.
Now we give the spotlight to "Most Bonobo Couple" 2017 and 2018 SUZY award winners and sploshing stars Danièle Watts, raw foods pioneer RawkStar Chef Be*Live.
PHOTOS: JUX LII
Actually, they didn't even know what sploshing was until I introduced them to the fetish for a special clip for the New York Post.
 That turned into one of our favorite shows, Splosh 'n' Art.

And that turned into the first edition of our "paper theater," Dr. Susan Block's SPEAKEASY Journal, available on Amazon.  
Bezos Exposes Pecker
Speaking of Amazon and the NY Post: "Bezos Exposes Pecker" is the Post's perfect headline to the story of Amazon founder Jeff Bezos' bombshell blog about  National Enquirer and parent company AMI CEO David Pecker attempting to blackmail him—in writing!—threatening to release private sexy selfies he sent to his mistress Lauren Sanchez, including a dick pic(!)—unless he tells "his" reporters at the Washington Post (he owns the Post, but theoretically he doesn't tell the staff what they can or can't write about)  to stop investigating AMI's "political motivations" for publishing Bezos' private and rather passionate sexts to Ms. Sanchez. Essentially, by publishing the blackmail emails that lay it all out, Bezos called their bluff.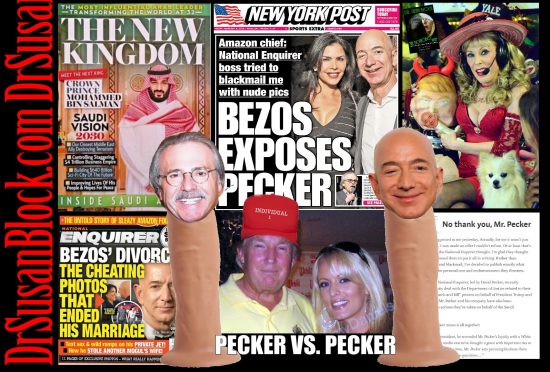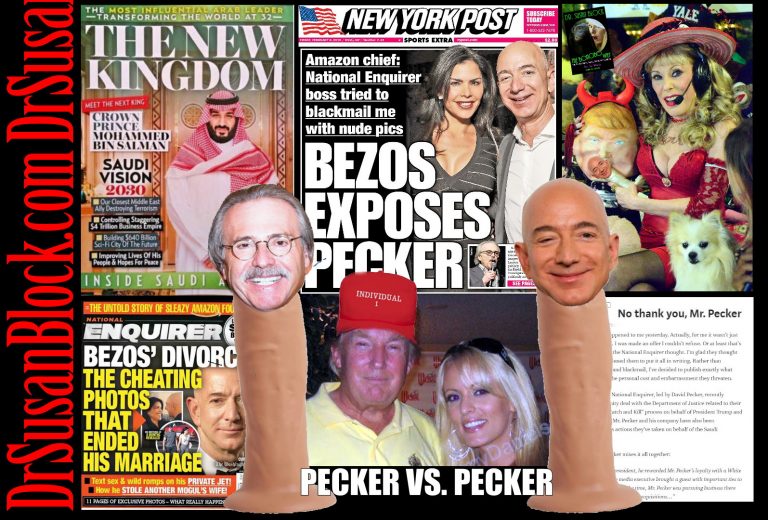 Many in the Resistance now call the richest man in the world (soon to lose that title in his impending divorce to wife Mackenzie) a "genius" and "courageous" for posting the damning evidence of extortion for all to see. I wouldn't disagree, but I would add to those descriptors, "exhibitionist," and I mean that in the best sense. Certainly since the advent of Wikileaks, any sexting tech nerd (and Bezos is the world's biggest tech mogul) knows his "private" sexts can easily be exposed to the public. My hunch is that though Bezos might be a bit embarrassed, he wouldn't mind too much if the world saw his dick, of which he appears to be rather proud. Rumor is that it's Eric John-sized, so if it is somehow released, Bezos can add "World's Richest Porn Star" to his list of accomplishments.
As for Mr. Pecker and his dear old friend Donald Trump (who may have "colluded" on this hare-brained scheme, certainly gloating over the exposure of his nemesis, Jeff "Bozo"), they both may wind up behind bars for this, though who knows in today's political climate.
I'm worried that a Bezos lawsuit will not only put Pecker out business (obviously a good thing), but will have a chilling effect on sexual free speech. Also nobody should have as much money as Bezos, so I'm happy, at least, to see MacKenzie get half.



Regardless, I would say at this point: Bezos Trumps Trump's Pecker.
SPLOSHGASM
Back to the grand Sploshing of acclaimed actress in Django Unchained and Weeds, Danièle Watts, who removes her golden cape by our Valentine tree (see above). Yep, it's our Xmas tree with hearts winding around it, decorated by Blossom), and lets Be*Live splosh her chest first with six different vibrant colors and delicious flavors of pure vegan sploshing sauces.
Thus, partially sploshing and dripping, she makes her "entrance" onto the Womb Room stage (see above) where she sits on the official "sploshing chair" and both Be*Live and I splosh away all over her breasts, arms back, curly afro, in her eyes (oops, sorry!) and in her mouth.
I lick her shoulders and Be*Lives licks up her chest as some of our audience smiles and cheers while other look on in mildly shocked horror.
Heavy sploshing like this can be intense!
And sooooo beautiful in that Jackson Pollock painting kind of way… especially with Sploshing Queen Danièle, performance artist extraordinaire, as our canvas.
RawkStar Chef Be*Live's Vegan Splosh Recipes
All gourmet raw vegan or "BeeGan" sploshing sauce recipes are by the original RawkStar Chef Be*Live, aka Brian James Lucas.
Try mixing them up yourself for a yummy, healthy, sexy V-Day or any day.
Red- strawberry, beet powder and raw honey.
Orange- mango, coconut, orange and maple syrup.
Yellow- durian, pineapple, coconut, turmeric and raw honey
Green- cashews, avocado, spirulina and maple syrup.
Purple- blueberries, maqai berry, açaí berry and maple Syrup
Pink- Raspberries, beet powder and raw honey
Chocolate- raw cacao nibs, cashews, peach resin, avocado, sea salt and maple syrup
White- cashews, coconuts, peach resin, macadamia nuts, coconut oil and raw honey.
All the above recipes are delicious for eating on salads, casseroles, cakes and more—and, of course, great for sploshing
We BAD Valentines!
The gold mylar foil we stretched over the rug to protect it from splosh is now covered in it.
Into the mess, bravely steps 2018's SUZY award winner for "Sexiest Rapper," Ikkor the Wolf.
He sings his signature rap and the Song of Bonoboville, "She Bad" as Danièle and Be*Live dance naked and sploshed, like mud people, and the rest of us shake our bootie a good distance from their dripping bodies.   
One of the chief bootie-shakers is Brigitte Buchanan, 2018 SUZY award winner for "Best Spanking." 
Sexy Milf Brigitte recently celebrated a birthday (no, I didn't ask her age), so I give that cute bootie a much deserved birthday spanking first with my neon flogger, then skirt-up, pantyhose-down and over-the-knee (OTK) by hand and with a copy of the SPEAKEASY Journal: Splosh 'n' Art edition.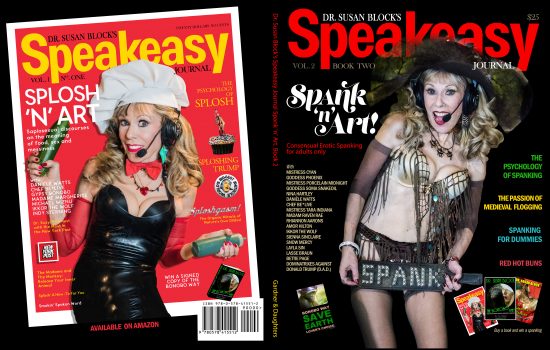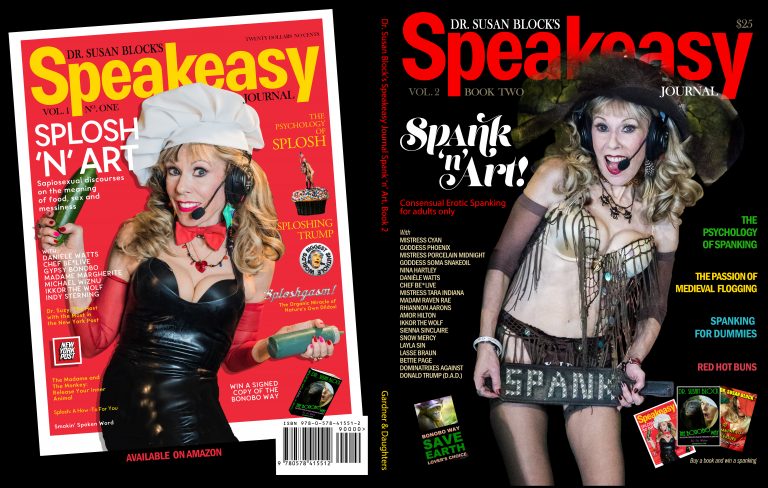 Get it for your Valentine, even if it's not Valentine's Day, especially if they like food and sex… and love.
What about the big V-Day itself? What if you're a neat freak and just the idea of splosh makes you nauseous? Don't panic! Whether you're married, single, in a couple, a trouple, a quadruple, a commune or a convent, you can honor LOVE with the world's greatest lovers and officially Go Bonobos on Valentine's Day because Valentine's Day is now World Bonobo Day!  If any nonhuman animal embodies the spirit of Valentine love, it's the bonobo. Gain Valentine inspiration to release your "inner bonobo" to live in more loving ways from the source: the amazing LOVE APES of the rainforest, where every day is Valentine's Day, and nights are filled with love.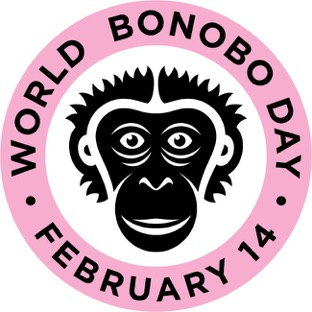 Our closest genetic cousins, bonobos are also the "peace apes." Having never been seen killing each other in the wild or captivity, they show us that peace through pleasure is possible for apes like us. Here in our bonobo-inspired human "Bonoboville," we're delighted to support "World Bonobo Day," conceived by The Bonobo Project, winner of the 2018 SUZY award for "Best Bonobo Promotion" and creators of the phrase "I Bonobo You (I love you).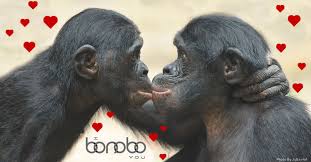 World Bonobo Day was officially recognized in House Resolution 738 by Congressman Scott Peters (D- San Diego), "resolved that the United States House of Representatives, encourages everyone to participate in activities that help to educate the public about the need to protect these uniquely matriarchal, loving and endangered great apes."
Three cheers and a bonobo beer for Ashley Judd, who has "come out" in support of the bonobos as a paradigm for female empowerment.  Of course, I've been saying that bonobos are the "Most Femdom Apes on Earth" since the 1990s (though I called it "matriarchal" then), but I also pointed out that they have the highest levels of male well-being and they make peace through pleasure, aka sex.

Speaking of bonobo beer, there will be "bonobo brew" at the Blind Lady Ale House in San Diego, Thursday evening, February 14th, where Bonobo Projects friends and lovers will celebrate World Bonobo Day. There will also be a silent auction and giveaway gift baskets filled with bonobo-oriented goodies, including signed copies of The Bonobo Way. All proceeds go to The Bonobo Project.
If you can't make it to the Blind Lady, here's a V-Day/World Bonobo Day gift idea: Donate what you can to help save the bonobos in your lover's name and give them the receipt inside a traditional Valentine card. Give to the Bonobo Project or to one of our two favorite bonobo conservation organizations, Lola ya Bonobo and Bonobo Conservation Initiative (BCI), actively helping to save the wild bonobos from extinction with "boots on the ground" of the world's second largest rainforest in the Democratic Republic of Congo (DRC).
As I've said before, V-Day is so "me-me-me" or "we-we-we"; sometimes the pressure on being your "best self," your sexiest self or even your most loving self (or on the other hand, getting exactly what you-you-you want for Valentine's Day), just backfires and ruins the whole holiday, turning February 15th into a Day-After-Valentine's Day Massacre, sometimes resulting in real bloody tragedy, though mostly the damage is to our feelings.
So why not avoid focusing on yourself and your relationship, or lack thereof, and focus instead on the new Valentine's Day ambassadors, the Make Love Not War bonobo chimpanzees who swing through the trees as well as with each other? See them at the San Diego Zoo, read about them or watch a video, and donate (if you don't have a Valentine, just "be your own Valentine" and do it in your own damn name) what you can to help save the highly endangered bonobos from extinction.


Gift Idea 2: Give The Bonobo Way this Valentine's Day to friends, lovers and your friends' lovers. Spread the Bonobo Word of Love from the Love Apes.  Get What You Want While Giving! It's The Bonobo Way. The Bonobo Way is the ultimate antidote to the fear and hatred that is driving us apart. Give it to someone you love, even if that someone is you. 
Lupercalia is Coming
This Saturday, Feb. 16th, we celebrate Lupercalia, the original pagan V-Day, with Goddess Phoenix, Rhiannon Aarons, Kacy TGirl, She God Claire, Bratty Wolfie and more.
I love Lupercalia, which never involves the pressure of V-Day, just all the pleasure of the greatest party of the year featuring one of the "greatest stories ever told" (no, not about Jesus; about Romulus and Remus!) that sometimes turns into an orgy, at least a spanking orgy.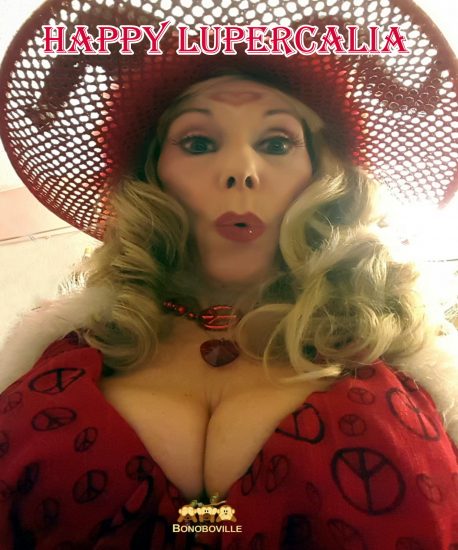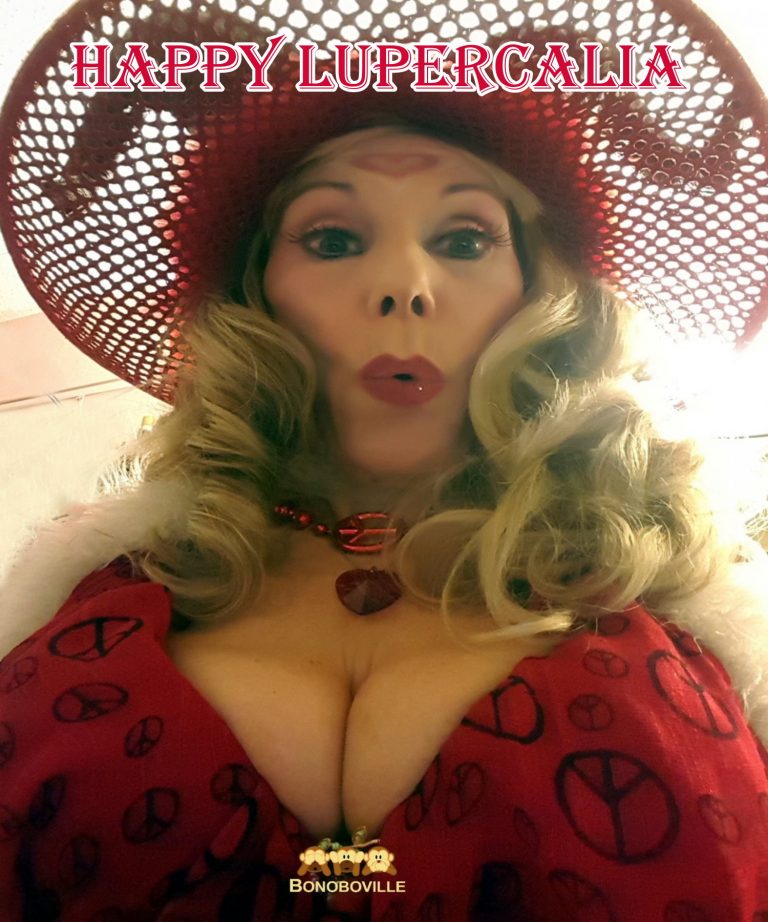 We'll also launch our second edition of Dr. Susan Block's SPEAKEASY Journal: SPANK 'n' Art, though we'll only have proof copies, since Bezos' Amazon told us we needed everybody's releases at the last minute, and we finally gathered them together, but now it'll take a few days.  But the proofs are cool collectors' items!

RSVP: Call 310-568-0055
Happy Valentines
The post-show party is mellow which suits my respiratory-challenged style. 90 minutes of sex, splosh, spanking and carousing on the show is enough, so I just chill with the rawkstars post-show.
Of course, your Valentine Challenge is up to you. You might want to do something totally different or nothing at all, and that's totally fine.
As for me and my beloved Valentine of 28 years (married 26), my Captain Max, whisks me up to the Captain's Quarters where we engage in some pretty great Valentine sex—no, not as athletic as the porn stars and not as dramatic as the sploshing stars. In fact, we take it nice and easy, not too challenging, but then lo and behold it explodes into orgasm (did you know an orgasm really clears your sinuses—for a few minutes?), and overflows with heart.
© Feb. 13, ,2019. Susan Block, Ph.D., a.k.a. "Dr. Suzy," is a world renowned LA sex therapist, author of The Bonobo Way: The Evolution of Peace through Pleasure and horny housewife, occasionally seen on HBO and other channels. For speaking engagements, call 310-568-0066.