Orgy Erotique with D.A.D. Politiques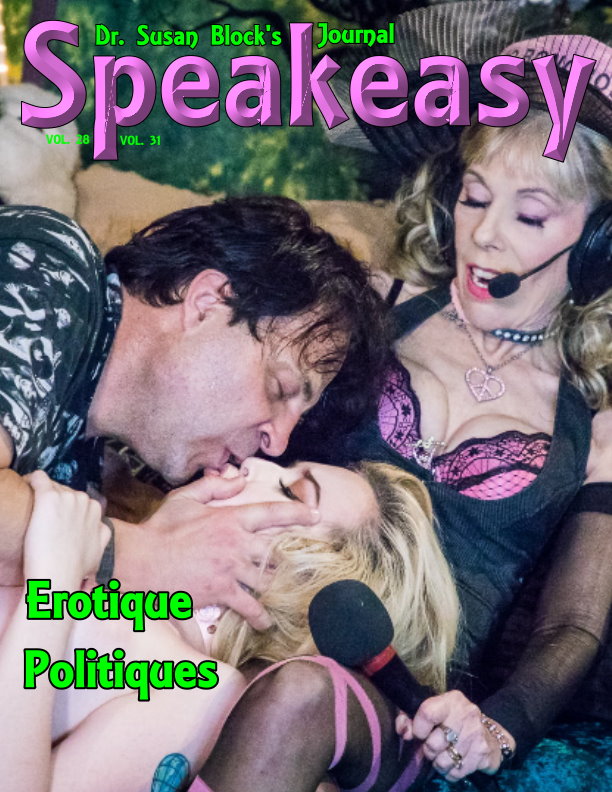 Length 01:51:20 Date: April 7, 2018
Times might be tense in Trump's America, but here in Bonoboville, we release the pressure, and my Womb Room explodes into an orgy on this show. Then we hose down the Trumpus with gallons of fine golden rushin' champagne, and it's back to the orgy again.
We certainly make like bonobos, not baboons!
Commedia Erotica Rap Opera Players
The "romantic leads" of the orgy are my featured guests, platinum blonde bombshell Erotique Entertainment contract star, Lexi Lore, and the amazing Eric John, MIT grad, former Boeing executive and current porn star/mogul/CEO of Erotique Entertainment, as well as 2016 SUZY award winner for "Best Male Ejaculator." In love and in lust, Lexi and Eric engage in passionate, pounding, orgasmic sex in various positions throughout the entire show!
From Erotique to Politiques, my other featured guests are the fabulous and ferocious Dominatrixes Against Donald Trump (D.A.D.), in their fourth monthly visit this year to Bonoboville. Led by the prurient and prescient Mistress Tara Indiana, 2017 SUZY award winner for "Best FemDom of the Resistance," this evening's members include the sapiosexual and voluptuous Rhiannon Aarons (2017 SUZY award winner for "Most Well-Rounded Kinkster"), the beautiful and provocative Goddess Lillith and sweet, statuesque Sheree.
Rounding out the group is brand new porn star and experienced body builder Rocky Foxx who helps to keep the orgy hopping along with my excellent and effervescent assistant, Phoenix Dawn, decked out in hot new lingerie from Adult Warehouse Outlet.
Rapping to the rhythms of the orgy is our own Ikkor the Wolf.  Between Ikkor's raps, my gasping attempts at narration, the various moans of pleasure, sighs and spanks like drumbeats, it really sounds like a sex rap opera. Not that it compares with Opera for Bonobos, but listen to the audio link above or watch the fun.
Freud, Feet & Fornication
As for me, I'm just thrilled to be alive, teetering on the edge of these Trumpocalyptic times, fighting off pollutant-triggered sinusitis, as are so many other folks, thanks to the powerful toxins in our Trump-and-oligarch-raped environment.
I'm so grateful and excited to be surrounded by such beautiful bonoboesque movers and shakers, I even shorten my usual opening remarks on current events to get right into the erotic action.
Actually, Mr. Erotique himself, Eric John, should get credit for initiating the erotic action, as he slides the super cute sneakers and pink heart-patterned socks off of the initially languid Lexi Lore, kissing, licking and sucking her beautifully pedicured toes with the tender delectation of an avid (though by no means submissive) foot fetishist.
As we marvel that such a sexy scene is tame enough for our Facebook camera, we suddenly realize that Eric's jeans have a strategically situated hole in the crotch, and he is playing with his well-shaved balls. "I hate Facebook," he declares, continuing to suck Lexi's feet as he tickles his testicles. "I'd be happy to help you get kicked off Facebook, like I was."
Fortunately, our Facebook cam hovers above Eric's crotch and then backs off into the bar as Eric's holey jeans come off, and foot-sucking turns to foot-fucking.  That's also when our DrSuzy.Tv cams zoom in. Languorous Lexi admits to not getting much personal pleasure from foot play, but she's a bit of an exhibitionist and takes satisfaction in flexing her pretty feet into balletic arches that create an excellent opening for Eric's thrusting.
This gets us talking Freud, who interpreted the woman's foot as a phallus, though Ms. Tara observes that it's actually more vaginal, especially when the two soles touch. Freud was a pioneer in sexology, as well as "talking therapy," but he got a lot wrong, especially about women.
Seeing how they need more space to express their affection for each other, I invite the Erotique twosome into my broadcast bed.


As soon as they get comfortable, doll-like Lexi's clothes come off (with Phoenix's & Eric's help, of course), revealing her lovely natural boobs, pierced nipples and hairless, very pink pussy.
The serious screwing commences in a scissors position with Eric pumping like a champ, now wearing a bright orange cock ring (Lexi's choice) from  Adult Warehouse Outlet. Eric announces that this is his first time wearing a cock ring, and I'm amazed we have stumbled upon something sexual that this porn vet has never done before.
PHOTOS 1-3: JUX LII.  PHOTO 4: C2E'S
A "natural man," Eric reports that he doesn't feel much from the ring, perhaps because he's too busy fucking to follow Ms. Tara's expert advice to put it around his balls as well as his cock. The ring doesn't appear to hinder his thrusting action though, and it isn't long before he ejaculates exuberantly inside his beloved.
Lexi's body angles and facial expressions are porn-tabulous. When I ask her favorite fantasy, she says "DDLG." But when I ask her if she came too, she hesitates and then confesses to her Mother Confessor that no, she did not, whereupon I give her a Glyde Condom-covered MFC vibrator, and she happily buzzes away as Eric gamely gets it up for round two.


This time, Lexi really comes. How do I know she comes? Well, with a woman, you never really know. But she says she comes, plus with her adorable head in my lap, I can feel the tension and release as her moans get really intense.
Within the same three seconds that Lexi climaxes, unflagging John boy comes again.
"That's the first time we've come together!" Eric exults—another first for them on DrSuzy.Tv—as the crowd goes wild.
When I say "wild," I don't just mean cheering and applause (though there's plenty of that too), I mean bonobo-wild.
PHOTOS 1,2, 4: JUX LII.  Photo: D. Harp
Good sex is contagious, at least in Bonoboville, and it isn't long before Rocky, Phoenix and Rhiannon are having their own girl-girl-girl orgy on the Womb Room floor. Mistress Tara joins in with a spanking, and there's even more sex happening in the Speakeasy bar and pretty much all over Bonoboville.


Whoa, whatta show. Just when you think it can't get any wilder, it does.
SESTA/FOSTA Fiasco
In between sex positions (they even do it standing up!), I find out that Lexi grew up in Virginia with a Christian mom and a Mormon dad. Despite their religions (or maybe because of them), Lexi's folks are pretty supportive of her porn career, which started with webcamming less than a year ago and connected her with Eric just this January. Lexi herself is more science-based than religious, like her MIT-trained comrade. The two of them attend physics conferences (where they engage in public sex that, thus far, hasn't gotten them arrested), and she says she's interested in computer science, the perfect complement to porn.
Well, at least it has been, until the current SESTA/FOSTA disaster. We warned you about it on Spring Showers, Woman Power, but it's coming down even harder and faster than I imagined.  Essentially, SESTA, the Senate's "Stop Enabling Sex Traffickers Act" and FOSTA, Congress' "Fight Online Sex Trafficking Act" do absolutely nothing to stop real sex trafficking and do everything to endanger legitimate sex workers. They also censor the Internet big time (maybe even bigger than the axing of Net Neutrality), decimating Section 230, the federal provision shielding web publishers and platforms from certain legal liabilities for the things their users post. Senator Ron Wyden (D-Oregon) and Rand Paul (R-Kentucky), the only Senators that voted no to this monstrosity, deserve our thanks. The day before this show, Feds busted BackPage, seizing their sites, and 20 FBI agents raided co-owner Michael Lacy's home. Scared that they will be busted, or maybe just seizing an excuse to "clean house" for more corporate advertising revenue, Facebook is cracking down on anything that looks like sex. Twitter, having always been relatively uncensored, is now acting like Facebook, "shadow-banning" accounts (like mine!) that show nipples or other erogenous zones. Craigslist has shut down it's personals section, Walmart won't display Cosmo, and unfortunately, there's more fall-out here.
It's disheartening, to say the least, but there is a SESTA/FOSTA Resistance emerging. If you're a sex worker who engaged in any professional sexual activity with a Congressman who voted for FOSTA or a Senator who voted for SESTA, and if you have evidence of your affair (make sure to save those semen-stained garments, people!), WTFosta will pay you $25 grand.



Though SESTA/FOSTA are especially egregious in terms of sex censorship, the darkness has been descending on the once "free" and friendly Internet for some time. For several months, Youtube has been censoring and "demonetizing" smaller, noncorporate accounts, from yours truly to the pitiful maniac, "Green Nasim," who shot up YouTube HQ, wounding three employees before killing herself. Fortunately, she was just wielding a handgun, not an AR-15, or the carnage would have been much worse. Of course, there's absolutely no excuse for such violence, but any individual who posts videos can empathize with Nasim's frustration over Youtube's often uncalled for censorship with no trial, no due process; just a nameless, faceless, algorithm-based "judge."
But back to more fun stuff, like the sex in Bonoboville! Despite occasional forays into conversation (this is a talk show, after all), the sex just keeps on coming and, now that she's got a vibrator, so does Lexi. Amen and Awomen to that. She's may be "just" a teenager—nineteen years old with braces on her teeth!—but she's a preternatural porn star. And oh, those amazing facial expressions.
April Showers for Trump
After all that hot loving sex, it's time for a different kind of release, and oh goddess, do we get it.
As usual, D.A.D. has brought along the Trumposity himself (consensually and quite courageously impersonated by Nemo, who dislikes tRUMP as we do), all suited up for the occasion, and severely subdued by Mistress Tara who berates him for his multiple failings and transgressions against America and humanity.
What do we punish him for? Oh, let me count the foibles… The mess America—and most of human civilization—is in is due to many factors, including a nasty mix of plutocrats, jacked up police, perma wars and corporate machines, with tRUMP as the figurehead, the very worst symptom of the capitalist disease. We punish him for his extreme greed, narcissism, racism, sexism and epic insensitivity. On the day of this show, a fire broke out in Trump Tower (was Don, Jr. burning evidence or did it emerge from Senior's pants?), and the Trumpus tweets that all is well, bragging about his "well-built building." Moments later, we learn that someone died in that fire.
Meanwhile, Scammin' Scott Pruitt, tRUMP's director and destroyer of the EPA, has been exposed for having rented a DC townhouse at way below market rates (just 50 bucks a night, paying only for the nights he stayed, and still the weasel was late on rent) from the wife of a lobbyist for major oil companies. But what's a little corruption among swamp dwellers? It's Pruitt's—and tRUMP's—decimation of EPA regulations, without a care for the air we breathe, the water we drink or the future of life on Earth, that's truly evil.
For that, Ms. Tara cracks the bullwhip on our Presidunce. Ever trying to turn our Trumpanzee toward the Bonobo Way, I book-spank the big old baby, and Rocky wallops him hard.
As for the lovely Goddess Lillith—named for the first woman and the first FemDom, whom Adam rejected because he couldn't dominate her, leading lusty Lillith to satisfy her desires with demons—she straddles Trumpty-Dumpty's back and whacks his bottom with a rolled-up copy of the Forbes that Stormy says she spanked him with.
Speaking of Stormy, three cheers and a bonobo beer for Counterpunch, which picked up my  Stormy & the Students blog last week. Stormy's doing great. As I write this, the Feds are raiding the office and home of Trump's personal attorney, Michael Cohen, including evidence related to his $130,000 hush money payment to Stormy. The plot is thickening into a nice Orange Chicken Stew.
However, unfortunately, since I wrote the piece, there have been more shootings of innocent people by raging ammosexual civilians and, even worse, by police, goaded and equipped with more and more army gear from the Military-Fetishist-in-Chief (who never even served in the military). Now tRUMP wants to put the military on our border with Mexico. This in addition to planning a fascist-style Military Parade. Maybe we'll have a Military Parade on the Border?
Our punishing of tRUMP crescendos as he strips off his suit and shows his shortcomings to jeers from the crowd. He lies down compliantly on the tarp, and then all the FemDoms—and a few of the porn stars—proceed to shower him with golden sprinkles galore. It's another Russian Hooker Pee Party! Rhiannon goes first, scoring a bullseye in the Presidential bellybutton, and the rest of us follow, putting him through the proverbial urinary car wash, until he's gleaming gold as Trump Tower (isn't urine a disinfectant?).
Second up in the pee party is Goddess Lillith who, until this point, has been rather reserved. But as she hikes up her skirt, revealing her dazzling tattooed flesh, and unleashes a torrent of yellow thundershowers all over the chest and face of the already soaked Corpus Trumpus, we all gasp in amazement at this gal's urinary capabilities.


April showers indeed!
Later, Goddess Lillith teases tRUMP sadistically with her high heels, but when he shakes, the pee splashes on the rest of us, so she kindly refrains from hurting the bastard as much as she'd like to. 
Then its Sheree's turn; with her "something extra down there," she takes aim at tRUMP's chin, giggling gleefully as she hits her mark. Mostly watching the spectacle from Eric's arms, Lexi then agrees to do her "duty." and joins forces with Phoenix as the two porn stars laugh and let loose their sparkling showers in tandem.
All this sparkling golden woman power inspires me to get up there and (despite the drying antihistamines I've been ingesting) I release a glistening river of sunshine that rushes into the Sea of Resistance my sisters have delivered all over the big Orange Mess. Yes indeed, the harbinger of the Blue Wave might be the Golden Waterfall.



Each of us wipes herself with a few squares of Trump Toilet Paper (thanks Jux Lii!), which we then stuff in the Big Baby's shithole… no, not his ass (in this case); his mouth!
Shout-Outs & More Sex on Golden Pond
Feeling intoxicatingly empty, I stand among the puddles and shout-out Nanine McCool for standing up to self-help "guru" Tony Robbins' misogyny, and New York Judge Jennifer Schecter who just ruled that former Apprentice contestant Summer Zervos can sue Trump for defamation when he said she lied about him sexually assaulting her in his Beverly Hills Hotel bungalow.
Having rested for a half hour or so, Eric and Lexi go at it for a third time, this time with Lexi on top.

Then Eric stands up and tromps across the pee-soaked tarp as he continues to screw his flexible lady,  Next thing I know, the lovely little doll is in my lap again, and I have to hold her tight to keep her from falling into Golden Pond as she comes. The sexual chain reaction activates Rocky and Phoenix, and my broadcast bed metamorphoses into an orgy mat yet again.
PHOTOS: JUX LII
Meanwhile tRUMP lies as if comatose in the sea of pee and wet TP etched with his irate visage, the monster "drowning" as the angels make love above him.
It's awfully disgusting and really beautiful, just like humanity.
Happy Endings All Around
After the show, we mostly recover.
I must admit I feel so good about our tRUMP-dumping that I don't even try to talk my favorite tRUMP voter (the beautiful Tammie Parrot) out of her unconscionable support for the Mango Meathead.
Especially when I hear that she was one of the people having sex in the bar. For that, I have to give her some Adult Warehouse Outlet cock rings.

Moreover, Tammie's boyfriend Leo has the coolest little Vanderhall three-wheeled car (reminds me of motorcycle taxis I used to ride in Pakistan). Eric, Lexi, Phoenix, Rocky and Lillith just love draping themselves all over it.
I can't hate Trump supporters, some of whom are my friends and clients; I can only hope they change their minds, go bonobos and see the golden light… before it's too late.
Then, it's time for Capt'n Max and I to give each other our own "monogamish" orgasms, which doesn't take long, what with all the orgying angels dancing and romancing through our fantasies.
Thanks for the erotic inspiration, guys! It certainly helps keep the lust alive in a longterm love affair like ours. Speaking of which, we will be celebrating 26 years of lawfully wedded, bonoboesque bliss with a galaxy of stars this Saturday, April 14th. Themes are jade, roses, art works and RƎVO˩ution.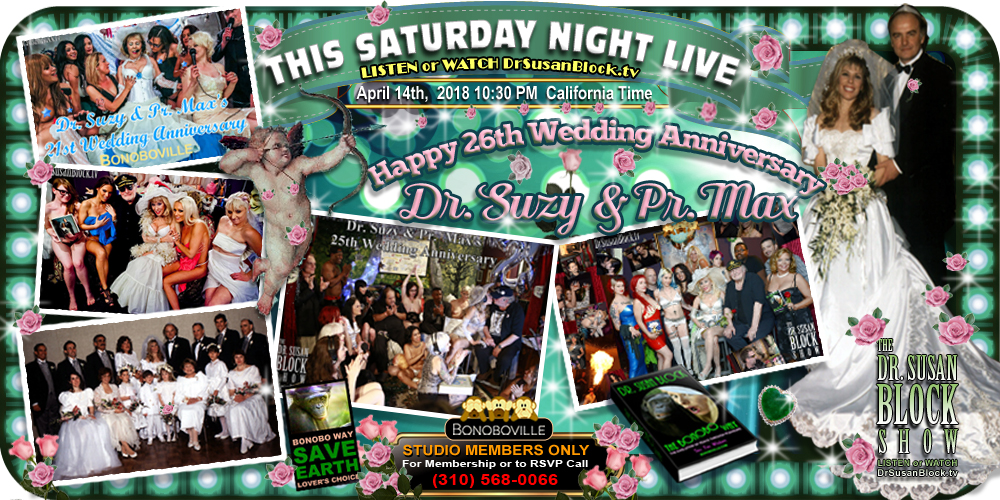 Thanks to Our Volunteers: Videographers— Kris A, Gideon;  Photographers – D. Harp, C2E's Photography, Jux Lii;  On-Campus Bonobos – Phoenix Dawn, Abe Perez, Camille Rosebud, Mita Altair, Harry Sapien, Gideon Grayson, MarsFX, Clemmy Cockatoo, Ana & Miguel


© April 7, ,2018. Susan Block, Ph.D., a.k.a. "Dr. Suzy," is a world renowned LA sex therapist, author of The Bonobo Way: The Evolution of Peace through Pleasure and horny housewife, occasionally seen on HBO and other channels. For speaking engagements, call 310-568-0066.