#GoBonobos for a Sex Doll Invasion, MILF Phone Sex Therapy, Forbidden Photographs of Hot Married Sex, Squirting, Cool Pools, Bondassage, Gun Control, Incel Sex Therapy & Please: Make Love Not War!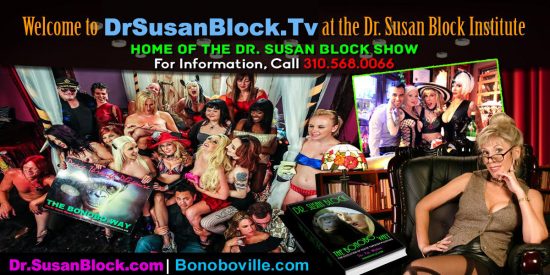 For Info: Call 310.568.0066
Do you yearn to let go with someone you can trust?  Want to explore the Erotic Theater of the Mind: squirting, spanking, splosh, striptease, stockings, teasing,  mommy fetishes, sex and religion, cuckolding or "cuck" fantasies, or other secret sexual fantasies? Need help with relationship issues or integrating your sexual desires into the rest of your life? Call the Therapists Without Borders of the Dr. Susan Block Institute, available 24/7, anytime you need to talk. Whatever your fetish, fantasy, interest, question, problem, pleasure, kink or conundrum, you can call the Institute at (213) 291-9497 anytime to talk about anything; we're just a phone call away. Experience therapy by phone, webcam or sexting. If you're interested in orgasm, tune into Dr. Suzy's spot-on advice in "38 Orgasms in an Hour & a Half" and listen to Dr. Suzy talk to "Lisa" about her amazing ability, then advise her on how to do that (or even just have one orgasm!) with her new boyfriend.  For more videos featuring Dr. Suzy's wit, wisdom and inimitable eroticism, check out the Dr. Susan Block Youtube Channel! Subscribe for more

Dr. Block's Journal

We've got a fabulous foursome of stimulating and sapiosexual new shows for you to watch free on DrSuzy.Tv! Our Bastille Day Eve 2019 show is true sexual revelation featuring the amazing Danièle Watts and Chef Be*Live celebrating their third wedding anniversary by having amazing hot sex on the show!


In "Hot & Bothered," an intense exploration into the erotic psyche of comedienne and contortionist Gail Stairs, Gail's remarkable physical contortions are just a prelude to the twisted, intertwined issues of her often painful love life.  Because we need some cool fun after such a "Hot & Bothered" dialogue, we top it off with a boobalicious Bonoboville Communion, climaxing with Sunshine McWane's titties on Dr. Suzy's head!


Wonder what it's like to have sex with a life-size, lifelike DOLL? Don't miss "Sex Doll Invasion," featuring Vivant Dolls, showing off their sexual talents, squeezable assets and penetrable orifices. Lots of fun, this show might put to the test your perceptions of sex, love and life itself.

 

Learn the fine art of Bondassage (Bondage plus Massage) on KiNKY ViBES with Sara Vibes! We also address mass murder (in the wars abroad and the mass shootings at home), gun control, decriminalization of sex work and incel sex therapy. THEN we escape the terrors and go bonobos with bondassage!

Watch all four free on DrSuzy.Tv, or enjoy more fantastic photos and immerse yourself in the delights and challenges of Dr. Suzy's sapiosexual show blogs

DrSuzy.TV Archives

Revisit 20+ years of sex, politics, porn stars, dommes, birthdays, anniversaries, sex educational demos, fascinating interviews, inspirational monologues, squirt salons, masturbation marathons and orgies – now all FREE and only on DrSuzy.Tv! Savor summer and learn more about how to talk with both your mind and body: check out Summer Sex Therapy playing NOW! PLUS: Dr. Suzy takes a unicorn ride in Goddess Phoenix's pool!

Block Books

Enhance your sex life, keep love alive for decades, find like-minded partners and be more ecosexual with Dr. Susan Block's critically acclaimed, paradigm-shifting book, The Bonobo Way: The Evolution of Peace Through Pleasure, and spread the bonobo message of peace through pleasure, female empowerment and male well-being! More Spanking Hot Summer Reading: Dr. Suzy's Speakeasy Journal: SPANK 'n' ART! PLUS read Dr. Susan Block's excellent advice on foreplay in Lovehoney's "What Is The One Trick That Makes A Man Amazing In Bed?" AND Women Fitness Magazine crowns Dr. Suzy the Queen–and inventor–of phone sex therapy. "People have been treated using phone sex therapy and have experienced great success in their healing," writes Women Fitness. "Who is to thank for this new phenomenon? A wonderful woman by the name of Susan Block!" Read more in Women Fitness.


 

Clip-O-Rama

If you like female ejaculation, you'll love our Clip-O-Rama clip: Juicy Jenny Squirts on the Motorbunny! If you want to learn to squirt or help your partner squirt, listen to FindSisterhood's awesome, informative podcast "The Art of Squirting with Dr. Susan Block."

Time Machine

Dr. Suzy was just dubbed the "Master of Mother Fantasies" by AffairHub (check it out)! So let's travel back to 2016 when two of our favorite real-life MILFS, Sheree Rose and Rhiannon Aarons, were first featured together on Kink Month 2: The Arts of FemDom Politics & Pain. Enjoy! And if you need MILF or Mommy Phone Sex Therapy, call Dr. Suzy or one of her other marvelous maternal therapists anytime at 213-291-9497.

. 

The Bonobo Way

Give The Bonobo Way to someone you love, even if that someone is you! A portion of all book sales are donated to bonobo conservation, so when you order your copy of this life-changing book, you are also helping to save these marvelous creatures from extinction. For a full report on Dr. Susan Block's (mostly) fabulous trip to Philly to deliver another awesome Bonobo Way presentation at AASECT 2019, and how it was disrupted and almost ruined by one mad, bad moderator, Rosalyn Dischiavo, read "Hoagies, AASECT, the Mad Moderator and the Bonobo Way." And check out AEON's fascinating piece on "forced sex fantasies," quoting Dr. Susan Block and other sexperts. Trigger Warning: Though this article is about rape FANTASIES, which can be explored in a positive, healing way (even The Bonobo Way), NOT real rape, which is always a terrible unconscionable act, this piece might disturb some of you, so exercise caution before reading it.


Bonoboville

Cruise Bonoboville.com to find out what's new in the Bonoboville universe and beyond. See the Forbidden Photographs from Bastille Day 2019, Valentine Splosh, Sex & Love, SQUIRTING Kink Month Kickoff + LABIA DAY 2018, Erotique Politiques. Masturbation Month Kick-Off 2018, Spring Showers, Woman Power and our 26th Wedding Anniversary Bacchanalia. Featured Post: NOW BOOKING Guests for the LIVE broadcast of The Dr. Susan Block Show! Explore the Bonoboville City Limits and build your village using our Classifieds, Events, FAQ page, Forums, Groups, Obituaries & much more!


---

The Marketplace of Possibilities

Shop Dr. Susan Block's Pleasure Shop and spread The Bonobo Way of pleasure this throughout the new year. Does your loved one enjoy the bonobo lifestyle but not a big reader? Surprise them with a beautiful, handcrafted Vulva Pendant or a stylish bonobo t-shirt instead!


---
---
Explore DrSusanBlock.com
Need to talk? Sext? Webcam? Do it here. Have you watched the show? No? Feel the sex. Don't miss the Forbidden Photographs—Hot Stuff, look at them closely here. Join our private social media Society. Join us live in studio 😊. Go shopping. Gift shop or The Market Place. DrSusanBlock.tv, real sex TV at your toe tips. Sex Clips Anyone? FASHION, we have fashion! We also have politics. Politics? Have you Read the book? No? How about the Speakeasy Journal? Click here. Ok, how about some free sex advice?
---
---