We're on VICE TV!
& Other Adventures
by Dr. Susan Block.
Our Vice TV piece has finally dropped, with a huge splash in the YouTube ocean, creating ripples of love—and toxic tidepools of hate—around the world.
Love us or hate us, we've garnered over 90,000 views with 1.4K thumbs-up in just three days!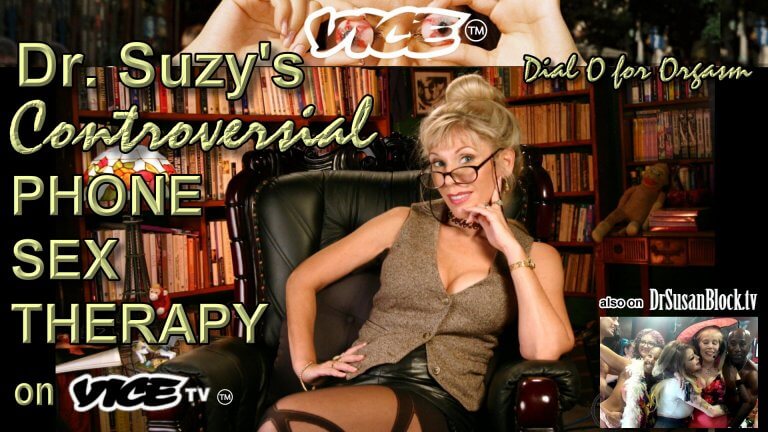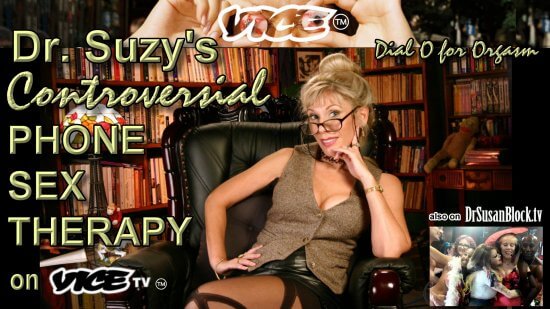 Many thanks to the Vice TV team, especially our charming associate producer, Zach Schucklin, for a job well done under uncommon duress. Vice went bankrupt just as the editors were winding up our piece, but the entire collapsing Vice empire was saved in the nick of time by that ubiquitous, multifaceted billionaire, George Soros.
The result is that "Dial 'O' for Orgasm: Dr. Suzy's Controversial Phone Sex Therapy" is a fantastic and unique documentary in many ways. There are also numerous things I don't like about it, but I'm not complaining.
Well, maybe a little…
Yes, the Viceteam and I have had some intense discussions–verging on arguments—and I talk about some of them on this show. Many of my conflicts with Vice revolve around the title which kept changing—and still might change again! They wanted to call my work "Naughty," but they're not my Dommes, so I wasn't having it. I liked "Liberating Phone Sex Therapy," but that was too sex-positive for them, so we settled on "Controversial."

It certainly lives up to that name in the YouTube version's comments section, where over 550 comments (and counting) range from delightful and passionate praise to vicious and violent threats against me and all of Bonoboville, calling for our arrest, eternal damnation and summary execution by "firing squad."
It's a little scary, but I know we're not doing anything wrong, illegal or unethical, and Bonoboville is pretty well-protected from roaming firing squads and/or erotophobic crusaders. Besides, I want to see what I'm up against on the battlefront of the current War on Sex. I'm not one of those celebrity types who won't look at my comments for fear it will damage my delicate mental health. At least not at this stage. The nice comments give me a sapiosexual dopamine hit that, in a sense, vaccinates me against the vitriol. Reading the nastiest comment is like being dropped into vat of boiling poison as a leering priest prays over me. Yikes! But this poison is only in their pens (there are far worse toxins in our food and atmosphere), and it's fun to respond to all the rage, outrage, disgust, condemnation, denigration, slut-shaming, elder abuse, misogyny, thought-policing and horror with as much humor and love as I can muster.
I can't comment as "Dr. Susan Block," because my main YouTube channel of 15 years was terminated. So, I use a couple of secondary channels (Bonoboville and Sex Calls) to have some fun, support the good commenters and take on the baddies, battling the crusaders, busting the thought police, correcting misconceptions and fake news, slapping back attempted offenses, spanking the wannabe offenders, and spreading The Bonobo Way of peace through pleasure as much as possible, under the circumstances.
We're also getting a lot of calls at the Institute, and it's pretty momentous for us, so on this FDR ride, Capt'n Max, Unscene Abe, a host of Callin callers and commenters and I spend most of the time talking about the video—how awesome it is, as well as where it's not so awesome—and of course, the tsunami of good, bad and utterly crazy comments.
We take four great calls, all from folks who are enthusiastic about the Vice TV piece (we'll get to the haters on future shows, I'm sure) 1) Chris G., 2) Kasey T-Girl, 3) Rhiannon Aarons and 4) Brady Crow.
Rhiannon and Kasey are in the Vice TV piece, as they attended my Bonoboville Reunion—and oh, what a show that was (watch above)! We have fun comparing our uncensored version with the Vice edition which features boobs without nipples.
Yes indeed, thanks to censorship, we are all Barbie now!
Ironically, the boobs and genitalia are visually muted with a white film, as if the editors engaged in bukkake bowdlerization, spraying creamy ejaculate all over our so-called "naughty" bits.
Also on this Love Train ride: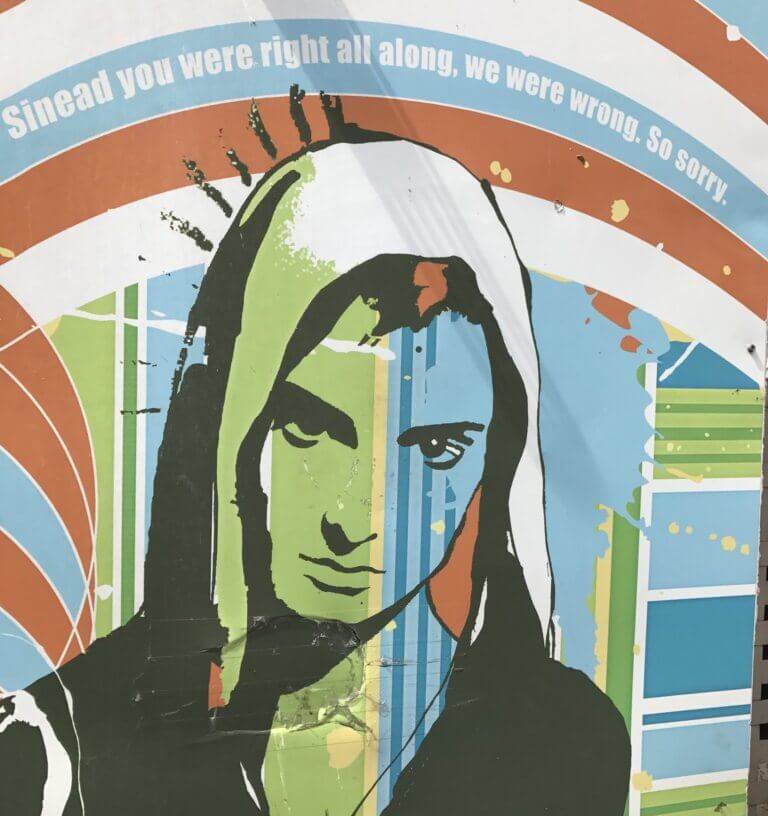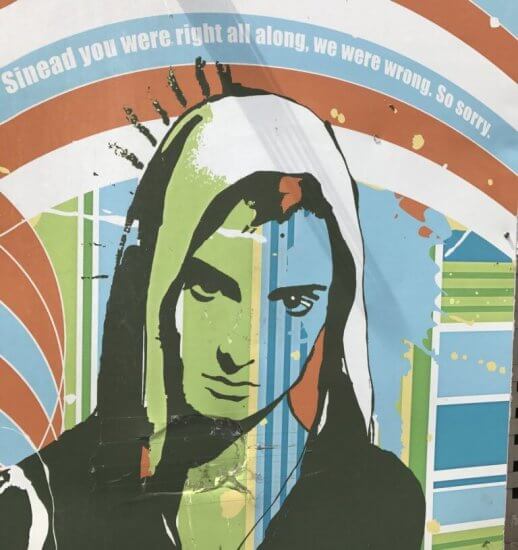 Beaten down by the stress of being hounded for publishing—by the Right and Left—Backpage co-owner Jim Larkin died by suicide on the day of this live broadcast, just before his trial. Veronica Monet who tipped me off about the tragedy, posted, "How did the Christian fanatic abolitionists who believe all sex work is sex trafficking, gain so much power in America? They have convinced even liberals of their hateful dogma."
It's the 78th anniversary of the American bombing of Hiroshima. The notorious A-Bomb was created by a group of physicists supervised by the man of the cinematic moment, J. Robert Oppenheimer, who had second thoughts—too late—and it was dropped by U.S. President Harry S. Truman, a Democrat and a hat maker, who had no second thoughts, as he perpetrated the worst war crime the world has ever known. Tragic how these war criminals are honored by so many, while sex educators and sex workers who never hurt anyone are treated with disdain.
Well, sometimes we're honored, and I've been nominated for "Most Popular Sex Educator" in the Urban X awards. I'm sure I won't win, but it's great to be nominated!
Manatee group sex is in season! If you see them humping on the beach, don't be alarmed and don't call the police. Let them hump and enjoy.
Trumpty Dumpty's been indicted… again! Three's the charm, and this third indictment is for his "wild" 6 Rape of the Capitol. Despite—or because of—his mounting legal woes, the polls show him to be 39 points ahead of his closest Republican competitor, "throat-slitting" Florida Governor Ron DeFascist.
RIP PeeWee Herman, aka Paul Rubens. What a great artist who was also slut-shamed just for masturbating in an adult theater in 1992. In his honor, I masturbated on KFOX and had the first live orgasm on the radio. Farewell our beloved PeeWee!
It's hot! Global Warming has turned to Global Broiling. Keep hydrated. Stay sane. Air-conditioning may be good for you, but it's bad for the planet, so make love—or masturbate—in a nice tub of ice. Wear your headphones and listen to this cool and eargasmic FDR, and then watch us on Vice TV and join the commenters' kickboxing community brawl.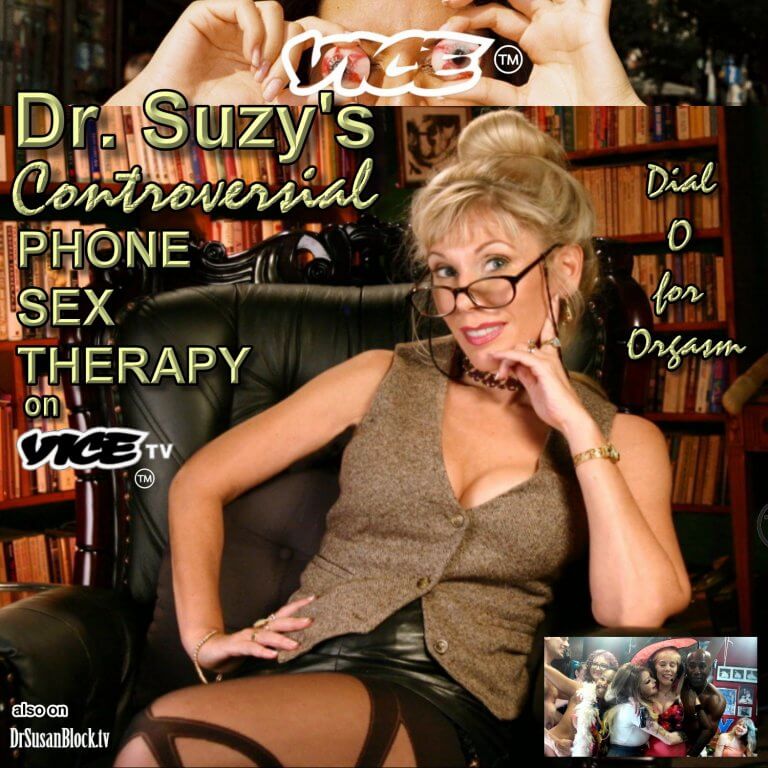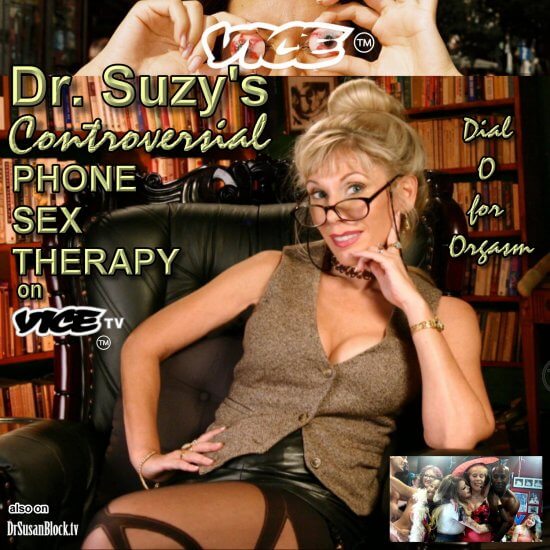 © August 5, 2023 Susan Block, Ph.D., a.k.a. "Dr. Suzy," is a world renowned LA sex therapist, author of The Bonobo Way: The Evolution of Peace through Pleasure and horny housewife, occasionally seen on HBO and other channels. For speaking engagements, call 626-461-5950.
---
Explore DrSusanBlock.com
Need to talk? Sext? Webcam? Do it here. Have you watched the show? No? Feel the sex. Don't miss the Forbidden Photographs—Hot Stuff, look at them closely here. Join our private social media Society. Join us live in studio 😊. Go shopping. Gift shop or The Market Place. DrSusanBlock.tv, real sex TV at your toe tips. Sex Clips Anyone? FASHION, we have fashion! We also have politics. Politics? Have you Read the book? No? How about the Speakeasy Journal? Click here. Ok, how about some free sex advice?
---
---