STRIKE for Love
by Dr. Susan Block.
All aboard the Love Train, but don't cross that picket line! Strike against greed! Yes indeed.
At this pivotal moment in Capitalocene history, many routinely exploited American workers in the WGA, SAG-AFTRA, UPS and other unions are on strike. On this episode of F.D.R., we support the good strikes (go unions!), even as we oppose the bad strikes, i.e., military strikes.

There's also a war on words being waged against me and, of course, you. This is not a war of words, but a war on words, because corporate social media's most powerful weapon is simply to silence us

We're especially mortified by the clusterbombs, America's latest *gift* to Zelensky in the Russia/Ukraine perma war, currently devastating all parties, except the greedy and ruthless war profiteers.
There's also a war on words being waged against me and, of course, you. This is not a war of words, but a war on words, because corporate social media's most powerful weapon is simply to silence us, censoring our words, usually without saying a word about why we can no longer speak.
The Banned Band
Now Spotify is censoring our spoken words. Why? Is it something we said? Our sexy voices? Our leftist politics? Is it because I invented and practice phone sex therapy? Is it because I'm Jewish? Because I support Palestine? Because Capt'n Max and I tend to support workers, including sex workers? Spotify's Censor AI doesn't say. That tends to be the guiding "principle" of corporate social media: Disable the account with no explanation given.
The disabling of my account(s) is sadly appropriate for Disability Pride Month (thanks for the tip Chris G.), and in that spirit, we honor F.D.R.'s namesake, Franklin Delano Roosevelt, disabled from polio and forced to use a wheelchair—and yet he managed to win elections and govern the country through the Depression and WWII, starting up some of our most effective socialist-style programs. F.D.R. had his faults (the Japanese internment camps come to mind), but every politician does, and talk about a great role model for disability pride!
F.D.R. also stands for "Fuck Da Rich" and, due to America's ominous decision to send clusterbombs to Ukraine, I was going to call this show "ClusterF*ck da Rich," but I self-censored out of fear we'd be disabled again. Self-censorship is the opposite of self-pleasure. Indeed, it is a demoralizing form of self-harm, but seems grimly necessary to keeping one's increasingly vulnerable social media accounts alive during these Dark Ages of Corporate Censorship.
Because censored or free, we always needs music, Capt'n Max and I are starting a band. We call it the "Banned Band."
Chris G continues to support us through all of our bans (and his fine singing voice would be an asset in our Banned Band), giving another impassioned speech for the "Dean of Lust and Love" on this show. "CutThePentagon" is so impressed, he compares Chris' oratory to the original F.D.R. We are still waiting to hear back from the IG lawyer who said META bots *may* have made a mistake in disabling my account. We know they made a mistake (this AI is Artificial Ignorance), but will they admit it? Meanwhile, please sign the petititon to restore my META accounts!
Hollywood on Strike!
In the Hollywood strikes, CEO hypocrisy and class warfare are on full, dramatic display. Chris seconds our support for the strikers, adding in the even less fair plight of disabled performers.
Do the CEOs care? Hardly. Even here in the world of "acting," they don't even bother to act like they care.
Take Disney CEO Bob Iger, whom Max dubs "Igor": he made $24 million last year and boasts several multi-million dollar homes and a 184-foot yacht. He is paid over $74,000 per day, which is more than most of his writers make in a year.
Of course, actors can make a lot more, but most make a lot less; 87% of SAG members don't make the $26,000 a year needed for health insurance. But Bob Iger wants to buy another house or maybe a bigger yacht.
Will somebody give Bob's yacht location to those rudder-chewing orcas?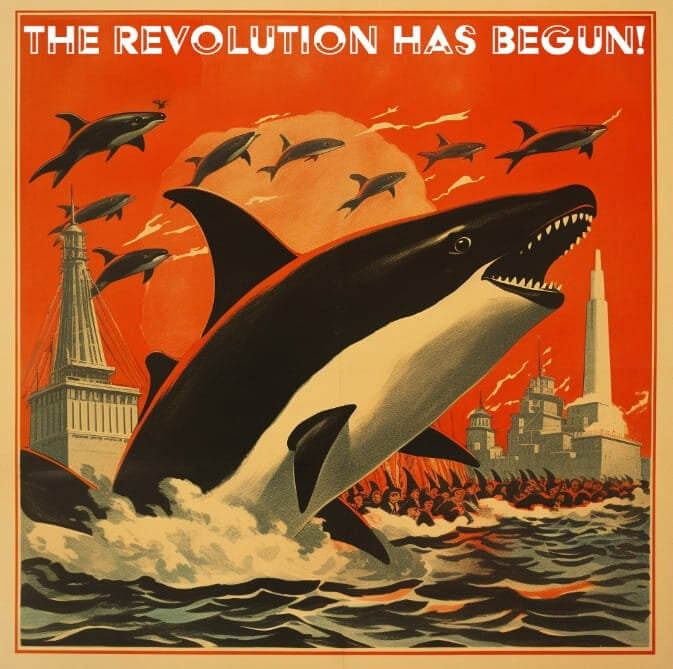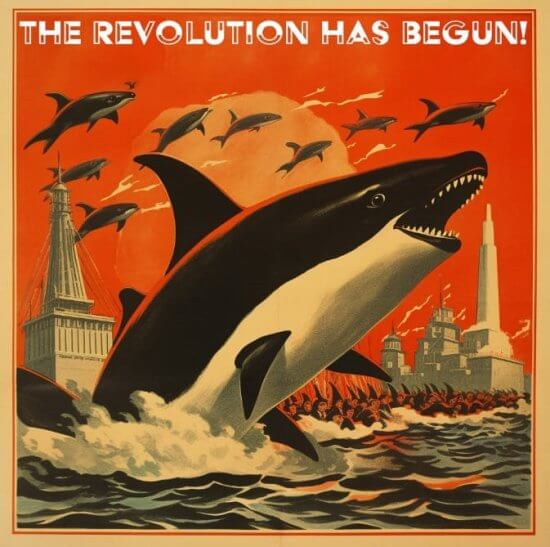 When interviewed about the strike(s)—while hanging out at the Sun Valley conference of billionaires including Zuck the Cuck, all of whom flew in on private, gas-guzzling jets—Igor said that striking WGA and SAG members are being "unrealistic."
Oh really? Back in the mid-20th century, CEOs used to make 30 times what their lowest paid worker made. Now Bob Iger and his ilk makes 400 times what their workers make.
Bob and other Hollywood CEOs are also excited to use AI to scan in background actors' faces which they would then own in perpetuity, after paying these actors for just one day of work.
One awful aspect of Bob Iger being such an Igor is that we wanted to like him in his war against equally awful Ron DeSantis. It's just Corporate Awfulness vs. Fascist Awfulness. So, awfulness is all we get. Meanwhile, they are censoring all that is wonderful, like me.
Also awful: Bob Iger is Jewish. Oy vey! This well-known factoid is not good for the Jews, to say the least.
On, the other hand, Fran Drescher, the president of SAG-AFTRA—more in the tradition of past SAG President Ed Asner than ratty Ronald Reagan—is also Jewish, and in this Hollywood story, she is my hero. I always liked her in "The Nanny"—her wild clothes, her Brooklyn accent, her sex-positivity and the way she made it clear she'd never cross a picket line.
Anti-Semitic, Pro-Zionist RFK, Jr.
Speaking of Jewish, if I've ever flirted with supporting Robert F. Kennedy, Jr.—despite his moronic anti-vax and cruel pro-Zionist stances—I now see if he were elected, I might well find myself and my lonsmen in the American equivalent of Auschwitz.
Check out pro-Zionist RFK, Jr. on tape at a "booze and fart-filled dinner" at Tony's Di Napoli in NY, blathering on with the worst voice in show biz about how Covid 19 was "ethnically targeted" to attack "Caucasians and Black people," and to spare "Ashkenazi Jews and Chinese" people, and you'll see what I mean.
Yes, RFK, Jr., proves that it is possible to be both pro-Zionist and anti-Semitic. In fact, it fits. He's not the only one, as this is policy for the Christian Right: despising all Jews, yet desperately wanting them in charge of Palestine… until the Rapture, that is, when eternal damnation awaits them.
It's now painfully obvious: RFK, Jr. is no RFK.
Clusterfuck Da Rich!
War is hell, and clusterbombs are hellraisers in the worst sense outside of nukes, creating death traps for civilians, especially children, and wildlife, over vast expanses, for many years after they are dropped. So, even though I support Ukraine in Putin's vile war, even though Russia and Ukraine are already using these bomblet bonanzas of indiscriminate death, I'm against America sending (internationally illegal) clusterbombs to Ukraine. Sure, they might zap a few hard-to-reach Russians in trenches, but they will also inevitably kill many innocents. Besides, rather than more war-profiteering bombs, I'd prefer that our greatest minds and most powerful voices focus on making a palatable albeit imperfect peace; it's the Bonobo Way.
Mid-war talk, a very nice guy named Greg calls in from his home in Central Europe to praise the show and then explain why clusterbombs are actually "good" for bring the war to an end. He's so persuasive and his voice is so sexy (he should be the Ukrainian Tokyo Rose or Desert Susan), I almost buy it. Though no, darling Greg is not quite persuasive nor sexy enough to convince this bonobo sapien peacenik to support clusterbombing anyone. Personally, I'd much rather get into a clusterfuck.
Clusterfuck Da Rich! Make Kink Not War! Strike for Love.
Vice, Threads & Urban Ashkenazi Sex Ed
Times are tough, and our friends at 910 WeHo where we screened Deep Throat (video coming soon!) have sadly hit such hard times that they are on the verge of closing their beautiful space!
Due to META kidnapping most Instagram users (except the Meta-Banned like me), Threads has grown into a gigantic tapestry of new users, while Twitter suffers like an abused foster child under Musk's rightwing lunacy. Maybe I'm just peeved with Zuck the Cuck depriving me of my voice on Facebook and IG, but so far (and this could change), Threads seems rather threadbare. Guess I prefer Rightwing lunacy to censored boredom—for social media, not real life!

Our Vice TV documentary on phone sex therapy and Bonoboville is coming soon. The premiere *should* be August 8, an auspicious date in Chinese numerology. Of course, it's been scheduled and postponed several times already. And now, with the Hollywood Strike in full swing, Russia/Ukraine on the brink of WW3 and my crazy luck, it'll probably be postponed again.
Meanwhile, vote for me for the "Most Popular Sex Educator" Urban X Award. Yes indeed, Brothers and Sisters, Loves and Sinners, just call me the "Urban Ashkenazi Love Doctor."
© July 15, 2023 Susan Block, Ph.D., a.k.a. "Dr. Suzy," is a world renowned LA sex therapist, author of The Bonobo Way: The Evolution of Peace through Pleasure and horny housewife, occasionally seen on HBO and other channels. For speaking engagements, call 626-461-5950.
---
Explore DrSusanBlock.com
Need to talk? Sext? Webcam? Do it here. Have you watched the show? No? Feel the sex. Don't miss the Forbidden Photographs—Hot Stuff, look at them closely here. Join our private social media Society. Join us live in studio 😊. Go shopping. Gift shop or The Market Place. DrSusanBlock.tv, real sex TV at your toe tips. Sex Clips Anyone? FASHION, we have fashion! We also have politics. Politics? Have you Read the book? No? How about the Speakeasy Journal? Click here. Ok, how about some free sex advice?
---
---