Healing Electoral Dysfunction (One Year Later) via the Bonobo Way, Great Flaming Shows & Private Bonobo Liberation Therapy: Call 213-291-9497
The Dr. Susan Block Show

r

eflects on year one of

the Trumpocalypse

that started one year ago with a case of Electoral Dysfunction that still plagues us all

.

 

J

oin us this Saturday 11/11 as we celebrate the positive anti-tRUMP results of the most recent election with sexperts, sexpots, a kinky balloonist, a former Penthouse Pet and surprises!

RSVP to join us in Bonoboville (Call 310-568-0066) or just watch the fun on DrSuzy.Tv.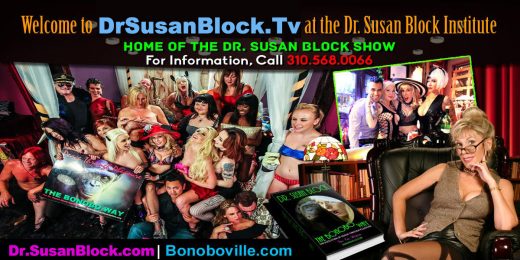 Happy Bonobo Way Anniversary! #GoBonobos with your prime-mate, potential mate or yourself with Bonobo Liberation Therapy. Got the Electoral Dysfunction blues? Need Consensuality Training? Too traumatized to perform? Speak with sexologist Dr. Susan Block or one of her Therapists Without Borders, available 24/7 by calling 213-291-9497. Totally private and your confidentiality is absolutely guaranteed. Whether you're into erotic teasing, have a taboo fantasy, want to talk about cuckolding are a frustrated producer, a pussy grabbing politician, cis, trans, curious about crossdressing, or anything else under the sexual sun, let's talk about it. Meet our therapist: Angelique + WATCH The Dr. Susan Block Institute Presents SEX CALLS: "How to Orgasm with Your Husband" with Lauren," it includes terrific tips on how to mix lust with trust in long-term marriage, delivered by Bday Captain Max's wife and prime-mate of over 25 years, the inimitable Dr. Suzy .


 

See the fabulous Goddess Soma Snakeoil, Onyx Muse and bonoboësque revolutionaries galore celebrate Capt'n Max's Bday & Bonobo Way Anniversary 2017 with Dr. Suzy. Fantastic FemDom FIRE-play, boobalicious boob cake, Bonobo Way book-spankings and much more on DrSuzy.Tv. 


Celebrate your bday any day with a two-day pass to DrSuzy.Tv or give the gift of pleasure with a full-month membership to someone you love, even if that someone is you. NOW TRENDING: Michael Q. Schmidt as tRump in Kink Month II: A Pussy's Revenge.

With over 40 5-star reviews on Amazon, Dr. Susan Block's critically acclaimed book, The Bonobo Way: The Evolution of Peace Through Pleasure is now celebrating its third great year in print, captivating authors, ambassadors, sexologists and porn stars with its paradigm-shifting message of peace-through-pleasure, female-empowerment, inclusivity, ecosexuality and sexual liberation! + Now on Block Books: Cosmo's Sexy Sutra.

Inside the Womb Room pretty brunette porn starlet Veronica Valentine strips down to nothing but a "Go Bonobos" visor as she straddles the high-tech, mega-pleasure Motorbunny, operated via remote control by Bonoboville's own Clemmy Cockatoo in Veronica Valentine's Remote-Controlled MotorBunny Ride is now playing on CLIP-O-RAMA.​

The Dr. Susan Block Show has been a safe space to both engage and escape the Trumpocalypse since tRUMP took office one year ago. The time machine takes you back to where it all began to remind you of the 7 Steps to Healing Electoral Dysfunction. Morena Black talks about being Trans in a red state and engages in a very phallic erotic Bonoboville Communion with Jacquie Blu on DrSuzy.Tv.

Happy Bonobo Way Anniversary! The female-empowered and highly endangered bonobos are the real-life inspiration for the book The Bonobo Way, now celebrating its third anniversary, and when you order your copy of this life-changing book, you are also helping to save these marvelous creatures from extinction, because a portion of all Bonobo Way book sales are donated to the conservation of these peace through pleasure great apes. #GoBonobos {8(:|). Watch Opera for Bonobos.


Featured Post: NOW BOOKING for the LIVE broadcast of DrSuzy.Tv | #GoBonobos in 2017! Explore the Bonoboville City Limits and build your village using our Classifieds, Events, FAQ page, Forums, Groups, Obituaries & much more! 

---

The Marketplace of Possibilities is the place to #UnlockthePossibilities.

---
​