Xmas Eve Eve, Festivus, Trumpus, Saturnalia & Candy Cane Orgasms for Peace on Earth!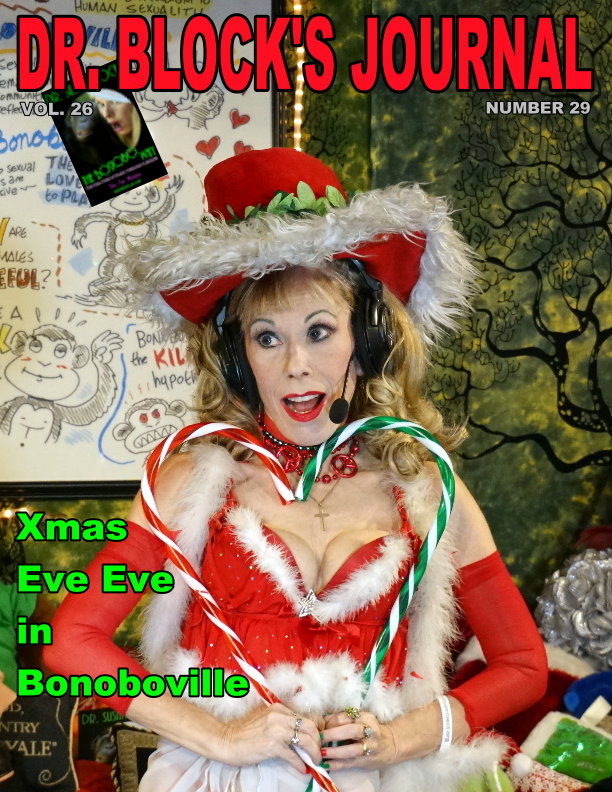 Length 01:49:53 Date: December 23, 2017
by Dr. Susan Blockc
O little town of Bonoboville, how holy is thy Womb Room, how merry are thy mammaries, how kinky is thy Christmas Eve Eve…O Cum All Ye Faithful indeed!

We even have a Nativity Scene in a golden manger featuring the Divine Interventions Baby Jesus Butt Plug as "the Holy Child" of Bonoboville who brings "Peace on Earth. Good Will to Men."
It's a joke, although a few billion well-placed butt plugs would cool off most of the world's hotheads (the majority of whom are "men"), bringing "Peace on Earth. Pleasure for All." After all, male well-being is the Bonobo Way.
We joke a lot on this warm and cozy, intimate, quirky and orgasmic show which falls on the eve of Xmas Eve. With most folks traveling, gathering with families, fighting the superflu, gift shopping, stocking stuffing, passed out from eggnog or trying to keep their own "holy children" from trashing the tree, it's a rather small group of us gathered together in the Holy Womb Room Cathedral at the Church of Bonoboville.
But what we lack in numbers, we make up for in heart… climaxing with a couple of heartfelt, Motorbunny-driven Orgasms for Peace.
Church of Bonoboville
Dressed as "Dr. Suzy Claus," in a crimson hat, stockings, Yale panties and bra with fuzzy white trim, a green Agwa lei and a gold cross (a gift from a sex therapy client, 43-year-old devout Catholic virgin whom I counseled, helping him lose his unwanted virginity to a woman he met at ballroom dance class), I look like a naughty Cardinal bringing Good Bonobo Way Tidings to All.
Like Jesus, the Make-Love-Not-War bonobos are creatures of peace. They are humanity's closest living great ape cousins, and they could be our "savior"—if we can learn from them how to make peace through pleasure. My divine mission (maybe if I seriously called it that, I could get "faith-based" tax breaks) is to spread the Bonobo Gospel, to help save these highly endangered animals from extinction, as well as help deliver us from our own evil…
My featured guest on this mission is the divinely voluptuous, devoutly creative performance artist, real-life MILF and MFA-degreed kinkster, Rhiannon Aarons, looking festive in a leopard-print Santa cap, black boots and a glittery, rather skimpy black dress. Her gloriously pendulous, all-natural 34G (yes, 34G) bobambas are nearly falling out of her dress from the start, so I suggest she unwrap them like a Christmas present, which she does, with infinite grace and a sense of relief. Keeping those mammoth mambas covered can get taxing, especially since they're somewhat larger than usual, thanks to the time of month.  And their naked presence is our present.
Beloved Bonoboville regulars round out the group, including Dr. Claus' sexy helper, Phoenix Dawn, decked out in Xmas red and white lingerie and hiphop artist, Ikkor the Wolf, in a scarlet shirt over his usual Bonoboville shirt over his usual sculpted pecs.  Plus our very own Bonoboville manager, Harry Sapien, who's usually behind-the-scenes, actually joins the scene, sporting a big Santa Hat, commenting on the fun, promising to put his piece of Trump toilet paper (thanks for the thoughtful gift, Jux Lii) up his Speakeasy-famous butt crack, which is where it belongs.
Rhiannon rightly feels that Trump TP doesn't deserve to be in or near any of her intimate orifices, so she uses her piece to wipe the bottom of her boot, then sticks the stiletto right through. I follow suit. It's one of those rare cases in which toilet paper hanging off your shoe is not just a good thing, it's the right thing.
Capt'n Max, aka Prince Maximillian Rudolph the Red-Nosed Executive Producer, is guiding this sleigh-full of debauched elves through the night. Sorry Darling, I know you've been teased all your life for having "Rudolph" as your middle name, but such are the Ghosts of Christmas Past, and Rudolph did "captain" Santa's sleigh…
Speaking of reindeer, erudite Rhiannon regales us with the folklore of flying reindeer. Small-towners would indulge in drinking the psychedelic urine of reindeer (affected by the forest mushrooms), whereupon they were said to see "reindeer fly." Who knew?
Beware The Trumpus!
As usual, Capt'n Max Rudolph's Good Tidings come with dire warnings to fly clear of the fascist, corporate, very unbonobo devils rising up like toxic gases from the great, overpopulated human swamp our Earth is becoming. Of course, the most obvious unbonobo devil is the demonic Swamp-Thing-in-Chief, the Orange Tyrannosaurus Rich, the anti-Santa, aka, The Trumpus.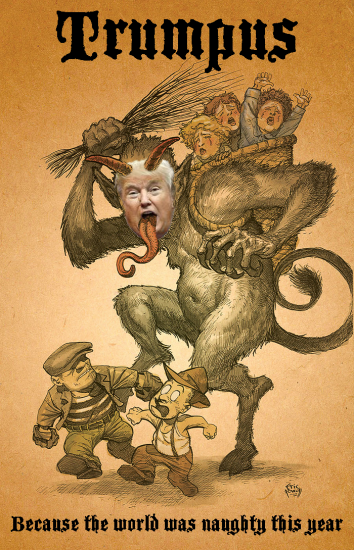 And so the Xmas folklore becomes all too real, as it relates to the socio-political climate of today, when we come around to the tale of Krampus, the horned (and horny) devil of Alpine folklore, Victorian postcards and Hollywood movies. While Krampus has long represented the dark foil to Santa that scares and punishes the naughty during the Xmas season, the Trumpus is a real-life holiday horror (and popular meme) in more ways than there are verses in the 12 Days of Christmas.
According to Salon's Andrew O'Hehir, the Trumpus is "a ghoulish and unpredictable trickster… His gifts are never quite as they appear to be… Although he is an insignificant demon (in his home universe) he has the power to convince all of us, those who worship him and those who would cast him out, of his immense importance." Sound familiar?
Forewarned of the Trumpus Terror, we certainly don't "worship" our Trumpus surrogate, the Dick-tator pillow with a micro-peepee and big Jingle Balls. But we don't "cast him out" either.
We do spank his Jingle Balls with the Bonobo Way, as well as candy canes and our fists. And we keep that loudmouth of his under gag order with a penis pacifier. And though we take our anger out pretty violently, we practice the Bonobo Way about it, and besides, it's just an old pillow in a Trump mask with red devil horns.
Festivus for the Rest of Us
Coincidentally, this show falls on the holiday Festivus, the great American anti-holiday made famous through an old Seinfeld episode called "The Strike." We observe the "Airing of Grievances" with great passion, censuring The Trumpus, as we spank him for his unholy tax cuts (a big greedy Xmas gift from America's Ebenezer Scrooge billionaire plutocrats to themselves), racism, supporting Nazis, grabbing pussies, killing Net Neutrality (while Trump is the Trumpus, FCC Chairman Agit Pai is the Grinch Who Stole the Internet), moving the American embassy to Jerusalem, adding insults to injury in hurricane-battered Puerto Rico, banning words like "diversity," "science-based," "transgender" and "fetus" from the CDC's grant proposal vocabulary, and so many other reasons that place him firmly on the "naughty" list. Usually, the Trumpus is the one airing his "grievances" on Twitter; this is why, here in the Womb Room, we keep President Tweeter Claus under gag order with the penis pacifier, though it would probably be better to use a Festivus pole.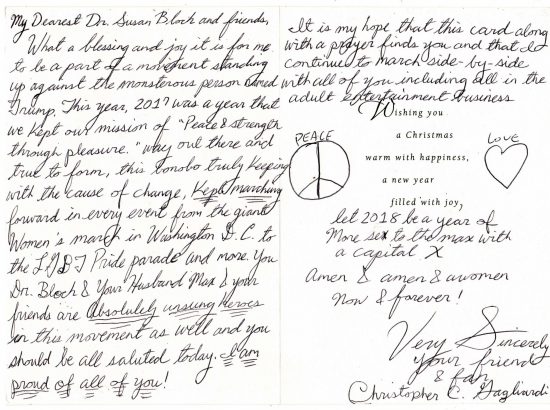 Calling in to the show from the Great State of New Jersey is Resistance activist Christopher Gagliardi, winner of the 2016 SUZY award for "Most Bonobo Political Speech," wishing Bonoboville a Merry Christmas with all the flowery eloquence and gusto of a true politician. The last time we heard from Chris was during 11/11, when he called in to celebrate the win of Danica Roem (the first openly transgender candidate to be elected to Virgina House of Delegates) after a long campaign season of political canvassing. Chris is a bonobo activist, hitting the streets in various protests since the cataclysmic Electoral Dysfunction sucker-punched America, protesting the tyranny of the Trumpus and his team of demonic corporate billionaires and their Congressional lackeys. Check out Chris' Xmas card, and support Bonoboville as we support the efforts of people like Chris who make a bonoboësque difference in the world.
Christmas Communion
After the Airing of Grievances (though we never really finish airing our grievances against the Trumpus), we skip the Festivus Meal and go straight for the booze.
What's an Xmas Eve Eve in Bonoboville without a little holiday cheer?  Our Bonoboville Communion with evergreen Agwa de Bolivia Herbal Coca Leaf Liqueur is especially festive.
Rhiannon volunteers to be the Altar Girl, creatively wrapping a giant candy cane around each of her 36G "gifts" of Xmas joy.
Phoenix and I each get a "present," under the mistletoe, and all our erotic XXXmas wishes cum true.
Waterboarding, Bonobo-Style completes the ritual Communion.
Bottoms up!
Merry XXXmas! And a Happy Nude Rear.
XXXmas Orgasms for Peace
This show climaxes with an XXXmas Eve Eve Climaxxx for Peace, and who better to fulfill that special holiday duty before the entire Bonoboville congregation, than our beloved Christmas kinkster, the boobalicious Ms. Aarons.
As she straddles the Motorbunny, leaning on Ikkor's muscular shoulder, I woman the controls, slowly heightening the vibrations in her personal Womb Room, while Eartha Kitt croons "Santa Baby" from the speakers.
Rhiannon is a sensation gourmet and really enjoys creative impact play. As she rides the machine through heaven's gates, I spank her merrily with the Bonobo Way, as well as her own book (with Sheree Rose),  "Saint" Bob Flanagan's Book of Medicine, my Xmas-red Jux Leather finger flogger, and a few well-placed thwacks of the giant candy cane.  Then we all pray for "Peace on Earth. Pleasure for All, and Rhiannon seals the deal with a moan, a sigh, multiple orgasms and a gush of Holy Water.
Sing Allelujah! Amen and Awomen. And Abonobos. And oh wow!
As Rhiannon's Agwa lei says, "Let's Glow."
Yes indeed, it might be a White Christmas in Trumpus-ville (thanks to Melania's whitewashed décor and the removal of Omarosa, it's practically all white folks and shiny ornaments in the White House), but it's a Wet Christmas in Bonoboville. Also more diverse (not being the CDC, we can say that).
Rhiannon's peace-gasm reminds us of our 2012 XXXmas Eve Orgasm for Peace when we interviewed Kent and Chi, Winter Solstice "Orgasms for Peace" activists. In fascinating detail, the couple traced the historically sexual, Saturnalian roots of Christmas. 
The late December Roman Saturnalia, presided over by Saturn, aka Old Father Time, was the source of many Yuletide traditions, including the first Xmas Carols which were truly X-rated, as the carolers would sing in the nude. Winter Solstice or "Sun Birthday" was—and is—when the sun, after being at its lowest, is "born again," as the days begin to get longer. To our prehistoric human ancestors, as described in Dr. Christopher Ryan's Sex at Dawn, Winter Holiday Sex was more than just a personal pleasure or a cool way to keep warm. It was an ecstatic communal coming together, celebrating the erotic fecundity of life in the dead of winter; red hot hope, multi-colored desire and shared joy to the world in a season of cold, lonely, colorless despair.
Old Papa Saturn was a kind of kinky Santa Claus. He even chortled "io io io" in greeting revelers, which eventually became Santa's "ho ho ho" on Christmas.
Speaking of "ho, ho ho's" and sex, sex, sex… according to other folkloric traditions, Santa Claus represents the penis coming down the chimney, which is the vagina. Wow, Santa Baby, talk about a smoking hot Womb Room! Furthermore, the Xmas tree is also a phallic symbol, and the gifts around the tree represent drops of semen.  Think about that next time you trim your fir.
And speaking of gifts, Rhiannon gets an Agwa T shirt which, unsurprisingly, looks a lot better under her boobs than over them.
Hiphop Xmas Carol: We Are One
In our post-orgasm afterglow, Ikkor the Wolf howls out the quintessential Bonoboville Xmas carol, "We Are One," bringing together Trumpers and anti-Trumpers, even the Trumpus himself. We Are One. Everyone. It's the Bonobo Way.
The Bonobo Way is the ultimate antidote to the fear, greed, violence and hatred that is driving us apart.
As the song ends, we "Take a Knee" against police abuse–increasing as the Trumpus is making it even easier for American domestic police forces to acquire used or surplus weapons of war from the military, "bringing the war back home." I'm no Christian, but I love Jesus, and I believe that he would "take a knee" if he were here to see the current state of police brutality.
Time passes from Xmas Eve Eve to Xmas Eve, and we close the live broadcast, having conjured up the red-hot powers of pleasure, love, community, creativity, science, folklore, female empowerment, male well-being, truth, warmth, sex and the Bonobo Way, channeling our erotic energy into each other and against the forces of corporate coldness, racism, sexism, war and The Trumpus, the ultimate anti-Santa. Sharing stimulating ideas, good vibes, great music, candy-cane spankings and orgasms for peace, we celebrate the erotic fecundity of life in the dead of winter, as we close in on the end of our Trumpian Year of Infamy, 2017.
With that, the Captain and I ascend our Stairway to Heaven and, just for good measure, we send a couple of our own Orgasms for Peace out of our bodies and into the universe. It can't hurt!
Make Love Not War. Beware The Trumpus. Follow the Bonobo Way. I mean, can you think of a better way?
Thanks to Our Volunteers: Videographers- Clemmy Cockatoo, Gideon G.; Photographers – JuxLii, Jon Vic, Jahn Beadler; On-Campus Bonobos – Abe Perez, Camille Rosebud, Mita Altair, Harry Sapien, Gideon G., MarsFX, Clemmy Cockatoo, Ana & Miguel.
© Dec. 23, 2017. Susan Block, Ph.D., a.k.a. "Dr. Suzy," is a world renowned LA sex therapist, author of The Bonobo Way: The Evolution of Peace through Pleasure and horny housewife, occasionally seen on HBO and other channels. For speaking engagements, call 310-568-0066.