#NoProp60 with Julia Ann & the FSC this Saturday in Bonoboville + Labia Day, Emmys Party, Daniele Watts sings The Bonobo Way & Body Shame Therapy: Call 213-291-9497
| | | |
| --- | --- | --- |
| | | |
---
 

Didn't get the hot summer body you wanted? Feeling too body-shamed to enjoy sex? Whether you're concerned about body parts (penis, breast, feet) or your entire body, you can talk to the therapists of the Dr. Susan Block Institute about body shame & other images issues anytime, 24/7. Therapists are available for Webcam Therapy, Telephone Sex Therapy, and Sext Therapy. Just call 213-291-9497 if you need perspective, advice, support or a therapeutic release. Get your RX for pleasure…

---

The Wondrous Vulva Puppet makes an appearance for Labia Day 2016 right before the Womb Room blossoms like a lush Georgia O'Keeffe flower, with four sets of blooming labia, featuring passionate 99Dollz' Baylie Kruz, "singing porn star" Kenzie Jamez and sultry Carmen Foxx, as well as David Hassan Khaffaf (Kanye West producer)! Read all about it in Dr. Block's latest journal (where you can listen free to the radio archive) or WATCH THIS LUSCIOUS SHOW NOW on DrSuzy.Tv. Also, don't miss Dr. Suzy's glittering Emmys party recap!

---

Want more labia in your life? Read our lips: Start with a two-day trial for Dr.Suzy.Tv, then upgrade to a full month–because you're worth it! New members have premium access to hundreds of shows & tons of backstage photos. Become a member and watch your favorite speakeasy stars anytime! TRENDING: Natasha Skinski Has Hot Sex at the Speakeasy.


---

Curl up with a good (sex) book tonight! This week's hot read is FSC activist & sex worker Siouxsie Q James' book Truth, Justice and the American Whore, plus of course (always) The Bonobo Way.


---

TRENDING: Loni Legend and friends assume positions from Moushumi's book Classic Sex Positions Reinvented, from The Flying Circus to The Catherine Wheel. Watch Sex Positions – Part 1 and Part II and add some new positions to your next sexcapade.

---

Perma War, bombs and waterboarding too? Turn back the clock 15 years with Dr. Suzy's amazingly prescient Terror Journal. Also, catch Bonoboville's 15th Anniversary of the fall of the Twin Towers: 9/11 Eve Bacchanal. Need terror relief? Call the Institute anytime: 213.291.9497.

---

Step 9 from the Bonobo Way: The Evolution of Peace through Pleasure is "Be Bonobo Friendly." Go ahead, fall in love! Or at least, maximize your erotic capital. For even more deets about casual hookups and friends with benefits read The Bonobo Way, and remember that a portion of all proceeds go to help save the wild bonobos from extinction. Watch and listen to actress Daniele Watts read – & sing! – an excerpt live with Chef Be*LIVE on the Steinway

---

With 669+ members strong, build your village and surround yourself with good inside Bonoboville! Sign up for a FREE account today and watch Dr.SuzyTv LIVE in the lounge. NOW PLAYING: 9/11 Eve Bacchanal!


---

Need more comfort on your broadcast bed? Bring home this plush pillow, and get some stress relief too. Still haven't found that special gift?  #UnlockthePossibilities.
---
Ahoy! From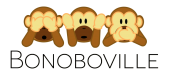 Dr. Suzy.Tv | Dr. Susan Block Institute | Bonoboville
---
Explore DrSusanBlock.com
Need to talk? Sext? Webcam? Do it here. Have you watched the show? No? Feel the sex. Don't miss the Forbidden Photographs—Hot Stuff, look at them closely here. Join our private social media Society. Join us live in studio 😊. Go shopping. Gift shop or The Market Place. DrSusanBlock.tv, real sex TV at your toe tips. Sex Clips Anyone? FASHION, we have fashion! We also have politics. Politics? Have you Read the book? No? How about the Speakeasy Journal? Click here. Ok, how about some free sex advice?
---
---