99Dollz Return to Bonoboville, Danièle Watts Unchained & Chef Be*LiVE on DrSuzy.Tv + Recipes for Oral Pleasure 24/7: Call 213-291-9497
| | | |
| --- | --- | --- |
| | | |
---
 

Want to ace your orals? Learn to be a cunning linguist or a great fellatrix: Call 213-291-9497 to speak with one of the orally savvy and aurally pleasing therapists of the Dr. Susan Block Institute, available for Webcam Therapy, Telephone Sex Therapy, Sext Therapy, or just to talk anytime, 24/7. Try Heather. Need sex information or love advice? Call your doctor…


---

A SCRUMPTIOUS night of Pansensual LOVE featuring the fabulous, free-spirited, multi-talented, Hollywood Rawkstar power couple Chef Be*LIVE & Danièle Watts (the most recent awardee of the Bonobo Way Female Empowerment Outreach Project). Read all about it in Dr. Block's latest journal (where you can listen free to the radio archive) or WATCH THIS AMAZING SHOW NOW on DrSuzy.Tv!


---

Claim your two-day trial for Dr.Suzy.Tv or activate a full month membership today! New members can access hundreds of shows & tons of backstage photos that you won't see anywhere else. Become a member and watch your favorite speakeasy stars anytime! TRENDING: Dave Bautista among the pornstars in Beauties and the Bautista.


---

Chef Be*LIVE's StarRawks TeaLatte was a delicious aphrodisiac! You too can be more bonobo as you munch your way towards better sex. The Bonobo Way has tips for oral sex and other types of eating. Need more recipes? Consider reading Food for Sex: The Food That Will Increase Your Sex Power Overnight as well as Fork Me, Spoon Me: The Sensual Cookbook. For more tasty reads, visit Block Books.

---

TRENDING: Keiko Fellatio Watch Keiko's red hair and redder lips and gaze into her green eyes as she sucks, slurps, and licks flesh in her exceptionally erotic fellatio performance.

---

Though Dr. Block's Luscious Cunnilingus is over two decades old, it's still tastes fresh and delicious! So go ahead and lubricate your lips, stretch out your tongue, lick, lap, and love it! Need oral advice? Call the Institute anytime: 213.291.9497.

---

Step 5 from the Bonobo Way: The Evolution of Peace through Pleasure is "Mix Food And Sex." Bonobos use food and sex to "handle hunger and horniness"  but also for "entertainment, barter, celebration [and] consolation.". From the "Oral Sex Diet" to "Bonoboville Communion," read The Bonobo Way, and remember that a portion of all proceeds go to help save the wild bonobos from extinction.

---

Get off your tush and join the Bonoboville revolution! Sign up for a FREE account today and watch Dr.SuzyTv LIVE in the lounge. NOW PLAYING: Pansensual Chef Be*LiVE & Daniele Watts take Bonoboville! Have you met our newest village member AnnAngel?


---

Make it a movie and date night with Django Unchained and Weeds (both featuring Danièle Watts). What will you watch them on? How about a LG Electronic LED TV? Still haven't found that special  gift?  #UnlockthePossibilities.
---
Kamusta! From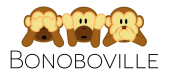 Dr. Suzy.Tv | Dr. Susan Block Institute | Bonoboville
---
Explore DrSusanBlock.com
Need to talk? Sext? Webcam? Do it here. Have you watched the show? No? Feel the sex. Don't miss the Forbidden Photographs—Hot Stuff, look at them closely here. Join our private social media Society. Join us live in studio 😊. Go shopping. Gift shop or The Market Place. DrSusanBlock.tv, real sex TV at your toe tips. Sex Clips Anyone? FASHION, we have fashion! We also have politics. Politics? Have you Read the book? No? How about the Speakeasy Journal? Click here. Ok, how about some free sex advice?
---