Celebrity Newlyweds this Saturday on DrSuzy.Tv, Masturbation Godmama's Bday, Laguna Beach Inner Journey & Pansensual Sex Therapy 24/7: Call 213-291-9497
| | | |
| --- | --- | --- |
| | | |
---
 

Our show guests this Saturday are "pansensualists." What about you? Have you ever fantasizied about a group sex experience? Want to learn the finer points of nonmonogamy? Call 213-291-9497 to speak with one of the skilled therapists of the Dr. Susan Block Institute, available for Telephone Sex Therapy, Sext Therapy, Webcam Therapy, or just to talk anytime, 24/7. Try speaking with Rayne, one of our most popular therapists. Need sexual advice? Listen to your doctor now…


---

What a wondrous, whirlwind, death-defying 24-hours: Betty Dodson birthday party, Fet Play DrSuzy.Tv show, Bonobo Way Female Empowerment Outreach Project & farewell Dave Bell, Emmy award-winning producer of our HBO specials, "Radio Sex TV" and "Radio Sex TV: Off the Dial." Read Dr. Block's latest journal, listen to the radio archive or watch it on DrSuzy.Tv.


---

What's better than a one-day-pass for Dr.Suzy.Tv? How about a full month! That means access to hundreds of shows & more backstage photos than you can shake a banana at. Become a member and watch now! TRENDING: Mistress Tara for President. "Whip the vote!"


---

Out now! New memoir by sex revolutionary Betty Dodson, Sex By Design, is now available for your reading pleasure in both paperback and digital formats. Need more sexual instruction? Also read Sex For One, Dodson's iconic self-love guidebook; nods to her handy work can also be found in Dr. Block's The Bonobo Way.

---

TRENDING: Masturbation with Malena Morgan. Riding "god's machine" has never been so orgasmic! Stimulate your senses with shame-free masturbation, erotic education, and Malena's wet and wild Sybian ride.

---

Sometimes it takes a village to make a marriage work, and in the case Dr. Block and Pr. Max, that village is Bonoboville. Jump back to the magical, musical, group-sexy 24th Wedding Anniversary Bacchanal ♫ which featured Ron Jeremy, Selina Minx, Jessica Shores and loads more, including this Saturday night's returning guests Danièle and Chef Be*Live –so inspired by Dr. Suzy & Max's marriage, they decided to tie the knot themselves! Watch this show on DrSuzy.Tv and see how almost a quarter century of monogamish marriage can be more fun than a barrel of bonobos!

---

Have a more orgasmic sex life with the Bonobo Way: The Evolution of Peace through Pleasure. Godmother of masturbation Betty Dodson calls it "a delightful, insightful look at how our closest genetic cousins embrace all aspects of sexual pleasure, showing us how masturbation, bisexuality, gender equality, sexual diversity and other forms of sexual expression are not only natural, but vital to keeping the peace. Like we said back in the sixties, "Make love, not war!" Celebrate the RƎVO˩ution with the book that's got everyone talking. Remember that a portion of all proceeds go to help save the wild bonobos from extinction.

---

Swing on over to the peace through pleasure side of the internet, Bonoboville. Sign up for a FREE account and then watch Dr.SuzyTv LIVE in the lounge. 650 members and growing. Meet Betty and Catherine Imperio today! Bonoboville: Post. Chat. Chill.


---

Set the mood with the right audio system; the Vizio Sound bar with wireless subwoofer and satellite speakers are made for hassle-free setup. Still haven't found that special  gift?  #UnlockthePossibilities.
---
Goddag! From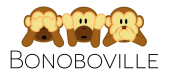 Dr. Suzy.Tv | Dr. Susan Block Institute | Bonoboville
---
Explore DrSusanBlock.com
Need to talk? Sext? Webcam? Do it here. Have you watched the show? No? Feel the sex. Don't miss the Forbidden Photographs—Hot Stuff, look at them closely here. Join our private social media Society. Join us live in studio 😊. Go shopping. Gift shop or The Market Place. DrSusanBlock.tv, real sex TV at your toe tips. Sex Clips Anyone? FASHION, we have fashion! We also have politics. Politics? Have you Read the book? No? How about the Speakeasy Journal? Click here. Ok, how about some free sex advice?
---