Autumn Equinox News: #NoProp60 Recap, U.S. Presidential Debate on DrSuzy.Tv, Erotic Politics & Spanking Hot Election Therapy!
| | | |
| --- | --- | --- |
| | | |
---
 

Has watching Mistress Tara beat Trump make you want to get beaten too? Does seeing Small-hands Drumphf  careen so close to the Oval Orifice make you fantasize about small penis humiliation and cuckolding from a powerful and sexy Presidentrix MILF? Call the therapists of the Dr. Susan Block Institute, anytime, 24/7 for Webcam Therapy, Telephone Sex Therapy, and Sext Therapy at 213-291-9497.  Cast your ballot for pleasure…

---

The Womb Room congregation rallies around Dr. Suzy's broadcast bed in support of the #NoProp60 movement. Amen & Awomen. Adult superstar Julia Ann and Truth, Justice and the American Whore author Siouxsie Q James swing by to talk porn, politics and Michael Weinstein's pimpology. Check out the blog and  WATCH SHOW NOW on DrSuzy.Tv.

---

Missed a show? Watch it right now with a two-day trial for Dr.Suzy.Tv. Like what you see? Upgrade to a full month membership to get premium access to hundreds of shows & tons of backstage photos. Become a member now and watch your favorite speakeasy stars anytime! TRENDING: Tara Indiana in, "A Smoking, Spanking Hot DOMCON 2016 Afterparty"


---

"Dr. Betty Ann Dodson, the 'Godmother of Masturbation,' has led a *singular,* sex-revolutionary life, dedicated to teaching and preaching the power of self-love," writes Dr. Suzy in her five-star review of Sex By Design: The Betty Dodson Story, "as well as practicing what she preaches to the fullest." You too can be more bonobo as you read your way towards more revolutionary sex. For  fictional revolution, read Gerald Weaver's The First First Gentleman. And don't forget your Bonobo Way! Read it or get spanked by it. Be well-read or get, well… red. Visit Block Books.

---

TRENDING: What does it take to have the ultimate orgasm? How about a couple of Bonobo Gal Pals, a Sybian, a Hitachi, and some gentle guidance from the Mistress of the Airwaves? Watch webcam girl Amber Lily use a Sybian & Hitachi and learn how you too can become more orgasmic.

---

Long before Tara Indiana threw her crop in the Presidential ring, she founded Den of Iniquity Hop aboard the time machine and enjoy Den of Iniquity 20th Anniversary: Female Domination Celebration on DrSuzy.Tv!

---

Step 7 from the Bonobo Way: The Evolution of Peace through Pleasure is "Make Peace Through Pleasure." For deets about Anger Management, Bonobo Style read The Bonobo Way, and remember that a portion of all proceeds go to help save the wild bonobos from extinction.

---

With 669+ members strong, build your village and surround yourself with good inside Bonoboville! Sign up for a FREE account today and watch Dr.SuzyTv LIVE in the lounge.


---

Need more Betty in bed? Bring home Betty Dodson's Bodysex Workshop on DVD, and then treat yourself to a warm bath. Still haven't found that special  gift?  #UnlockthePossibilities.
Ahoy! From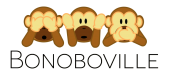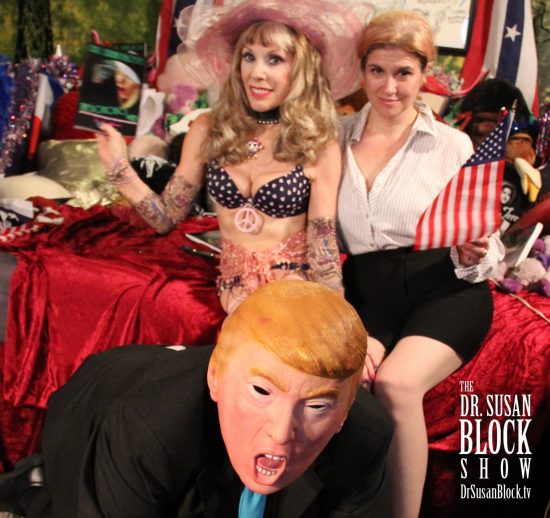 BEAT TRUMP with The Bonobo Way. Photo: Unscene Abe
Dr. Suzy.Tv | Dr. Susan Block Institute | Bonoboville
---
Explore DrSusanBlock.com
Need to talk? Sext? Webcam? Do it here. Have you watched the show? No? Feel the sex. Don't miss the Forbidden Photographs—Hot Stuff, look at them closely here. Join our private social media Society. Join us live in studio 😊. Go shopping. Gift shop or The Market Place. DrSusanBlock.tv, real sex TV at your toe tips. Sex Clips Anyone? FASHION, we have fashion! We also have politics. Politics? Have you Read the book? No? How about the Speakeasy Journal? Click here. Ok, how about some free sex advice?
---
---