Kink Month Gets Kinkier on DrSuzy.Tv with FemDoms, Goddesses & "Nasty Women" Beating Trump + Devouring The Bonobo Way, ♫ Opera for Bonobos ♫ & Medical Fetish Therapy: Call 213-291-9497
| | | |
| --- | --- | --- |
| | | |
---
 

From fantasy to reality, fetishes to marriages, you can talk about your kinks, without shame with the Therapists Without Borders of the Dr. Susan Block Institute anytime, 24/7. Get the discipline you desire, the spanking you crave, or explore a repressed curiosity. via Telephone Sex Therapy, Webcam or Sext Therapy. If you can't celebrate Kink Month publicly, do it privately with us! Call 213-291-9497. Listen to your Dr. 

Smack in the middle of Kink Month 2016, Bonoboville gets smack-happy with a spanking hot birthday celebration with Sydney Jones who gives "Trumpty Dumpty" a well deserved wallop, and then follows up with an intense medical examination to sissy maid bianca that may leave you breathless and protecting your crotch. Check out the blog and WATCH IT on DrSuzy.Tv. Catch up on kink month 2016: Kink Month II with Sheree Rose & Rhiannon Aarons + Mistress Porcelain (returning THIS Saturday).  AND twerk, jerk and/or spank along to "The Kinkster," by Carmina Formosa, aka [ai] (inspired by The Bonobo Way).

---

Missed a show? Catch up with a two-day trial for DrSuzy.Tv. Ready to unleash it all? Upgrade to a full month membership. With your subscription you can enjoy premium access to sexy shows & intimate backstage photos featuring your favorite Speakeasy Stars. Our Members can enjoy these pleasures anytime! Turn on your Dr.Suzy.Tv | TRENDING: Kink Month 2015 I, II, III, IV. + Kink Month 2016: I, II, III.


---

Pleasures: Women Write Erotica edited by Dr. Lonnie Barbach is "a collection of 31 true stories which show how women look upon their sexuality and which ventures into the realms of erotic fantasy.," including Dr. Suzy's own acclaimed story "Women Who Love Men Who Love Horses." Liberate your inner bonobo with this pleasurable read. And be sure to ask for The Bonobo Way at your local bookstore. Let your kink flag fly with our holiday gift ideas at Block Books, where you can shop online anytime.

---

TRENDING: The F*** Saw [HD]. with Ash Hollywood


---

It's almost Halloween! If the scary monsters in this election are enough to ruin your erection, get your heart racing and your skin crawling with Dr. Suzy's The Alchemy of SCARY SEX.  Want more? Fluff your pillow and protect your pussy, Trump & Cosby have more than TV stardom in common. Read about Bill Cosby's Sleep Fetish.


---

♫ OPERA for BONOBOS ♫ Dr. Suzy & Pr. Max's Amazing 24th Wedding Anniversary at the San Diego Zoo is NOW ONLINE for your reading AND viewing pleasure :) Don't miss this extraordinary human/bonobo experience! Regardless, pick up a copy of The Bonobo Way: The Evolution of Peace through Pleasure, or get one as a Kink Month gift for a friend! Remember: a portion of all proceeds go to help save the wild bonobos from extinction {8(:|)


---

The Bonoboville Bla Bla is here! Swing on over from our Speakeasy GoogleGroup to the Bonobo side of the internet and see what's new. Sign up is absolutely FREE and you'll still get your weekly new digest of bonobo news but you can also access great perks like our LIVE broadcast of DrSuzy.Tv in our lounge, as well as events with others bonobo sapiens too. You'll never know who you'll meet in Bonoboville. Won't you join us?


---

Need to get some Zzzz's? Consider this relaxXxing option. Still haven't found that special holiday gift? #UnlockthePossibilities. 

---
Now Playing: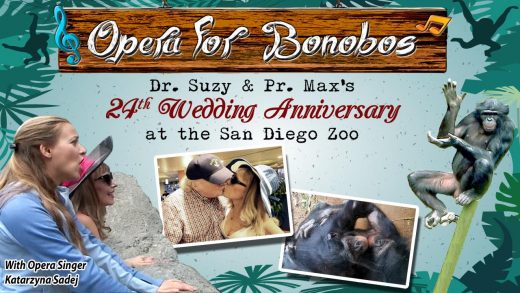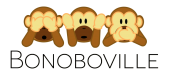 Dr. Suzy.Tv | Dr. Susan Block Institute | Bonoboville
Spend Responsibly. Save Humanity! #GoBonobos!



 A portion of all proceeds go towards the conservation of the real bonobos

Private island for sale | Call 310.568.0066
  
To purchase your slice of paradise.
RELEASE YOUR INNER BONOBO
---
Explore DrSusanBlock.com
Need to talk? Sext? Webcam? Do it here. Have you watched the show? No? Feel the sex. Don't miss the Forbidden Photographs—Hot Stuff, look at them closely here. Join our private social media Society. Join us live in studio 😊. Go shopping. Gift shop or The Market Place. DrSusanBlock.tv, real sex TV at your toe tips. Sex Clips Anyone? FASHION, we have fashion! We also have politics. Politics? Have you Read the book? No? How about the Speakeasy Journal? Click here. Ok, how about some free sex advice?
---
---