DomCon Bound 2018 on DrSuzy.Tv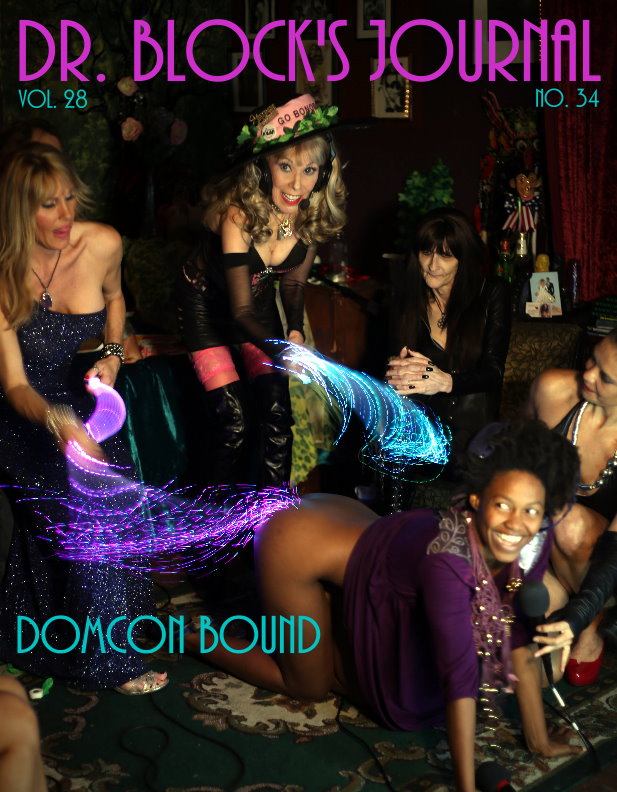 Length 01:53:20 Date: April 21, 2018
It's almost DomCon 2018, and my Womb Room goes wild with impact play orgasms, electric flogging, snaketail-whipping, four kinds of spanking, three types of twerking, and a big naked birthday cake splosh.
It's also smack in the middle of 4/20 Weekend. Boom Shiva! The world is getting crazier, but at least now we've got legalized weed to self-medicate (until Jeff Sessions' goons arrest us all). Speaking of the world, it's also the day before Earth Day, so…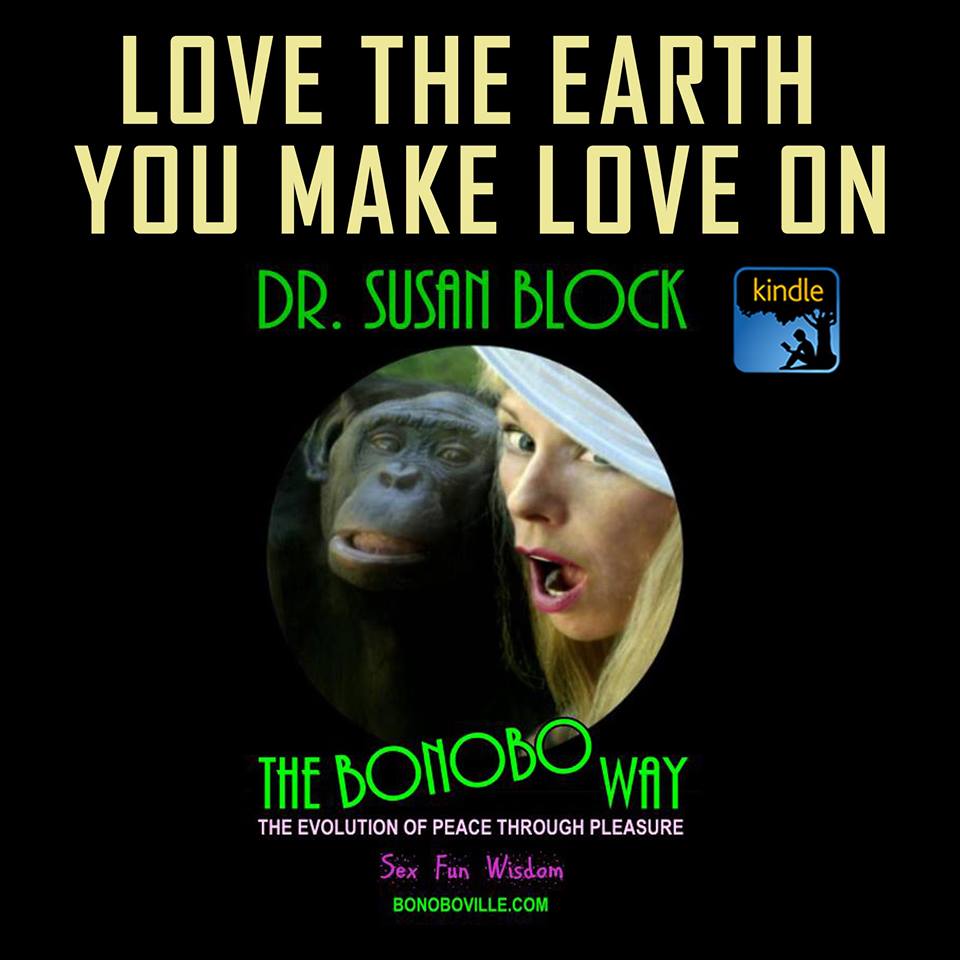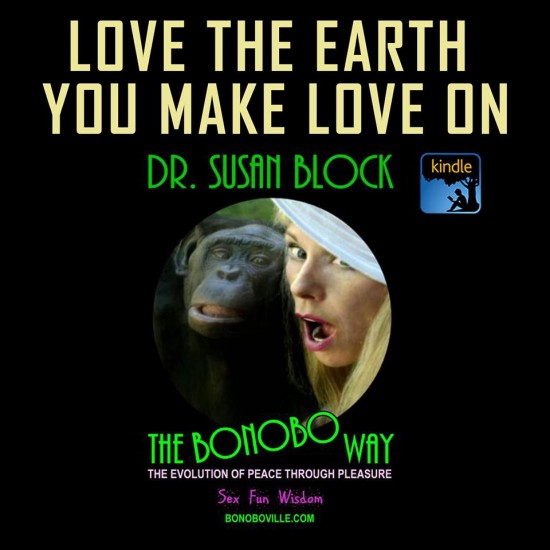 Love the Earth You Make Love On, Brothers and Sisters, Lovers and Sinners!
Thanks to human fossil fuel addiction, climate change is upon us, whether you "believe" in it or not, melting our north and south poles into puddles, stirring up Bible story-sized hurricanes, floods, earthquakes and mega-fires (as LGBTQ rights lawyer and environmental activist David S. Buckel's poignant suicide-by-fossil-fuel self-immolation so starkly attests). Soon there will be more plastic than fish in the sea. Our fellow animals are going extinct at alarming rates, like the last White Rhino, a mammal that has survived and prospered for millions of years on Earth, but could not survive humankind.


Numerous endangered species need saving in the current "Great Dying" spurred by human pollution, overpopulation, overproduction and predation, and all deserve a chance at life. But of course, here in Bonoboville, we have a boner for bonobos. Bonobos are humanity's closest "kissing cousins," the highly endangered, Make-Love-Not-War great ape who could show us "the way" to peace through pleasure, if only we could keep them around long enough. Bonobos also show us that female empowerment isn't some feminist fairy tale; it's natural. And it's not just good for the gals; bonobo males are happier, less stressed and stay younger longer than their common chimp counterparts. That's why I call bonobos "FemDoms of the Wild."
As for humankind, I am blessed to have two of the world's top FemDoms grace my Womb Room with their powerful presence, along with an intensely flavorful assortment of bonoboesque kinksters, porn stars and performance artists, on this very dynamic show.
World's Top FemDoms: Mistress Cyan & Goddess Phoenix
To my left is my first featured guest, the venerable Mistress Cyan, founder and director of DomCon, kink community leader, visionary entrepreneur, owner of Sanctuary, LA's top BDSM facility (now expanding into the Inland Empire), three-time SUZY award winner (2016's "Best Dr. Suzy Spanking", 2017s "Most Distinguished FemDom" and "Hottest FemDom couple" with Goddess Genesis) and one of the world's greatest practitioners of the fine art of snaketail whipping.
PHOTOS 1 & 2: DICK CARLO. PHOTO 3: GREG GORMAN
Mistress Cyan has long had a special place in my heart, as she gave me my first consensual adult birthday spanking over a dozen years ago (back in 2004!). Over the past three years, she has welcomed me into the DomCon family as a "Guest of Honor," providing me a platform to deliver the Bonobo Way of FemDom Power to a community that can deeply appreciate it. She announced her engagement to Goddess Genesis on our Lupercalia 2017 show (and yes, she says, married life is going well). Moreover, she has inspired me and many others with her personal, quiet but unflagging determination (even beating cancer), Aries dynamism (her birthday happens to be the same as my own brother's, April 7th) and dedication to imparting the arts and ethics of BDSM.
Tall and trim, decked out in classic black leather and boots, wielding her trademark snaketail whip, she imparts a good hard lesson to my lovely assistant Phoenix Dawn's fabulous ass (more about that in a minute)!
To my right is the great, gorgeous and powerful Goddess Phoenix, a true Glamazon and DomCon shining star, Pro-Domme par excellence, Swinger Cruise BDSM instructor and real-life "Wonder Woman" who plays with cougars, leopards and wolves as a "hobby," while she dominates humans for a living in a thousand different ways, from electric flogging to sensual seduction. Some of these humans are her devoted slaves, one of whom is buying her a Cadillac for her Gemini birthday.
Two-time SUZY award winner for "Most Dazzling Domme" in 2016 and "Best Flogger" in 2017, the formerly brunette Goddess Phoenix is more dazzling and floggerific than ever. Her newly blonde highlights frame her striking visage like a golden halo; her muscular, curvaceous figure on display in a clingy glittering evening gown, her tanned, pretty pedicured feet in white sandals.
"People say I don't look like a dominatrix," she laughs, reveling in breaking the stereotype of the black leather-clad FemDom with her glamour, glitter, Amazon vigor, Native American authenticity and sweet Southern style.
As always, Goddess Phoenix will host the DomCon 2018 Opening Night Red Carpet festivities. On this starlit evening in Bonoboville, from pre-show to post, she reveals why she is one of the great living Goddesses of our times.
Lady Remedy Ann and Alix Lovell
Mistress Cyan sweeps in with a Sanctuary entourage, including Lady Remedy Ann and Madame Rose.
Lady Remedy Ann, gearing up to teach a sensual domination class at DomCon (promising, with a wicked smile, that the experience is "not without pain"), is the ultimate BDSM "switch," usually preferring to dominate her play partners, but submitting to her beloved Mistress Cyan who "rides" her as a prize pony in the renowned DomCon Pony Show. The Lady's submission is more low-key on this show, though she spends some quality time offering her supple back as a footstool to Mistress Cyan's long legs.
There's only one DrSuzy.Tv "virgin" on this show, and that's vivacious, voluptuous porn star Alix Lovell. Like many newcomers, she's not sure what to expect (is The Dr. Susan Block Show a radio show, podcast, orgy or acid trip?), but she certainly fits right in and even, at moments, steals the show. Though a hip millennial porn chick who's done her share of Brazzers shoots, she's also worked with our "old school" friends Nina Hartley and Ginger Lynn.
Though Phoenix is eager for her punishment, Alix is first to submit to a spanking by Goddess Phoenix. With edifying ease, the Goddess demonstrates three (or was it four?) types of spanking on Alix's impressive derriere: 1) cupping, 2) slapping, 3) over-the-knee (OTK) and 4) hard butt-whacking.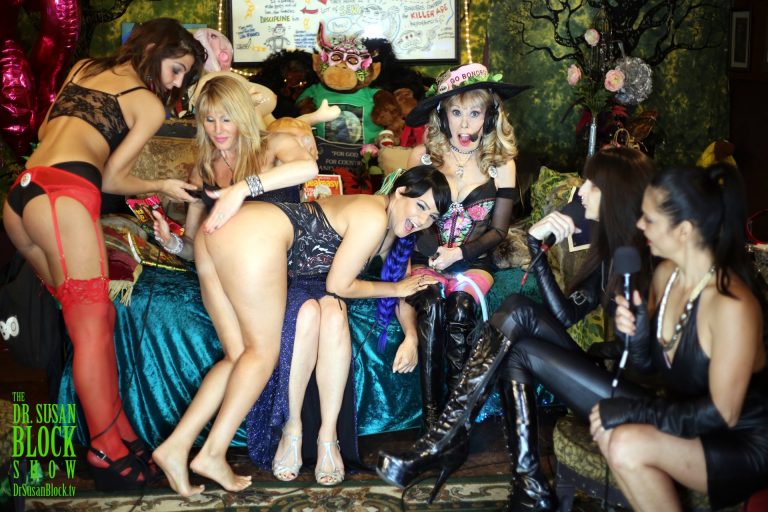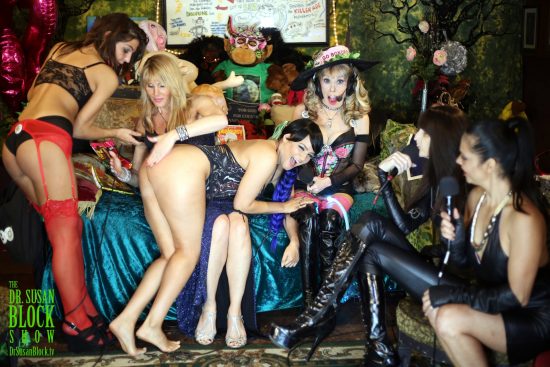 Alix is game to learn and show off, but demurs before we get to the hard stuff. Later, we realize she's saving her bountiful butt for a twerking extravaganza.
Phoenix on Phoenix
The battle of the Phoenixes begins almost as soon as Goddess Phoenix enters Bonoboville, and our Phoenix accidentally-on-purpose yanks her evening gown down.
Goddess Phoenix is determined to punish her naughty namesake, though I must say our Phoenix is so eager for a thrashing, it's hardly a punishment.
First, the Goddess wields her trademark electric whips that flash turquoise and purple as they hit their mark, reminding us of one of her more "dazzling" skills.
As Phoenix cries out for "more," Mistress Cyan steps in and, taking a warrior stance, flicks her snaketail whip at my assistant's lovely bottom as she squeals in pain and pleasure.
Phoenix's buns get as red as her lingerie, especially when Mistress Cyan switches from the whip to spanking with her powerful, beautifully manicured hands hard across that crimson bottom. The Goddess Phoenix gives her another spanking for good measure. I'm a little worried when I see my assistant red butt turn purple with bruises, but she insists she loves it and keeps asking for more, even saying "Please Goddess" and "Thank You, Mistress," as instructed.


She even comes, when given permission. At least she says she does, and why not? Many submissives have "impact play orgasms"; it's one of those natural erotic phenomena that makes the pain so pleasurable.
Looks like our Phoenix is getting her birthday spankings a little early.
Bonoboville Communion
Between 4/20 and Earth Day, it's a rather "green" show, so we take Bonoboville Communion with our favorite green drink Agwa de Bolivia Herbal Coca Leaf Liqueur.
Brought up "Christian" right here in Southern Cali, Alix might be new to Bonoboville Communion, but with her lovely natural boobs, she makes a great Altar Girl for a very thirsty Phoenix who takes her Waterboarding, Bonobo-Style, like a good POW.
Then they switch, as the bonoboesque Alix believes reciprocity is important in such sacred acts.

Plus she's very thirsty.
For mixing up her positions, she gets a double spanking.
What a beautiful way to experience the "Communion" of the flesh and the divine.
Hallelujah! Praise the Lord and the Ladies. Especially these ladies.
The Father, the Son and the Holy Watts
Suddenly, just as we are talking about our fabulous soon-to-be-released Speakeasy Journal, into the Womb Room flows the Lucas Family Trinity, the Father, the Son and the Holy Watts.
That is, 2017's "Most Bonobo Couple" (among other awards), Daniele Watts and Chef Be*Live, plus Be*Live's son (who looks like his clone), Zivu A'balam Lucas.
Daniele, wearing a bra as a hair band and a belt as a necklace, presents me with a Happy 4/20 Bear and a pussy willow frond. Be*Live is dressed more conservatively (or maybe fatherly?) than usual in a Beatles shirt, jeans and grey suit jacket. Zivu in a big white fake fur coat plays himself, the "spiritual jester," a 25-ish "Daddy Dom" bearing jars of weed for the holiday, regaling us with his second amiable, pastel-colorful appearance on DrSuzy.Tv (last week on the 26th Wedding Anniversary, he emerged from my humongous wedding dress, a newborn adult).
Dazzled by Goddess Phoenix since they met in Bonoboville on New Year's Eve, Daniele submits to a light flogging from the Glamazon Goddess with her electric whips, sparks flying as these two very different kinds of dazzlers make a kinky, sparkly, 1000-watt love connection on the Dr. Susan Block Show.
Ever-gracious, the Goddess offers me a chance to wield one of her magic whips with which I gleefully thrash Daniele's wiggly, dimpled bottom.
Daniele giggles, squeals and testifies before the congregation that she needs to release her "shame" through these make-pretend (but very real) punishments and penances that might sting your psyche or your hiney, but are actually a lot of fun and sometimes (bonus!) arousing.
Whether it's body shame, slut shame, spiritual shame due to religious abuse or social media "public shaming" for whatever reason, impact play and other forms of bonobo liberation therapy and BDSM are great ways to "release your shame," both physically and mentally.
One of the world's great performance artists whose smile can light up the darkness and whose frown can darken the day, Daniele taps into her well of feelings with greater depth, dramatic authenticity and a flair for what I call "Commedia Erotica" than almost anyone I've ever welcomed on the Womb Room stage.
The Django Unchained and Weeds actress also has an apparently bottomless yearning for attention which is easy to satisfy (at least she makes it look easy) since she is so good at *stealing* the spotlight, even in the midst of powerful Dommes, sexy porn stars and an offbeat Yalie.
tRUMP & Melania
Back from the break, I indulge my hobby (comic erotic politics) and spank our tRUMP doll for all of his sins against our Mother, the Earth.
Then there's the big Barbara Bush funeral. I've never been a fan of Mater Familia Bush who notoriously said on Good Morning America, "Why should we hear about body bags and deaths? It's not relevant. So why should I waste my beautiful mind on something like that?" just before her son George Dubya's devastating military Rape of Iraq, the result of which was a hell of a lot of "body bags and death," destruction, ISIS and perma-war. But having just celebrated my 26th wedding anniversary with Capt'n Max, I can appreciate Barb and George Sr's 70-year marriage. Wow. Even if GB supplemented their union with semi-secret affairs and sleazy pats on staffers' rears, that's an impressive marital run.
Furthermore, I just love the photos-gone-viral from the funeral showing Melania Trump looking happier than we've ever seen her… sitting next to a suave Obama. She also looks pretty happy posing with the Obamas and the Clintons, as well as the Bushes. Of course, all of those dudes are international war criminals, but all operated with considerably more dignity than the current White House occupant.
Where was Trump? Playing golf, of course, as well as huddling with his new personal lawyer, the soon-to-be-divorced Count Dracula of Gotham City, Rudy Guiliani, to figure out what to do about the Comey Memos… according to which, Putin told Trump that Russia has the most beautiful hookers. To which we can just imagine the Pussygrabber-in-Chief responding, "I know, they remind me of Ivanka."
Birthday Cake Splosh
Into the Womb Room skips red-bottomed Phoenix bearing a fabulous cake filled with burning candles for the birthday boy—Bonoboville's own photographer extraordinaire, Jux Leather artisan and Cannabelly creator—Jux Lii.
With one good hard blow, Jux extinguishes all his candles.
So we presume he gets his wish.
Especially if his wish is for his birthday cake to get sploshed, first into his own mouth, then all over a beautiful nude girl, because that's exactly what happens.
Perhaps she's inspired by the spectacular splosh pictures in our new Speakeasy Journal, or maybe she just zones in on the perfect way to take center stage again, but almost as soon as the candles go out, Daniele presents her naked body as canvas for another orgy of Bonoboville Splosh Art.
Phoenix and I dip our fingers into the creamy icing and smear it all over Daniele's tummy, butt and boobs. Upping the ante (and realizing that, at this point, his birthday cake was inedible), Jux Lii "takes the cake," pushing the entire baked confection into Daniele's pretty—and pretty surprised—face.

Daniele, with the mischievous grin of a clever wild child "releasing her shame," smashes what's left of Jux's birthday cake right into her boobs and then into her open crotch, then all over her butt.
Sploshgasms!
The bright cobalt blue and white frosting, almost as vivid as Goddess Phoenix's whips, looks stunning on Daniele's Earth-toned skin.
It reminds me of that first time Mistress Cyan gave me a birthday spanking in 2004 as my cake got sploshed by a member of the Porn Klown Posse sitting right down on it. Actually, freekBALL and the Porn Klown Posse taught me the meaning of splosh way back before it became so popular that it's in the New York Post.
Cake sploshing is probably the healthiest thing to do with such a sugar-loaded pile of carbs and chemicals anyway.
And so, splosh performance art makes another great mess in the Speakeasy! That's the biggest challenge of sploshing: dealing with the mess. As a sugar-frosted Daniele escapes to the shower, the rest of us try to figure out what to do with the rug which is now covered in chocolate cake that looks like, well, to be blunt (on 4/20)… it looks like shit.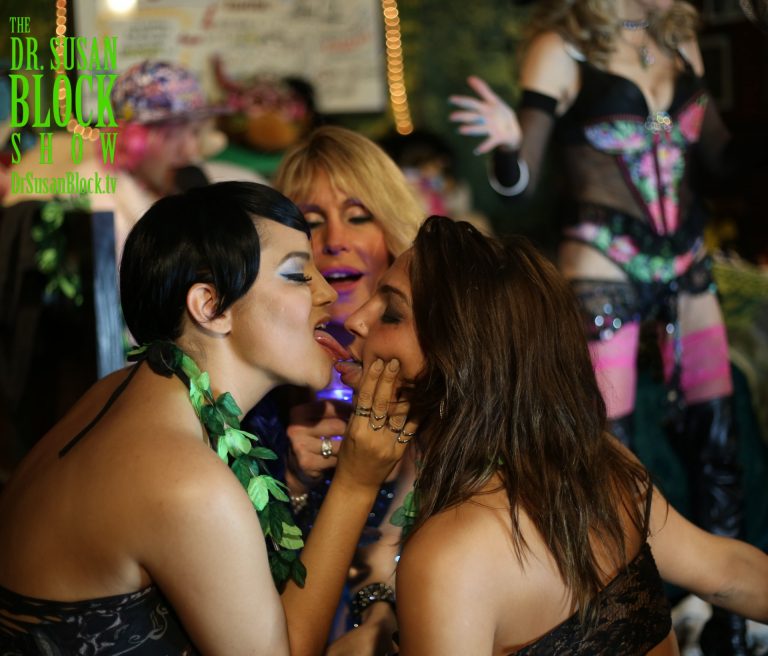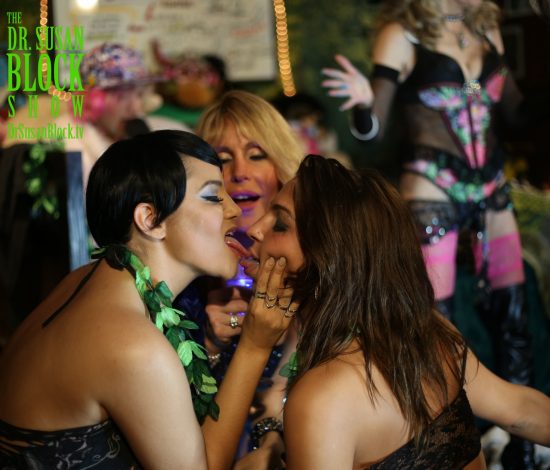 Though we are open to all kinds of fetishes, at least talking about them, we are not "into" poop. Usually, we put out a tarp for messy scenes like this, but we're not prepared for this "Surprise Splosh." Finally, we hit upon the plan to roll up the messy carpet and do our stoned best to clean up the stage floor, as we prepare for the grand finale to our evening of BDSM and merry mayhem.
Alix Twerks to "She Bad"
With Daniele in the shower, it's Alix's turn to show off her skills. First, she demonstrates what she calls the four different types of twerking (with sincere apologies to anyone in any of the groups being stereotypically profiled here): 1) the "White Girl" or Miley Cyrus twerk which is just your basic booty shake, 2) the "Black Girl" or Video Vixen twerk which involves more glut action, 3) the "Latina Twerk" which seems to add a little salsa to the mix and 4) the Instagram Model Twerk, made famous by Amber Rose, where the butt twerks, quirks, swirls, twirls and pops like some sort of creature with a life of its own.
Then Green Cross bluntmaster and Church of Bonoboville rap reverend Ikkor the Wolf takes the mic and belts out a rendition of "She Bad" that allows Alix to try her hand (or butt) at every kind of twerking and then some.
A few of us get up and shake our booties to the Bonoboville beat, including a squeaky clean Daniele, as well as the divine Goddess Phoenix in her glittering gown (and no panties).
But Alix's ass is certainly the star of this scene.
Look how she shake that thang. Look how she move that thang. Man, that girl can go!
Like a bonobo!
Trumpocalypse Therapy, After Shocks and Love
We have time for just one more sparkling flogging by Goddess Phoenix on Bonoboville Phoenix.
The Goddess' electric whips light up my assistant's bruised but happy butt like a Ferris wheel of fireworks.
Then that's pretty much it for the live broadcast.
But the after-party sensuously winds on for a few more hours, as guests and crew twerk, talk, suck lollipops, dominate, surrender and horse around.
PHOTOS 1-2: ABE BONOBO. PHOTOS 3-4: AUTHOR
Daniele falls asleep (too many edibles, Be*Live observes sagely), but the other divas take turns dazzling each other. Goddess Phoenix dominates Phoenix Dawn and Alix with a whip, a rose and a sweep of her blonde hair. Meanwhile Zivu holds court in the Speakeasy Bar, while we guess when a spinning fan will stop spinning, stoned, as we should be, on 4/20 weekend. Herb, champagne or fresh spring water, it's all at least as healing as prescribed painkillers (in prudent moderation, of course), and generally not as dangerous
Human civilized life seems to be on a trajectory of heightening stress, with so much money and power in the hands of the oligarchical idiocracy, and the Trumpocalypse just makes it all more vivid and disturbing than ever.
In a sense, I consider our Saturday nights in Bonoboville to be Erotic Theater Therapy for various forms of Post-Trump Sex Disorder, for my audience, my guests, my crew, for Max and, most of all, for me.
Then the clock strikes 3 (or maybe 4), and it's time for my Captain to whisk me off to our little hideaway where we keep the love flowing and the orgasms coming, memories of merry impact play dancing in our relentlessly aging bloodstreams and accelerated heartbeats, as we rise and then drift off into the Bonoboville of dreams.
Remember to join Mistress Cyan, Goddess Phoenix and many more at DomCon 2018. Don't miss my presentation, The Bonobo Way, Part 3: FemDoms of the Wild, at High Noon on Saturday, May 12th (Part 1 now playing on Youtube).
Make sure you stay after the talk for the Pet Show, under the guidance of Mistress Ellen and Madame Margherite, in which I will be a judge.
Yes indeed, with this show, we are well-spanked, sploshed and DomCon bound!

Thanks to Our Volunteers: Videographers— Gustavo, Ray H.; Photographers – 2G Photography, Flex, Jux Lii, Dick Carlo; On-Campus Bonobos – Phoenix Dawn, Abe Perez, Camille Rosebud, Mita Altair, Harry Sapien, Gideon Grayson, MarsFX, Clemmy Cockatoo, Ana & Miguel
© April 21, 2018. Susan Block, Ph.D., a.k.a. "Dr. Suzy," is a world renowned LA sex therapist, author of The Bonobo Way: The Evolution of Peace through Pleasure and horny housewife, occasionally seen on HBO and other channels. For speaking engagements, call 310-568-0066.