Dr. Susan Block to Moderate "DEEP THROAT" Talkback Panels after L.A. Screenings on 50th Anniversary West Coast Tour
June 2nd at the Laemmle Royal in West L.A. & June 3rd at 910 WeHo in West Hollywood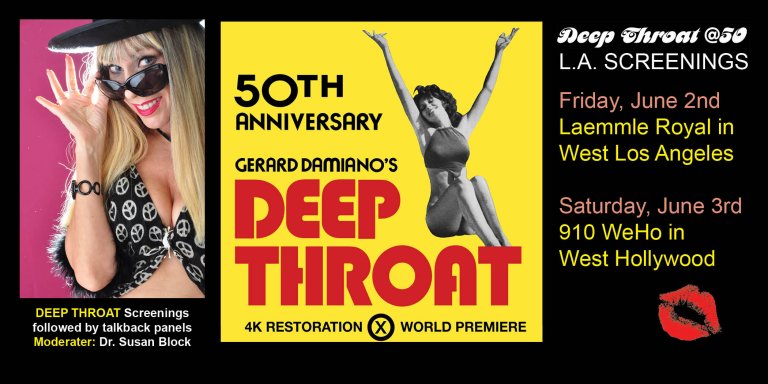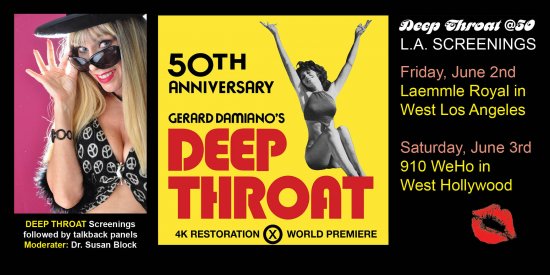 LOS ANGELES—Deep Throat, one of the most iconic, profitable and controversial movies ever made, is commemorating its 50th anniversary with a West Coast tour launched by the late director Gerard Damiano's adult children, Christar and Gerard Damiano, Jr., starting at the end of May 2023. The talkbacks after the two Los Angeles screenings on June 2nd and 3rd will be moderated by world-renowned sexologist and best-selling author Dr. Susan Block, a.k.a. Dr. Suzy.
"The Zeitgeist of 1972, Deep Throat brought adult films into the mainstream and kickstarted the Sexual Revolution," states DamianoFilms.com. "Its success was unprecedented, breaking box office records in its very first week of exhibition. Lauded as one of the first hardcore films to feature a plot, character development, and production values, it pushed the limits of what could be shown on screen and made an international celebrity of its star, Linda Lovelace."
The West Coast tour will include screenings of the original 4K director's cut restoration of the film, followed by talkbacks moderated by Dr. Susan Block (in LA) and featuring the Damianos, as well as adult performers and local academic experts. The talkbacks will focus on the history, cultural impact, and various controversies surrounding the film, to help contextualize Deep Throat for younger generations as well as those who remember when it first took 1970s America by storm.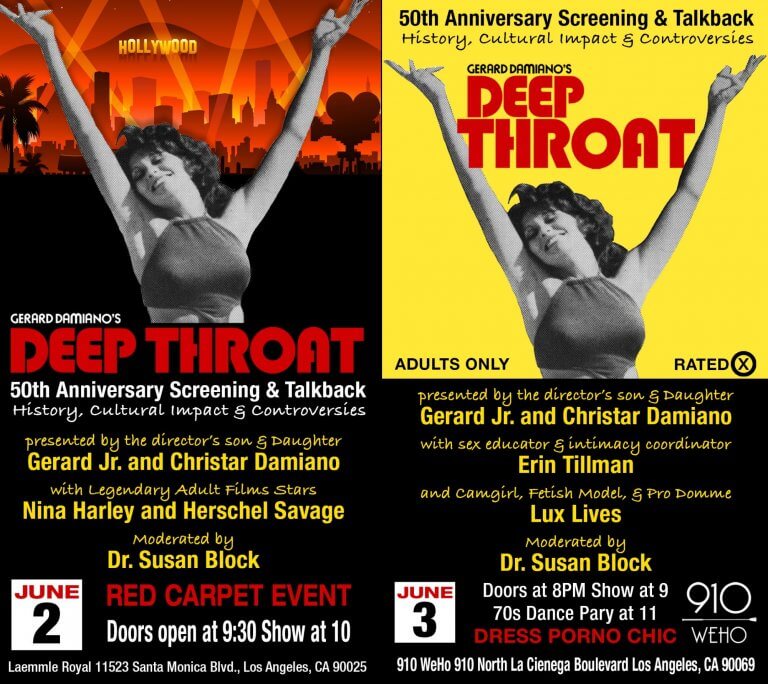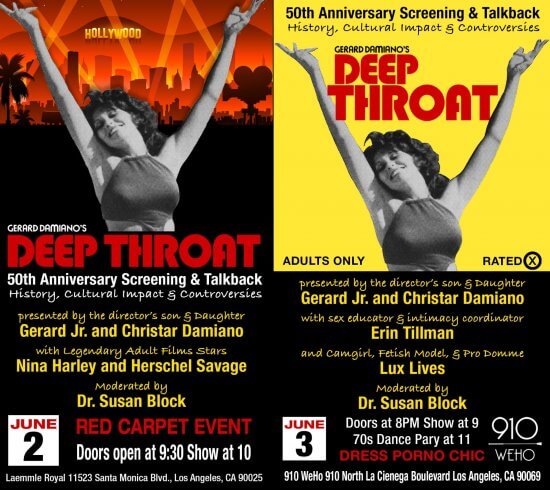 "I first saw Deep Throat on a date in a big New Haven Theater, circa 1977," recalls Dr. Block who appeared on E! True Hollywood Story's "Linda Lovelace" episode in 2000 and broadcast shows live from "The Deep Throat Sex Scandal" (the play) and "Harry Reems Tribute" in 2013. "Honestly, I was shocked. I had never seen such large and well-lit genitalia! But soon enough, I relaxed and enjoyed it. By then, Deep Throat had become a household name, having gone beyond the box office to impact freedom of speech and obscenity laws, as well as help bring about the resignation of disgraced U.S. President Richard M. Nixon (who, incidentally, tried to shut down the film). Whether they loved it or hated it, even if they never saw it, everybody knew—and still knows—'Deep Throat.'
"Later, I learned about the controversies raised by parts of the Feminist Left in addition to the Religious Right, as well as Linda Lovelace herself," Block continues. "Whatever the facts of the matter, we want to reopen a dialogue about the film, including Lovelace's complex story, as well as changing attitudes towards sexuality in our society, and Deep Throat's impact on American cinematic and cultural history. No doubt, Deep Throat entertained, aroused, disturbed and outraged the world—and it still does. So, I'm looking forward to seeing the movie as its director intended, and I'm also excited to discuss the issues surrounding this seminal (in every sense of the word) film with the Damianos and members of the LA community."
Screenings followed by talkbacks moderated by Dr. Block will be held on the following days and at the following locations:
Friday, June 2nd: Laemmle Royal in West Los Angeles
Saturday, June 3rd: 910 WeHo in West Hollywood
Frida Cinema in Santa Ana Screening Cancelled Due to a Few Protests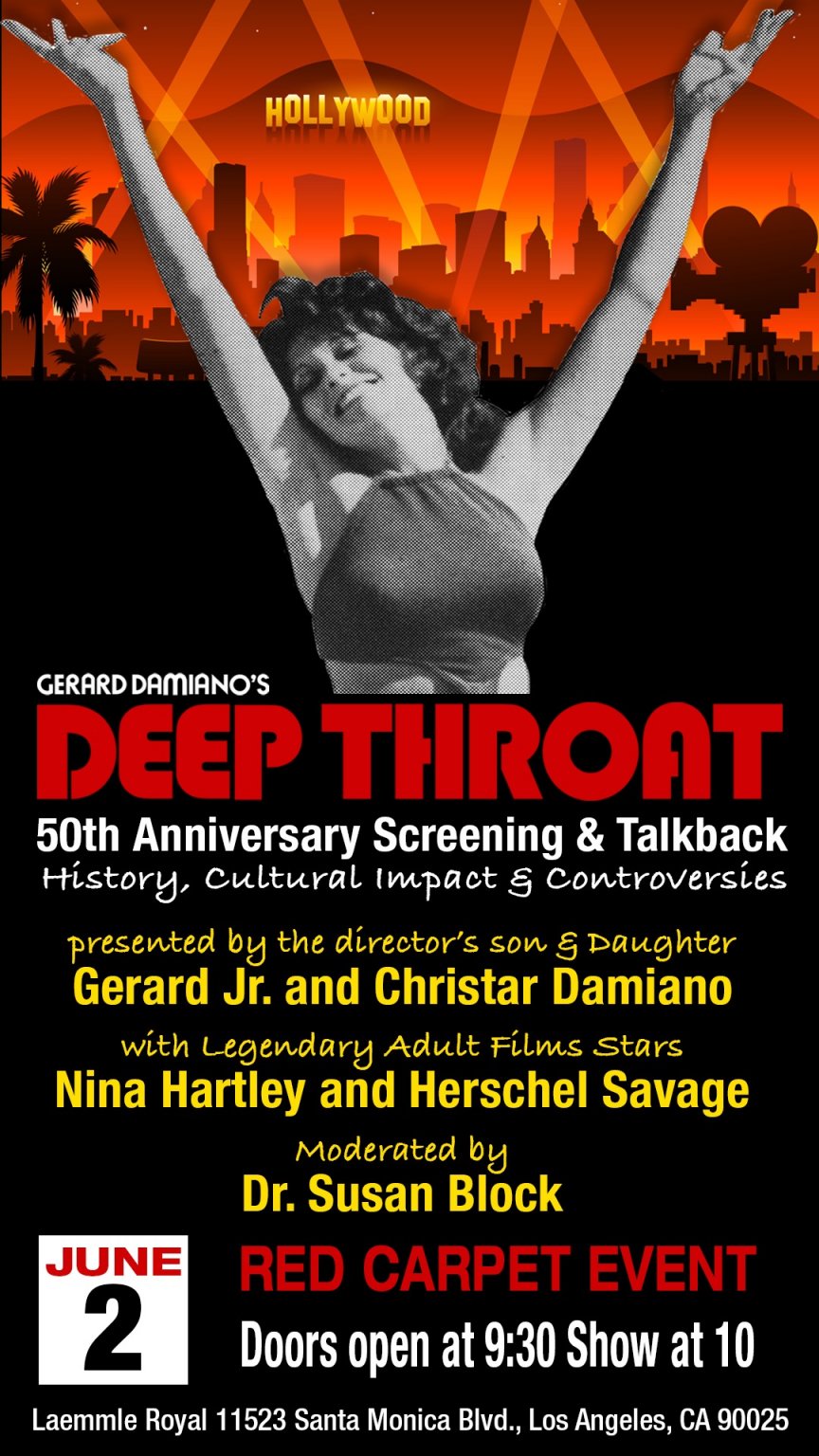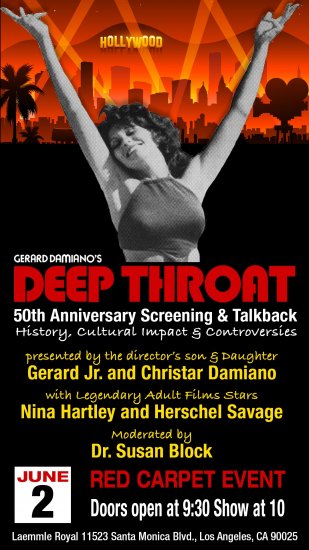 Legendary adult stars Nina Hartley and Herschel Savage, both of whom worked with Gerard Damiano, Sr. will join Dr. Block and the Damianos on the red carpet and the panel at the Laemmle Royal.
Susan Block, Ph.D., aka "Dr. Suzy," best-known for her groundbreaking HBO specials, has hosted The Dr. Susan Block Show for 35 years, and is the best-selling author of The Bonobo Way: The Evolution of Peace through Pleasure, Yale graduate, Counterpunch columnist and champion of sex education and freedom of speech. Married over 31 years to publisher and producer Maximillian Lobkowicz di Filangieri, she's been featured on HBO, NPR, Oprah, VICE TV and many more. But she'll never quit her "day job" as a therapist with the Dr. Susan Block Institute, helping people to explore, enjoy and take responsibility for their sexual lives.
For information or to arrange an interview with Dr. Block, email drsusanblock@gmail.com or call (626) 461-5950. For more information about Deep Throat or to arrange an interview with Gerard Damiano, Jr., email gerard@damianofilms.com or call (718)614-4109.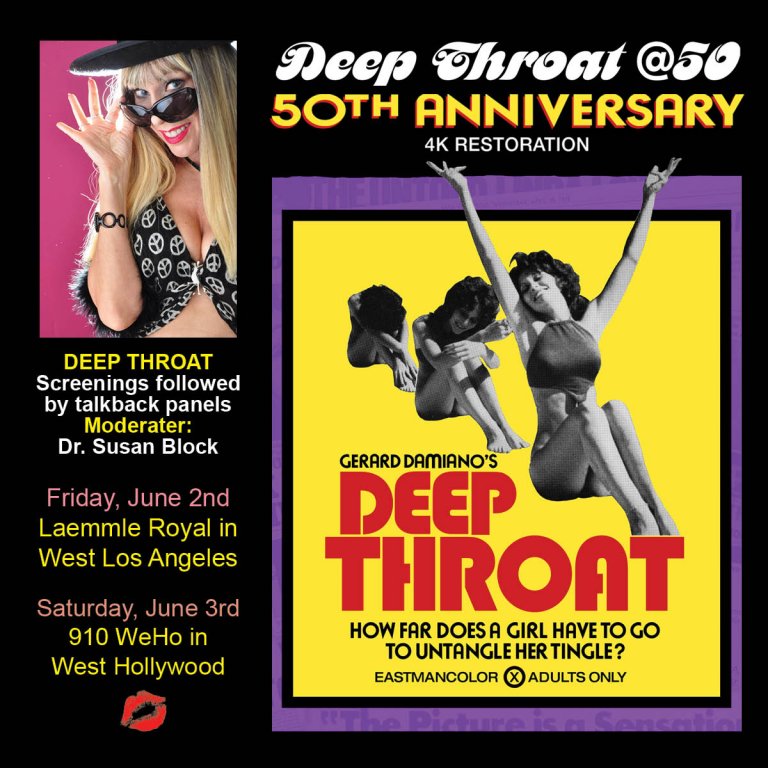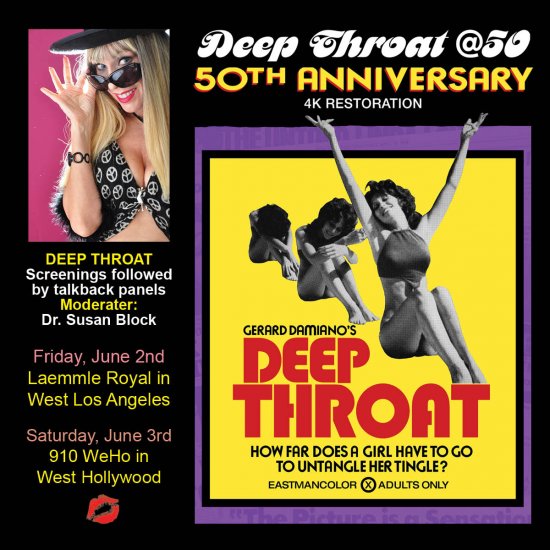 ---
Explore DrSusanBlock.com
Need to talk? Sext? Webcam? Do it here. Have you watched the show? No? Feel the sex. Don't miss the Forbidden Photographs—Hot Stuff, look at them closely here. Join our private social media Society. Join us live in studio 😊. Go shopping. Gift shop or The Market Place. DrSusanBlock.tv, real sex TV at your toe tips. Sex Clips Anyone? FASHION, we have fashion! We also have politics. Politics? Have you Read the book? No? How about the Speakeasy Journal? Click here. Ok, how about some free sex advice?
---
---