Bday Bacchanalia 2013
Length 1:36:47 Date: June 8, 2013
See the Free PGish Pix. See X Pix & Video on DrSuzy.tv.
It's my birthday!  Many years ago (I won't say how many—I don't want to shock you), I emerged…I wish I could say it was from my Mom's vagina, but I was a Cesarean. Maybe that's why I'm bisexual: trying to crawl into a vagina so I can emerge from it, born again…
Birthdays are a great equalizer.  Everybody has one.  You don't have to do anything, like graduate or stay married; you just have to be alive.  On your birthday, you're allowed and even encouraged to act like spoiled royalty. Since I act like that all the time, I have to take it up a notch on my birthday.  Really, I feel like my birthday is just another excuse for another holiday in Bonoboville, albeit a pretty religious one.
Nobody celebrated birthdays back in prehistoric times because no one knew what day it was. Evidence of birthday observances first appears around the advent of farming, calendars, telling time and needing an excuse not to go to work.  People began celebrating annual holidays, and one of those would be the king or pharaoh's birthday. Eventually, folks realized that the head honchos weren't the only ones getting older every year, and before you knew it, everybody was celebrating everybody else's birthday.
Not that birthdays were or are always a picnic.  Ancient and medieval people feared evil spirits, and it was a common belief that these malevolent forces stalked you with special zeal on your birthday.  This is not as superstitious as it sounds.  A long list of prominent people who kicked the bucket on the same date they were born includes history's greatest playwright William Shakespeare, U.S. President Franklin Delano Roosevelt, actress Ingrid Bergman, feminist author Betty Friedan and Italian Renaissance painter Raphael.  And it's not just famous people.  A 2012 study led by Dr. Vladeta Ajdacic-Gross and published in the Annals of Epidemiology that tracked mortality rates for over two and a half million individuals over a forty-year time span (1969-2008) found that statistically speaking, people are fourteen percent more likely to die on the day they were born than any other day of the year.  Sorry, I don't mean to blow out your candles too soon, but its true.
Bumping up the numbers are various factors, including a high rate of suicides (mostly by depressed men over 60) and a high rate of people doing foolhardy things to "celebrate" their birthdays, like bungee-jumping off Mount Everest or having sex while skydiving.  The sheer stress of Your Special Day also appears to bring on more lethal heart attacks and strokes. Typical birthday stresses include getting freaked out by the realization of how old you are and how little time you have left, not being able to celebrate "properly" with loved ones, or celebrating too much—which tends to involve large quantities of alcohol and other substances.  Now that we've read this study, we can add the cardio stress of knowing how likely you are to die on your birthday.  Interestingly, Dr. Ajdacic-Gross even found a slightly greater risk of dying (10.8%) on one's birthday from cancer.  So the ancient fear that "evil spirits" are more likely to snatch you on your birthday than other ordinary days now has hard science to back it up.
To protect the birthday person against such awful influences, the tradition of the birthday party evolved, surrounding the individual with love, laughter, music, gifts and entertainment. This works.  At least, it has, so far, for me.  I've tried other methods, but I find that the best way to ward off the "evil spirits" of shock (am I really that old?), stress (shouldn't I have accomplished more by now?), fear (what's going to become of me?) and foolhardiness (maybe I should prove I'm still young by climbing to the top of the Golden Gate Bridge again) is to throw a big, balloon-filled, debaucherous, orgiastic birthday bacchanal of love, laughter, music, gifts, entertainment and lots of sexual activity with beautiful people hanging out in their birthday suits.
And that's just what we do in this beautiful, bodacious, boobilicious, booty-luscious, balloon-cartoony and carnivalesque Birthday Bacchanal, filled with love, laughter, gratitude, great sex, good conversation, breathtaking fire play and Sybian rides.  And spankings, of course, lots of birthday spankings— with bare hands, paddles, floggers and fire—over the knee, on the cross and through the gauntlet of the human spanking machine.  Birthday spankings may come from the old medical practice in which doctors spank newborn bottoms on their actual birth day, supposedly to get them breathing properly.  Or it may just be a way to ward off those evil spirits—as it arouses the libido.
If you look closely at my birthday balloons, you'll notice that some are actually condoms.  Thank you Condomania!  And thank you, Liliana, for blowing our condoms into balloons filled with sparkly confetti.  Only in Bonoboville will you see condom birthday balloons.  Then again, maybe we'll start a trend.  I can just see a condom balloon-festooned float in the Pride Parade.
And thank you, Coco Risque and Spicy Lingerie for the very spicy sheer white robe with feathered fringe, the risqué white panties with ties that tie you up and the awesome black and white clown stockings (brought back memories of my post-Yale miming days).  What a sexy birthday gift!
Thank you everyone in Bonoboville, including my lovely new producer Hannah, for another spectacular erotic exotic birthday.
And thanks most of all, to my charming Prince Max, Capt'n of My Heart, husband of 21 years, for always being here for me,  and always loving me (and taking me on a kiss-filled gondola ride on my *real* birthday), no matter how bad a birthday girl I am.
FEATURED GUESTS
Amor Hilton:  Baby Block dresses up like her Birthday Mama in a big pink sunhat with matching teeny-weeny g-string, skyscraper heels and not much else, and gives me a Hello Kitty (making me want to do a collection of funny female friendly sex toys and call it "Hello Pussy").  By popular demand and Birthday Babe decree, Amor gets the first spanking from Mama's hand which turns her adorable, Amor-able, model-skinny, white girl's butt cheeks as pink as her hat.
Anthony Winn:  The awesome Striperella comic book artist, having turned my Speakeasy into his "Drink 'n' Draw" studio, drinks and draws an amazing illustration of the Birthday Gal which makes me look like I'm celebrating my 21st.  In the after-party, we dance to Sinatra crooning "Lady is a Tramp" (I know, how apropos….)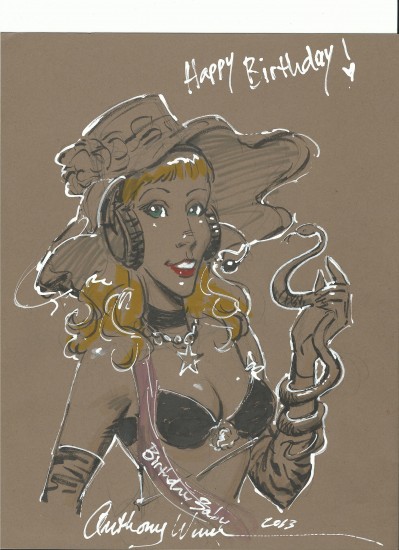 Odette Delacroix: Last seen on DrSuzy.tv in Masturbation Exploration, little Miss O.D. looks like she's only had about 12 birthdays, but she's a college graduate (Loyola Marymount) and quite the fireball.  In fact she gets spanked—well, licked—by a fireball in the after-party, as I hold a Hitachi on her naked quivering vulva (video coming soon to DrSuzy.tv).  She also gets a formal, old-fashioned birthday spanking  while crawling through a gauntlet of hotties, then hulahoops in her Birthday Suit.
Brianna Brooks:  Last seen on Purim Rising as a hot harem girl, Brianna is first to strip down to her Birthday Suit this show, her toned, tanned, heavenly body making all the soldiers in the Womb Room stand at attention and cheer as she twirls around the stripper pole, then gets her birthday spanking—lightly please; she has a shoot in the morning!
Heidi Hollywood: Brianna's bestie from Ideal Image Management, Heidi Ho' looks like a birthday gift in her pink and black corset and glitter pasties, especially when she climaxes for my bday on the Sybian.
Robert "Corpsy" Rhine:  Like Death stalking me with a smile, the Deaditor-in-Chief of Girls & Corpses magazine sits at my guest table, cheering on the stripteases and Sybian rides.  He'd like to spank all the ladies, but after he tells us he spanks  hard, he gets no volunteers.  At least by the end of the show, he's got a naked Bri on his lap.
Laurence Harvey: As his "date," Corpsy brings the star of "Human Centipede 2," probably one of the most disgusting horror films ever made. I'm not sure whether to say thank you or barf up my birthday cake.
Sex Nerd Sandra: Fascinated by our Sybian, but too shy to ride it herself, Sandra, in true nerd-ist fashion, requests that the riders describe their sensations at each level of vibration.  At first, they protest that they can't possibly describe what they're feeling while they're just about to come.  But I (being the Birthday Babe) insist.  So, bit by breathless bit, the descriptions come forth: "It's frikkin awesome!" "Like sleeping with a girl, but really really quickly!" "I lost my brain!" "I've been eliminated!" and so on. Hopefully now Sandra is intellectually prepared for her own Sybian ride.
Murrugun the Mystic: The amazing Murrugun reprises his eye-popping performance from last year's bday in which he swallows a sword while Cece Larue swallows his sword, that is, gives him head. Eat your heart out, Danny Brown—who will be coming on my show in July! Can't wait!
Kiki Daire:  Recently at our 21st Wedding Anniversary, Kiki is back for another milestone, sharing her beauteous 36DD naturals for Bonoboville Communion.
Fawnia the Realtor:  Our favorite "naughty realtor" is back, showing her hot properties and dancing the night away.  We love Fawnia!
Lotus Lain: Wearing a big high-necked blouse festooned with birthday balloons, at first Lotus appears to be celebrating her conservative sister's baby daughter's birthday, not mine. But in the after-party, she takes it all off to reveal that spectacular birthday suit of hers.  Then we get into a hot threesome with her boy Johnny Chorizo and her Swingtastic Toys "White Nights" vibrator.  What a sweet birthday treat!  She also gives me a beautiful abstract painting of hers.  Lotus is such a multi-faceted libertine!
Nyomi Banxxx: Decked out in black leather with short blonde hair, at first I don't recognize Nyomi, looking so different from when we saw her last at our Lady Porn Snow White show, but just as statuesque and gorgeous with the same devastating, mega-watt smile.
Benjamin Godfre: BG doesn't actually make it onto the show, but he does pimp out his beautiful boy body to the Birthday Babe. Nice abs!
Dark Phoenix:  Is he honoring or mocking the Birthday Babe when he wears one of my hats in the group shot.  Who cares? He's a consummate entertainer and takes lighting birthday candles to a higher level when he practically sets my butt on fire with a smoking hot fire spanking. Then, of course, everybody wants a fire spanking.  What can I say?  It's hot!
Other Bday Bacchanalian Stars and Heavenly Bodies include Dr. Hernando Chaves, Paul Sapiano, Eva Lin, Vanessa Goodmanson, Mo the Monster,  Isiah King James IV, Steve Nelson, Savannah Jane, Selma Sins, Aaliyah Corsets, Selena, Helen, Nori, Yossi the Sculptor.  If I didn't mention you, I'm sorry. It was and still is such a beautiful blur…
Weapons of Mass Discussion
My Birthday, Sex Leads to Birth, Brief History of Birthday Celebrations, Why People Die on Their Birthday More Often Than Any Other Day, Gratitude, Thank You Capt'n Max, Sybian Fantasies, Birthday Wishes & Dishes, The Bonobo Way, Invest in The Institute
Commedia Erotica
Spicy Lingerie, Mr. Lincoln Red Roses, Condomania Condom Balloons, Hello Kitty, Snake Play, Spanking the Birthday Girl, The Birthday Girl Spanks Her Hottest Guests, Bonoboville Communion with Jello Shots LA, Riding the Sybian While Describing the Sensations, Cake Rituals, Put Your Lips Together & Blow, Orgasms, Sword-Swallowing, Pulling Out the Sword, Swallowing Four Swords at Once, Sword Swallowing While Getting Your Sword Swallowed,  Hulahooping in Birthday Suits, Squirt for Peace
---
Explore DrSusanBlock.com
Need to talk? Sext? Webcam? Do it here. Have you watched the show? No? Feel the sex. Don't miss the Forbidden Photographs—Hot Stuff, look at them closely here. Join our private social media Society. Join us live in studio 😊. Go shopping. Gift shop or The Market Place. DrSusanBlock.tv, real sex TV at your toe tips. Sex Clips Anyone? FASHION, we have fashion! We also have politics. Politics? Have you Read the book? No? How about the Speakeasy Journal? Click here. Ok, how about some free sex advice?
---