LiNGERiE FREAK
Length 1:43:52 Date: June 15, 2013
See the Free PGish Pix. See X Pix & Video on DrSuzy.tv.
I confess: I'm a lingerie freak.  As if you couldn't tell.  Lingerie is sartorial foreplay, visual arousal for my partner(s) and fuel for my erotic engines.  Undercover fashion passions feel cool and look hot, tease as they please, reveal as they conceal.  But they're more than that, at least for me.  Slinky slips, lacy teddies, pretty panties, silky stockings, vintage garter belts, dominatrixy corsets, fetish wear and high heels are all parts of my uniforms and the Weapons of Mass Seduction I wield on the frontlines of my "war" against sexual oppression.
Whether or not you actually keep your corset and stockings on during intercourse (I usually don't), wearing lingerie means dressing for sex, sculpting our bodies into the shapes of our desires.  Ever since Adam and Eve arranged those fig leaves around their private parts right up to right now, when underwear is often worn as outerwear, men and women have been dressing for sex–for sexual pleasure, for sexual power, for the sexual pleasure of someone  powerful…And for expression, for love, for fun, for art!
As Oscar Wilde said during the Golden Age of corsetry, "One should either be a work of art, or wear a work of art."
So whether you're an artist/exhibitionist or a voyeur/connoisseur, there's nothing wrong with being a lingerie freak.  Don't worry about people wearing garter belts and stockings, regardless of gender.  But do beware of men wearing long robes who preach to you of moral ways to dress, and try to control your sexuality with threats of eternal damnation…As Winston Churchill's mother Jennie said, "There is no such thing as a moral dress.  Its people who are moral or immoral." Long considered one of the sexiest women of her time, old photos show Lady Jennie Churchill looking damn good in a tight corset, and we can only imagine her panties…
Speakeasy Stars:
Coco Gabby: Lingerie freak since adolescence, now a sexy clothing mogul, undie expert and the kind of girlfriend every woman needs, Gabby runs Coco Risqué Lingerie at Spice Lingerie on 915 Santee in the heart of the fabulous Fashion District of Downtown LA, as well as online for your shopaholic convenience.  The day before this show, I visited the store which has something for all your lingerie-related needs, from glitzy clubwear in the front to elegant slips and stockings in the middle to sexy costumes in the back and sex toys and BDSM wear in the way back. Gabby and her helpful staff helped me put together an amazing lingerie ensemble with an exquisite light pink and black lace teddy, an amazing black crinoline with a bustle in the back that really gave me some booty, thigh highs and delicate black lace gauntlets.  Of course, I wear lingerie pretty much every Saturday night, but this outfit is something special—très Moulin Rouge.  So now I must confess: I'm a freak for Coco Risqué!  Gabby also brings cool, state-of-the-art sex toys, including an ergonomically amazing Ovo vibrator (so quiet your husband won't hear it, even if he's snoring next to you) and sleek little Junior Mint vibes, plus intriguing vaginal tightening cream (which we didn't actually try) and arousingly tingly "Oral Sex Gel" by Crazy Girl that gets some of my other guests going at it in the after-party, and really gets me going at it in my private after-after-party with Capt'n Max.
Lisa Pinelli: This OC model for Coco Risqué starts the show in a plaid schoolgirl skirt and corset, then strips down to a sheer fishnet slip, later donning a crimson teddy that really shows off her ass-ets.
Odette Delacroix: One of our favorite DrSuzy.tv guests is back for her third appearance after Masturbation Exploration and last Saturday's Bday Bacchanal.  She usually dresses up her sweet, petite, 88-pound body like jailbait (though she's a 24-year-old graduate of Loyola Marymount), but for our Lingerie Freak show, she dons a black sparkly teddy that's delightfully skimpy; as Dorothy Parker once said, "Brevity is the soul of lingerie."  It makes her look like a kinky Russian Olympics gymnast and features a quick-release snap crotch that gives the crowd a rush when she suddenly unsnaps it, revealing her distinctive bush, so womanly in contrast to her girlish physique.  Like a good French Catholic schoolgirl, she offers up her tiny titties and succulent salted nipples to several appreciative guests for Bonoboville Communion and climaxes with her amazing Ovo vibrator from Coco Risqué.  O is for Ovo, Orgasm and Odette.
Marky D: The "Freak" half of this show's title comes from this up-and-cumming hiphop artist's frankly sexual track of that name which we listen to throughout the show as the ladies strut and strip.  Though a DrSuzy.tv first-timer, Marky shows he can do more than just rap about getting freaky, doing Bonoboville Communion with sweet—and salty—Odette.
Alexis Simone:  A surprise guest and fan of my shows since my first HBO specials way back in the 20th century, Alexis wows the Womb Room with her fishnet-clad long-stemmed American Beauties as she writhes around the stripper pole, then pulls down her leather corset to reveal succulent nipples for Bonoboville Communion, then does wild things with various happy men at the Speakeasy bar well into the wee hours.
John Clark: The first producer of The Dr. Susan Block Show when it was called "Date Night" on KIEV, as well as an award-winning Shakespearean actor and director, the late great Lynn Redgrave's ex-husband, drops in to add his two cents and freak on hot chicks in lingerie.
Mistress Eva: Another one of our favorite DrSuzy.tv guests (seen on Masturbation Liberation and Exploration) who doubles as the Speakeasy bartender, Ms. Eva dresses up for our LiNGERiE Freak show in an Alice in Wonderland costume, frilly white garters and crotchless panties that leave absolutely nothing to the imagination. In the after-party, Naughty Alice plays with her sleek new Coco Risqué "Junior Mint" vibrator—looks  like a box of candy but feels much better and definitely doesn't contain any calories!—and spanks and gets spanked in the bar.
Weapons of Mass Discussion:  Lingerie Fetish, Freaks of All Kinds, Getting Freaky, Why Lingerie is So Sexy, Wearing Underwear as Outerwear, Why We Love Lingerie, Lingerie Modeling vs. Bathing Suit Modeling, Freaky Sex, Fire-Breathing Fun, My HBO Specials, Father's Day, Lynn Redgrave, Redgrave Family Drama, Partying as a Religion, Michael Douglas Said Giving Head Gave Him Cancer, HPV & HPV Vaccines, The Bonobo Way.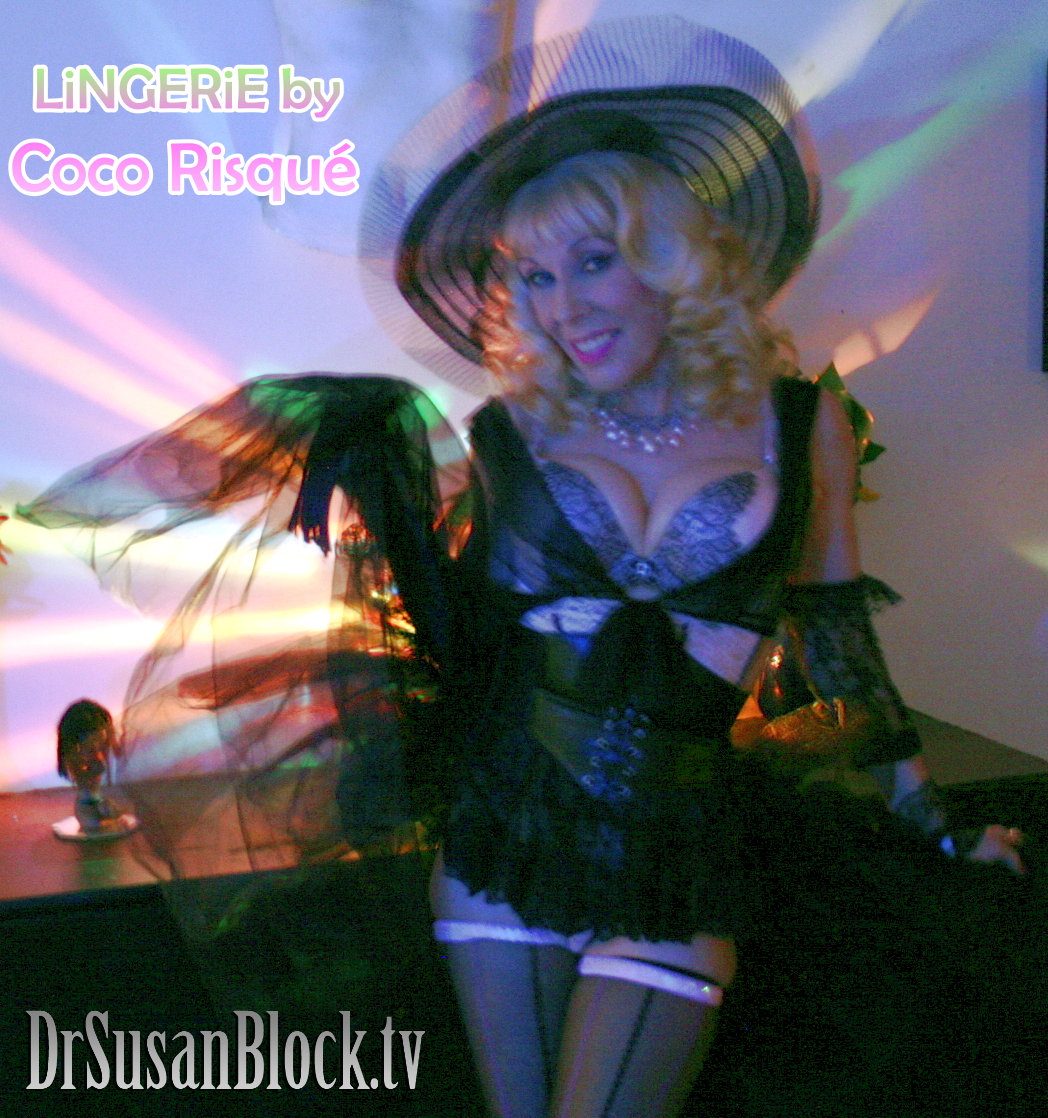 Commedia Erotica:  Snake Play, Modeling Coco Risqué Lingerie, Lacy Teddy, Stockings, High Heels, Plaid Schoolgirl Skirt, Corset, Crotchless Panties, Fishnets, Alice in Wonderland Costume, Striptease to "Freak," Showing Bush, Bonoboville Communion, Salty Nipples, Titty Licking, Cock Shotglasses, Test-Driving the Ovo, Dancing on The Stripper Pole, Rubbing Tingly "Oral Sex Gel" on The Vulva, Getting Freaky with Junior Mint Vibrators, Spanking, Pussy-Popping, Booty-Shaking, Freaking.
---
Explore DrSusanBlock.com
Need to talk? Sext? Webcam? Do it here. Have you watched the show? No? Feel the sex. Don't miss the Forbidden Photographs—Hot Stuff, look at them closely here. Join our private social media Society. Join us live in studio 😊. Go shopping. Gift shop or The Market Place. DrSusanBlock.tv, real sex TV at your toe tips. Sex Clips Anyone? FASHION, we have fashion! We also have politics. Politics? Have you Read the book? No? How about the Speakeasy Journal? Click here. Ok, how about some free sex advice?
---