Easter Eve DTEASE Res-Erection on DrSuzy-Tv!
Length 1:54:24 Date: Mar. 26, 2016
It's Easter Eve in Bonoboville and all the bunnies and bonobos are busting out like spring, rocking to the Res-ERECTION of The DTEASE, glam punk sex-rock Santa Barbara-based band extraordinaire, fronted by that dashing guitar-smashing Jesus/Bacchus of the sharkskin suit and the dirty mattress, Wilson Gil, and also featuring those sensationally sexy, funny and fashion-forward Unlicensed Professionals, aka "The DTeasers," punk rock Renaissance women Catherine Imperio and Samantha Fairley, winners of 2015 SUZY Awards for "Best Funny Faces" (Sam) and "Most Artistic Anus" (Cate).
The DTease first wowed DrSuzy.Tv back in 2012 in Stagebrother and the DTease, winning them a 2012 SUZY Award for "Sexiest Musical Performance." They more than res-ERECT that excitement on this bunny-hopping holiday DrSuzy.Tv show with showstoppers like "Insurgent," "Big Girl Panties," "A Little Bi," "Cum Again," and their signature feather-shower climax, "Dirty Mattress."
Burkas, Bikinis & Rock n Roll
Throughout these butt-twerking, sex-rocking numbers that shake the walls of the Womb Room like a giant vibrator, Cate and Sam dance and sing back-up in an assortment of comic-erotic costumes, from slinky-kinky cat-suited space aliens with a muzzled and leashed human pet (guitarist Sado Rabaudi) to super-big-haired blonde bombshells in red lace teddies to the pillow-fighting school girls who blanket Bonoboville with down.
Cate and Sam are the bomb! Comediennes (Cate is now an official stand-up comic) as well as models with moxie, we love this dynamic duo, each with her own Lucille Ball kind of sexy, funny, bodacious beauty.
In "Insurgents," they wear black hijabs along with skimpy bras and panties and, at this song's climax, they reach under the bed and pull out menacing Middle Eastern swords and roleplay a mock ISIS-style execution of Wil Gil, lead singer and sacrificial Lamb.
PHOTOS 1 & 2: L'EROTIQUE. PHOTOS 3 & 4: ONO BO
And the Speakeasy bar goes wild for burkas, bikinis and sex-rock 'n' roll LiVE from Bonoboville…
Chelsea Marie, Friends & Lovers
Into this wild punk-rock wonderland strides strikingly statuesque Chelsea Marie, who could be the sister of our lovely ass. producer, Dayton Rains, resplendent in a silver stripper bikini, platform boots and light-up bunny ears. Soon we discover that Chelsea loves to show off almost as much as Dayton; in fact, the two buxom raven-haired sexpots look like sisters. Both revel in their own and each other's magnificent mammaries, and when Chelsea pulls her panties asides (as she does with some frequency throughout the show and after-party), she reveals her magic wand, which has its own Easter res-erection, especially at the after-party.
PHOTOS: L'EROTIQUE
Beautiful bonoboësque Samantha also frees the nipple to participate in Bonoboville Communion with ecosexy Agwa Herbal Coca Leaf Liqueur and Dayton's 34DDD, and pretty soon, there are as many freed nipples in the Womb Room as there are colored eggs in an Easter basket.
Cate's Anal Art
Some artists are assholes. And some assholes are artists. Behind Cate's lovely hind quarters lies the latter: an anus that is a true artist, winner of the 2015 SUZY Award for "Best Anal Art" (not that there was much competition in that particular category) and creator of two ink abstract drawings that hang in the Bonoboville Art Gallery, the first of which she penned exactly one year ago at the Bonobo Spring Equinox Bacchanalia and again at our 23rd wedding anniversary.
PHOTOS 1 & 2: L'EROTIQUE. PHOTO 3: UNSCENE ABE

This time, she uses her talented sphincter muscles to draw a picture of a bonobo! All of Bonoboville, from the bed to the bar, strains to get a good look at how Cate inserts a Sharpie like a buttplug into her butt, and then draws what looks as much like a bonobo as if it were drawn by Wassily Kandinsky. In fact, she has improved her command of the medium in the year since we've seen her.
But is it art? As Cate says, "Beauty is in the Eye of the Butt-Holder," or you could also say, "booty is in the eye of the butt-holder," and in any case, Cate's booty is beautiful, as well as booty-fully trained by its mistress.
Weapons of Mass Discussion: Resurrection!
But this show isn't all rocking out and anal art; it is a talk show and we also talk with the whole band on the bed (including Wil the Frontman, Rado the guitarist, Sam McPherson the other guitarist, Mike Sharpe the drummer and Terry Luna the bassist) and their various friends and groupies, as well as some of Chelsea's transgender friends (courtesy of multi-gifted Jux Lii), including sultry Athena Addams.
We talk about Easter and how the archetypal miracle of resurrection captures the heart of human desire, and not just because it phonetically contains the word "erection." Resurrection gives us hope of everlasting life. Thus it is one of the cornerstones of Christianity.
PHOTOS: ONO BO
One of the most profound spring themes is resurrection. If the Earth can be reborn in spring, so can we! The most famous rebirth is that of Jesus who springs back to life on Easter Sunday, after being officially dead for three days.
But Jesus wasn't the first human/god to be born again in spring. Long before there was a rebirth of a Holy Son returning to His Heavenly Father, there was the resurrection of the Holy Daughter coming home to her Earth Mama… in the springtime Greek "Resurrection of Persephone."
As men took the reins of human power on Earth, they also assumed all the leading roles in Heaven, while the sacred Mother-Daughter reunion metamorphosed into one between Father and Son. Still, the Jesus Spring was a long way off. One of these is the Egyptian "myth" of Osiris/Horus, as Wil astutely points out.
Another even more Christ-like figure (in a western sense) might be Dionysus or Bacchus to the Romans, honored in the ancient Primavera Bacchanalia. Dionysus is a charismatic and bonoboësque God of Spring whose cults evolved centuries before Christ. Interestingly, one of Dionysus' consorts is Pan, the horned and horny goat God of the Wild who lends his name to Pan paniscus, the scientific classification for our favorite peace-through-pleasure mascots, the bonobos.
How could a God of Orgies and "Bacchanals" have anything to do with sweet chaste Holy Jesus? Check out these eerie but strong similarities and how the myth of Bacchus/Dionysus foreshadows the coming, and second coming, of Christ:
Both Gods are especially adorable as babies, as are bonobos.
Both Gods never lose their youthful, androgynous good looks, also like bonobos.
Both Gods have human "virgin" mothers and divine heavenly Fathers.
Both Gods are liberators and revolutionaries, overturning the status quo.
Both Gods treat women as equals, as bonobos do, and have passionate, prominent female followers.
Both Gods miraculously heal the sick.
Both Gods are intimately connected with wine (as Me$$ed Up reminded us with Drunk Jesus on Dayton's Birthday)
Both Gods are charismatic "rock stars" with long hair and an entourage of adoring groupies.
Both Gods preach that the Kingdom of Heaven is within you.
Both Gods are Masters of Seduction, saying that "Heavenly ecstasy is yours if only you follow Me."
Both Gods have, in a sense, their "flesh and blood" eaten and drunk by others in different types of "communion."
Both Gods die terrible bloody deaths, suffering for the sake of humanity.
Both Gods are resurrected in spring.
As are The DTease this Bonobo Spring. And after a few amazing songs, plus an Agwa or two, curly-haired Wil starts to look like Bacchus by way of Jim Morrison crossed with Steve Tyler, as the glittering gun on his belt appears to grow and squirt diamonds through the Womb Room. Thus, dancing in the flying feathers, we res-erect the great God of Spring in our hearts and loins.
PHOTO 1 & 3: L'Erotique. Photo 2, 3 & 4: Unscene Abe
Devilish little blasphemers that we are, we also roleplay the Resurrection with a Divine Interventions "Jesus Jackhammer" dildo rising up out of a Vulva Puppet. Amen and Awomen. Chelsea really seems to worship the Jesus Jackhammer and we can see why. At one point, she swallows the whole shaft leaving only Jesus' head and arms sticking out of her mouth. At which point, we sing, "Hallelujah! Jesus is in her now!"
The Bonobo Way of Drum Destruction
On their first appearance on DrSuzy.Tv, the DTease destroyed a guitar (now hanging in the Bonoboville Guestroom) in the proud tradition of Jerry Lee Lewis (who burned a piano) and guitar-smashing Pete Townshend of the Who. On this show, the DTease demolish a drum, recalling another Who member, Keith Moon, who famously blew up his drum—and Pete Townshend's hair—on The Smothers Brothers Show.
We talk about the bonoboësque release of "aggro energy" in "positive destruction" and other acts of creative release. In another way, instrument destruction is a "sacrifice," another parallel to Jesus, the sacrificial "Lamb of God."
It's also a lot of fun! I get a strong bonoboësque rush from sticking my stiletto through the DTease snare drum. #GoBonobos for positive destruction! Smash a guitar, not your neighbor's face. Destroy a drum, not another species. Make music, not war.
Magdalene & Esther for Women's History Month
It's the last Saturday of Women's History Month, and this time, we honor women who are more figments of our imaginations than actual historically verified flesh and blood, and both come from the Bible: Queen Esther who used her Weapons of Mass Seduction to save her people from genocide, and Mary Magdalene, the Original Easter Bunny, and probably Jesus' wife, if there was a Jesus.
Reality or fantasy, Magdalene and Esther are two of the sexiest, most bonobo and most powerful women in the Bible.
Bonobo Way coming to DomCon LA 2016, 24th Wedding Anniversary & More Coming Up in Bonoboville.
We've also got a few exciting announcements and shout-outs this show. Congrats to snaketail whipstress and DomCon founder Mistress Cyan on whipping cancer. We're excited to join Her at DomCon LA 2016 where I will be presenting "The Bonobo Way: A New FemDom Primate Paradigm for Humanity." Sign up for your Bonobo Way book–spanking now! Call us.
Also on the horizon is our 24th Wedding Anniversary; check out the featured guest list—it's getting exciting! The symbol of the 24th is "Musical Instruments," so we just hauled my grandmother's 1926 Steinway baby grand piano out of the garage and put it in the center of the gallery where it's like a jewel. Shout out to LA Piano Mover Extraordinaire Vincent Gomez. You won't find a finer piano mover, certainly not at Vincent's astoundingly reasonable price.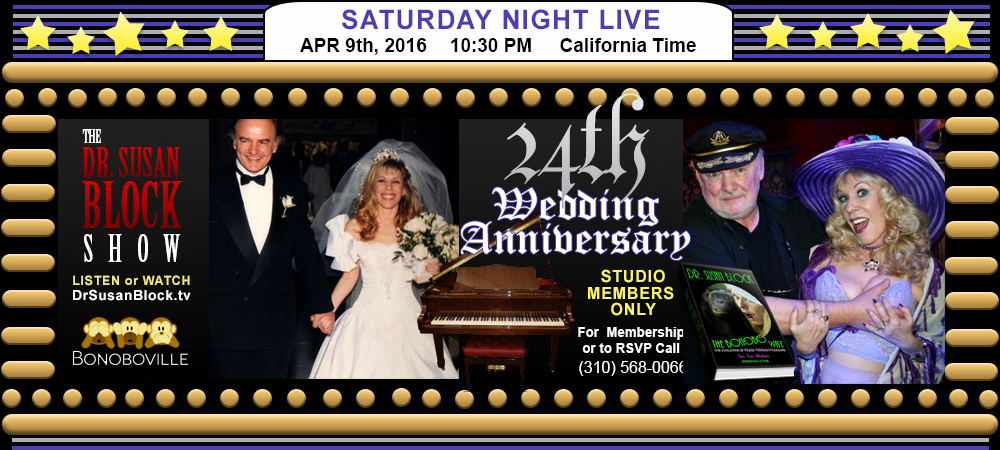 More shout-outs to Carrie Weisman for her current Alternet article on the all-American big boob fetish, quoting yours truly profusely, to Fat Mike of NoFX now making a new album, to Deauxma now retiring (boohoo!) from adult entertainment, to Panty Boy for Dayton's silver panties, to Astroglide for providing some of their Diamond Silicone Gel, to Goddess Fae Black (coming up this Saturday, April 2nd) and to Chelsea Bonobo in the field(s) of Oregon PDX KinkFest where she is selling and spreading The Bonobo Way, the book (now on sale) and the philosophy (free if you've got a lifetime).
We also take a call from Smokey Binion, Jr., another rocker who has appeared on DrSuzy.Tv, performing Elvis tributes. Smokey lets us know that he loves this show, especially the band and Dayton. Thanks to Smokey, we even get another one of his favorite ladies, Bonoboville photographer Ono Bo, on the bed for a minute to say hi and find out that it's snowing for Easter in Texas.
PHOTO 1: L'EROTIQUE. PHOTOS 2 & 3: UNSCENE ABE
Snowing Feathers in Bonoboville
Well, it's snowing feathers for Easter in Bonoboville, and the RES-ERECTION is accomplished, in all the good ways. Clean-up is also fun, as it involves laying back on my bed as if we're drifting on heavenly clouds, watching a topless and sometimes bottomless Chelsea Marie transform into Chelsea Maid, sweeping up snowdrifts of feathers.
On that note, let's make it a Bonoboville Spring RƎVO˩ution. With bloody ISIS and bruising Trump, as well as their misguided minions, calling for more blood and barriers, it might be more important than ever that we call for the Bonobo Way of peace through pleasure.
© March 26, 2016. Susan Block, Ph.D., a.k.a. "Dr. Suzy," is a world renowned LA sex therapist, author of The Bonobo Way: The Evolution of Peace through Pleasure and horny housewife, occasionally seen on HBO and other channels. For speaking engagements, call 310-568-0066.
---
Explore DrSusanBlock.com
Need to talk? Sext? Webcam? Do it here. Have you watched the show? No? Feel the sex. Don't miss the Forbidden Photographs—Hot Stuff, look at them closely here. Join our private social media Society. Join us live in studio 😊. Go shopping. Gift shop or The Market Place. DrSusanBlock.tv, real sex TV at your toe tips. Sex Clips Anyone? FASHION, we have fashion! We also have politics. Politics? Have you Read the book? No? How about the Speakeasy Journal? Click here. Ok, how about some free sex advice?
---
---