Dayton Rains' #GreenBirthday Bacchanalia on DrSuzy.Tv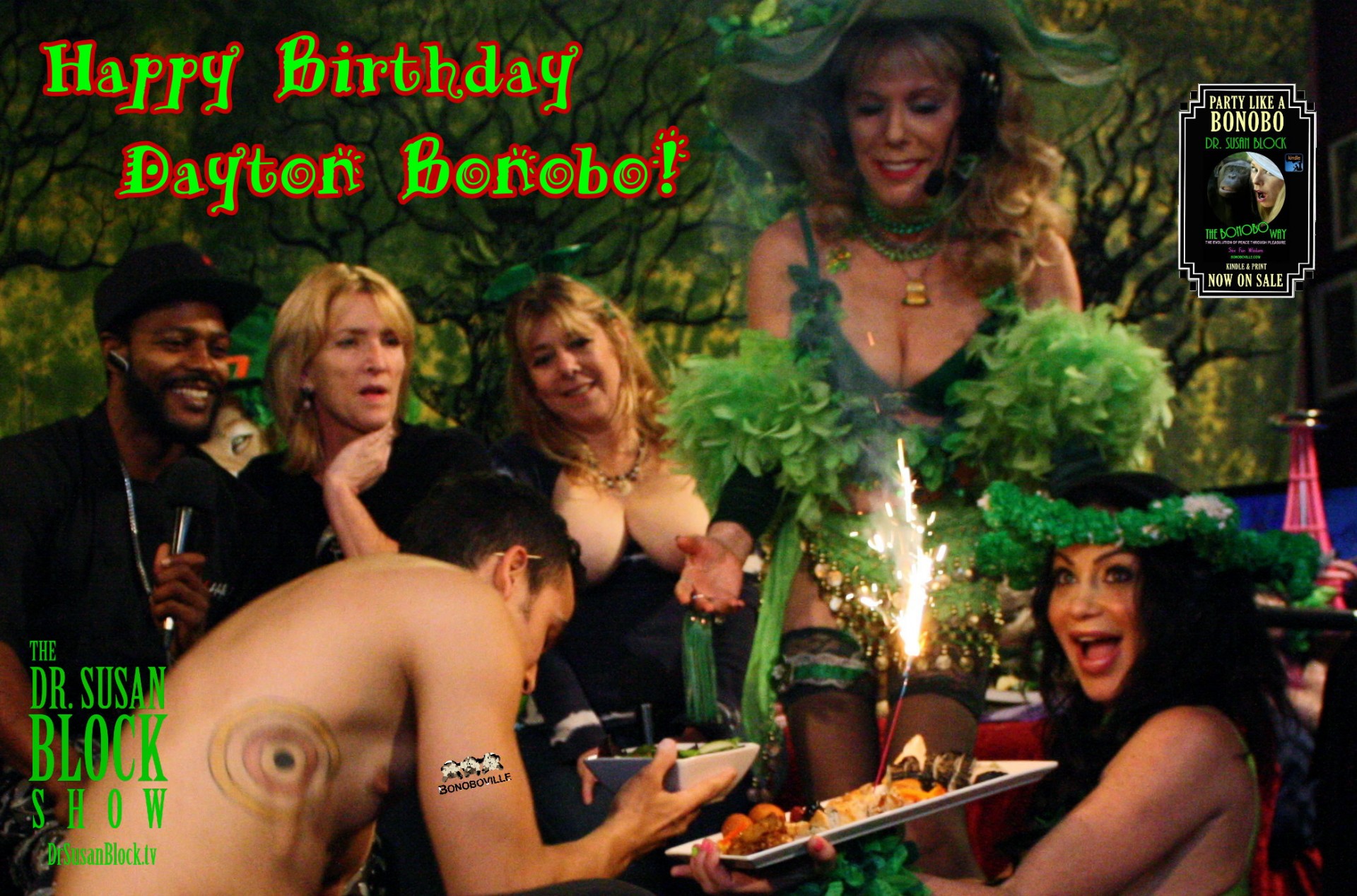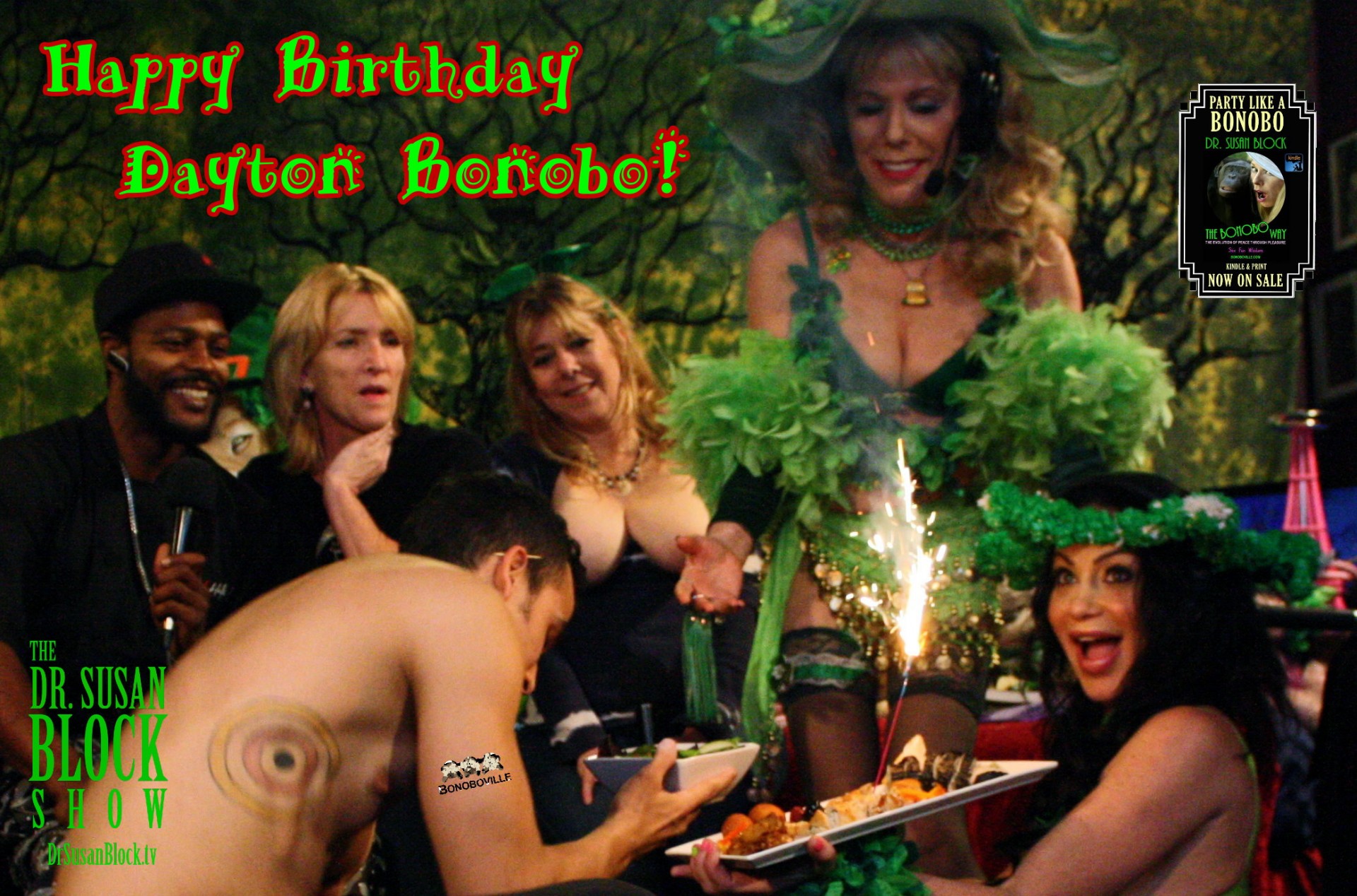 Length 1:41:04 Date: Mar. 19, 2016
It's a Happy #GreenBirthday for sparkling Speakeasy Star, Dayton Rains—webcam, sext and phone therapist with the Institute, associate producer for DrSuzy.Tv, not to mention a real, award-winning porn star.  It's also a great visual treat for the rest of us, partly because Dayton celebrates much of her birthday in her "birthday suit."
As hard-working, giving and passionate about the Bonobo Way as she is vivacious, curvaceous, funny and sexy, Dayton—and her adorable pair of canine companions—have captured the hearts (and gonads) of Bonoboville, so her birthday is cause for great celebration. Looking radiant in an ecosexy #GreenBirthday bra, FreeOnes G-string, high heels and a St. Paddy's star on her head that looks like a leprechaun crown, the Birthday Gal soon strips down to her Birthday Suit, performing backbends and other feats of youthful flexibility and timeless sexiness.
Drunk Jesus & We Are One
Friends and admirers shower her with presents—green gifts for a #GreenBirthday, red roses, lingerie, a bottle of vodka almost as big as the Bday Gal herself and a package of baby wipes (?) bigger than one of her dogs—as birthday wishes come in from fans around the world.
Dayton is also given the gift of song from some of the talented musicians of Bonoboville, starting off when Roberto Bonobo, usually behind the camera, takes center stage as "Me$$ed Up," giving a rousing performance of his original bonoboësque rap, "Drunk Jesus," just in time for Palm Sunday, inspiring us to get in the "spirit" of the Res-Erection by playing (all in good clean, mildly blasphemous fun!) with the Divine Interventions Jesus Jackhammer dildo. Roberto then engages in his first on-camera Bonoboville Communion—both giving and receiving (in a sort of tribute to the great Danny Brown who received surprise oral sex onstage and kept on rapping!) —to the delight of the Womb Room congregation who claps in mildly drunken joy and sings Amen…. and Awomen!
Next to serenade the Bday Gal is our favorite Green Cross rapper, Ikkor the Wolf, spoken-wording his galvanizing bonobo anthem "We Are One" for Dayton's "Life Day" revival. When Jessica Shores, a.k.a., J-sho, shows up with an entourage, looking svelte and seductive, we play her "Do the Miley Cyrus" video, a favorite of Capt'n Max's, which she says she'll perform LiVE at our 24th Wedding Anniversary Bacchanalia, coming up on Saturday night, April 9th.
Chef Hadji: Bonobo Gourmet Catering
Bonobos love to combine food and sex, two of the richest representations of love, which also happen to be two of our most basic needs.
Catering this birthday extravaganza is the fabulous Chef Hadji of Rasta Rebellion and HB EDIBLES  (who made last Saturday's Hypnosis Show even more hypnotic), stimulating our appetites with delectable salmon, caviar and asparagus sushi, tender gourmet meats, exotic breads, crisp salad and decadent, raspberry-garnished chocolates.
PHOTOS: ONO BO
Dayton is so excited, she calls it "Food Porn." Instead of a mere pedestrian birthday cake, she gets a plate of Chef Hadji delicacies with a flaming sparkler. Call Chef Hadji to cater your next affair… any kind of affair.
Birthday Communion
The ever so spankable Ms. Rains gets several Bonobo Way birthday book-spankings, and takes a double dose of Bonoboville Communionone with Agwa Herbal Coca Leaf Liqueur from Helane's magnificent mammaries and another with Ron de Jeremy rum from my vulva (!).
I manage to pour the Agwa down Dayton's throat almost as well as this 2015 SUZY Award winner for "Best Altar Girl" does for our other guests, but on the Ron round—maybe because I'm a little shaky from having the Bday Gal's lovely tongue on my clitoris or maybe perhaps due to her arching her back as I pour—I accidentally (I swear!) get a splash of the stuff in her eye. Ouch! Just like a klutzy cumshot from the Mayor of Bonoboville himself. Well, at least, we aren't waterboarding. And resilient Dayton soon recovers, only losing an eyelash (not an eye, thank Goddess) in the process, and climaxes the show with the Hitachi Magic Wand. What a performer!
Bonoboville Salute to Bettie Page for Women's History Month
Speaking of great performers, on this Women's History Month show, we honor a tremendously influential sex revolutionary in the realm of erotica: Ms. Bettie Page, the Queen of Pin-Up, Queen of Fetish, Queen of Nudes and Queen of Our Hearts.
Back in 1996, I was fortunate enough to talk live with Bettie Page (yes, the real Bettie Page!) in her first interview in almost 40 years, not to mention her longest interview ever. Bettie Page was an American icon, inspiring countless women—like Dayton Rains—to express themselves sexually with style and joie de vivre. So it is with great pleasure that Bonoboville salutes the late great Bettie Page for Women's History Month.
PHOTO 1: CAVIE.  PHOTOS 2 & 3: ONO BO
Iraq War Anniversary, Yale Ball & Trump's Tiny Hands
In another part of history… since we're broadcasting live on March 19, the anniversary of GW Bush,Cheney, and Rumsfeld "Axis of American Evil" unconscionable Iraq Invasion, we take a moment to remember Shock & Awe, which really should have been called "Stupidity & Assholic-ness" for all the mess that it made in Iraq and for America, as well as most of the rest of the world.
The bonoboësque Big O (Obama) managed to clean up a bit of Bush's mess, but now Donald Trump's "Little Hands" are threatening to make things a lot messier. The Trump Train is, in part, a backlash; a vile and violent attempt to "take back our country" from its movement towards peace through pleasure, resource-sharing and diplomacy over war, greed and "punching in the face," a movement that I call the Bonobo Way.
#DumpTrump! "America Needs Bigger Hands!" reads a sign at the huge New York anti-Trump rally, a beautiful big theatrical demonstration that reminded me of the anti-war demonstrations that were held all over the world just before Bush invaded Iraq anyway. Big sigh. Ashamed that the Shrub and I share the same alma mater.
Though I'm proud to say that that very alma mater has somehow, miraculously produced the sexy and surprisingly competent Yale Men's Basketball team! Boola-Boola! Make Basketball, Not War.
Next week will be Bonoboville's Easter Eve Res-Erection with the amazing DTease and Unlicensed Pros Cate and Sam, plus more awesome shows after that. Maybe you should join us for a little pleasure under the palm trees. Or just catch us on the air as we swing through life, following the Bonobo Way… best as we short-armed apes can swing.
Happy Birthday Dayton Bonobo!
© March 19, 2016. Susan Block, Ph.D., a.k.a. "Dr. Suzy," is a world renowned LA sex therapist, author of The Bonobo Way: The Evolution of Peace through Pleasure and horny housewife, occasionally seen on HBO and other channels. For speaking engagements, call 310-568-0066.
---
Explore DrSusanBlock.com
Need to talk? Sext? Webcam? Do it here. Have you watched the show? No? Feel the sex. Don't miss the Forbidden Photographs—Hot Stuff, look at them closely here. Join our private social media Society. Join us live in studio 😊. Go shopping. Gift shop or The Market Place. DrSusanBlock.tv, real sex TV at your toe tips. Sex Clips Anyone? FASHION, we have fashion! We also have politics. Politics? Have you Read the book? No? How about the Speakeasy Journal? Click here. Ok, how about some free sex advice?
---