Get Lucky this St. Paddy's Day, the Bonobo Way; "Stormy Women" Now Playing on DrSuzy.Tv | Whether You're Lucky Or Not, Call 213-291-9497 for Phone Sex Therapy Anytime You Need to Talk
Erin Go Bragh! Celebrate St. Paddy's Day in

Bonoboville

this Saturday night LiVE on The Dr. Susan Block Show! Join Dr. Suzy, Capt'n Max, Phoenix Dawn, Mia Amore, Ikkor and more, including porn stars, Gas Mask Girl, comedians, musicians. sexperts and sexpots as we go for the luck, the charm, the green (oh the green!) and the general good vibes of a St. Paddy's-style Bacchanal, as only happens in Dr. Suzy's world-famous Womb Room in Bonoboville, LA. RSVP to join us in-studio and under the twinkling palms for St. Patrick's Night! Call 310-568-0066, or just watch the fun and frolic LiVE this Saturday night 

10:30pm

 PST in the Bonoboville Lounge or on DrSuzy.Tv.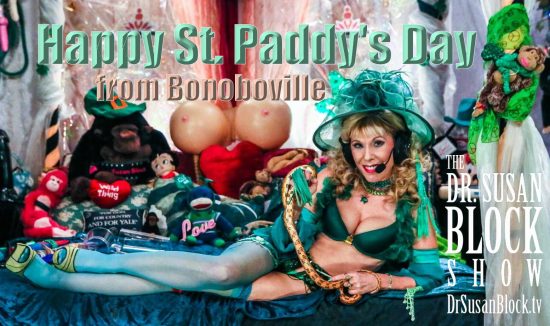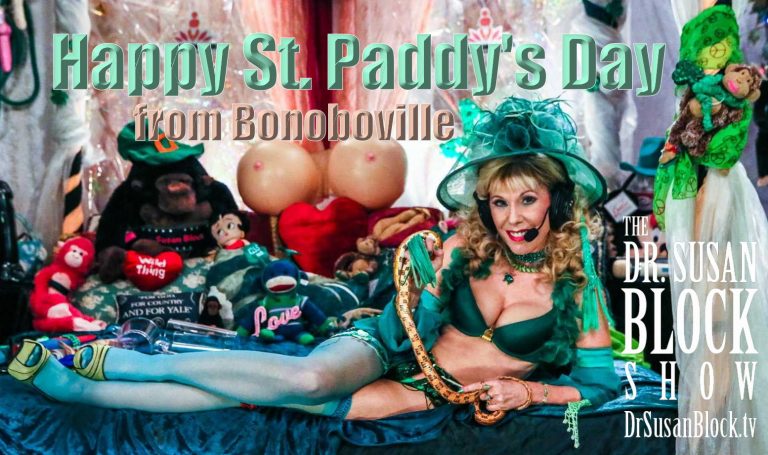 You don't need a four leaf clover to get lucky this St. Patrick's Day. Wish for a girlfriend and with the press of a button, we will have one there for you with the girlfriend experience. Okay, so it's not real reality. But it's all the "good feels" and none of the commitment or heartache of a real life relationship…. even if your fantasy relationship is with a celebrity! Luck doesn't have to be a lady either; call us for man to man phone sex therapy, or get double-lucky with your cuckold fantasy and speak to male and female therapists at the same time. Find your Pot O' Gold at the end of your erotic rainbow. Call the Dr. Susan Block Institute at 213-291-9497 anytime; we're here to talk to you about anything. Whether you long to see or be seen, need serious life-coaching or yearn to act out your wildest dreams, call us; we can help. We'll even sext with you, if that's your preference.  Have a super sapiosexual conversation, totally private and confidential, discovering peace through pleasure with the help of the expert knowledge, deep perception and nonjudgmental understanding of revolutionary sexologist Dr. Susan Block or one of our other Therapists Without Borders, each excellent in their specialties. Learn more about bonobo liberation, acceptance, sex, female empowerment and male well-being through Dr. Suzy's Bonobo Way of Inclusivity talk at AASECT from the archives of the Dr. Susan Block Youtube Channel (subscribe and get notified for more archives).


 

From Queen Esther to Stormy Daniels, March honors strong, stormy women, and so does this show, which begins with Dr. Suzy, wearing Adult Wearhouse Outlet lingerie, honoring "Woman of the Moment," Stormy Daniels. We then turn the Womb Room into a nude women's wrestling ring, featuring the powerful, dominant, feminine and oh so muscular "strong woman" Mistress "Sir" Kara  and porn stars of all kinds, burlesque performers, singers, dancers and comediennes. It's a sensational assortment of "Stormy Women," plus a few interesting guys, including a surprise visit from porn icon, #MeToo pariah and old friend, Ron Jeremy. Watch what happens Ron encounters these strong, sexy, "Stormy Women," now playing uncensored on DrSuzy.Tv, or read all about it and see the fabulous, uncensored photos on Dr. Suzy's sapiosexual show blog.


You must have the luck o' the Irish because you get to catch all of the Stormy Women from every past show with a two-day pass or a 1 month membership to DrSuzy.Tv. NOW TRENDING: A Poly St. Paddy's in Bonoboville!  Where sexy poly and monogamish couples get very lucky in the Speakeasy!

The perfect St. Paddy's Gift to swing you into Spring: Dr. Susan Block's critically acclaimed book The Bonobo Way: The Evolution of Peace Through Pleasure has captivated authors, ambassadors, sexologists, porn stars and over 40 5-star reviews on Amazon with its paradigm-shifting message of peace-through-pleasure, female-empowerment, inclusivity, ecosexuality and sexual liberation! NEW on BlockBooks Make sure she feels lucky every time: I Love Female Orgasms: An Extraordinary Orgasm Guide by Dorian Solot and Marshall Miller

 

WATCH NOW: Lithe, little, leprechaun-ish "sexy nerd" Gracie May GREEN wearing a St. Paddy's-green lei gets orgasmically lucky during our Kink Month Kick-Off on her First Motorbunny Ride


This year The Dr. Susan Block Show gets lucky and falls on St. Paddy's Day. But in 2013 we had a very wet and wild St. Patrick's Eve in the Squirt Salon. Hop in the time machine and bring your goggles: Squirt Salon #36: A Squirting Saint Patty's Eve!

Any day's a good day to give The Bonobo Way, spreading "Peace on Earth ~ Pleasure for All."  The "Make Love Not War," female-empowered and highly endangered bonobos are the real-life inspiration for The Bonobo Way, and a portion of all Bonobo Way book sales are donated to bonobo conservation, so when you order your copy of this life-changing book, you are also helping to save these marvelous creatures from extinction {8(:|). 


Featured Post: NOW BOOKING Guests for the LIVE broadcast of The Dr. Susan Block Show! Explore the Bonoboville City Limits and build your village using our Classifieds, Events, FAQ page, Forums, Groups, Obituaries & much more!


---

Don't Just Wear Jewelry. WEAR ART. Give the gift of this beautiful, handcrafted Vulva Pendant to someone you love, even if that someone is you. 


---