Dr. Susan Block Wins "Sexologist of the Year" Glenny Award for Second Year in a Row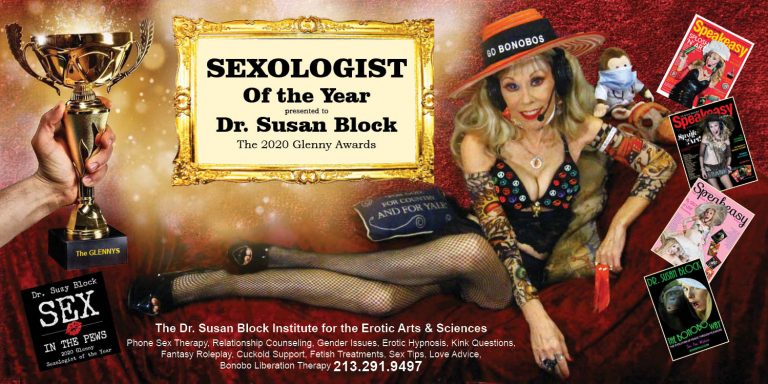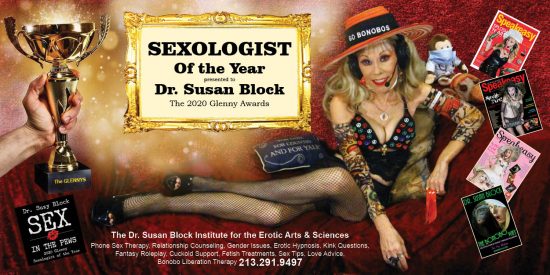 The Glenny Awards have announced that Dr. Susan Block, aka "Dr. Suzy," is the winner of the 2020 "Sexologist of the Year" award. Produced by the "Sex in the Pews" podcast, the Glennys are presented annually by host Glenn Klein. In Dr. Suzy's award-winning 2020 "Sex in the Pews" interview, "Sex is the Essence of Life" (episode 270), she answers the question, "What happens when life gets in the way of sex?" This is her second time winning "Sexologist of the Year," the first having been for her premier "Sex in the Pews" interview in 2019 regarding her bonoboësque philosophy of "Ethical Hedonism" (episode #58). According to Coach Glenn, it went "viral," scoring the most hits that year. "I'm delighted to accept my second 'Sexologist of the Year' Glenny Award," says Dr. Suzy, a sex therapist in private practice, world-renowned sexologist, host of The Dr. Susan Block Show, co-host of F.D.R. (F*ck Da Rich) and bestselling author of The Bonobo Way: The Evolution of Peace through Pleasure. "I was ready to debate my fellow sexologists or wrestle them in the ring, see who squirts the farthest or could talk about sex the longest; whatever it took to defend my title. Thankfully, all I had to do was sit back and enjoy another great conversation with the sapiosexually stimulating Glenn Klein." Listen to Dr. Susan Block's award-winning interviews here and here. Find out more about her first Sexologist of the Year award here.
---
Explore DrSusanBlock.com
Need to talk? Sext? Webcam? Do it here. Have you watched the show? No? Feel the sex. Don't miss the Forbidden Photographs—Hot Stuff, look at them closely here. Join our private social media Society. Join us live in studio 😊. Go shopping. Gift shop or The Market Place. DrSusanBlock.tv, real sex TV at your toe tips. Sex Clips Anyone? FASHION, we have fashion! We also have politics. Politics? Have you Read the book? No? How about the Speakeasy Journal? Click here. Ok, how about some free sex advice?
---
---