Professor Snow's School for Spanking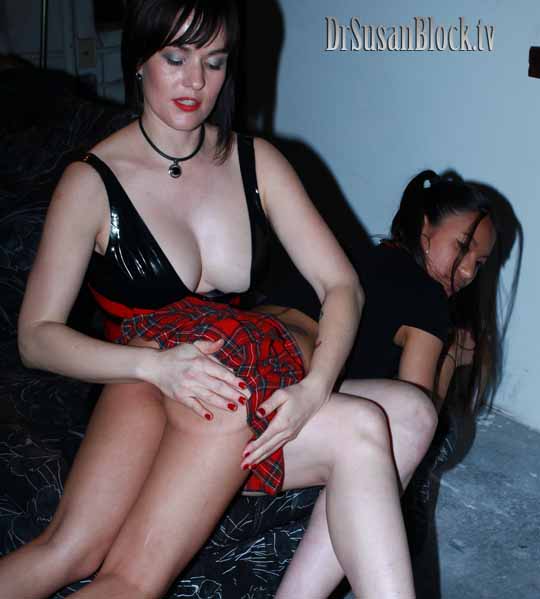 Length: 90:54 minutes
Date: 05/15/2010
Professor Snow's School for Spanking
Spank your monkey, spank your slave, and get ready to beg for MERCY! RadioSUZY1 brings you Professor Snow Mercy's School for Spanking, and class is in session at the Dr. Susan Block Institute for the Erotic Arts & Sciences. First order of class business: Headmistress Dr. Suzy welcomes Prince Max back to the Institute after a harrowing near-death experience, and we give thanks–along with all the spanks–for his triumphant survival. We're also thankful to be joined by the multi-talented Mistress Snow Mercy: professional dominatrix, foot model, humanitarian, and college chemistry professor(!). She's truly the total package; clocking in at 6'5 in 6″ heels, she wields her PhD and her whips with equal authority. Dressed as a sexy schoolgirl, complete with plaid skirt and pigtails, Asia listens intently as Mistress Snow schools us on life as an LA domme.
 Then the calls start flooding in, and the glamazon morphs back into Dr. Snow the chemistry teacher, along with Dr. Suzy, the Block Institute's most tenured professor. The Doctors are IN, delving deeply into the scientific ramifications of pain, pleasure, power and paddling. One caller's issues with his prescription ADHD medication prompts a discussion about the effects of Adderall on brain chemistry. The next caller wants to know why masochists opt to suffer through the most intense of batterings…for pleasure. Dr. Suzy explains how pain and humiliation can bring about an intensely cathartic emotional release from pent-up tension, while Snow covers the chemistry of endorphins–nature's coping mechanism–and their ability to mask pain from consciousness and reduce suffering.
 The caller roll call keeps growing, and every one of them (with the exception of our old friend Imtiaz) is in need of some relief from their psycho-sexual pain. Whether from being plagued by chronic taboo fantasies, obsessed with masturbation, or cursed by an embarrassingly small penis size, the Doctors' Prescription is to find a responsible, healthy method of releasing repressed feelings. Involve your girlfriend in consensual role-playing; act out your fantasies with a professional domme; speak to a therapist; masturbate; masturbate more; or you could go with Max's advice to the caller with a small penis: "Buy a yacht." Whatever the method, making a conscious choice brings a little bit of control back into the your hands, and  it's up to you what you do with them.
 Immediately following the live broadcast, Dr. Suzy assigns Professor Snow to the disciplinary duty of administering a bare-handed, over-the-knee, ass-reddening spanking to hooky-playing schoolgirl Asia, much to the lusty delight of the rest of the class. Now class, let's review what we've learned: don't judge a Mistress by her cover, respect the laws and the power of nature, and recognize that though we are not usually able to control the pain that life deals out, we have the power to choose how we respond. Everybody got that? Good. Now, take out your Pocket Rockets and paddles, it's time for a pop quiz…
Caller 1 feels depressed and anxious since failing to refill his prescription medication in his new city
Caller 2 wants to know why anyone would enjoy being violently spanked
Caller 3 a repeat caller wants to wish Max well in his convalescence and talk about his interest in spanking
Caller 4 wants a private therapy session to discuss some new masturbation techniques
Caller 5 the chronic belly button fetish caller once again pretends he's moved on to other body parts
Caller 6 has a fetish for panties, coupled with elaborate incest fantasies
Caller 7 has an oral sex fetish
Caller 8 just needs a little assistance in getting off…the line
Caller 9 wants to know if there is a correlation between frequency of masturbation and penis size (no coincidence that he is a chronic masturbator with a small penis)