Tantra Sluts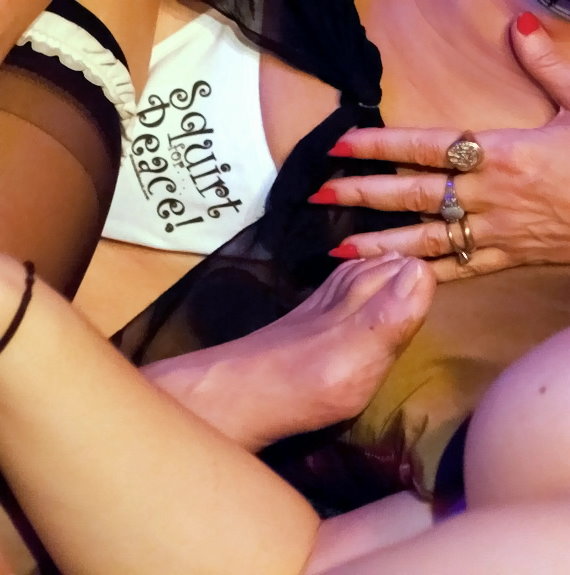 Length: 90:28 minutes
Date: 05/22/2010
It's the second-to-last Saturday in May, and this week's wet and wild radioSUZY1 show proves that Masturbation Month came in like a lion and is on its way to going out with a bang… and a splash. Milk and honey flow in the promised land of the Speakeasy, where High Priestess of Pleasure Dr. Suzy reigns supreme with the assistance of Pope Max I and resident vestal "virgin" Asia Perez. Tonight, three Tantric goddesses go before the congregation to enlighten us about the Tantric lifestyle, the pursuit of physical pleasure, and the mystic phenomenon of female ejaculation (affectionately known as "squirting"). Male celebrities like Sting and P-Diddy have popularized Tantric sex and its "extended benefits" from training the body to delay orgasm. Dr. Corynna Clarke and goddesses Brooke and Elle steer us deeper into the female perspective, what it means to be a "Tantra slut," exploring the connections between the earth's energy and the feminine spirit, the healing power of touch, and their own journeys of self-discovery.
 From massage therapy to leading groups in celebration, these ladies have committed themselves to helping others open the floodgates of their minds, hearts, and sex organs. Squirting bursts a woman's floodgates wide open with an orgasmic eruption, and the night's conversations ebb and flow around this topic. We'll hear details about the anatomical  mechanisms of the squirt; an introduction to the female G-Spot and why it's not only elusive but controversial; and personal anecdotes from all the ladies about their experiences with squirting. As drool-worthy as this segment is, it wouldn't be a proper show in May without some discussion about the month's handy theme; Dr. Suzy and guests answer one caller's (not-so-hard-hitting) questions about the consequences of chronic self-stimulation and help him locate his own male G-Spot (aka the "P-spot"), and the goddesses receive Pocket Rockets to aid them in their own enlightened self-stimulation, before Dr. Corynna gives us a live post-show demonstration of wet hot Tantric masturbation at the hands of goddess Elle.
 That's all for this week, folks… remember to make love, drop Pocket Rockets, and squirt for peace. Namaste! Amen, and Awomen.
---
Explore DrSusanBlock.com
Need to talk? Sext? Webcam? Do it here. Have you watched the show? No? Feel the sex. Don't miss the Forbidden Photographs—Hot Stuff, look at them closely here. Join our private social media Society. Join us live in studio 😊. Go shopping. Gift shop or The Market Place. DrSusanBlock.tv, real sex TV at your toe tips. Sex Clips Anyone? FASHION, we have fashion! We also have politics. Politics? Have you Read the book? No? How about the Speakeasy Journal? Click here. Ok, how about some free sex advice?
---