P-Spots & Professional Nymphomania this Saturday + Help on Your Phone Right Now!

Our hearts go out to our friends Back East as they recover from the worst NE storm anyone alive has ever known. Donate here to help my friend Dr. Patti Britton & other sex professionals help Sandy victims.

WANTED: Live-In Editorial Assistant (Part-Time) at The Dr. Susan Block Institute for the Erotic Arts & Sciences in Downtown LA. Click Here to Apply
Also WANTED: Live-In Part-Time  Web Developer  Apply Here.
HOTEL REAL ESTATE WANTED for Block Institute. Price Range: $4 million Click for Details.
This Saturday, November 3rd on The Dr. Susan Block Show
P-Spot Play & Professional Nymphomania

RSVP Here or Call 213.670.0066
Doors Open @ 9:30pm
Show Starts @ 10:30pm
After-Party @ Midnite!
""There's a Prostate Revolution coming up in bedrooms around the world. Just as ladies have G-Spots, gentlemen have P-Spots. It has nothing to do with being gay or straight. Just press P for Pleasure," says Dr. Block.
This Saturday night's live broadcast of The Dr. Susan Block Show will explore the joys and health benefits of prostate, aka "P-Spot," play and other kinky pleasures. Joining international sexologist Dr. Susan Block via Skype will be Charlie Glickman, PhD.,  author of The Ultimate Guide to Prostate Pleasure: Erotic Exploration for Men and Their Partners, and in her BonoboVille broadcast studios will be Polish porn princess Natasha Starr, adult starlet Jenna J. Ross, "professional nymphomaniacal nudist" Larkin Love and our beloved porn couple regulars Shay Golden & Brock Hard who will explore P-spot play, guided by Dr. Glickman.  AND we'll celebrate Capt'n Prince Max's, Master Liam's and Shay Golden's birthdays: Go Scorpios!

P-Spot Play & Professional Nymphomania will air live November 3rd, 2012, 10:30pm-Midnight PST on The Dr. Susan Block Show. Can't Join Us In the Flesh? Watch Us Live on DrSuzy.tv. Or just Listen FREE on RadioSUZY1 Call In Live 10:30p-Midnite PT: 1.866.289.7068. Not Sure You Want to Take the Leap & Join Us? Read Our Rave REVIEWS
In war and politics, "surrender" means defeat.  But in sex and erotic play

, surrender can be sweet, especially in

"Show sNOw Mercy: Domination Education for a Domination (Obsessed) Nation."

featuring a bevy of beautiful spankable subbies & porn stars under the

strict tutelage of the stunningly statuesque Mistress Snow Mercy in Dr. Suzy's C

ollege of Carnal Knowledge. Watch it now on DrSuzy.tv. 

Photo: JuxLii




Give the Gift of Pleasure to Someone You Love, Even If That Someone is You!

"Dr Susan Block's 10 Commandments of Pleasure are the best to come around in the past 2000 years. Bravo!"
Nina Hartley, adult film star & sex educator

"Thank you, Dr Suzy, for showing me that sex education can be sexy."
Sheila Nevins, Executive VP, HBO

"Any man who follows Dr. Suzy's 10 Commandments of Pleasure will have women eating out of his hand. Any woman will have men groveling at her feet."
Dr. Tracy Cabot, Best-Selling Author
| | | |
| --- | --- | --- |
| Recent Bloggamies, Shows & Free Pix Page | | |
Make Like Bonobos, Not Baboons! Make Love, Not War.
Make Love to Someone You Love Tonight, Even If That Someone Is You.


I LOVE YOU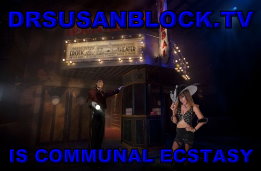 Peace on Earth ♥ Pleasure for All
AMEN ♥ AWOMEN

x S
DrSuzy