Halloween Special This Saturday & Scary Sex on Your Phone Anytime!
This Saturday, October 27th on The Dr. Susan Block Show
Scary Sex Halloween Saturday Nite!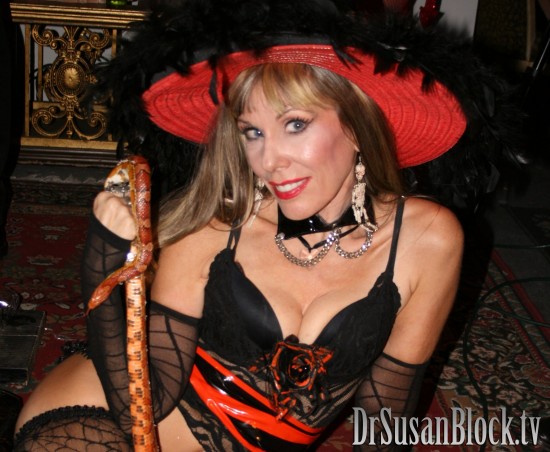 Your Witchy Woman Halloween Hostess Susan M Block, PhD & Her "Familiar" Snake Eve. Photo: Penny Antine
RSVP Here or Call 213.670.0066
Doors Open @ 9:30pm
Show Starts @ 10:30pm
After-Party @ Midnite!
" 'Tis the season of Scary Sex…A pinch of fear is good for sex, like salsa in your enchilada. But too much spoils the meat! Join us this Saturday to explore your favorite kinds of scary sex with two hot couples and more…" says Dr. Block.
 This Saturday night's live broadcast of The Dr. Susan Block Show we will explore every orifice of our worst nightmares to warm you up for Halloween. Joining international sexologist Dr. Susan Block in her BonoboVille broadcast studios will be our Eros Day sex marathon superstars Lyla Storm and Jeremy Conway, porn starlet couple Shay Golden and Brock Hard, the sensationally scary Kinky Gaga, aka Kitty Twinke Toes, scary stand-up comic Darryl Wright, infinitely scary pornographer Max Hardcore, our own super-scary Master Liam, scared slave Tasia and more TBA.  Scary Sybian Rides, Frightening  Female Ejaculation, Scary Sex in Front of a Live Studio Audience, Masked Madness, Bobbing for Dildos and more are on the evening's agenda.
 Scary Sex for Halloween will air live October 27th, 2012, 10:30pm-Midnight PST on The Dr. Susan Block Show. Can't Join Us In the Flesh? Watch Us Live on DrSuzy.tv. Or just Listen FREE on RadioSUZY1 Call In Live 10:30p-Midnite PT: 1.866.289.7068. Not Sure You Want to Take the Leap & Join Us? Read Our Rave REVIEWS
For more advice and "recipes" for healthy scary sex during the Halloween season, go to The Alchemy of Scary Sex
For the Witch's perspective, read Dr. Block's "Scary Sex: A Halloween Poem"
Now on DrSuzy.tv: Barrymores, Porn Stars, Acting & Exhibitionism!
| | | |
| --- | --- | --- |
| | | Barrymore, Porn Stars, Acting & Exhibitionism features John Blyth Barrymore of the legendary Barrymore Family, as close to royalty as Hollywood gets, half-brother of renowned Golden Globe award-winning actress, producer and director Drew Barrymore, son of actor John Drew Barrymore, grandson of legendary actor John Barrymore—considered one of the greatest actors of all time—exploring Acting & Exhibitionism with some of the hottest porn stars in LA! Watch it now on DrSuzy.tv. Pic by JuxLii |
Give the Gift of Pleasure to Someone You Love, Even If That Someone is You!

"Dr Susan Block's 10 Commandments of Pleasure are the best to come around in the past 2000 years. Bravo!"
Nina Hartley, adult film star & sex educator

"Thank you, Dr Suzy, for showing me that sex education can be sexy."
Sheila Nevins, Executive VP, HBO

"Any man who follows Dr. Suzy's 10 Commandments of Pleasure will have women eating out of his hand. Any woman will have men groveling at her feet."
Dr. Tracy Cabot, Best-Selling Author
| | | |
| --- | --- | --- |
| Recent Bloggamies, Shows & Free Pix Page | | |
Make Like Bonobos, Not Baboons! Make Love, Not War.
Make Love to Someone You Love Tonight, Even If That Someone Is You.


I LOVE YOU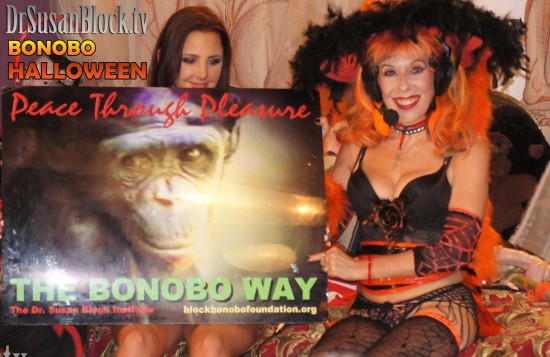 Peace on Earth ♥ Pleasure for All
AMEN ♥ AWOMEN


x S




DrSuzy