Happy Birthday Capt'n Max! Happy Anniversary The Bonobo Way!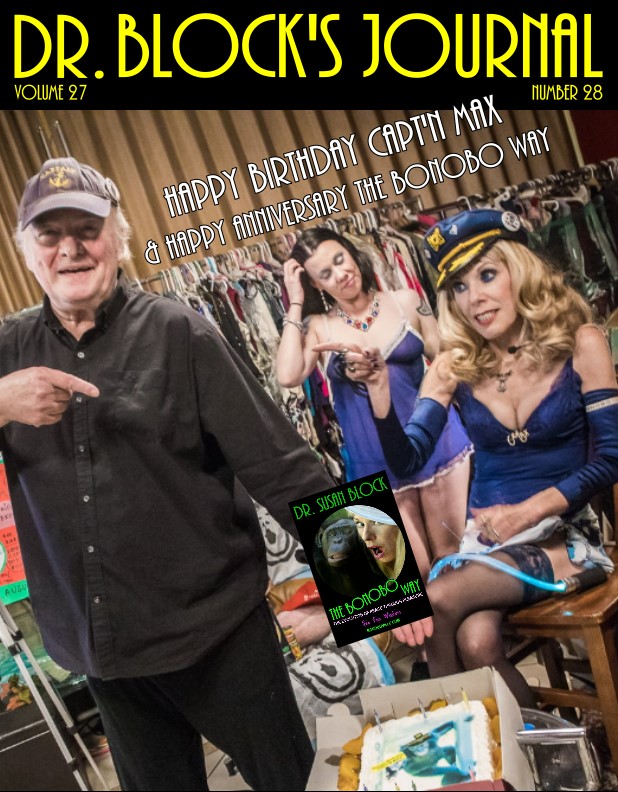 Length 01:26:14 Date: Nov. 9th, 2019
Happy birthday to my captain, my prince, my prime mate, my partner, my publisher and the love of my life, Capt'n Max!
And Happy 5th Anniversary to The Bonobo Way, which was Max's birthday present—and which he published—on November 8th, 2014.
Trumpocalypse Anniversary

Two years later, We Remember, Remember the 8th of November, 2016, a Max birthday that shall live in infamy.
That was the birthday we couldn't even celebrate (though we'd just had a massive 5th of November Birthday Blow-Out the Saturday before)—when a major case of Electoral Dysfunction sucker-punched us and most of America, and the Trump Crime Family set themselves up on a gaudy throne of extreme greed, cruelty, hucksterism, narcissism, nationalism, nepotism, sexism, racism, self-enrichment, rampant lying and Wrestlemania-style, reality TV-honed obnoxiousness.
Ever since that infamous 8th of November, the Trumpocalypse has been upon us, torturing some physically with its massive deportations and border family separations, and even more mentally, with the Big Baby Clown-King Trumpus' relentless hold on the media—social and anti-social, aka anti-socialism. Some poor souls in both pro and anti-Trump camps have even come down with Post-Trump Sex Disorder; it's that disturbing.


Therefore, in addition to celebrating Capt'n Max's birthday and The Bonobo Way anniversary, it's another peachy Impeachment Party.
Though with Vons and Ralph's no longer selling fresh peaches, we're down to canned peaches and peach-flavored Vitamin Water.
I'm not sure what peaches being out of season says about America's prospects for impeaching the peach-headed Presidunce.
In the hands of the Democrats, it's a shaky proposition, and there's nothing worse than shaky hands in sex or politics.
There are so many ways they can mess this up, and enhance the Trumpster Fire's chances of immolating us all in 2020.
In other words, yes, impeachment could backfire.
Photos 1, 4, 5: Yoel DeJesus. Photos 2-3: Jux Lii
However, it's the right thing to do. So let's do it!
Prince Maximillian Leblovic di Lobowicz di Filangieri
I know, it kind of sucks that I spent the first few paragraphs of Max's birthday show blog on the Trumposity in the White House, but he loathes the MF at least as much as I do, maybe more.
However, I'd much rather write about my darling hubby whose wonderful life we celebrate on this show, as Capt'n Max himself recalls just a few of the amazing highlights and hilarious low-lights of his international, revolutionary life.
Photo 1: Bianca. Photos 3, 4, 5: Yoel DeJesus. Photos 3, 6: Jux Lii
We begin at the beginning. Seventy-six years ago, my Captain, Capt'n Max, a.k.a., Prince Maximillian Rudolph Leblovic di Lobkowicz di Filangieri, was born in the middle of World War II at 2am November 8th, 1943, in a little hospital next to the Vatican, a special area of Rome that neither the Axis nor the Allies bombed in deference to the "neutrality" of the Pope.
A descendant of many great Princes and Princesses on both his Lobkowicz (father) and Filangieri (mother) sides, Max's most famous ancestor is Gaetano Filangieri, the brilliant Enlightenment philosopher and friend of American Founding Fathers Thomas Jefferson and Benjamin Franklin, who greatly influenced them, the United States Constitution and our concepts of "free speech," "free trade," "prison reform," and "life, liberty and the pursuit of happiness.
The Little Prince vs. the Army of Nuns
Max greatly admires his illustrious ancestor, though he disagrees on the issue of "compulsory education," of which Gaetano Filangieri was a big proponent.
To illustrate this point, he tells the story of fighting valiantly against several big strong nuns who forced him to go to school (the essence of compulsory education) when he was the the precocious five-year-old they called Massimilliano (Massimo, for short).
His struggle with the bellicose Brides of Christs marked the beginning of the lifelong battle of Anarchy vs. Monarchy in little Prince Massimo's soul, which mirrors the battles of the People vs. the Powerful, or the Poor vs. the Mega-Rich, throughout human history.
At this point, I explain my outrageous yet very plausible theory that, through the Filangieris (that's Fil-an-geri, not Ben & Jerry's), Max is a descendent of Jesus.
Yeah, eat your heart out, Kanye.
Listen above or watch below (and brush up on your Da Vinci Code), including historic tales of Medieval Crusades against the Cathars of Southern France, for how I come to that wild but entirely credible conclusion.


It's the Greatest Story Never Told!
Ahoy There!
We skip ahead to little Prince Massimo's great sea voyage, sailing across the Atlantic at the age of seven in a big ship filled with Migrant Royalty, the deposed and fleeing dynasties of Europe in a post-WWII floating "caravan," refugees from a war-torn country sailing to the Great Promised Land of Montclair New Jersey.
We are all refugees, many of us from war-torn lands, hoping for a better life in America.
These were royal refugees, of course. Little Prince Massimo attended the birthday party of Princess Maria Gabriella of Savoy, the nine-year-old daughter of Italy's last king, while on board.
Photos 1 – 4: Jux Lii.. Photo 5: Yoel DeJesus
On that great ship, my Little Prince found a spot towards the bow where he could feel the power of the sea that apparently infused him with a fierce and salty courage that has lasted his whole long life.
The experience gave him a bit of a nautical fetish (no, he wasn't in the Navy), which is why he was wearing a captain's hat when we fell in love, and I'm wearing one, topped with a Lobkowicz family pin, on this show.
Photos 1-3: Yoel DeJesus. Photos 4-5: Jux Lii
It's also why we call him Capt'n Max.
Lust et Veritas
Even though he now prefers baseball caps to captain's hats, Capt'n Max is the Captain of the Good Ship Bonoboville, our Ship of Fools for Love… and Lust.
Fondly recalling his female math teacher's bullet bra boobs sticking into his back as she kindly corrected his faulty multiplications, Max has always been a big proponent of the goodness of lust.
Also, truth.
Photo 1: Bianca. Photo 2: Selfie. Photos 3, 5: Yoel DeJesus. Photo 4: Jux Lii
Which is why I'm wearing my "Lust et Veritas" panties, a twist on the Yale motto of Lux et Veritas (Light and Truth).
Lust & Truth: To further advance these ideals, Pr. Max, then known as "Mickey," entered the field of publishing.
Photo 1: Jux Lii. Photos 2-5: Yoel DeJesus
It started when young Mickey was about 11 years old, a slow student, despite his quick wit and creativity, mostly because he was still learning to speak English.
Fortunately, with the help of two nice Jewish girls, Donna Horowitz and Bonnie Kelner (my predecessors), he didn't fail his classes.
At the time (the mid-1950s), Peyton Place, a novel about the dark underside of a respectable American town (rather like Montclair, New Jersey), was extremely popular. Young Mickey's clever friend Donna had written a version of it about their school, exposing the secret love affairs and kinky practices of teachers, parents, the principal, the school nurse and other adults in and around their school. Now Donna wanted to publish her book, and the best way to do that in those days was to mimeograph it. So brave and resourceful young Mickey broke into the school office to mimeograph Donna Horowitz's Peyton Place, his very first publishing venture, for which he was caught, chastised and then suspended.
Throughout the ordeal, his bon vivant dad, Prince Peter Francis Leblovic di Lobkowicz, who happened to be an arms dealers (Max proudly relates how he sold better weapons to Fidel Castro than Batista—thus assisting in the success of the Cuban Revolution), defended and comforted his rebellious young son, even offering him a cigarette during a tense meeting with the school principal.
Like Prince Peter did so long ago, I light Prince Max's fire, though it's a joint, not a cigarette this time.
These days, Peter giving his 12-year-old son a ciggie would certainly be considered child abuse, but at the time, young Mickey found it reassuring of his aristocratic father's love and approval, despite the fact he was being suspended from school.
During the show, Max realizes that this was actually his first arrest for publishing!
Photo 1: Jux Lii. Photos 2-5: Yoel DeJesus
It was followed by many more publishing-oriented arrests, as well as raids, arraignments, indictments and incarcerations, and the anarchist in Capt'n Max is extremely proud of every one of them—the monarchy be damned.

He tells the tales of his anarchistic publishing adventures as we show off just a few of the newspaper and magazine cover he's published over the last 45 years.
The LA Star, Love, Hate, God and Finger were some of his groundbreaking sex-oriented publications.
They were all "reader-written," with all the articles, stories and photos submitted by the readers and then published with little to no editing.
This was quite revolutionary—and anarchistic—back in the 1970s.
In those days, almost all magazine articles and stories published by anything fancier than a mimeograph machine were written and edited by "professionals."
After Max's release from prison in the 1980s, he published Meetings with Remarkable People, the Brentwood Bla Bla and Beverly Hills, the Magazine, all of which were also "reader-written."
In fact, I was one of the readers who wrote for both magazines when Max and I were just friends, before we acknowledged that we were in love.
Speaking of our love, Max tells a few tales of our love and how it's interwoven with everything else in his life. He really is a man on his own type of hero's journey, though the Puritans among us, the hypocrites of Peyton Place, might call him an anti-hero.
He certainly is my hero.
So I devote this show to Max's life, mostly in his words, telling his stories of anarchy and monarchy that have peppered the course of his seventy-six years.
Cake Time!
In the middle of all the stories, Sunshine McWane brings in the cake.
And a very special cake it is, with a very cute bonobo in a captain's hat holding a sign that says "Happy Birthday Max."
It's also surrounded by peaches (the canned variety; remember we couldn't find fresh ones) for the Impeachment Party, of course.
It's all very adorable, but mostly you can't see it because it's in the pink box.
Sunshine didn't want to take it out of the box for fear of messing up the delicate design.
I'm all for taking it out, or at least ripping off the sides, but Max wants to tell more stories, and ripping the box on camera might be a bit distracting.

So we leave the cake in the box, Sunshine lights the candles, and we all sing Happy Birthday just like everybody does in one language or another in gadzillions of birthdays around the world.

Then, with a flourish, the Captain blows out his candles.
I'd say, "Speech!" except the whole show is like a speech, filled with his wonderful stories and lessons learned.
Though at this point, his stories revolve around how we fell in love… long before we even met!
Listen above or watch below for silly, funny, romantic tales of true love that began under a pine tree in Montclair, New Jersey in the dreams of a young boy, slowly takes form in the material world and ripens into hoary (that's hoary, not whore-y!) maturity.
Happy Birthday Bonobo Way!
It's also the birthday of The Bonobo Way, the 5th anniversary of my birthday gift to Max five years ago.
According to Max, in these days of the Killer Ape Trumpocalypse, the philosophy, lifestyle and the message of the Bonobo Way of Peace through Pleasure, Female Empowerment, Male Well-Being, Sharing Resources and Ecosexual engagement with our environment are more important than ever.


With more than forty-five 5-star reviews on Amazon, it's a great holiday gift, and a portion of all proceeds go to help save the highly endangered real bonobos in the wild.

Give it to someone you love, even if that someone is you.
It also makes a great spanking paddle. Read it or get red by it!
Plus it's the perfect "triggering" Xmas present for that war-mongering uncle who doesn't believe in evolution.
Photo 1, 2: Bianca. Photo 3: Author. Photo 4, 5, 6: Yoel DeJesus
Speaking of gifts, this year I give Max a watch (he picked it out)!
With everybody telling time on their phones nowadays, Max loves his fancy watches. It's the old Monarchist in him.
He also loves his monarchistic lobster which is what we have for his birthday dinner the night before, though at the Red Lobster, they're at middle-class, if not exactly anarchist prices.
Birthday Orgasms
He also loves his orgasms. Remember, that's LUST et Veritas.
We don't have a big after-party.
There's pizza, peaches, champagne, birthday cake and a little political chatting with the Bonoboville crew.
Photo 1: Yoel DeJesus. Photo 2: Selfie. Photo 3: Jux Lii. Photos 4-5: Author
But before the party breaks up, we sneak off to pop our own orgasmic corks in celebration of seventy-six great spins around the sun.


It certainly clears my sinuses—which are so congested throughout this show that when I say "Max," it sounds like "Bax."
Unfortunately, that blissful orgasmic decongestion lasts only for a few precious minutes.
Ah, the orgasm, so powerful, yet so fleeting, so physical, yet fueled by emotion, fantasy and the longings of the spirit for union with the lover and connection to all of life on Earth.
To enhance your orgasms as well as your understanding of other people's orgasms, pick up Max's newest publications: Dr. Susan Block' Speakeasy Journals.




Splosh 'n' Art combines food and sex, perfect for the holidays (in a kinky way).
With Spanksgiving coming, get the NEW Speakeasy Journal: Spank 'n' Art.


Censored by Amazon, but available for you!
A Special Scorpio Birthday
Over the years, we've had many huge birthday shows followed by wild birthday orgies to honor Capt'n Max, but on this show, we don't have any guests at all, because we just want to focus on Max, his life, his loves, his stories, his philosophy, his passions.
Passion is a hallmark of Max's astrological sign of Scorpio, symbolized by the scorpion who stings as well as the dove who makes peace. Max is 99% dove—though his father, Prince Peter, was an arms dealer, Prince Max is a peace-lover. But if you cross him—or leave the Bonoboville kitchen a mess—the Scorpion stings.
The scorpion/dove and monarchist/anarchist combination has kept him strong, peaceful and incredibly creative these seventy-six years in which he has created for himself, for me and for so many others an amazing, rather bonoboesque, almost magical life.


Of course, I'm his wife of 27 years of kinky bonoboesque marriage, and his friend for more than 30 years, so I might be prejudiced, but I feel Max has done so many important revolutionary things in his life that many people don't know about.
Listen above or watch below, you'll discover some of them.
© November 9, 2019. Susan Block, Ph.D., a.k.a. "Dr. Suzy," is a world renowned LA sex therapist, author of The Bonobo Way: The Evolution of Peace through Pleasure and horny housewife, occasionally seen on HBO and other channels. For speaking engagements, call 213-291-9497.