Masturbation Month Blast-Off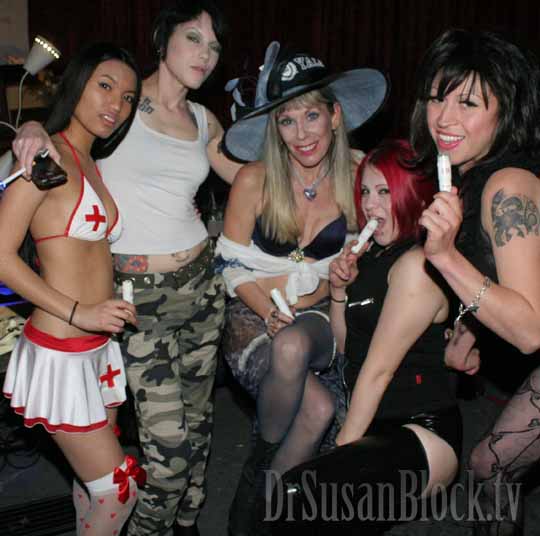 Length: 91:03 minutes
Date: 05/01/2010
Masturbation Month Blast-Off
Break out the maypoles and Pocket Rockets! It's May Day and the first day of Masturbation Month.  That means it's XXXmas in the merry month of May, and all the naughty guests on radioSUZY1 have stayed up late for the best holiday in the Church of Pleasure (besides Eros Day, of course). This week's show centers upon self-love: stimulation, sensation, gratification, liberation, conversation, vibration, and just a little intoxication, with the congregation all coming together via what else but masturbation. We find out what gets our guests and listeners off, from standard fetishes about feet and older women to Cadence St. John's very specific fantasy about a certain celebrity sweating it out with another man. We all know some guys are practically employed full-time as hand-jobbers, but tonight we make sure our female guests—and caller Lorelai–get in on the action as well.
 Cadence brings a pleasing rhythm to the airwaves with her eloquence, passion and whirring vibe, RubberNecro gets a little life breathed into her nether regions, and Asia and Christina blast off with their powerful little Pocket Rockets, with Asia squirting all over the studio floor again. It's not all about the physical, though; a radioSUZY1 show always stimulates the mind as well. Dr. Suzy and Prince Max the Orator (the self-proclaimed "King of Masturbation) give us a little historical perspective on attitudes toward self-stimulation and divulge their methods for obtaining world peace. Hint: there's no patriot missiles involved. And, lest we get too wrapped up in our own satisfaction, we're reminded that May is also the month where we celebrate Mother's Day, and Dr. Suzy gives Cadence a gift for her hot mom that's just a bit more electrifying than the standard rose bouquet.
 After all the talk's gotten everyone highly aroused, they release some tension with a blood-pumping demonstration of what happens when self-love turns into an orgy. The excitement and bodily fluids spill directly into the bonobo-wild after-party, where the passion gets so heated it's practically scorching. But we wouldn't expect anything less at Dr. Suzy's Speakeasy, would we? Thus concludes this week's therapeutic session with our favorite Love Doc.  From everyone here at radioSUZY1, have a marvelous Masturbation Month, and remember to make love to someone you love tonight…especially if that someone is you. ;)
---
Explore DrSusanBlock.com
Need to talk? Sext? Webcam? Do it here. Have you watched the show? No? Feel the sex. Don't miss the Forbidden Photographs—Hot Stuff, look at them closely here. Join our private social media Society. Join us live in studio 😊. Go shopping. Gift shop or The Market Place. DrSusanBlock.tv, real sex TV at your toe tips. Sex Clips Anyone? FASHION, we have fashion! We also have politics. Politics? Have you Read the book? No? How about the Speakeasy Journal? Click here. Ok, how about some free sex advice?
---