Beating Repression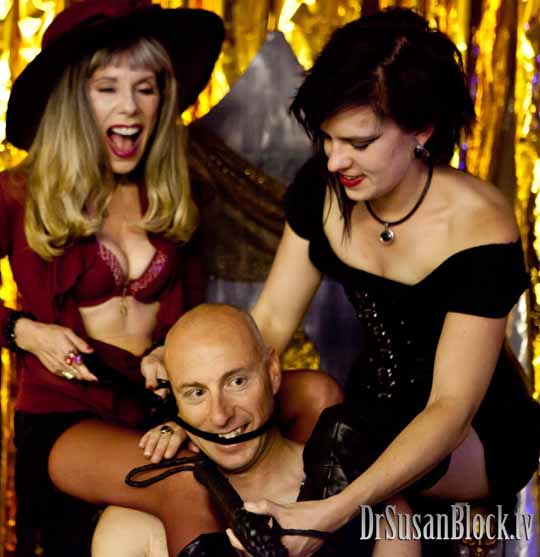 Length: 88:53 minutes
Date: 04/24/2010
Beating Repression
 There's no doubt that existence can be tough for us humans. When life beats us up and we suffer the whips and dildos of outrageous fortune, what are the options? Do we let our inhibitions beat us down? Let a dominatrix beat them out of us? Or just beat off? Listen as this week's edition of radioSUZY1 finds answers to the big questions and so much more, with Dr. Suzy and guest Mistress Justine Cross doling out some hard truths and hard whacks to a few victims of the school of hard knocks. About those whacks… throughout the show, you'll hear Justine slapping her slave/designated driver–which, in LA, might as well be the same thing–and almost literally flogging the pants off an audience volunteer named Ron, an Israeli military veteran. You'll also hear from porn pair Tori Lux and Nate Liquor, along with Asia and Prince Max, weighing in on the existential debate about the past's hold on our brains and genitalia.
 The past encroaches upon the present as the belly button fetishist vainly attempts to refashion himself as a nipple fetishist, and Imtiaz makes it a hat trick with his third consecutive week on the air. His repressed feelings about past traumas hold him back from being honest about his sexual desires, and Dr. Suzy and Ms. Justine help him see the importance of letting go. Whether it's through talk therapy or a little therapeutic bondage in the bedroom, communication and release hold the key to breaking down walls and finding catharsis…or as Justine puts it, the "cum and cry" cycle. The consensus at the table is that it takes great courage to admit our fears and address them, but it's the only way to get past the past and into the pleasures of the present. In other words, loose lips (of all kinds) sink censorships. The final caller has a nice perspective on staying true to oneself, one that's particularly nice for Asia… considering that it's her mom! A mother of a guest calling in is a radioSUZY1 first, and Asia's mom definitely doesn't disappoint with her unconditional support of her daughter's choices and her own eagerness to "experiment" now that the kids are out of the house. There's no empty-nest syndrome in this family, and we're lucky Asia doesn't have any repressed mommy issues holding her back from embracing herself and her body, not to mention other bodies! Our show closes as it always does with the Love Doc signing off, followed by the erotic after-party, where letting loose always beats repression and the pleasures keep on cumming.
 Here's wishing you all luck in breaking down the barriers that hold you back from life's pleasures… with the exception of condoms, of course. And if all this talk about repression has brought you down, never fear: next week's May Day show celebrating the start of Masturbation Month will definitely get you loose and erect again. Stay tuned… ;)
---
Explore DrSusanBlock.com
Need to talk? Sext? Webcam? Do it here. Have you watched the show? No? Feel the sex. Don't miss the Forbidden Photographs—Hot Stuff, look at them closely here. Join our private social media Society. Join us live in studio 😊. Go shopping. Gift shop or The Market Place. DrSusanBlock.tv, real sex TV at your toe tips. Sex Clips Anyone? FASHION, we have fashion! We also have politics. Politics? Have you Read the book? No? How about the Speakeasy Journal? Click here. Ok, how about some free sex advice?
---