Lucy in the Sky with Pocket Rockets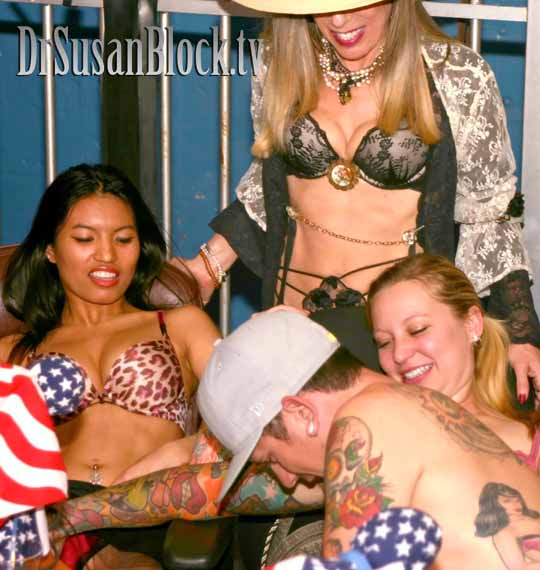 Length: 91:51 minutes
Date: 04/17/2010
Lucy in the Sky with Pocket Rockets
Porn stars, Pocket Rockets, and pussy-eating…flirty, dirty and squirty…hot tips, nip slips, and sips from the communal Agwa bottle… what else could it be but another explosive episode of RadioSUZY1? This week's guest list features the romantic couple composed of blogger/sex toy enthusiast Lucy Vonne and porn star Brian Streetteam, whose sunny personalities and sparkling wit freshen up our dirty airwaves. Joining the sex industry power couple is Asia, becoming a regular fixture on The Dr. Susan Block Show, with head honchos Prince Max and the Love Doctor presiding.
 The show kicks off with an in-depth discussion of the merits of various flirting methods in the 21st century. Dr. Suzy prefers the intimate verbal communication of phone sex, while Lucy and Brian advocate for text-messaging ("sexting," for those of you not "in the know"), citing both the increased potential for on-the-go eroticism and the decreased potential for awkwardness…or an attack of the giggles. On the other hand, callers demonstrate some of the potential downsides of technology-based dirty talk. Our guests' salty and hilarious commentary peppers the conversations as listeners call in about topics like problematic phone sex addictions, pitfalls of online dating, phenomenal male cumshot lengths (6 feet!?), and cunnilingus in the Muslim world. Not to have their thunder stolen by the legion of callers, however, our in-studio guests end up stripping off their shirts, taking body shots off each others' various parts, and even exhibiting a tandem masturbation session that climaxes with one participant squirting all over the studio floor!
 You might say this show is all about "ons and offs:" online chats and off-the-wall tats, showing off hard-ons and jacking off to turn-ons,  taking off clothes and putting on a show…and, of course, getting off, both on-air and on-camera. So sit back, take a load off, and hold on to your Doc Johnson Pocket Rocket… because by the end of this show, you'll definitely be picking up good vibrations.
---
Explore DrSusanBlock.com
Need to talk? Sext? Webcam? Do it here. Have you watched the show? No? Feel the sex. Don't miss the Forbidden Photographs—Hot Stuff, look at them closely here. Join our private social media Society. Join us live in studio 😊. Go shopping. Gift shop or The Market Place. DrSusanBlock.tv, real sex TV at your toe tips. Sex Clips Anyone? FASHION, we have fashion! We also have politics. Politics? Have you Read the book? No? How about the Speakeasy Journal? Click here. Ok, how about some free sex advice?
---