DomCon Bound Now Playing on DrSuzy.Tv | Masturbation Month Kick-Off This Saturday + Happy B-Day Phoenix | Dr. Suzy in Cosmo on Outdoor Sex | Call 213-291-9497 for Phone Sex Therapy, the Bonobo Way, Anytime, Any Day
The Merry Masturbation Month of May is on the way, and so is DomCon, the Bonobo Way, 2018! This Saturday night LiVE from the Womb Room, Dr. Suzy gets prepped for the M Month and celebrates her awesome assistant Phoenix Dawn's birthday with a party of porn stars, singers, swingers and dommes, including; Mistress Kara, Jack Friday, Surka Noelle, Lexi Lore, Bryan Jameson, GasMaskGirl Lettisia, Jezebel Sweet, Elena Rayne, Ikkor the Wolf and more, we're sure, only on The Dr.

 Susan Block Show

! Tune into the Bonoboville Lounge or to DrSuzy.Tv  to

watch LiVE

!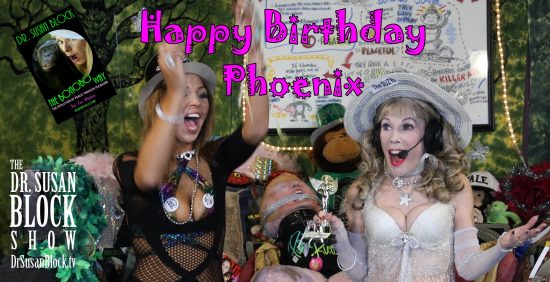 It might be too late for Bill Cosby, but if you have Sleeping Beauty Syndrome or a sleep or anesthesia fetish and you need help handling it consensually, call the Dr. Susan Block Institute at 213-291-9497 anytime. We can help. On a lighter note, how will you be celebrating Masturbation Month? With May on the way, heat up your sheets with an intimate guided masturbation session to celebrate the month of self-pleasure. If you don't feel sexy in your Spring skin, call us for some body image therapy and start loving yourself right!  Virgins, voyeurs, exhibitionists, or fantasy lovers, let one of our skilled therapists guide you through anal stimulation with your first toy.  we're here to talk to you about anything. Whether you're turned on by foot worship, erotic hypnosis, spanking, cuckolding or something cool you saw in porn, call us for a super sapiosexual conversation, totally private and confidential, discovering peace through pleasure with the help of the expert knowledge, deep perception and nonjudgmental understanding of revolutionary sexologist Dr. Susan Block or one of our other Therapists Without Borders, each excellent in their specialties. Experience all the pleasure and consensual pain by phone or webcam. We'll even sext with you if that's your preference. Yes, Masturbation Month is a thing! Don't believe us? Watch Dr. Suzy's Masturbation Month History Lesson from the archives of the Dr. Susan Block Youtube Channel (subscribe and get notified of more archives).

 

It's that time of year, and we are DomCon L.A Bound, but before the Bonobo Way talk and Pet Show judging begins, we decided to pre-party it up with DomCon L.A. Head Mistress Cyan and fabulous DomCon Opening Night Hostess Goddess Phoenix, plus sexy porn star Alix Lovell, our beloved bonobo family of artists, Chef Be*Live, Daniele Watts, and Zivu A'balam, & Bonoboville's own photographer extraordinaire, Jux Leather artisan and Cannabelly creator—Jux Lii who's celebrating his Bday! Find out how Jux's cake winds up all over Daniele's naked body in Dr. Suzy's sapiosexual show blog.

Bonus Read: Masturbation Month Chronicles! Because, as the late great George Carlin said, "If God had intended us not to masturbate, s/he would have made our arms shorter."


Revisit 20+ years of sex, masturbation, dommes, birthdays and anniversaries, binge-watch all the amazing one-of-a-kind shows you can with a one month membership or a two day pass to DrSuzy.Tv.  NOW TRENDING: Get in on the Masturbation conversation with Dr. Suzy and the Co-Directors of the "self-love story" on Sticky.

Keep love alive for decades, find like-minded partners, be more ecosexual or just enhance your masturbation sessions with Dr. Susan Block's critically acclaimed book. The Bonobo Way: The Evolution of Peace Through Pleasure has captivated authors, ambassadors, sexologists, porn stars and over 40 5-star reviews on Amazon with its paradigm-shifting message of peace-through-pleasure, female-empowerment, inclusivity, ecosexuality and sexual liberation! Dr. Suzy will deliver a presentation on The Bonobo Way at DomCon LA. Don't miss it! And if you want to learn the art of male self-love, check out what's NEW on BlockBooks: Masturbation:100 Creative & Mind Blowing Techniques for Men by Ms. Eve Hanson. and Dr. Suzy's 8 Great Benefits to Masturbation. NEW: Dr. Susan Block's SPEAKEASY JOURNAL now available for pre-order!


On Stands Now: Check Out Dr. Suzy's tips for hot spots to hook-up besides the bedroom in this May's COSMO with cover gal Kaley Cuoco!


 

We love birthdays and  FemDoms! Check out Madame Raven Rae's Birthday Cake Nipple-Sucking Splosh Party!


 

Travel back to DomCon L.A. 2016 where The Bonobo Way book spankings began. More leather-bound fun with DomCon Headmistress Cyan, the legendary Nina Hartley, and more Dr. Susan Block Show regulars and kink stars! And get ready for Masturbation Month 2018 with our amazing, orgasmic 2016 Masturbation Month Kick-Off!


Spring is the perfect season to give The Bonobo Way, spreading "Peace on Earth ~ Pleasure for All."  The "Make Love Not War," female-empowered and highly endangered bonobos are the real-life inspiration for The Bonobo Way, and a portion of all Bonobo Way book sales are donated to bonobo conservation, so when you order your copy of this life-changing book, you are also helping to save these marvelous creatures from extinction {8(:|). Mark Your Calendar: Saturday, May 12, 2018, Dr. Suzy will deliver FemDoms of the Wild: The Bonobo Way at DOMCON LA. Don't Miss It!


See the Forbidden Photographs from Spring Showers, Woman Power, Erotique Politiques. and our 26th Wedding Anniversary Bacchanalia. Featured Post: NOW BOOKING Guests for the LIVE broadcast of The Dr. Susan Block Show! Explore the Bonoboville City Limits and build your village using our Classifieds, Events, FAQ page, Forums, Groups, Obituaries & much more!


---

Don't Just Wear Jewelry. WEAR ART. Give the gift of this beautiful, handcrafted Vulva Pendant to someone you love, even if that someone is you. 


---