LA Burlesque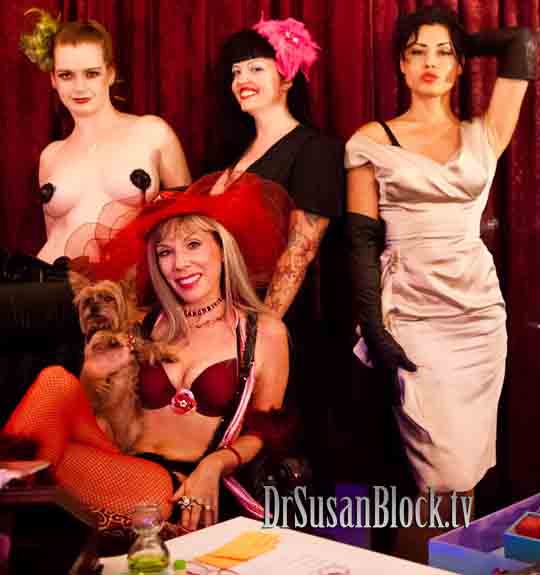 Length: 88:55 minutes
Date: 10/02/2010
LA Burlesque
Ooh la la! Burlesque is the name of the naughty game on this week's Dr. Susan Block Show, and Dr. Suzy has three experienced, seductive dancers in-studio to show us how to play. Burlesque dancing is erotic and richly sensual, meant to titillate and tease; the act's eroticism comes not from the overt or explicit, but from the carefully revealed and the selectively concealed. Guests Scarlett Letter, Fever Blister, and Angelita Purrvertina (and her adorable Yorkie BG) give us a peek into the world of burlesque from the inside, an intimate reveal that touches on personal history, art, psychology and, of course, sex! The difference between burlesque and stripping can be a gray area, but the guests agree that it lies in the dancer's intent and interaction with her audience.  While (typically male) patrons at topless bars expect dancers to show as much skin as quickly as possible, burlesque is a slower, more theatrical and psychological type of tease, where the art of the "final reveal" relies on the buildup of anticipation and is not necessarily explicit. The focus on costuming and aesthetics of spectacle also, as an artistic and entertainment experience, appeal to a wider range of audience members, both male and female of all sexual orientations.
 With that explanation under our garter belts, Dr. Suzy takes the lead and keeps the discussion shaking and shimmying along as the dancers reveal certain personal details: how a band of strippers, a drag queen, and a mom inspired their respective performance names; how The Rocky Horror Picture Show stimulated Scarlett; why Fever prefers transgendered lovers, Angelita's journey from burlesque to stripping to porn and back to burlesque; and what their thoughts are on marriage, masturbation, and bondage.  Scarlett, the lapsed Mormon with "four feet of red hair and miles of bad intentions," then gives everyone at the Speakeasy a vintage lingerie-inspired burlesque demonstration that involves two-toned stockings, a lacy garter belt with six separate garters, high-heeled pumps, a corset, and a sheer lace robe that slink away as she gives us a peek at her toes, her tasseled pasties, and her luscious long redhair. Agwa shots give the group some finger-licking and much appreciated lubrication, and Scarlett's boyfriend hops on the mike to share what turns him on about his sexy and smart significant other while she strips down to her pasties and gives us a bouncy-booby demonstration of the five ways to spin tassels.
 Dr. Suzy and Prince Max take a quick break from burlesque to give everyone a few ideas for how to patronize the Speakeasy (becoming a member of the Institute, calling us for telephone sex therapy, getting a backstage pass to view our private photo galleries, patronizing our Erotic Theater,  helping our Bonobo cousins, and joining us on our upcoming trip to the Exotic Erotic Ball in San Francisco). The show comes to a close with a serious discussion about the history of burlesque that include performers like Gypsy Rose Lee, Dita von Teese and Bettie Page, the latter two legends having been guests on The Dr. Susan Block Show years ago.  More burlesque performances ensue by Fever Blister and Purrvertina, plus a voluptuous fan dance by Scarlett Letter that teases the bonobo gang into an erotic after-party frenzy. This week's show exposes some of the velvet secrets beneath the lacy, feathered, and sequined world of burlesque; but no matter how sheer the stockings might be, there will always be somethinghidden…and you wouldn't want it any other way…would you?
---
Explore DrSusanBlock.com
Need to talk? Sext? Webcam? Do it here. Have you watched the show? No? Feel the sex. Don't miss the Forbidden Photographs—Hot Stuff, look at them closely here. Join our private social media Society. Join us live in studio 😊. Go shopping. Gift shop or The Market Place. DrSusanBlock.tv, real sex TV at your toe tips. Sex Clips Anyone? FASHION, we have fashion! We also have politics. Politics? Have you Read the book? No? How about the Speakeasy Journal? Click here. Ok, how about some free sex advice?
---