Fetish Art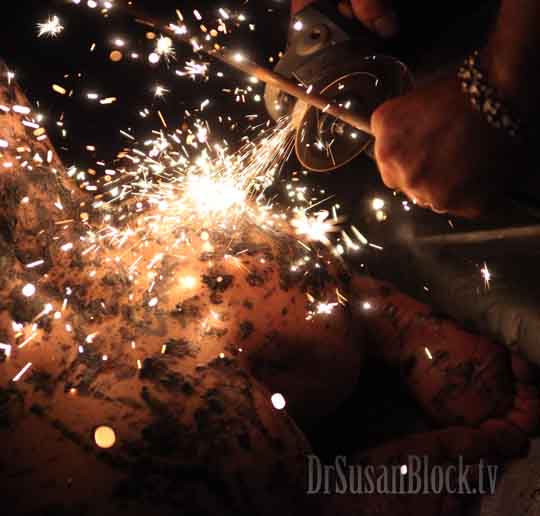 Length: 84:49 minutes
Date: 09/25/2010
 Spankings, nylons, and boots…oh my! Films, erotic short stories and live performance…oh yes!  It's a fine night for Fetish Art with the first Los Angeles Fetish Film Festivalfast approaching, and this show is dedicated to exploring the overlap of fetish, art and life, one foot—or spanking–at a time.  Through the genres of film, literature, performance art and the fringe "art" of talk radio, we cover a LOT of fetishes from head (as in giving head with no hands) to toes, bondage to girdles, pain to cupcakes,medical to monetary, and back to spanking, a perennial favorite on The Dr. Susan Block Show.   Dr. Suzy will judge the LA Fetish Film Festival on December 4th, and its creator Michael Simmons is in studio with festival host and burlesque dancer Olivia Bellafontaine to get the word out as well as announce their impending nuptials (flashing Olivia's very fetishistic engagement ring).   World-renowned author and editor of seriously hot erotica Rachel Kramer Bussel joins us in-studio for the first time after having wowed us with her phone-in interview a few months ago on Daddy Please! And the guest panel is rounded out with Sex and Metal BDSM furniture artists Jolyon Collier and Michael along with submissive, topless and heavily collared Caddy Comson, aka Caddy Shack, Severe Society Filmmakers Mistress D and Jimmy Broadway, and BDSMperformance artist Exceter Miles  as well as U.S. Marine Corp "Power Couple"  (on active duty!) Lord Artimus Foul and the intriguingly named Box Cutter.  Fetish 101Professor Suzy starts us off with a firm foundation by defining a "fetish": an object (boot, bra, boob, bodily fluid), activity (watching others, being watched, being spanked), or even a concept or emotion (wealth, guilt, risk) in which a person invests great sexual power, sometimes bordering on religious power. In the classic psychological definition, that person requires their fetish to become sexually aroused; but nowadays, fetish play and imagery has become more mainstream, and one need not feel limited by a classic definition to still enjoy the sensual aspects of bondage, lingerie, foot play or spanking.
 From advertising to internet communities, the standard idea of eroticism is undergoing an expansive redefinition. For Michael, bringing the private or hidden aspects of fetishes out into the open was an inspiration for the creation of the film festival (which is still seeking submissions!), and his interest in the diversity of fetish types (he and Olivia enjoy vintage girdles and nylons) and the relationship of the adult industry to the expression of fetish imagery in film. Rachel's latest book, Orgasmic: Erotica for Women, has 25 erotic short stories devoted to as many different types of female orgasms, from spanking to science.  She reads us a steamy hot excerpt from her own story, "Belted," that proves one doesn't have to consider something a personal fetish to still get turned on by it. Speaking of belts, Jolyon demonstrates a special, belt-like hand-made flogger on Caddy, who fills us in on how being a sub is her erotic calling in life. BDSM imagery and performance is all about power play, and the discussion turns serious as the topic of other, not-so-consensual ways our society fetishizes power comes up, from the recent FBI raids on anti-war groups to the policing of craigslist personals (in response to which the Institute created our own FREE New Classifieds Section).
 Though we're serious about free speech and abhor government raids, we do admit to liking panty raids, as Agwa shots ensue, along with nipple outings, giving Jimmy Broadway, Mistress D, and Exeter Miles chance to discuss their take on fetish filmmaking and performance art. With all these guests, we can't forget our favorite Lady of Latex RubberNecro, who has just enough time to squeeze in a greeting before the show slips into the erotic after-party. And what a party it is: a veritable 3-ring fetish circus with astounding and unnerving specialty "acts" by the Sex and Metal group including a rotisserie-like torture cage ironically dubbed "Lucky" and even more wild and crazy human fireworks than our Anais Burlesque show, all duly noted by reporter Clare de Lune in Sinning in LA Magazine.  Our fetishes inspire us, and no matter if they're feet, choking, spanking, or chocolate cake, Dr. Suzy reminds you to enjoy them safely, sanely, and consensually as you explore the intersection of art, power and pleasure in your life.
---
Explore DrSusanBlock.com
Need to talk? Sext? Webcam? Do it here. Have you watched the show? No? Feel the sex. Don't miss the Forbidden Photographs—Hot Stuff, look at them closely here. Join our private social media Society. Join us live in studio 😊. Go shopping. Gift shop or The Market Place. DrSusanBlock.tv, real sex TV at your toe tips. Sex Clips Anyone? FASHION, we have fashion! We also have politics. Politics? Have you Read the book? No? How about the Speakeasy Journal? Click here. Ok, how about some free sex advice?
---