Squirt Salon 2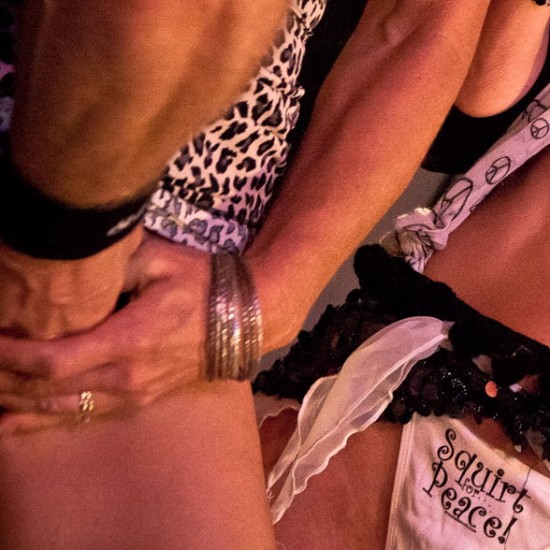 Length: 90 minutes
Date: 09/18/2010
Squirt Salon 2
 The night sky may be clear, but on this special episode of The Dr. Susan Block Show, the waters pour into the studio in a flood of orgasmic, near-Biblical proportions. We're not talking actual rain here, but what Dr. Suzy calls the "holy waters" of female ejaculation—and if you can weather the storm, hop aboard the Speakeasy Ark and head for sexual salvation with us Dr. Suzy & her merry band of squirters, squirt-facilitators and squirt-connoisseurs. This latest installment in our Female Ejaculation Media Library features the current Shaman of Squirt, porn star Marcus London, who works his magic to turn on the waterworks in three of our eager female guests: the buxom Deauxma and Mia Culpa, both featured on last week's show, the lovely Zoe Holloway, plus Dr. Suzy herself. Squirting is still a controversial topic because of its association with the G-Spot (which some still claim doesn't exist), but we at the Block Institute know better. For over a decade, we've witnessed and encouraged women from all walks of life to accept female ejaculation as natural and good, and learn to squirt, since it can be an acquired skill as well as an organic ability.
 Show guests (like Asia and Annie Cruz) have flooded the Speakeasy floors, and  Dr. Suzy's Squirt Salon: The Secrets of Female Ejaculation, featuring expert Deborah Sundahl and Squirting Phenomenon Annie Body, is still considered the best, most popular squirt educational video on the market. With years of personal and professional experience under her Squirt for Peace G-string, (including her First Squirt at the turn of the millennium under the expert fingers of Axel "The G Man" Braun, accompanied by fatherLasse Braun), Dr. Suzy steers the course of this wet and wild show, guiding the flow of conversation and the amazing on-camera exhibitions. Marcus shows off his technique (similar to the Braun Method which utilizes the ring and middle finger of the right hand, but foregoing use of the left hand to press down on the abdomen).  It works beautifully on porn star/friend Zoe Holloway who, despite trying *not* to, squirts within less than a minute.  Ironically, the London Method does not bring forth even a spritz from Marcus' own wife, porn star Devon Lee. We don't have much time to contemplate what this says about being married to the "Squirt Instructor," because next up on the squirt-friendly Luv Mat is the voluptuous and juicy Deauxma who squirts up a small tropical storm, filling the bowl with her amrita which Dr. Suzy dubs Champagne Deauxma, pouring it into flutes that she passes around to other guests and audience members to sniff and sip.  Third on the mat is squirting virgin Mia Culpa, who at first proves to be a tough subject for the Squirt Instructor, but with a little elbow grease, a lot of enthusiasm and a lick of Agwa salt off Dr. Suzy's vulva, the magic erupts and Mia's waters stream forth.
 With just a few more minutes of live broadcast left, Dr. Suzy canvases the audience for one more volunteer to test the Marcus Method, but everyone's either on their period or tied up in Disney contracts, so there's nothing left but to climax with a squirting climax herself.  Fortifying her squirtability with a shot of Agwa and licks of lime salt off the ample nipples of Deauxma on her left and porn starlet Cindy Jones on  her right, the Love Doctor opens her legs for one quick refreshing squirt (better than a trip to the spa!) at the capable fingers of Marcus London, Squirt Instructor. Though our phone lines are deluged with callers, everyone is too busy soaking up squirting knowledge to take calls. We ride the pleasure tide into the erotic after-party where Speakeasy regular and squirting virgin RubberNecroexperiences female ejaculation for the first time, flanked by Dr. Suzy and Misty Dawn, as Marcus fingers her into a lovely sprinkle of Holy Water.  If you were unsure about squirting before, this show should bring you to your senses and maybe even inspire you to try it yourself (or help your partner to)… just remember to have a dry set of sheets (or a champagne flute) handy!
---
Explore DrSusanBlock.com
Need to talk? Sext? Webcam? Do it here. Have you watched the show? No? Feel the sex. Don't miss the Forbidden Photographs—Hot Stuff, look at them closely here. Join our private social media Society. Join us live in studio 😊. Go shopping. Gift shop or The Market Place. DrSusanBlock.tv, real sex TV at your toe tips. Sex Clips Anyone? FASHION, we have fashion! We also have politics. Politics? Have you Read the book? No? How about the Speakeasy Journal? Click here. Ok, how about some free sex advice?
---