4 Play, 4 Pay, 4 Art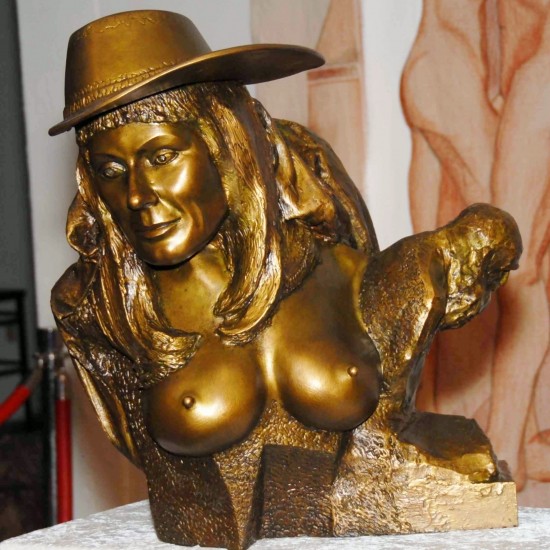 Length: 91 minutes                                          Date: 10/09/2010
As "we're all children of sex," we're all children of a mother and a father (at least biologically), but this ain't your mommy and daddy's radio—this is The Dr. Susan Block Show, and on this episode we're busting out Sugar Daddies and MILFS, bisexual porn stars, fathers of philosophy and theology, and a healthy heaping of discussion about art, technology, exhibitionism, money slaves, squirting, dating and, as always, SEX. Tonight is the unveiling of a beautiful hand-crafted sculptural bust of Dr. Susan Block by internationally renowned artist Yossi Vardan.  But before we get to the big reveal, our hot ladies and gentlemen at the guest table have some unveilings of their own to do. Asian porn star (and sexy MILF) Miko Sinz and foot model Amber Berlin are here to show off their new project IP4Play (pronounced "IP Foreplay"), a totally mobile webcam service that is available on cell phones with 4G access or Skype connection. "Sugar Babies" Torrey Pines and Tara Lynn Fox, members of dating site Dating with Benefitsare also here with their own personal  "Sugar Daddy" (and owner of the site) J.B. Thicke, along with porn stars Nica Noelle and Wolf Hudson, the first male in the adult industry to be openly bisexual in his professional career. Things get a little exhibitionistic as the guests show off their projects and philosophies, along with their more carnal assets; Miko and Amber demonstrate their service, the first product to bring live webcam girls straight to a mobile device, on a new iPhone that shows the webcam girls' boobs and butts in sharp detail. Torrey and Tara, the two T's, then explain why they prefer to be pampered by men well-endowed in their bank accounts but not necessarily their pants, and what makes a "sugar baby" experience different from a Girlfriend Experience. J.B. weighs in on the perspective from the opposite side, describing what he gets from subjecting willing ladies to showers of his liquid assets.
 This brings up liquid assets of the female type, as in female ejaculation (aka squirting), and then back to money shots, money slaves, and humiliation fetishes. Dr. Suzy fleshes out some of the psychology behind the "sugar daddy" mentality, a relationship built around material exchange that doesn't necessarily involve body fluid exchange, but might involve a degree of emasculation at the hands of a beautiful woman. On the topic of masculinity, Wolf Hudson weighs in on the controversy surrounding his open stance toward shooting scenes with both women and men; with the recent explosion of gay teens committing suicide because of bullying and harassment across the nation, his fearlessness in challenging stereotypes that persist even in the adult industry is inspiring. The healthiest thing for both individual and collective well-being is honesty about and acceptance of our sexualities, whatever that might involve, and so our guests celebrate their own exhibitionist tendencies with a few Agwa body shots off nipples and legs. The conversation turns serious when Dr. Suzy mentions she and Nico connected thanks to her Michael Jackson Blog, one of the greatest cases of concealed and conflicted sexuality in the popular eye, and a type of "child sacrifice" to the gods of music and success.
 The quintessential depiction of child sacrifice comes to us from the Bible in the story of Abraham, the Old Testament father of Judaism, Christianity and Islam: an appropriate comparison for tonight, as the exquisite bronze bust of Dr. Suzy is flanked by both Abraham and Socrates, one of the "fathers" of philosophy. Russian artist Yossi Vardan is in the studio for tonight's installation of the bust into the Speakeasy Gallery of Erotic Art, and he shares some of his inspirations. We have just enough time for frequent caller Imtiaz to share his appreciation for the artist's masterpiece before the clock strikes midnight 10.10.10 (October 10, 2010), and the show turns into the actual unveiling (and after unveiling the sculptural bust, we unveil quite a few very nice human ones), then the always philosophical Bonobo Gang gets their hedonism on at the erotic after-party.
 The Block Institute reminds you to seek your peace through pleasure, but also to be honest and courageous as you seek it. In the famous words of Socrates "Know thyself," and in the immortal words of Dr. Suzy, "Know thy sex, and try to deal with it…whatever it is."
---
Explore DrSusanBlock.com
Need to talk? Sext? Webcam? Do it here. Have you watched the show? No? Feel the sex. Don't miss the Forbidden Photographs—Hot Stuff, look at them closely here. Join our private social media Society. Join us live in studio 😊. Go shopping. Gift shop or The Market Place. DrSusanBlock.tv, real sex TV at your toe tips. Sex Clips Anyone? FASHION, we have fashion! We also have politics. Politics? Have you Read the book? No? How about the Speakeasy Journal? Click here. Ok, how about some free sex advice?
---