Inner Journey into the Bonobo Way with Greg Friedman on KX 93.5 FM, Laguna Beach
Crawling south down Pacific Coast Highway through summer traffic in Sarah Bella's silver, sexy but gridlock-stymied Lincoln MKZ, we felt like we'd never get to where we were going. Then suddenly, we looked up and saw a sign. Or you might say, we were given a sign. It said: 
"THERE IS NO PATH TO PEACE. PEACE IS THE PATH."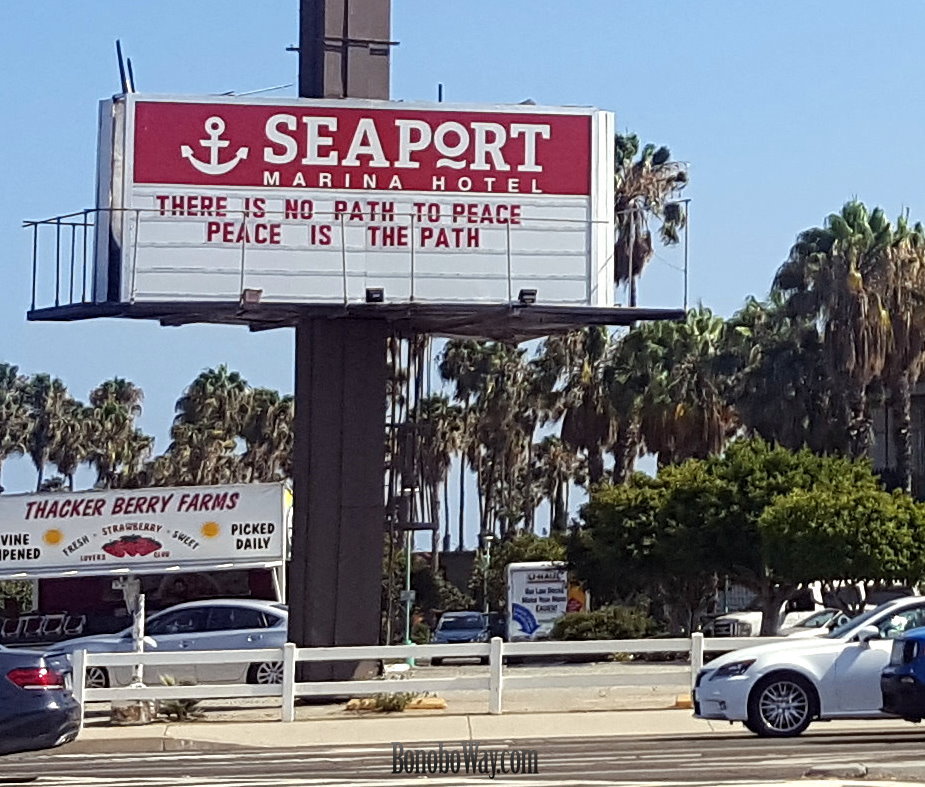 This was not a sign from Heaven. Nor did it stand before a church, mosque, temple or unscrupulous military recruiting station. Nor was it a psychedelic hallucination (see photo above for proof), though we were headed into a potentially psychedelic "Inner Journey" with world-renowned shaman and "guide" Greg Friedman.  No, this was just a simple red and white billboard from the Seaport Marina Hotel of Long Beach, generously sharing its deep bonoboësque wisdom with the frustrated motorists of PCH.
For us personally, it was a sign that YES, we would somehow make it through this enervating traffic jam to fulfill our mission to deliver the Bonobo Way to the good folks of Laguna Beach via KX 93.5 FM, Laguna's greatest FM radio station… and not just because it happens to be Laguna's only FM radio station.

Bonoboville on Doheny Beach
But first we had to get to our hotel, yet another Hilton: the Doheny Beach at Dana Point Doubletree Hilton, to be precise. From LAX to San Juan to Doheny State Beach, Hiltons, in all their bland, predictable, moderately-priced glory, have served as Bonobo Way headquarters for several weeks now.
This weekend doubled as Capt'n Max's and my 7000th (or so) honeymoon getaway, but as soon as we got away, we realized we missed our beloved Bonoboville crew, so we invited as many as could squeeze into Luzer's clown car down for dinner.
Traffic having simmered down to a few surfers and Ubers, before we knew it, bonobo sapiens Del Rey, Gonzo, London Braxton, Luzer Twersky, Sarah Bella and Unscene Abe were filling up our mini-suite and micro-balcony to pleasantly overflowing. Then we all flowed downstream into the Doheny Surf for fish, fries and fruity Mai Tais.
After more of everything and a lot of fun, we kicked everybody out and settled in for some serious honeymooning, going off all social media and doing as little as possible except swimming, eating, drinking and fucking, though not in that order.
I'm no Lilly King (though I fantasize about sharing a dip and a bong with Michael Phelps), but I had more fun than a fish swimming underwater, even though the Hilton pool had a slightly pissy tang, probably from the troupe of absolutely adorable kidlets who'd just been roleplaying the Little Mermaid meets Moby Dick (or something) in the deep end. Such are the hazards of family-style hotel swimming. Give me an adults-only resort any day. Grown-ups might pee on each other for consensual kink purposes, but generally not in the pool, deep end or shallow (puns intended).
Inner Journey: Pre-Launch!

Sunday morning, the Captain manned the ship while I dipped my psychedelically pedicured toes into the great ecosexy Pacific, baptizing myself feet-first in preparation for the sure-to-be-mind-expanding "Inner Journey" I'd be embarking upon in a few hours. It wasn't Holy Water (squirt, aka amrita), but it was toe-gasmically refreshing!
Then Bella Doll Bonobo picked us up in the MKZ, and we cruised like coconut oil into balmy, palmy, artsy, veggie Laguna Beach, home of the Pageant of the Masters, briny breezes, pricey real estate and sun-kissed beach babes playing world-class volleyball in teeny-weeny bikinis. Fertile ground to spread the word of the way of the bonobos!
We started even before the show. As we were getting coffee for Sarah and me and beer for the Captain at the erotic exotic Mozambique, whadday know but a retired multi-millionaire Trumpeteer who called himself "Neil Armstrong" (but turned out to be a used car salesman), started flirting awkwardly with me (promising to fly me "to the moon"), then with Sarah and then with Max, whereupon we pressed our Bonobo Way propaganda upon his bigoted horniness and hightailed over to the studio.
And what a beautiful radio studio it is. The sunset streamed through the multi-colored windows as we prepared for lift-off, creating just the bright psychedelic patterns I'd envisioned when first invited on this "Inner Journey."  I felt right at home in my rainbow-striped high heels, Bonobo Way tank top (made by Gonzo Bonobo) and hat of many hues and mystic symbols, including candy-colored lingams around a central yoni which I covered with a peace scarf until Greg said it was okay to show off my cocks. Though I couldn't say the word on the air, unless I was obviously referring to the rooster, this being regular radio. Not that we needed to cuss to have a great time!
Greg the Guide
Greg is as warm and charming a host as a host can be, and our two hours pass like two minutes. He's a great interviewer, and an excellent "guide," taking listeners on an "inner journey" through his guest's thoughts, experiences, epiphanies, philosophies and advice.
We talk about life-transforming events, personal change, kink, fetish, BDSM, outercourse, nonmonogamy, make-up sex, relationships, sex therapy, medibation (meditation during masturbation), female empowerment, ecosexuality, peace through pleasure, terror, taboo and, of course, bonobos, bonobos, bonobos.  We go bonobos in Laguna Beach!
LISTEN TO THE ARCHIVE  or WATCH THE VIDEO of THE RADIO SHOW

PHOTOS: SARAH BELLA
Greg's team gives good back-up, production supervisor Danny Donayre peppering our convo with email questions from listeners and producer Emma Harris live-posting show highlights and quotable quotes on social media. Chelsea calls in to ask about the 12 Steps to Releasing Your Inner Bonobo contrast ed with other, more standard "12-Step Programs," and Ray calls in to talk about how to connect with people who share your kinks. We save the best for last when, in the final moments of the show, Capt'n Max casually mentions being prosecuted for publishing 23 times. That's my favorite sex revolutionary!

In between segments, Emma and I put on Agwa masks and groove to Prince and Salt-N-Pepa.
But the best part is some truly great conversation, stimulated by Greg's probing questions and deep enthusiasm for my bonoboësque observations and advice.

PHOTOS & IMAGES: EMMA HARRIS
We do have some points of disagreement; for instance, Greg isn't much for make-up sex, and I'm not keen on diagnosing anyone with sex or love "addiction" (check out my show with Myth of Sex Addiction author Dr. David Ley for some idea of why), and that's part of what makes our dialogue exciting.
Then before we can say, "Sex Baby," it's over. Greg gives me a kiss and a sexy tank top emblazoned with KX 93.5 in a tastefully psychedelic font that matches my rainbow heels. I give him a hug and a signed copy of The Bonobo Way. Greg may swim with dolphins (which sounds like a lot more fun than the Hilton pool), but he's a true bonobo sapien. We'll be seeing him and Emma on The Dr. Susan Block Show some Saturday night soon.
Monogamish in Mozambique
Going on an Inner Journey works up an appetite, so back we went to Mozambique, which had thankfully dumped the Trumpster and was now hopping with sensuous bonoboësque bodies having outercourse on the dance floor to Reggae rhythm and grooves.
On the roof-top level, we settled in for a feast featuring far-and-away the yummiest food we'd eaten all weekend, fine Mozambican seafare with a Laguna lilt, fruity African mojitos and a cauliflower au gratin that could make mac 'n' cheese lovers lose 20 pounds before realizing they were eating veggies.
Hugs to Sarah Bella for squiring us around in Lincolnian style, and to Greg and the KX gang for taking us on an excellent "Inner Journey."  Special gratitude to Malcolm Jones and the women of the Bonobo Way Female Empowerment Outreach Project (now going into its second great year!). Thanks to Mal, who actively supports female empowerment and bonobo awareness, we can go on journeys like this to spread the bonobo word, which hopefully contributes to saving them from extinction and just might help put more humans on that path of peace, and most definitely helps keep the Captain and I happily and monogamish-ly married.
LISTEN TO THE 'INNER JOURNEY" RADIO ARCHIVE or WATCH THE VIDEO of THE RADIO SHOW
© August 11, 2016. Susan Block, Ph.D., a.k.a. "Dr. Suzy," is a world renowned LA sex therapist, author of The Bonobo Way: The Evolution of Peace through Pleasure and horny housewife, occasionally seen on HBO and other channels. For speaking engagements, call 310-568-0066.