GFE and the VBB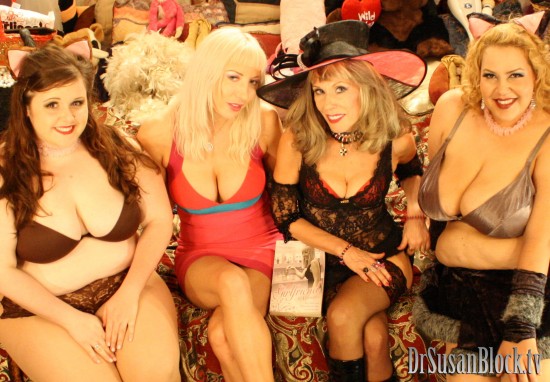 GFE and the VBB
Length: 85 minutes        Date: 04/16/2011
PG Pix Page.  X Pix and Vid at DrSusanBlock.tv
 In a sensuous flurry of lace and stiletto heels, Dr. Susan Block strides upon the Speakeasy stage to broadcast this show just minutes after delivering the opening address at the first annual Los Angeles Fetish Film Festival awards show in Hollywood.  Joining the Fetish Doctor  in-studio are a feast for certain fetishistic sensibilities: one of Britain's most notorious and desirable former escorts and a troupe of BBW burlesque performers.  And the Commedia Erotica continues….
 Studio Guests include:
 Rebecca Dakin: in a sleek, elegantly skimpy pink frock given to her by one of her past clients (plus a pair of naughty nude knickers and matching high heels), this former high-priced escort was the child of  a "proper" British upbringing, complete with convent school before she got started in the "world's oldest profession." Now a published author, dating coach, infidelity expert and escort consultant, she has spent a lifetime mastering the art of seducing wealthy men, not just in bed, but also over dinner or perhaps the shooting range.  It's all part of The Girlfriend Experience: My Fun & Adventurous Life as an Escort, the name of Rebecca's book, from which she reads us an excerpt in her second appearance on The Dr. Susan Block Show  (listen to her first appearance on Porn Star Girlfriend).
 Scarlette VaVoom: vivacious redhaired leader of the Voluptuous Buxom Burlesque Entertainment Girls, a bigger-than-life burlesque dance troupe, proudly composed of BBWs who are not too shy to strut, shimmy, sing their hearts out and shake their fabulous, enormous breasts on the Speakeasy stage.
 Roxy Roulette: another Lady of Voluptuous Entertainment for whom joining the group has been invigorating and sexually empowering (though she hasn't yet fulfilled her bi-curious fantasies).  Along with Scarlette, Roxy belts out a great bawdy song, reminding us that burlesque can take the form of song as well as dance.
 Annika Rose:  new to the burlesque and plus size scene, Annika purrs and looks just like a big sweet pussy in her kitty ears and tail.
 Matthew Rose: BHM (Big Handsome Male), banker by day and rambunctious burlesque dancer by night, Matthew finds beauty in women of all shapes and sizes—it doesn't hurt that his routine involves tearing the clothes off of eight BBW women.
 Caller 1: Mike, 24, from Vermont asks about foreskin restoration, but Dr. Suzy finds that the core issue lies in the strict Christian upbringing that shames him too much for him to even ask his parents about the circumstances of his circumcision.
 Weapons of Mass Discussion
the art of seduction, being an object of fetishistic desire, the art of escorting, The Girlfriend Experience, prostitution, pick-up artistry, religious abuse, foreskin restoration, circumcision, big beautiful women, big handsome men, variations of female beauty, mass media interpretation of beauty, BBW conventions, and infidelity, escort consultation, peek shows, interspecies experience, kissing bonobos, sex workers, circumcision, foreskin, cappucino
 Performance Erotica
burlesque dancing, singing while topless, licking salt off of arms and nipples,  Agwa shots, grinding on the floor, refusal to do back flips for fear of getting hit in the face with one's own giant boobs, panty flashing
---
Explore DrSusanBlock.com
Need to talk? Sext? Webcam? Do it here. Have you watched the show? No? Feel the sex. Don't miss the Forbidden Photographs—Hot Stuff, look at them closely here. Join our private social media Society. Join us live in studio 😊. Go shopping. Gift shop or The Market Place. DrSusanBlock.tv, real sex TV at your toe tips. Sex Clips Anyone? FASHION, we have fashion! We also have politics. Politics? Have you Read the book? No? How about the Speakeasy Journal? Click here. Ok, how about some free sex advice?
---