19th Wedding Anniversary Bacchanal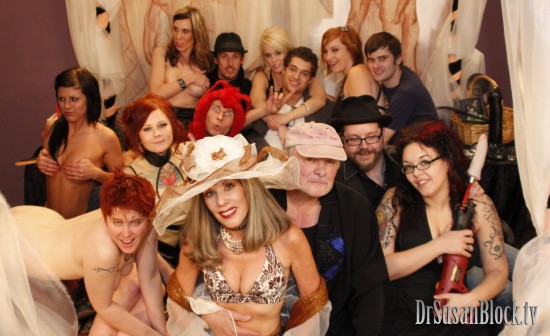 19th Wedding Anniversary Bacchanal
19th Wedding Anniversary Bacchanal
 Length: Date: 04/09/2011
Captain of My Heart…Master of My Soul…these are the words inscribed inside their wedding bands.  On this festive episode of The Dr. Susan Block Show, we celebrate 19 years of lawfully wedded love, lust and bonobo revolution, the bronze wedding anniversary of Dr. Suzy and Pr. Max, with a bevy of friends, lovers, bikini models, college girls, sex educators, up-and-coming film stars, a genuine Fucksaw in action, right on the show, and the inspirational story of how Prince Maximillian R. Leblovic di Lobkowicz di Filangieri met and fell in love with his princess, your Love Doctor, and how they somehow stayed in love and in lust despite (or because of) countless people, family, friends, governments and police trying to tear them apart, lo these 19 years.
Studio guests include:
Ken Melvoin-Berg: AKA Mustache Man, owner of Weird Chicago 's Red Light District and Sex Tours (the only one of its kind in the country), Chicago's "premier pervert," resident sexstorian and sex educator. In the last role, he and his partner Sunny Megatron used the Fucksaw,  resembles a reciprocating saw with six different speeds and rubber dong at the end rather than a cutting blade, to demonstrate female ejaculation in Northwestern University Professor J. Michael Bailey's controversial after-class session in Human Sexuality
Sunny Megatron: Ken's partner-in-kink, sex educator, and one of the infamous Northwestern Fucksaw Four. With the enthusiasm of an enlightened lumberjane, Sunny turns on her notorious Fucksaw, on loan to the Block Institute courtesy of JT's Stockroom, and gives Katie Kinns the most intense vibrating ride of her life…maybe a little too intense.  Clip coming soon to drsusanblock.tv.
Kat Medrano: Owner and Photographer of SoCalGlamourGirls, a sexy social network of bikini models and college co-eds—in other words, the ultimate sorority fantasy—Kat promotes her work in the most visually accommodating fashion: 1st half of the show with bikini on, the 2nd half topless.
Brittany Madison: Community college student by day and bikini model by night, Brittany's assets are also on display for the larger part of the evening.    Dr. Suzy picks up the collegiate theme with her own Yale thong—from Northwestern University sex education scandals to Glamour Girl studies to Yalie panties, it's a frat boy's wet dream!  Brittany's black ruffle bikini panties make Panty Boy's mouth water, and her pert boobs make great surfaces for Agwa salt-licking.
Amanda Blow: Porn star Amanda is stunning in a skin-tight and skimpy iridescent dress, purring words of seduction into the mic as Dr. Suzy lets her lick the end of the Fucksaw.
Michael Phillips: award winning playwright and love agnostic. For Pr. Max and Dr. Suzy's 19th anniversary he softens his heart to read a rather optimistic love poem titled "Resume Part Deux."
Misti Dawn: Alt Porn Superstar, Venus on Eros Day 12 and Queen Esther on Purim 4 (both of which you can watch on DrSusanBlock.tv), Misti looks delicious in her custom made latex dress—the only thing more tasty at the show is the homemade cake she made for Dr. Suzy and Max.
Michael Vegas: Eros on Eros Day 12, King Ahaseurus on Purim, Misti's BF and fellow porn star, Michael will be starring as Luke Skywalker in Axel Braun's Star Wars Porn Parody.
Katie Kinns: Sex adventurer braves the Fucksaw, enjoying it for a while, but then as the controversial machine stirs up the Womb Room on high speed, Katie rolls over from the intensity. "It was too much," she cries in pleasure and defeat.
Mona Sunoy: Film writer and Katie's BF who dutifully prepares Katie's daring pussy for the Fucksaw with a gentle kiss and a loving lick.
Dark Phoenix: Kink performer, Hamen on Purim and director of Public Performances at this year's 1st Los Angeles Fetish Film Festival where Dr. Suzy will also be appearing and judging.
Lily Cade: Gold star lesbian and erotic filmmaker makes fast friends with the Glamour Girls over Agwa shots and salt-licking.
Xander Corvus: Star of Axel Braun's Spiderman XXX porn parody, Xander receives an award-winning lime salt licking off of his penis by his stunning GF Ash Hollywood.
Ash Hollywood: Lingerie, swimsuit and nude model with the face of an angel (or a young Sharon Stone) and the fellatio skills of a demon.
Caller 1: Imtiaz wishes Dr. Suzy and Pr. Max a happy 19th wedding anniversary and to commemorate the one-year anniversary of himself as a regular caller.
Caller 2: Jeff also wishes our royal couple a happy anniversary and compliments our Glamour Girls as they are aroused by his sexy voice.
Weapons of Mass Discussion:
wedding anniversary, bronze, fateful story of how Pr. Max met Dr. Suzy, friends becoming lovers, in-classroom sex toy demonstration controversy, red light district sex tours, networking for kinky people, LA Fetish Film Festival, the Fucksaw, sorority fantasies, panties, Yale, soulmates, love, lust
Performance Erotica:
Live Fucksaw Demonstration, Blowjobs, Tickling the G-Spot, Anniversary Toasts, Cake-Eating, Flogging at the Bar, Being Flogged while Tied to the Cage, Licking Agwa salt off Nipples and Penises, Panty Play, Passionate Anniversary Kisses
---
Explore DrSusanBlock.com
Need to talk? Sext? Webcam? Do it here. Have you watched the show? No? Feel the sex. Don't miss the Forbidden Photographs—Hot Stuff, look at them closely here. Join our private social media Society. Join us live in studio 😊. Go shopping. Gift shop or The Market Place. DrSusanBlock.tv, real sex TV at your toe tips. Sex Clips Anyone? FASHION, we have fashion! We also have politics. Politics? Have you Read the book? No? How about the Speakeasy Journal? Click here. Ok, how about some free sex advice?
---