Debby Does My Dad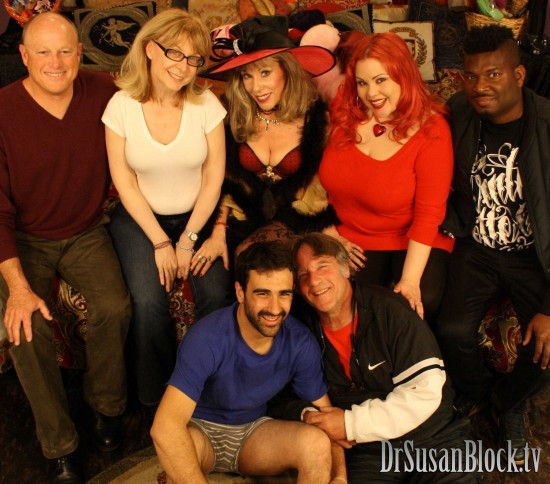 Length: 96:19minutes         Date: 04/02/11
Free PG Pixs click here… X Video and Pics at DrSusanBlock.tv
This theatrical edition of The Dr. Susan Block Show brings together the 'old guard,' the 'new guard' and the 'vanguard' of porn and performance art, as Dr. Suzy asks: How does porn give birth to art?  How can hardcore lead to artcore? How does a porn star dad raise a poet son?  The answers our illustrious guests reveal through riveting performance art and Weapons of Mass Discussion are as meaningful as they are hilarious, as emotional as they are erotic, as much about "family values" as they are about freedom and revolution.
Our Featured Guests
Bobby Gordon: enlightened offspring of former Golden Age porn star Richard Pacheco and his wife of 35 years, Bobby  illuminates the Womb Room with excerpts from his one-man show Debbie Does My Dad. Sharing with us the most intimate details of his formative years, Bobby paints a vivid picture of growing up in a nurturing home with loving parents, one of whom just happens to have once been a famous porn star. His performance of "Grab Your Dick" (his dad's advice for…just about everything)—in his boxer briefs–is terrific comedy with a strong streak of wisdom that really ought to be heeded by our political leaders and other hotheads.
Richard Pacheco: award-winning porn actor, writer, director, and Playgirl magazine's Man of the Year in 1979, aka, Howie Gordon, quit porn in the mid-80s to focus on his family, Richard/Howie sheps nachas (takes pride) in his son's stellar performance, and shares his Golden Age of Porn memories (soon to be published in his upcoming memoirs "Hindsight," child-rearing views and philosophical approach to eroticism: "Red hot fucking crazy sex is best when forbidden."
Nina Hartley: erotic icon, multiple-award-winning porn star, sex educator, actress, author, political activist and director,  Nina started her illustrious career in porn films with Bobby's dad (later winning an AVN Award together for Best Couples Sex Scene for Sensual Escape in 1989), and has been Bobby's beloved "aunty" all his life.  In her umpteenth awesome appearance on The Dr. Susan Block Show, she shows her support for Bobby's work and regales us with tales of porn, politics and the high seas.
April Flores: nominee for this year's Feminist Porn Awards, BBW and Indie porn star, a favorite guest on The Dr. Susan Block Show, April is her husband Carlos Batts' artistic muse.  Hardcore becomes Artcore in their groundbreaking erotic film of that name.
Carlos Batts: photographer and director of Artcore with his wife April Flores, an alternative erotic film involving innovative uses of imagery, technology, and thematic elements—porn for the new, sophisticated and horny generation.
Don Johnson: Long Beach lifeguard hero who saved Nina Hartley from a sinking yacht several years ago pops up out of the Womb Room studio audience to give Nina a pair of cute fire engine red boyshort panties with a Long Beach Lifeguard insignia.
Weapons of Mass Discussion
Growing up in the Shadow of your Dad's Penis, Porn Star Parenting, Children of Porn Stars, Golden Age of Porn, Porn vs Art, Porn as "Last Resort" Hardcore, Artcore, Anal Sex, Masculinity, Sensitivity, AIDS, Fear, Family, Jewish Porn Stars, Social Evolution, Revolutions in Streets are Really about Sex, Porn Then vs Now, Masturbation as Panacea, Premature Ejaculation, Road Trips, Sinking Ships, Captains on GHB, Staying Alive, Saving Porn Star Lives, Long Beach Lifeguard Heros
Performance Erotica
Panty Reveals, Boob Reveals, Ass Reveals, Spanking, Performance Art in Boxer Briefs, Drinking Agwa, Licking Agwa Salt off Arms and Nipples, Panty Gift Giving, Heartfelt Hugging
---
Explore DrSusanBlock.com
Need to talk? Sext? Webcam? Do it here. Have you watched the show? No? Feel the sex. Don't miss the Forbidden Photographs—Hot Stuff, look at them closely here. Join our private social media Society. Join us live in studio 😊. Go shopping. Gift shop or The Market Place. DrSusanBlock.tv, real sex TV at your toe tips. Sex Clips Anyone? FASHION, we have fashion! We also have politics. Politics? Have you Read the book? No? How about the Speakeasy Journal? Click here. Ok, how about some free sex advice?
---
---