Elvis in Bonoboville
Length 1:28:52 Date: July 16, 2016
We begin this show on a melancholy note, grieving for the dead of Nice, such a sparkling city on the idyllic French Riviera where Capt'n Max and I enjoyed so many romantic moments. Last Thursday, Nice was devastated by a horrific truck attack that literally ran over more than 80 people, gathered together to celebrate one of our favorite holidays, Bastille Day. I would say this is the "latest" mass-murder, except that even more are already popping up in the news, as I write this.    
Many are calling for violence to try to *trump* violence. Obviously, that is NOT The Bonobo Way, and it will not trump anything. It will only breed more violence.
Here in Bonoboville, we believe there is another way. We call it the Bonobo Way.
Not that there are any easy answers to this lethal human problem exploding in our streets, our not-so-safe spaces, our minds and headlines. Here in Bonoboville, our answer is to mourn the dead and love the living with joi de vivre, as they say en francaise. Otherwise, we lose, and the malevolent marketers of terror win.
Terrorism is indeed a "marketing method," a term used in a Norwegian court by right-wing Christian terrorist Anders Behring Breivik, who killed 77 people, mostly children, in 2011. I think ISIS would agree. Mass murder is a frighteningly effective marketing method for hate, fear and Perma War.
Well, here in Bonoboville, we have our own marketing methods: we fight the hate with love, and we fight the terror with sex, with cum shots not gun shots, with sperm wars not real wars. Like the terrorists, we use the media to send our message of peace through pleasure to our friends, fans and all the peoples of every corner of our more and more permeable world, from Tehran to LA, Puerto Rico to Berkeley to Cannes.
The difference is that we have certain challenges in getting out our messages that ISIS doesn't have. That is, the major media and most social media censor us in ways that they never censor ISIS, the Ku Klux Klan, or any of the other terrorists and mass-murderers out there that are presented with as much slavering detail as they present "good" celebrities and heroes. Actually, much more!
The mainstream media—both major media and Facebookish media—have no problem showing live shootings, individuals dying in cars,  a truck running over people, dead bodies in the street, planes flying into buildings, people falling to their deaths, journalists being decapitated and burned alive; all of these virtual "snuff films" are solid media gold. But try to #FreetheNipple, show a female breast, or any gender's genitalia, let alone any kind of sex act, and you will be censored. The truth is that mass-murder is much more acceptable to show in mainstream media than is making love.
No wonder so many of our children are growing up to be killers.
What's a peace-loving bonobo sapien to do? Well, here in Bonoboville, we just keep pumping out our own media, as we've been doing for over a quarter century, live (almost) every Saturday night, fighting the hate with love and literally squirting in the face of terror with all kinds of consensual sex, fun, wisdom… and music! From classical to rap to Norwegian rock,, great music of all kinds is the soundtrack to the Bonoboville RƎVO˩ution.
In that spirit, we welcome to this summer-loving show Smokey Binion, Jr., Elvis Presley tribute artist and former Grand Marshall of the Stinett Texas parade, now back in Bonoboville for his third great appearance. Smokey channels "The King" with the passion of a true believer in the healing power of old-time rock 'n' roll. He shares that passion with everyone in Bonoboville, and let's just say, there's a whole lot of shakin' goin' on.
PHOTO 1: ROBERTO BONOBO.  PHOTOS 2 & 3: SARAH BELLA
Music heals the soul, and good consensual sex reduces violence and may even prevent murder, as we see in the culture of our kissing cousins, the bonobo great apes. Bonobos have a lot of sex, empower the females, take good care of the males and have never been seen killing each other in the wild or captivity. Bonobos show us that it is possible to make peace through pleasure, all kinds of pleasure, but primarily sexual pleasure. After all, you can't be killing while you're coming… or laughing.
So our other guests include a couple of erotic performers and a stand-up comic. The erotic performers are stylishly sexy Madam Raven Rae, DomCon Mistress of Ceremonies and Queen of Our Hearts, as well as 360 Models Agency's piping-hot Savannah Fyre, who twerked and squirted all over my bed last Saturday; indeed, Savannah's Holy Water helped us to handle last week's fare of police abuse and mass murder.
This Saturday, Savannah charms our eyes and calms our spirits as she strips down to her exceptionally beautiful, slim yet curvy and deliciously all-natural birthday suit, before a rousing round of Bonoboville Communion with Agwa di Bolivia Herbal Coca Leaf Liqueur and Madam Raven Rae.
The two look so gorgeous together, Madam RR cooing with appreciation as she sucks her Communion from each of Savannah's 32C's ("I have OCD, so I need to do both," she explains with a wink), and Savannah slurping hers from RR's yummy rump (both cheeks!), as everyone in the Womb Room licks their chops in response. Then it's time for Waterboarding, the Bonobo Way!

Then both stunning sweethearts showed off their wondrous vulvas, matching trimmed bushes: Guaranteed to cure the desire to commit mass murder!
Seriously, if only the major media would show arresting erotic beauty like this with as much enthusiasm as they show murder and war, we'd have a Weapon of Mass Seduction to take down ISIS and all the other marketers of terror, beating them at their own "marketing method." The only thing that comes close to being as riveting as the glory of violence is the power of sex.
Photos 1 & 2: Roberto Bonobo.  Photo 3: Sarah Bella
Comedy is another terror-fighter. If laughter is a mental orgasm, then our fourth guest hits the G-spot. We haven't seen Daryl Wright since the Last Show at the Old Speakeasy, but he saunters into the Womb Room like he's never left it, fresh from shooting a Showtime special on his new comedy act, "My Normal." In small-world news, it just so happens that Savannah also shot for Showtime this week, a documentary about the history of sex. Hey Showtime, how about visiting us here in the Garden of Bonoboville? We'll be on our best behavior… maybe.
Daryl is also the DrSuzy.Tv award-winner for "Most Intoxicated" guest of 2012. As evidence, we have Jux Lii's iconic photo of Daryl passed out in an easy chair at the Old Speakeasy lounge after a long night of love and vodka, which made it into a Vegas Daryl Wright roast. We don't mind that Daryl's been drinking other people's vodka for three years, but it's fun to have him back in the new Bonoboville LAX.
Daryl keeps the jokes and vodka flowing, but Smokey gets to do Bonoboville Communion off of Madam Raven Rae's exquisite French-pedicured toes and literally drink Holy Water from her heel. What a vision of passion: First crooning, then swooning, Elvis writhes in ecstasy quite literally under Madam's foot.
PHOTO 1: ROBERTO BONOBO.  PHOTO 2: SARAH BELLA
This show, Jacquie Blu is behind the camera, looking elegant in a flowing flowery dress and heels, as she navigates her shots. With a couple of bonobos MIA and Unscene Abe off on his annual family summer trip, we are a bit topsy turvy in the tech department, especially sound-wise. Sorry for the glitches! But what this show lacks in technical precision, it makes up for in peace-through-pleasure passion… et mais oui: joie de vivre!
Capt'n Max delivers ardent sermons from the bar, and our in-studio audience is sparkling with luminaries like Ikkor the Wolf who catches RavenRae's flying G-string and sniffs the crotch as if it's a marvelous, dangerous drug. Also In Da House: Tammie Parrot, playing the virgin vixen in an all-white mini-jumper that makes me want to jump her.
And by the way, I just want to say: Yay! We won our lawsuit against Paypal! Known for keeping their customers' money, Paypal kept Bonoboville funds unlawfully. So we sued their smug little corporate crooked asses in small claims court, and the judge forced them to return our money and pay a little extra for the trouble. Not as much extra as we wanted, but still, this is an important victory for us and for everyone who's ever been abused by Paypal.  Has Paypal stolen or frozen your money? Call us, or just listen to this show, and we'll tell you how to get it back.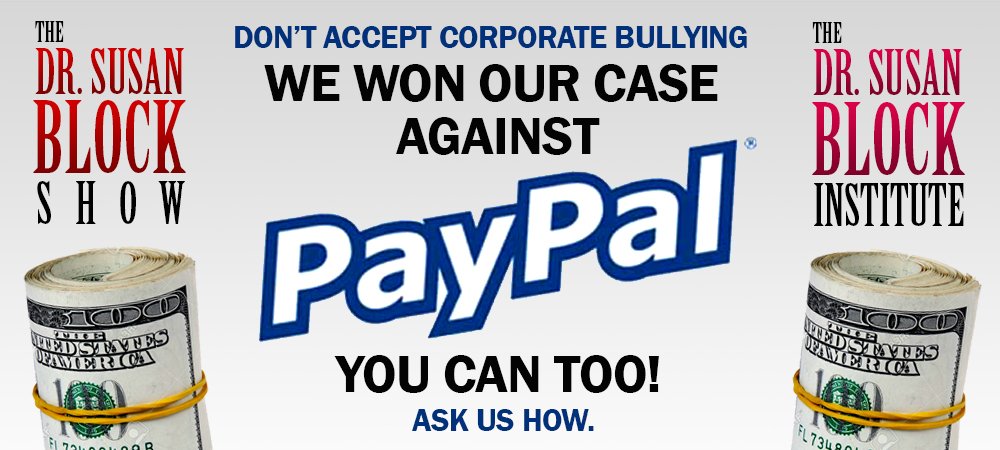 I don't pretend to know what it'll do to stem the tsunami of mass-murders, but this show sure is a lot of fun and maybe it'll even stop a mass murder or twelve by getting some guy to lay down his arms and just shoot the gun between his legs.
As for the musical sexual revelation of the night, that goes to Smokey Binion, Jr. for filling us in on the fun fact that the original lyrics to Little Richard's seminal hit "Tutti Frutti Aw Rooty"—which never really made any sense—were "Tutti Fruiti Good Bootie"—which makes total sense! In fact, we can't stop singing "Tutti Frutti Good Booty" as RavenRae and Savannah show off their amazingly good booties in a series of heart-stopping, mass-murder-preventing displays that just might restore your shaken faith in your fellow human beings.
This just in: Luzer Twersky returns to Bonoboville to see if he can move back into his old home in our RV… soon to be a small part of a major motion picture… or at least a cool documentary. Stay tuned!
© July 17, 2016. Susan Block, Ph.D., a.k.a. "Dr. Suzy," is a world renowned LA sex therapist, author of The Bonobo Way: The Evolution of Peace through Pleasure and horny housewife, occasionally seen on HBO and other channels. For speaking engagements, call 310-568-0066.