BlueBirds in Paradise on RadioSUZY1
Length: 91:07 minutes         Date: 04/30/2011
Click here for PG-ish Pix Page…  X pix and video at DrSusanBlock.tv
As the world reeled from Royal Wedding Fever, The Dr. Susan Block Show experienced a rather different sort of British Invasion:  A flock of pretty, preening Bluebirds flew into my nest from across The Pond, along with their clown-prince bird-master, plus a rare Columbian bird of the erotic arts….
Paul Chaplin made millions in the dirty businesses of law and banking, and now is spending millions—and making a few more—in the far cleaner business of porn.  He is film director, founder, benefactor and chief lavatory attendant of Bluebirds Films, winning multiple AVN awards, having his kinky way with his favorite porn stars, taking (Gemma) as a wife, while keeping the other (Dylan) as a "mistress," shaving his legs thoroughly relishing the porn mogul "lifestyle," cracking continual jokes, wearing Dr. Suzy's gift blue panties on his face, and generally playing the happy, hapless fool like a 21st century, x-rated Benny Hill with a very large wad of cash.
Gemma Massey fluttering into the Speakeasy nest with a glittery hooded mini-dress that makes her look like a petite, well-proportioned disco ball, this British Bluebird/Glambird starlet is a true advocate of, in her words, "bigger is better," so much better that she is able to hold the microphone perfectly in place between her 30Fs (though she plans to make them even larger!).  Though she had sex on camera with five men the day of the broadcast, she's a proper British Lady, she is.  Look for Lady Gemma in the glitter hoodie at the next Royal Wedding.
Dylan Ryder statuesque American Bluebird contract starlet (now playing the title role in KatwomanXXX), former correctional officer and women's athletic wear designer, Dylan perches on the show bed and talks about being a "lover, not a fighter," but after a full day of being whipped and hormone juggling, she's too tired to show off her full glorious plumage, but just chirpy enough to display two abundant breasts and a dazzling smile.  Her "I can be a real bitch!" menstruation explanation is one of the most riveting moments of the broadcast.
Alejandra Guerrero this fine erotic art photographer and self-declared "camera whore" from Colombia portrays women as dominant and empowered by sexuality.  Playing a key role in Paul's Commedia Erotica sketch, she does kinky things to a stuffed pink monkey with precision and grace.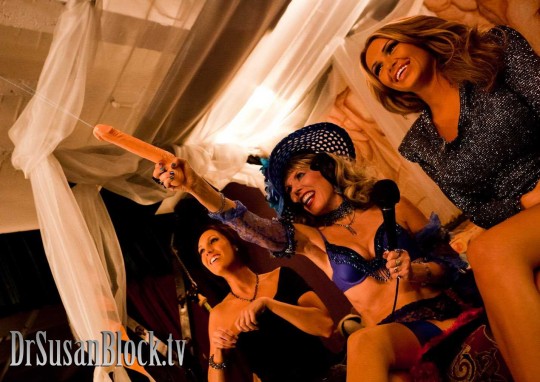 Shooting the Breeze with the Bluebirds.  Photo: JuxLii
Weapons of Mass Discussion
Porn Parodies, Royal Weddings, AVN Awards, Art and Sex, Camera Whores, Being Whipped, Giant Expanding Breasts, Shaved Legs on Men, Porn for the Blind, Menstruation,  Hormones, Gaddafi's Son Assassination, Revolution, Dictators, Pimps, Revolution, Violence, Panties, Knickers
Performance Erotica
Boob Display, Panty-Flashing, French-Kissing To Save a Stuffed Pink Monkey, Pocket Rocket Play with Monkey, Squirting With Penis Water Gun, Talking on Microphones Held Between Large Boobs, Agwa Shots, Licking Lime Salt Off Boobs, Porn Stars Sporting Matching Pineapple Sunglasses, Giving #911 Blue Panties to Bluebirds, Putting #911 Blue Panties on Your Face, Hopping Around on the Stripper Pole Poker Table, Masturbation in Sheer Blue Panties.
---
Explore DrSusanBlock.com
Need to talk? Sext? Webcam? Do it here. Have you watched the show? No? Feel the sex. Don't miss the Forbidden Photographs—Hot Stuff, look at them closely here. Join our private social media Society. Join us live in studio 😊. Go shopping. Gift shop or The Market Place. DrSusanBlock.tv, real sex TV at your toe tips. Sex Clips Anyone? FASHION, we have fashion! We also have politics. Politics? Have you Read the book? No? How about the Speakeasy Journal? Click here. Ok, how about some free sex advice?
---
---