Babes & Balls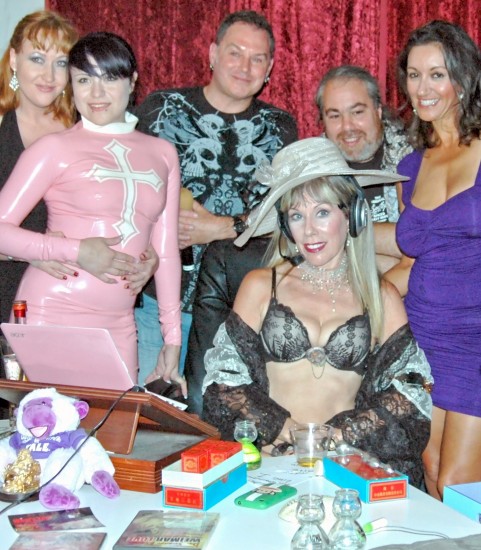 Length: 95 minutes
Date: 07/31/2010
Babes & Balls
 What do masquerade balls, golf balls, ball gags and human testicles have in common? If you guessed something to do with the guests on this week's episode of radioSUZY1, you're on the right track… Dr. Suzy gets all those balls rolling with her first three in-studio guests: porn star/golfer Persia Monir (whose previous appearance on our wet hot Hookers & Persians show really got the Monkey Rocker rockin'), radioSUZY1 favorite RubberNecro, looking like a fetishized Joan of Arc in a baby pink latex Christian solder mini-dress, and fetish filmmaker/domina Julie Simone. Julie shares some of her experiences with her clients and inspires a discussion of BDSM as a therapeutic and healing art. It can also be just for fun, though, as demonstrated by the Shibari bondage show that she and Rubber regularly stage in local BDSM clubs.
 Following the bouncing ball, Persia describes her favorite fun pastime: topless golfing! With a quick break for some healing tonics–Agwa and mysterious Chinese aphrodisiacs–we pass the ball to some callers. Self-proclaimed Virgin Steve wants to share at length his reasons for remaining what Dr. Suzy identifies as a "career virgin," putting the blame for his "virgin fetish" on everything from parents to sperm wars(discussed at length last week with Sex at Dawn author Christopher Ryan.  But Dr. Suzy helps him keep his eye on the ball and take responsibility for his own virginity. Persia has some fun giving advice to the next male caller with porn star aspirations.
 With a quick sidetrack to talk about what everyone feels sperm tastes like, the next guests step up to the plate: Chris Buttner (PR That Rocks) and Howard Mauskopf, delegates from the world-famousExotic Erotic Ball in San Francisco. A masquerade ball of orgasmic proportions–at which Dr. Suzy had the bizarre experience of being hit by a flying penis onstage in front of 10,000 people–the big semi-naked celebration of freedom of expression is happening October 22-23, and you can get your tickets now! We round third base with the ballsy boys from San Fran hitting a home run with Love Potion #9. Licking Agwa salt off nipples is par for the radioSUZY1 course, and both the girls and boys are fair game as the show winds up, but the ball game goes into off-the-air overtime at the erotic after party. All in all, a hole-in-one show for everyone involved, and sure to keep you balled up (though hopefully not with blue balls!) in anticipation for next week!
Caller 1 (Steve the Virgin) talks about why he's still a virgin at age 38
Caller 2 (Joe) wants tips on how to become a porn star
---
Explore DrSusanBlock.com
Need to talk? Sext? Webcam? Do it here. Have you watched the show? No? Feel the sex. Don't miss the Forbidden Photographs—Hot Stuff, look at them closely here. Join our private social media Society. Join us live in studio 😊. Go shopping. Gift shop or The Market Place. DrSusanBlock.tv, real sex TV at your toe tips. Sex Clips Anyone? FASHION, we have fashion! We also have politics. Politics? Have you Read the book? No? How about the Speakeasy Journal? Click here. Ok, how about some free sex advice?
---