Kiwi Sexpert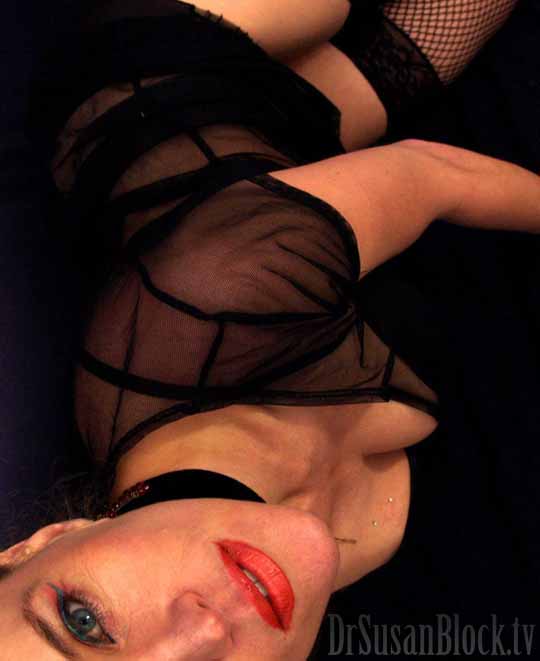 Length: 91:37 minutes
Date: 08/07/2010
Kiwi Sexpert
What's in a name? That which we call a sexpert, by any other name, would smell as sweet… but it might not be as titillating to the mainstream media! We explore the word's connotations and so much more tonight on radioSUZY1 with renowned "sexpert" and sexologist Dr. Michelle Mars calling in from New Zealand to give us a little down-(under)-and-dirty perspective on the world of sexual health and well-being. These days, sex and diet coaches are among the most sought-after sources of advice within the booming self-help market for individuals looking to improve their health and happiness, and this show starts with Dr. Suzy and Max discussing their dislike for the term "sexpert" as an essentially empty (but fun to say!) description that distills the work of a sex therapist into a bite-sized concept for public consumption.
 When we get Dr. Mars on the line, though, she admits that she gladly takes on the title of sexpert; her philosophy is, as she puts it, "sex is great, but better sex is better!" Dr. Mars, whose background is as an academic in sexuality and gender studies, shares her struggles with helping New Zealanders to view sex as a feature, a skill, and an artistic facet of life rather than just something automatic. Dr. Suzy gets our guest to reveal how her interest in sexology began, how she enjoys dressing up in exhibitionist outfits (much like our own Love Doc!), what she thinks about the recent retraction of that blasted G-Spot study, and what her own experiences as a source of sex advice in the public eye have been. Our society's ever-present stigma around discussing sex can cast those open or proud of their sexuality (especially females) in a negative light, as Dr. Mars's (mostly positive) experience on the New Zealand version of 60 Minutes demonstrated, and we explore some of these lingering hang-ups in the U.S., New Zealand, and even France. Some technical difficulties with the phone connection limit our time with Dr. Mars, so we have a few minutes to talk about the eerie Omar Thorton murders, and give a few in-studio guests (veterans Christina and Janel) and callers a chance to weigh in on the big issues like monogamy, gay marriage, the smell of feet, fiber optics, porn addictions, and ejaculation in restaurant kitchens.
 Everyone toasts to our Down-Under brothers and sisters in sex with some kiwi-green Agwa shots and gets some birthday cake (for heavyweight Speakeasy champ Michael Blum) under their belts before getting down on the dance floor at the erotic after-party. As Dr. Suzy reminds us, sex, like eating, comes automatically for us humans; but if we are taught how to do it well—from a sexpert, a sexologist, a therapist, a book or online article or even a friend, whatever the label—our lives can rise out of mundane repetition into the realm of happiness, healthfulness, adventure and pleasure.
Caller 1: Dr. Michelle Mars, New Zealand Sexologist
Caller 2: Foot Fetish Smell
Caller 3: Robert asks about porn addiction and shares his fantasy about Dr. Suzy
---
Explore DrSusanBlock.com
Need to talk? Sext? Webcam? Do it here. Have you watched the show? No? Feel the sex. Don't miss the Forbidden Photographs—Hot Stuff, look at them closely here. Join our private social media Society. Join us live in studio 😊. Go shopping. Gift shop or The Market Place. DrSusanBlock.tv, real sex TV at your toe tips. Sex Clips Anyone? FASHION, we have fashion! We also have politics. Politics? Have you Read the book? No? How about the Speakeasy Journal? Click here. Ok, how about some free sex advice?
---
---