Sex at Dawn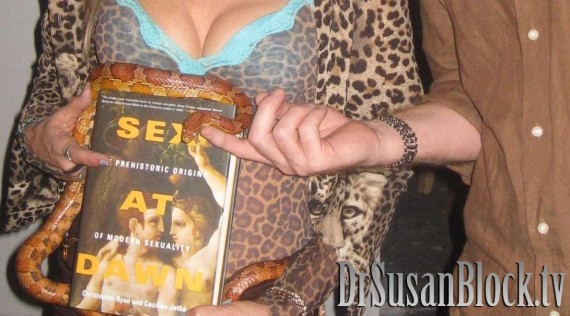 Length: 87:49 minutes       Date: 07/24/2010
Don't know much about history? Don't know much biology? Don't worry, because on this fascinating episode of radioSUZY1 we give you a provocative primer on the primordial human past: history, biology, evolution, and everything else from farming to fetishes, mammaries to marriage, promiscuity to pornography, bukkake to bonobos, and so much more!
My featured guests are Christopher Ryan and Cacilda Jethá, authors of the new and status quo-shattering book Sex at Dawn: The Prehistoric Origin of Human Sexuality—calling in all the way from Spain (at dawn, appropriately). Though the book's premise should be very familiar to my regular listeners, Sex at Dawn challenges the pervasive paradigm of human sexual monogamy by culling research from a wide range of disciplines, arguing for the promiscuously fluid sexual interactions of early humans.
Life was very different for us humans 10-200,000 years ago: without concepts of property or ownership, our hunter-gatherer ancestors thrived in egalitarian communities that encouraged the sharing of resources and sexual partners for both men and women. With the advent of agriculture—the greatest PR campaign ever—in about 8000 BC, came the now-familiar societal constructs of land ownership, power differentials, commerce, and male dominance over the so-called weaker sex.
Despite these powerful institutions, we retain the same bodies and brains that had evolved to support the lifestyle of our ancient ancestors; today, the tension between our natural inclinations and societal expectations causes conflict and repression that result in the types of marital discord, sexual hang-ups, fetishes, and dysfunctions that the Block Institute's therapists counsel clients on every day.
As a sex therapist, ethical hedonist, and proponent of the Bonobo Way of peace through pleasure, I ask Chris to speak about the inspiration for their study, how their conclusions conflict with long-held assumptions in the academic realm, how the untruth of humans as exclusive-pair bonders has gone on to shape our current world, and how the basic structures of our bodies prove that we're meant to explore intimacy with multiple partners.
The last point is the central core of one of our favorite topics here on radioSUZY1—Sperm Wars—and I get Chris talking about how it correlates with thrusting, moaning, circumcision, midlife crises, and the (used) panty vending machines in the subways of Japan. We manage to squeeze in a few audience questions and some microphone time with show veteran RubberNecro, a living, throbbing example of the joys of multiple sexual partners, before the clock strikes midnight.
Instead of turning into pumpkins, though, the Speakeasy bonobos do our ancestors proud and get positively prehistoric during the erotic after-party. I encourage all of you to get yourself a copy of Sex at Dawn, to make love like the cavemen and not the conventional married couple, and to pursue peace through pleasure…no matter how many partners you're pleasuring.
---
Explore DrSusanBlock.com
Need to talk? Sext? Webcam? Do it here. Have you watched the show? No? Feel the sex. Don't miss the Forbidden Photographs—Hot Stuff, look at them closely here. Join our private social media Society. Join us live in studio 😊. Go shopping. Gift shop or The Market Place. DrSusanBlock.tv, real sex TV at your toe tips. Sex Clips Anyone? FASHION, we have fashion! We also have politics. Politics? Have you Read the book? No? How about the Speakeasy Journal? Click here. Ok, how about some free sex advice?
---
---