It's The SUZYS! The DrSusanBlock.Tv Awards 2015: And The Winners Are…
Length 1:50:57 Date: January 2, 2016
Still nursing our New Year's hangovers here in Bonoboville, we stumble into 2016 with a nostalgic look back at some of the wonders of 2015 and the fabulous Dr. Susan Block Show guests who made it interesting, inspirational and orgasmic. Yes, indeed, Brothers and Sisters, Lovers and Sinners, it's the fourth annual DrSusanBlock.Tv awards, a.k.a., "The SUZYs," paying tribute to "excellence in broadcast artistry and exhibitionism," venerating the pursuit and cultivation of peace through pleasure; better sex education; higher quality sexuality research; more interesting and entertaining porn; more responsible BDSM; a more sex-positive, anti-War, female-empowered ethos and more bonoboësque Weapons of Mass Seduction.
To win, you must have been a guest on The Dr. Susan Block Show sometime during the year 2015. Speaking of which, we produced over 50 live shows in 2015! For that reason alone, we feel we deserve some kind of award; feel free to nominate us for "Greatest Sexuality Show on Earth" anytime. But this time, it's The SUZYS, and we're the ones giving, not receiving, the awards here, and to give is far more bonoboësque and rewarding than to receive. So without further ado, may I rip open the virtual envelope and present, in no particular order, The DrSusanBlock.Tv 2015 AWARD winners…
"Most Bonobo" – Layla Sin
"Porn Power Couple of the Year" – Alexandra Silk & Luc Wylder
"Best Sex Advice" – Nina Hartley for the Woodhull Sexual Freedom Alliance
"Best Earth Lover" – Dr. SerenaGaia Anderlini D'Onofrio
"Most Congenial Revolutionary" – Abby Martin
"Best-Educated Porn Star" – Odette Delacroix
"Most Visionary" – Sabine Lichtenfels of Tamera
"Funniest Former Fundamentalist" – Luzer Twersky
"Most Transformational" – Simon Odysseus Blaise
"Sexiest Clergyman" – Pastor Jon
"Best Bonobo Way Book-Spanking" – Raquel Devine
"Most Adorable" – Amor Hilton
"Sexiest Sex Researcher" – Dr. Zhana Vrangalova
"Best Female Ejaculation" – DEAUXMA
"Best Female Ejaculation" – Rainey Lane
"Most Artistic" – Helane
"Most Artistic Anus" – Catherine Imperio
"Best Funny Faces" – Samantha Fairley
"Best Comic Book Artist" – Anthony Winn
"Best Cosplayer" – Ari Dee
"Best Altar Girl, Bonoboville Communion" – Dayton Rains
"Best Anal Bonoboville Communion" – Sienna Sinclaire
"Best Bonoboville Communion Rum" – Ron de Jeremy rum
"Best Bonoboville Communion Liqueur" – Agwa de Bolivia Coca Herbal Liqueur
"Best Necking Communion" – Mark A. Michaels & Patricia Johnson
"Most Compassionate Humiliatrix" – Goddess Soma
"Best Crossdressed Rock Star" – "Fat" Mike Burkett
"Best Live Music Performance (Band)" – The LUZERS
"Best Live Music Performance (Classical)" – Wicked Violin
"Best Live Music Performance (Rap)" – Ikkor the Wolf
"Best Live Music Performance (Harmonica)" – Ron Jeremy
"Best Music Video" – "Do the Miley Cyrus" Jessica Shores (J sho)
"Best Miley Smile" – Miley May
"Cutest Gender-Bender" – Stefani Special
"Best Elvis" – Smokey Binion Jr
"Sexiest Author" (female) – Sienna Sinclaire
"Sexiest Author" (male) – Christopher Ryan, Ph.D.
"Most Enthusiastic Submissive" – Jane Starr
"Best Leather" – Jux Leather
"Best Bonobo-in-the-Field" – Chelsea Demoiselle
"Wildest Mad X Bike Ride"- Loni Legend
"Most Buffed Out" – Isiah King James IV
"Best T-Shirts" – G-Spot Brand Apparel
"Most Thematically Attired" – Unlicensed Professionals
"Biggest Mogul" – John Gray (Spearmint Rhino)
"Most Like Jessica Rabbit" – Monica Monroe
"Best Dildo Deep-Throating" – Jessica Fappit
"Best Amputee Sex" – Joe Adams
"Most Talented Twat" – Dayton Rains
"Best All-Natural Naturist" – Leilani Lei
"Best Edible Aphrodisiac" – Cannabelly
"Sexier Than Ever" – Lotus Lain
"Rottenest Guest" – Robert "Corpsy" Rhine
"Most Ethical Condoms" – Glyde Vegan Condoms
"Bonobo Conservation" – Lola ya Bonobo
"Bonobo Conservation" – Bonobo Conservation Initiative
"Best Hot Wax Performance" – Layla Blue Phoenix & Master D
"Most Dangerous Sex Act" – Orpheus Black & Audrey Holiday
"Hottest Strap-On Scene" – Mistress Helly Hellfire & Dayton Rains
"Poly Pioneer of the Year" – Janet W. Hardy
"Most Poly-Savvy" – Wry Mantione
"Life of the Party" – Filly Films
"Wildest Sybian Ride" – Jeanie Marie
"Sexiest New Yorker" – Lola Bastinado
"Best Blunts" – Ikkor the Wolf of the Green Cross
"Cutest Feet" – Onyx Muse
"Best Foot-Sucker" – Amber Lily
"Best Booty" (BiG) – Whooty Marcy Diamond
"Best Booty" (little) – Ana Foxxx
"Bonoboville SUZY AWARDS Crew Award" – Abe, Mar, Gonzo, Del Rey, Ono, Dayton, Roberto, Jake, Casey, Cream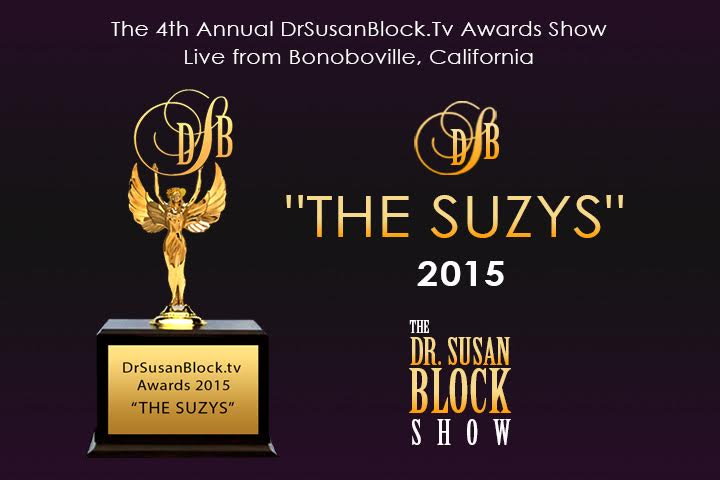 See 2014′s Winners.
See 2013's Winners.
See 2012's Winners.
What an awesome list of sexperts, sexpots, visionaries and revolutionaries. Congratulations to the winners and consolations to the losers—though, once again, lucky Luzer (pronounced "loser") is a winner.
As is traditional for The SUZYs, we don't invite the winners, losers, or anyone at all to the actual ceremony. Most folks are busy with family festivities, domestic drama or both during the sparkly season, and we hate to get flaked on, unless it's snow.
But as it turns out, many holy-dazed refugees show up at Bonoboville's gates (and yes, you'll get the undisclosed location too, if you become a Speakeasy member), from former producer Dark Phoenix to "Most Artistic" winner Helane, and it wouldn't be in the spirit of Christmas, Hanukkah, Mohammed's Birthday, Bodhi Day, Saphala Ekadashi (Hindu), Kwanzaa, Winter Solstice or Saturnalia to turn them away. So we wind up with a few of the winners, some emotional, intoxicated acceptance speeches, a live musical performance of a winning song (Go Ikkor!) and a bit of wild bonoboësque activity. Dayton Rains shows why she won the "Most Talented Twat" award by smoking the first Bonoboville Blunt of the New Year with her kegels and she takes Bonoboville Communion from my not-quite-so-talented but very happy yoni (do the Oscars and Emmys take Communion on their breaks? Probably, but ours are televised). There are even a few tears of joy and words of farewell to our friends and lovers who have crossed over to the Great Womb Room in the Sky (or wherever we go when we die).
Sentimental, I know. It's probably inevitable that, in its fourth incarnation, The SUZY Awards is getting to be more like a regular Hollywood-ish awards ceremony. Hope that doesn't completely take away our Commedia Erotica street cred.
One refugee we haven't seen in over a year (rendering him ineligible for a 2015 SUZY Award), Ultra Vulgar Super Fiend journalist Ryan Stabile, plays Santa and gives away some choice UVSF swag. In return, he gets Dayton's boobs for Bonoboville Communion and a signed copy of The Bonobo Way redolent of her book-spanked rump. Read The Bonobo Way! Be well-read or get spanked until your butt is… well, red. Happy Nude Rear!
As long as we're talking "journalism," we remind ourselves that one purpose of The SUZY Awards is to do our bit to counterbalance the "attention awards" that mainstream journalism is constantly giving to politicians of fear, preachers of violence, perpetrators of mass murder and cheerleaders for war. As our up-to-the-moment infotainment machine breathlessly "reports" each atrocity and terror threat, copycat lunatics, religious zealots and wily candidates vie to come up with something more horrible and outrageous that might get them the much-coveted "award" of media spotlight.
The only human urge stronger than our passion for violence is our passion for sex. Only the thrilling power of Eros can combat the dark pull of Thanatos. But it's not as simple as a boxing match between Good and Evil, especially when society labels our sexual impulses as bad; at best trivializing them and at worst demonizing them. With no honorable sexual outlet open to them, is it any wonder that so many people—mostly young people at the peak of erotic drive and thanatoxic frustration—act out in violence? This is why we honor the "erotic arts and sciences" with the DrSusanBlock.Tv awards… to give peace, with pleasure, a chance. To give love, with lust, an award.
Speaking of the actual award (maybe in a few years, we'll have more than just the one), many thanks to Nikki Knight for perma-lending us the teasingly phallic, golden Oscar replica statuette, and to Dayton for blinging it up. With shimmering wings and a translucent white hat that could be a halo, made from a Glyde America condom ("Slim Fit" because The SUZY has a teeny head), the SUZY award trophy is Measure B-compliant and downright angelic.
So arrivederci 2015. Time to #GoBonobos in 2016, which we've officially resolved to be The Year of the Bonobo II, which was picked up by Counterpunch, making it even more official, at least on the Left Coast. I resolve to continue to release my inner bonobo (and help you to release yours, if you're game), make peace through pleasure in a world of war, save the real bonobos from extinction and put on who-knows-how-many future shows, parties and special moments with my beloved Capt'n Max and Bonoboville crew, but I am grateful for every single one. This year, I'll also be leaving Bonoboville, California (!) to give some Bonobo Way talks at universities, the first being the Keynote Speech at the Symposium on Ecosexuality in the Caribbean at the University of Puerto Rico, Mayaguez. The symposium, organized by "Best Earth Lover" winner and Ecosexuality co-editor Dr. SerenaGaia, is open to both students and non-students. Don't let another year go by without going bonobos. Come join us.
© January 3, 2016. Susan Block, Ph.D., a.k.a. "Dr. Suzy," is a world renowned LA sex therapist, author of The Bonobo Way: The Evolution of Peace through Pleasure and horny housewife, occasionally seen on HBO and other channels. For speaking engagements, call 310-568-0066.
THANKS ULTRA-VULGAR for THIS GREAT REVIEW of THE SUZY AWARDS!
---
Explore DrSusanBlock.com
Need to talk? Sext? Webcam? Do it here. Have you watched the show? No? Feel the sex. Don't miss the Forbidden Photographs—Hot Stuff, look at them closely here. Join our private social media Society. Join us live in studio 😊. Go shopping. Gift shop or The Market Place. DrSusanBlock.tv, real sex TV at your toe tips. Sex Clips Anyone? FASHION, we have fashion! We also have politics. Politics? Have you Read the book? No? How about the Speakeasy Journal? Click here. Ok, how about some free sex advice?
---
---