Hypnosis, Hands, Winners & Luzers on DrSuzy.Tv (LiVE this Saturday Night!) + Therapy on Your Phone: Call 310-568-0066

An Erotic, Hypnotic week in Bonoboville!

Erotic Hypnotism, Bonobo-Style

Learn Dr. Block's amazingly effective "Color Hypnosis" technique in "Step 2: Be a Bonobo" of The Bonobo Way  Release your inner bonobo through erotic hypnosis; learn to put yourself & other consensual subjects into a deep erotic hypnotic trance. Bonobo Drawing by Helane.

---

Therapists without Borders | Radio without Boundaries

Dr. Suzy's Clip-O-Rama XXX Theater

Luzer of the Year. We ♥ Twersky!

"As very few of you know I've spent the past year and a half or so living in this RV rent free. Because of that, I was able to travel to film festivals, pursue my dreams, and was generally able to enjoy a fairly worry-free life.

What some of you don't know is that this RV belongs to and was on the campus of Bonoboville, a community founded by the amazing forces of Dr. Susan Block and her husband Prince Maximillian Lobkowicz…." MORE.

---


The RƎVO˩ution is What You Watch. | DrSuzy.Tv


Welcome to the Rumble in the Jungle | Bonoboville: Social Media Grown up.
Dr. Susan Block welcomes DomCon LA 2016 Mistress of Ceremonies Goddess Fae Black on April 2nd.


---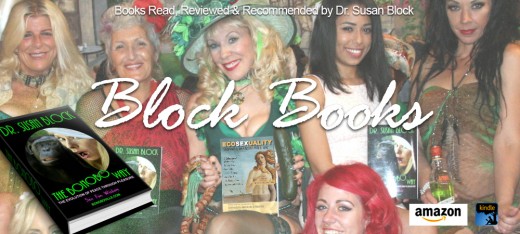 The RƎVO˩ution is what you read. | Block Books

Need to talk? Why wait? Call now