Tomboy Sex & Musical Feet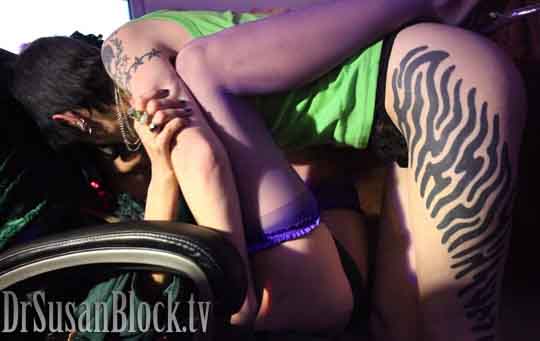 Length: 89:26 minutes
Date: 03/06/2010
Tomboy Sex & Musical Feet
 Beautiful Tomboy and fetish model Cadence St. John, award-winning porn star Dane Cross and mystery musician Dylan T join Dr. Suzy and the Bonobo Gang for a lively discussion of sex, revolution, girl-girl scenes, classical mythology, seduction and production,  helping callers with such questions as how to seduce a hot MILF and how to produce more semen to satisfy the thirst of both your girlfriends in your Ménage à trois.
 Another caller wants help coping with his foot fetish, so Dylan T pulls out his guitar and improvises an Ode to Feet.  Then Dr. Suzy pulls off her boots and stockings, wiggling her toes as she explains the art of foot massage, and Prince Max tells the story of which little piggy went to market and which little piggy is a slut.  This (or maybe the Agwa) inspires Cadence to toss off her headphones, leap from her seat and initiate a girl-girl scene with Dr. Suzy right in the middle (actually, towards the end) of the broadcast (where you don't hear much but slurping sounds).  Three cheers and five orgasms–and a big toegasm!–for all the beautiful Tomboys in our lives.
---
Explore DrSusanBlock.com
Need to talk? Sext? Webcam? Do it here. Have you watched the show? No? Feel the sex. Don't miss the Forbidden Photographs—Hot Stuff, look at them closely here. Join our private social media Society. Join us live in studio 😊. Go shopping. Gift shop or The Market Place. DrSusanBlock.tv, real sex TV at your toe tips. Sex Clips Anyone? FASHION, we have fashion! We also have politics. Politics? Have you Read the book? No? How about the Speakeasy Journal? Click here. Ok, how about some free sex advice?
---