Tempest Storm Live on DrSuzy.Tv !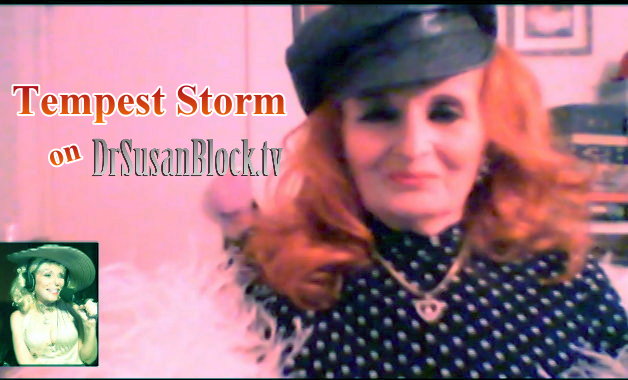 Length 1:25:13      Date: Oct. 5, 2013
Our first official live DrSuzy.Tv show from our brand new broadcast studio in Bonoboville at LAX takes off like a Gulfstream G650 with Rolls Royce BR725 A112 engines into the stratosphere of sex stars, featuring one of the brightest, longest-burning luminaries of erotic entertainment history, the living legend, Tempest Storm. The long-reigning Queen of Burlesque first wowed the world with her fantastic, all-natural 40DD-24-35 body (known as "the Tempest in a DD cup") back in the pre-silicone 1950s, and continues to wow us with her amazing, trailblazing career of over 60 years that has far outlasted all her peers. Now she's making a film, Tempest Storm Burlesque Queen, which we're helping to "Kickstart" with this interview (please donate at TempestStormFilm.com—winner of Pitchfest LA at WestDoc 2013–so they can meet their goal, and we can see this movie!).
When Tempest burst on the scene and out of her clothes in the arid Eisenhower years, she was truly a hurricane of hotness. But unlike most erotic entertainers, she wasn't just an afternoon shower. Long after most burlesque clubs gave way to go-go dancing and more explicit stripping and pole-dancing, Tempest kept on storming, keeping the tease in striptease, and always giving her all to her true, longest-lasting love, her audience. Her private life was just as exciting as the seductive image she presented onstage, especially in those Mad Men 1950s. She was Elvis' girlfriend, JFK's mistress, pals with Marilyn, friends with Sinatra and lunchmates with mobster Mickey Cohen. Dean Martin and Jerry Lewis, spoofing the Oscars, presented her with a "Mickey Award" for "Best Two Props in Hollywood."
Bettie Page's Mistress, Elvis' Sweetheart, JFK's Flame
When Jamie Valentino, publicist for the Tempest Storm film project, along with producer Kaitlyn Regehr and director Nimisha Mukerji, invited me to interview the fabulous Miss Storm, I jumped at the chance to participate in an important piece of erotic American history. I was privileged to have conducted the first and longest live interview with the incomparable Bettie Page back in 1996 when that burlesque, pin-up, fetish and fashion icon was just emerging from her mysterious, self-imposed seclusion of several decades. Now here was Bettie's Teaserama co-star, the always elegant but deliciously naughty Tempest Storm, ready to tell her story. Even though my new studio is barely ready (we're still ironing out the technical kinks, though we're keeping the sexy ones), I made my kick-ass Bonoboville staff pull it all together in time to help her promote her film before the Kickstarter deadline.
Born on Leap Day (February 29, 1928), Tempest only has a birthday every four years, which makes her barely 22. And that's about how old she feels, she says. Chronologically, however, she's made it to an impressive 85, an age at which most people can barely walk, let alone put on a striptease. The filmmakers warned us that Tempest might not be able to talk long, but once we get on with the show, the minutes fly by, and this consummate show-woman winds up doing an in-depth interview for over an hour and a quarter.
From Poverty and Abuse to Erotic Fame and Fortune
Tempest joins us via webcam from her home in Las Vegas, wearing a hat (a nice touch for her hat-loving hostess, I must say), a polka dot Bettie Page dress (and I "just happen" to be wearing my polka dot Secrets in Lace Bettie Page stockings), a diamond heart pendant given to her by her latest beau and a white feather boa wrapped around her slim shoulders like a cloud from heaven.
Despite her name (which she selected when given a choice between it and "Sunny Day"), Tempest is not really very tempestuous; in fact, she's extremely calm, cool and "in control," priding herself on her tasteful approach to the art of striptease, positive attitude and drug and alcohol-free lifestyle in a business known for its wild, mood-swinging, often highly intoxicated turbulence.
An uncommon woman from very common beginnings, Tempest started life as Annie Blanche Banks, a poor uneducated Southern girl who worked in the sweltering fields of eastern Georgia picking cotton. Abused by her stepfather and viciously gang-raped by the local Sheriff and his buddies when she went out one day in a pretty white dress, Annie left home at 14 and was married twice before she was 20. Always dreaming of Hollywood, she finally gathered the cash and the courage to go West where she was "discovered" by a club promoter who gave her a job as a chorus girl. Soon she was the headliner, rocketing to burlesque fame and enjoying what she calls the "unconditional love" of her fans.
Throughout our interview, Tempest regales us with juicy details about her life (trysting with the President of the United States at the Mayflower Hotel, teaching Elvis "everything he knew"), faith (she believes in God, but isn't religious), trade secrets (the key to keeping her pasties on? Scotch tape), her illustrious fans (including one of our other favorite burlesque guests, Dita Von Teese) and her fascinating relationships with the wealthy, powerful men so besotted with her figure and charm. Through it all, she's kept it "classy," never fazed by the fading of burlesque, the 1960s sexual revolution or the feminist movement. I'd say she's also never been fazed by criticism, but she insists that she's "never gotten a bad review" in her life. Though some family members have not been so accepting of her chosen path.
She also lost a Hollywood contract when she married African-American cowboy actor and singer with Duke Ellington's band, Herb Jeffries. When I ask Tempest about her marriage to Jeffries, she responds with one of her few frowns in the interview. Apparently, the marriage ended badly due to Jeffries' raging jealousy. Erotic entertainment sensations and jealous husbands never mix well. Still, sweet Tempest bears no hard feelings toward Jeffries, now 102 years old. With her current boyfriend, a romantic, not-so-jealous, nice Jewish guy who's also her manager, Tempest says she is now "happier than ever." That's another thing that keeps you young besides clean living and dancing up a storm: being in love.
The Slut-Shaming of Miley Cyrus
When I ask Tempest what she thinks of America's newest erotic entertainment sensation, Miley Cyrus, and her controversial performance at the Video Music Awards, she wrinkles her nose and pronounces Miley's twerking "not sexy." But, ever the classy lady, Tempest stops short of telling Miley not to dance like that, wisely saying "I don't want to be a hypocrite."
Of course, many aging stars, from Sinead O'Connor (who calls Miley a prostitute) to Cher (who, back in the day, wore much more revealing gowns than Miley's flesh tone bikini), aren't so reluctant to exploit Miley's fame to boost their own careers, even while slut-shaming the young child-star-turned-superstar like a chorus of bitter, envious, puritanical and, yes, extremely hypocritical harpies.
After we bid a fond farewell to Tempest (looking forward to seeing her soon in Hollywood!), Max and I spend the last few remaining minutes of the show discussing the international "Slut-Shaming of Miley Cyrus." After all, before "twerking," didn't Tempest's old sweetheart Elvis swivel his hips? Then Chubby Checker did the twist. Mick Jagger stuck out his tongue. Michael Jackson grabbed his crotch with a big white glove. Madonna kissed Britney at the 2003 VMAs. Janet Jackson showed her nipple on the Super Bowl. So what's really so new and oh-so-dangerous about Miley, and why all the rabid slut-shaming?
I'm not so worried about Miley personally. This girl can defend herself, and she's having the time of her life mocking the hypocrites (check out "We Can Stop (the Government)," her hilarious SNL parody of her viral song, "We Can't Stop"), raking in the cash and riveting all ears and eyeballs on her hot young self. If she crashes and burns, she'll go out in a blaze of glory with a song that forecasts the demolition; she's a "Wrecking Ball," after all. I'm more concerned about the young people who are being trained to think, as young people have been trained for centuries, that a girl who dances freely and playfully will be condemned and slut-shamed. 
I could say more—much more!—but we've run out of time, and really, this show is about Tempest. So we'll have to continue the Slut-Shaming discussion next Saturday. In the meantime, stay strong, Miley, continue being your mischievous, shamelessly sexual self, take good care of your body, mind and spirit, and with a little luck, someday you may be an eminent 85-year-old sex icon like Tempest Storm.
And support Tempest Storm Burlesque Queen—destined to be a cinematic tsunami!
To listen free to this show, click the link above. Pix and video coming soon to DrSuzy.Tv.