Spanksgiving to Obaminaugural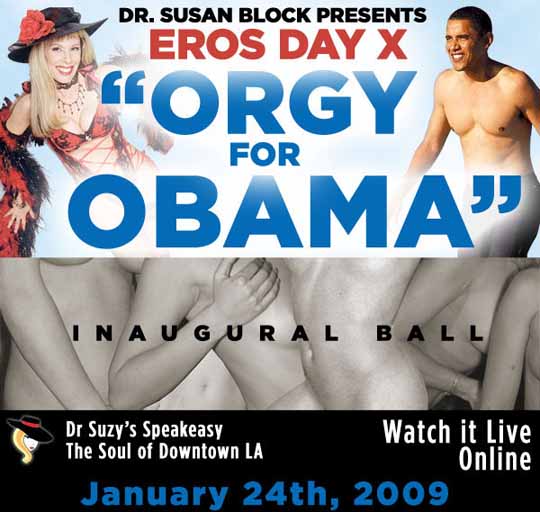 Brothers  & Sisters, Lovers & Sinners, let us come together to praise the power, the glory and the pure driving sex appeal of hope.
Hope and a nickel won't keep the meter maid away, in my experience.  But enough about experience! Experience can bring wisdom, but it can also breed contempt, corruption and the corroded American Cosa Nostra also known as the Bush Crime Family.
It's time for a fresh new face of a different color that appears to possess a brain!  It's time for youth, music, peace, diplomacy, health care, fiscal responsibility, redistribution of wealth, and a nice big load of hot sexy glamour.  It's Morning in Obamerica, as my fellow Counterpuncher Ishmael Reed only half-ironically says. The progressive sun is shining through the bellicose Bush-Cheney clouds, and sweet breezes of change are blowing the old reactionary attitudes away.  With the decisive, historic election of Senator Barack Hussein Obama to the 44th Presidency of the United States, America can be proud again, and the rest of the world can exhale.
I personally was proud to cast my vote for Frank Moore, my running mate (Sarah Palin wasn't the only lipstick-lover running for Vice) and the candidate that I sincerely believe would make the best U.S. President.  Of course, write-ins never win, though the San Francisco Chronicle reported that we got a whopping 6,566 popular votesacross America. We're not sure how accurate that is, yet the point of our campaign wasn't "winning," but to introduce new ideas that involve real "change," and to inject our own uniquely progressive shot of "hope" into America's bloodstream.
But Obama was my second choice, so I'm pretty happy with the result, hoping for that change, ready to retire my Republican penis puppets (aka "the Dickheads") and think about sex and politics a little differently.   Though I'm not thrilled with some of the Democratic Party hawks surrounding Obama – starting with projected Chief of Staff Rahm Emmanuel, a big Congressional supporter of the Iraq War – there is no doubt that the 2008 U.S. presidential election was a clear referendum on political philosophies, and the more progressive, more peaceful, more integrated  philosophy clearly triumphed over backward, war-mongering, dumbed-down, bigoted business as usual.
Unfortunately, progressive politics did not win the day across the board.  The passage of California's Prop 8, enshrining discrimination in our state constitution (said to be largely funded by wealthy polygamy-obsessed Mormons), was a terrible kick in the kisser of our freedom to love whom we choose.
What's the matter, Mr. California, are you afraid that if you don't stop two guys from getting married, your neighbors will be able to read your mind and see how badly you want to suck a cock?
Excuse my French, but since the election, my most conservative, McCain/Palin supporting, Prop 8-upholding, lily-white male telephone sex therapy clients have been bombarding the Institute with their need to share their deep desires to submit to the stronger, harder, much larger, and very often blacker penises of other men.  Not that the interracial sex fetish is a new thing.  But lately, I find more and more upstanding, successful, manly white men are telling me that they want to get down on their knees and worship the big black phallus, sometimes personally, and often as cuckolds, offering up their white wives, as a kind of sperm wars sexual sacrifice to the great black bull god.  Usually, these guys are terrible hypocrites about the whole thing, supporting Prop 8 and Palin-style policies, despite what their smaller head is telling them. But in a few cases, their sexual fetish actually opens up their political minds.  "I voted for Obama," one registered-Republican cuckold told me proudly.  "I want a black man in my White House, and a black man in my white wife."
Of course, it doesn't have to be the same man, though our recent Erotic Obama Fantasies Show on RadioSuzy1 revealed that the dashing young U.S. President-Elect is making numerous appearances in the erotic dreams and fantasies of many men and women of all races and ethnicities around the world.
The future is integrated.  The future is sex.  Barack Hussein Obama is not just a President.  He's a craze.  Like the JFK craze, only crazier. Obamania is upon us.  And I've got a crazy kind of hope that it will do America and the world some good.
Our Friendly Neighborhood Dungeon
Obama started as a community organizer, and that's something I like to do too, in my own eclectic way.
When the Speakeasy first moved into the "Fashion District," it was not very fashionable.   We were surrounded by grinding sweat shops, grimy factories and neighbors who barely spoke English.  Nothing against new American immigrants and the "shmata bizness," but we were strangers in a strange land.
Yet we loved the cathedral-high ceilings, the nighttime quiet and the cheap space, so we rolled up our sleeves and created our little 17,000 square foot bit of bonobo civilization in the urban jungle.
As our friends and fans started venturing out to visit us, their jaws dropping over the Island of Pleasure we built by hand in the midst of this Sea of Pain (Skid Row is around the corner), more and more of them started to fantasize about getting their own piece of the Downtown pie. A photographer friend needed a space, so I put him in touch with my landlord, Ben Neman, who had put me through a bit of hell a couple years ago when I was near-death in the USC Hospital.  But that was then, time has passed, and Ben has turned into a pretty fair guy (for a landlord).   In fact, he now welcomes artists into his spacious cement castles in the city.  Turns out that artists and boho sexologists like me make better tenants than factory owners (who knew?).  Last year, some truly awesome artists Case, Andrew and Dwyer, moved in down the hall from the Speakeasy and become our friends.
And now we have some ultra-exciting new neighbors: The Broken Door, our friendly neighborhood dungeon!  The photos in this part of my bloggamy, taken by Mar, are from their fabulous, spanking good opening night party which I attended with Sara Sioux.
Check out the sexy serving wenches with dusters attached to their heads and toilet paper rolls strapped to their chests.
Now that's what I call service!
We kidnapped several of the key players and brought them upstairs to the Speakeasy just in time to do a smokin' B/D/S/M show on RadioSuzy1, happily missing the guys with the real handcuffs, who really didn't do much of anything anyway, thank Goddess.
Vision Board Book Party
And now for a totally different kind of soiree (with more pics by Mar)…
Hollywood Uber-Publicist and Author Joyce Schwarz threw a casually elegant launch party for The Vision Board book last Tuesday at lovely Loew's on the Beach in Santa Monica.
We were smack in the middle of the Digital Hollywood convention.
The next day, our Vision Board book shot up to #1 on Amazon's Spiritual Best-Seller List!
Little did I know, when I created my Bonobo Way Vision Board for Joyce (it appears in the book on page 135), that Vision Boards were fast becoming all the rage. There's even an Obama Vision Board (see above) created for the book by Nick Thorsch.
We used to called them collages. Cut-and-paste or mystical visionary, I've always enjoyed making and staring at these things, whether or not they were hip or actually "worked."
In any case, it's a work of personal promotional art. And it's my firm belief that making and staring at your Vision Board can't hurt, and anyway, one can always hope.
Nightmare Board
Back in the war throes of 2004, I created the opposite of a Vision Board, more of a Nightmare Board for the War on Iraq, Abu Ghraib, Guantanamo, the whole crazy doublespeak War on Terror and the systematic, religiously ritualistic, darkly erotic use of torture in our prison camps and jails.  In homage to the late great thespian Antonin Artaud, I called it Theater of Cruelty.
Twitters from Heaven & Hell
Speaking of cruel and unjust American theaters of incarceration, as some of you know, our darling Prince Max is currently being held hostage by LA District Attorney Steve Cooley for a "Failure to Appear" on charges that were all dismissed. Cost to the taxpayer: Over $100,000. Now you can visit Prince Max in his Tower on Twitter:
If you'd really like to help Max (and the Speakeasy), so we can all wake up from this Kafkaesque nightmare, email max@blockbooks.com And if all you're going to write is "What's this all about?" you can just follow MaxTower on Twitter.  You can also follow me on Twitter for the inside stories of my notorious (but all perfectly legal!) Speakeasy, my perpetually intriguing sex life, my occasionally glamorous social life, my political perspectives, my crusades against sexual ignorance and intolerance, and the fascinating tales of my (always anonymous) telephone sex therapy clients.
Lately, I've had quite a few needy ones, the cuckolds, the sluts, the wankers, the bankers, the cocky Dems & the depressed Repubs.  I try to do what I can to help them all.  Funny, how sometimes hope makes you horny, and other times, it's all about what scares and even humiliates you.
EROS DAY X: The Obaminaugural BALL
And speaking of hope, horniness and the Big O, if you love and miss our Speakeasy Bacchanals, and if you're not in Washington DC on Jan. 24th or locked up in a Tower, make your reservations now for EROS DAY X:  The Obaminaugural BALL.   You have to be a Speakeasy member to attend. Membership Has Its Pleasures, you know. This will be our 10th Annual Eros Day Celebration: Don't miss it! Call 213.749.1330 for more information and ask for Michelle.
In the meantime…Have a Happy Spanksgiving!
Enjoy our Born-Again Squirting Spanksgiving show on RadioSuzy1TV every Thursday before, during and after Spanksgiving. Then spank that monkey, or your turkey, spank your lover, and give spanks to God and the Goddess that soon we'll have a spanking new President that gives us so much hope for Big O's of all kinds to come…
---
Explore DrSusanBlock.com
Need to talk? Sext? Webcam? Do it here. Have you watched the show? No? Feel the sex. Don't miss the Forbidden Photographs—Hot Stuff, look at them closely here. Join our private social media Society. Join us live in studio 😊. Go shopping. Gift shop or The Market Place. DrSusanBlock.tv, real sex TV at your toe tips. Sex Clips Anyone? FASHION, we have fashion! We also have politics. Politics? Have you Read the book? No? How about the Speakeasy Journal? Click here. Ok, how about some free sex advice?
---