Spanking Sinn Gin Breeze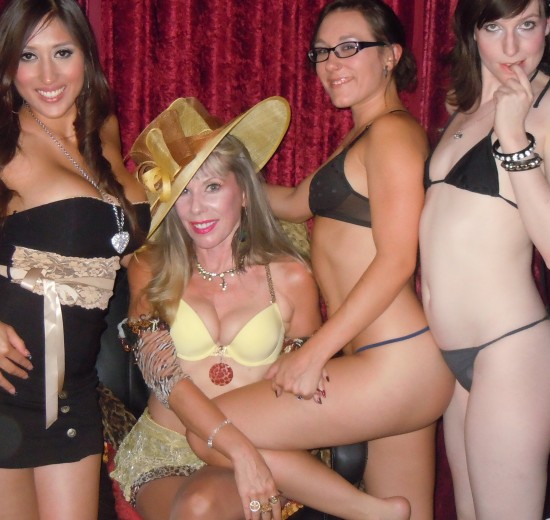 Length: 92:44 minutes
Date: 08/21/2010
Brothers & Sisters, Lovers & Sinners, get ready for a butt-spanking good time on this Dr. Susan Block Show! Three hot lusty ladies are in studio ready to shake their gorgeous rears and crank their gears into sexual motion: Sinn Sage is an exotic dancer recently graduated to erotica and girl-girl spanking; Ginny Blossom (aka "Debauchery,") stripper, dancer and part owner of the world-famous Lusty Lady peep show in San Francisco; and Alexis Breeze, pharmacy technician turned porn star and feature dancer at the also world-famous Sam's Hofbrau (close neighbors of Dr. Suzy's Speakeasy in the Soul of Downtown LA). With Dr. Suzy's kinky guidance, these Three Graces of Stripping uncover a whole spectrum of topics: voyeurism vs. exhibitionism, the idiosyncrasies of the Lusty Lady as the only unionized co-op strip club where dancers can buy in with a share, the normalization of stripping as a career for modern women, what makes a bad partner in a porn scene (which Alexis recently experienced first-hand with the notorious rapper/porn star Brian Pumper, as she describes in "straight-up" naughty detail), what gets the ladies hot, horny, and "dickmatized" (ie.,"dick-drunk") and the pleasures of spanking (demonstrated on Sinn's notoriously callipygian assets and Ginny's sweetly blushing derriere).
 Speaking of spanking, we're then blessed by a call from humanitarian angel Snow Mercy, the talented domme (and chemistry professor!) who gave Asia a world-class spanking on RadioSUZY1's "Professor Snow's School for Spanking." Mistress Mercy is currently on a very real mission of mercy to Haiti, and she describes how she is behind the camera filming sanitation projects that will benefit the victims of the earthquake. She also encourages listeners to donate to the relief efforts through her favorite charity Hands On Disaster Relief. In the name of spanking, Dr. Suzy shows off her unusual spanking toys straight from the San Diego Zoo (perfect for the wild bonobo gang), and in the name of Mercy, Haiti's finest Rhum Barbancour is then passed around–plus our special Magellan Gin for Ginny–before the traditional Agwa shots and salt-licking off luscious body parts get rolling.
 Nipples and butt cheeks get wet and salty as our second caller, previous guest and Kiwi Sexpert Dr. Michelle Mars, checks in with us to talk about the lack of strip clubs in New Zealand. After a quick reminder about the upcoming Exotic Erotic Ball in San Francisco, which the gang is zooming up to on the Bonobo Express Bus (get your tickets now before the prices goes up), Dr. Suzy hands out Pocket Rockets to each of the lusty ladies in studio, and Alexis gets nostalgic about her first experience squirting. The show ends, oddly enough, on the topic of anal bleaching, which the porn stars are more than happy to discuss with our last caller. With all that talk about bleaching, licking, and spanking bottoms, it's no wonder that some seriously hot spanking action goes down (mostly Dr. Suzy on Sinn and Gin with those amazing SD Zoo paddles and a Mammoth Rubber Flogger) at the erotic after-party! Lusty, luscious, and delicious… this show's a sexy one, no butts about it!
Caller 1 Snow Mercy calls in from Haiti to give us an update on her humanitarian mission
Caller 2 Dr. Michelle Mars gives the Kiwi Sex Report on the lack of strip clubs (there are more fetish balls) in NZ
Caller 3 wants to know about anal bleaching
---
Explore DrSusanBlock.com
Need to talk? Sext? Webcam? Do it here. Have you watched the show? No? Feel the sex. Don't miss the Forbidden Photographs—Hot Stuff, look at them closely here. Join our private social media Society. Join us live in studio 😊. Go shopping. Gift shop or The Market Place. DrSusanBlock.tv, real sex TV at your toe tips. Sex Clips Anyone? FASHION, we have fashion! We also have politics. Politics? Have you Read the book? No? How about the Speakeasy Journal? Click here. Ok, how about some free sex advice?
---
---