"Gun Shots or Cum Shots?" this Saturday on DrSuzy.tv & Vegas Next Week!
Newsletter Of The Dr Susan Block Institute

This Saturday Night, August 11th on The Dr. Susan Block Show
Sex or Violence?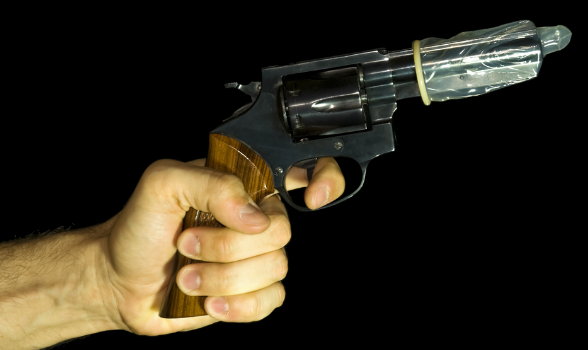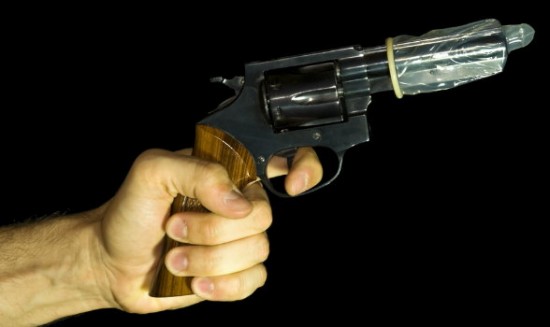 "Gun shots or Cum shots? Which do you prefer?" asks Dr. Block
This Saturday night's live broadcast of The Dr. Susan Block Show will explore reasons why American media more often censor sex than violence.  Joining international sexologist Dr. Susan Block in her BonoboVille broadcast studios will be Girls and Corpses Magazine's "Deaditor-in-Chief," Robert "Corpsy" Rhine, along with his latest issue featuring Dr. Block's new advice column, sexy porn star/corpsette Missy Martinez and world-renowned Team America: World Police puppeteer Scott Land.  Joining the group to discuss her most recent AlterNet article in the wake of the recent shooting massacres in Aurora and Wisconsin, "What Terrorizes Americans Most: Guns or Sexual Freedom?" will be writer Lara Riscol.
Exclusive Live Audience for Show & Erotic After-Party–Reserve Now!
RSVP Here or Call 213.670.0066
Call Anytime. Someone is Always Here 24/7 to Take Your Call
Doors Open @ 9:30pm ~ Show Starts @ 10:30pm ~ After-Party @ Midnite!
Watch the Uncensored Team America: World Police Sex Scene
Read Lara Riscol's  What Terrorizes Americans Most: Guns or Sexual Freedom?
Can't Join Us In the Flesh? Watch Us Live on DrSuzy.tv
Now Playing on DrSuzy.tv: VANILLA SUCKS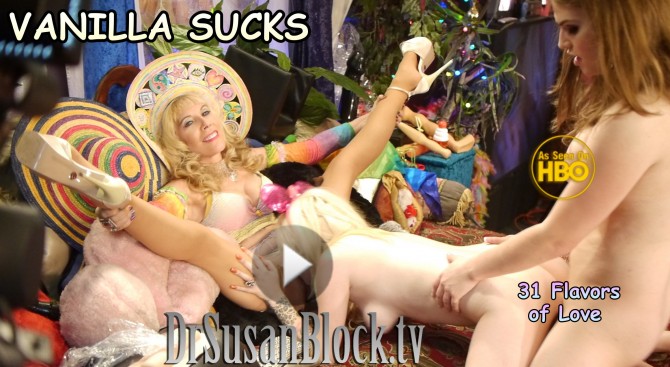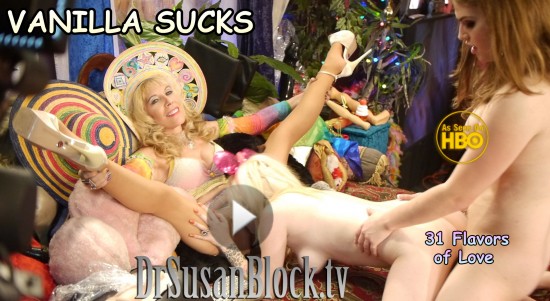 Not Sure If You Should Join ? …CLICK HERE to read the RAVE REVIEWS

or just Listen FREE on RadioSUZY1 ~ Call In Live 10:30p-Midnite PT: 1.866.289.7068
Ask a Question, Tell a Story, Make a Comment, Share a Fantasy, Talk with Dr. Suzy & Guests!

August 16-19:  The Dr. Susan Block Show goes to VEGAS!!!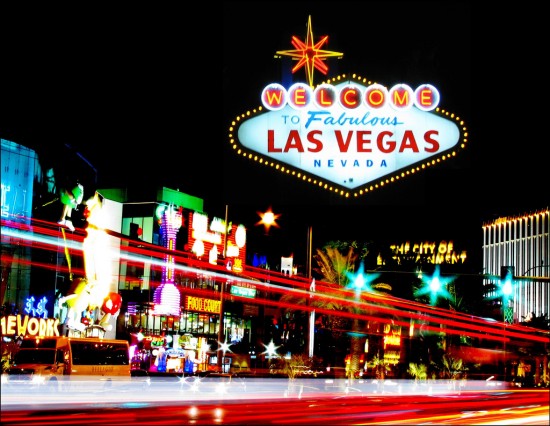 We're doing a Show from the Erotic Heritage Museum on 8/17 where Dr. Block will receive an honorary degree from the Institute for the Advanced Study of Human Sexuality.
If you'll be in Vegas & want to hook up, email Vegas@Blockbooks.com or call 213-670-0066.
If you want to help sponsor this show–ride with us in the BonoboVille Motorhome from LA to LV & back!–call 213-670-0066 & ask for Max.  Call now!  Only one seat left!

NEED to TALK.

..

To Someone About Something You Can't Talk About With Anyone Else?
EXPERIENCE TELEPHONE SEX THERAPY
You Can Talk To Us.
Call 213.291.9497
What Can We Talk About?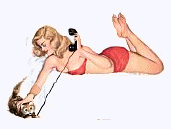 CLICK HERE TO FIND OUT
For Recorded Information, Call 213.291.9497
To Talk or Cam with a Sex Therapist Right Now, Call 213.670.0066
Want to See Your Therapist? Try Webcam Sex Therapy
Besoin de Parler ?
Demander Minette si vous parlez français
New: SEXT THERAPY
with the Dr. Susan Block Institute

New: Dr. Susan Block's MARKETPLACE of POSSIBILITIES!




Recent Bloggamies, Shows & Photo Galleries for Your Free Listening & Viewing Pleasure
JUDGMENT DAY: for the inside story of how we won our lawsuit against a big bully in our little community, click here
Captain Max's Big C Battle See the Free Pix
20th Wedding Anniversary See the Free Pix
Sex Science & Sybians with SSSS See the Free Pix
Squirt Salon 32: April Showers See the Free Pix
Masturbation de Mayo See the Free Pix
From "The Myth of Sex Addiction" to a Sex Addicts Orgy See the Free Pix
KiNK Survivors See the Free Pix
Masturbation Month ClimaxXx See the Free Pix

"Free Love" Then & Now See the Free Pix

Dr. Suzy's Birthday Carnival of Sex: 2012
Suspense & Suspension See the Free Pix
A Midsummer Night's Wet Dream: Summer Solstice 2012 See the Free Pix
Vanilla Sucks See the Free Pix

Kafkaesque Sex See the Free Pix

Bastille Day in BonoboVille See the Free Pix

Kegel Tug-O-War   See the Free Pix
Master D's SchoolGirl LapDance 40th Birthday Spectacular
WANT TO SEE MORE? JOIN DRSUSANBLOCK.TV
A portion of all proceeds go to help save the highly endangered "make love not war chimpanzees from extinction, supporting our "adopted" bonobos at Lola ya Bonobo and other bonobo conservation programs in Congo, and to promote the Bonobo Way of peace through pleasure around the world.
And thank you Sybian, ScreamingO & Stockroom for your fantastic sex toys featured on DrSuzy.TV!

Support BonoboVille @ The Institute! Get Us Something Sexy, Practical or Just Plain Awesome on Our Amazon Wishlist
Make Like Bonobos, Not Baboons! Make Love, Not War.
Make Love to Someone You Love Tonight, Even If That Someone Is You.
I LOVE YOU
Peace on Earth ~ Pleasure for All
AMEN * AWOMEN
x S
DrSuzy


More places to visit when you're in a Browsing Mood:
http://drsusanblock.com http://drsusanblockinstitute.com https://drsusanblock.3dcartstores.com/ http://drsusanblock.tv http://drsusanblock.com http://twitter.com/drsuzy http://blockbonobofoundation.org http://drsusanblock.com/blockstudio.html
---
Explore DrSusanBlock.com
Need to talk? Sext? Webcam? Do it here. Have you watched the show? No? Feel the sex. Don't miss the Forbidden Photographs—Hot Stuff, look at them closely here. Join our private social media Society. Join us live in studio 😊. Go shopping. Gift shop or The Market Place. DrSusanBlock.tv, real sex TV at your toe tips. Sex Clips Anyone? FASHION, we have fashion! We also have politics. Politics? Have you Read the book? No? How about the Speakeasy Journal? Click here. Ok, how about some free sex advice?
---
---